Nikon AF-P 70-300mm f4.5-5.6E VR review - Verdict
Verdict
The Nikon AF-P 70-300mm f4.5-5.6E ED VR is a worthy successor to Nikon's AF-S 70–300mm f4.5–5.6G IF-ED VR from 2006. The new model has better optics, is lighter, has better image stabilization, is faster and quieter to focus and offers improved sealing against the elements.
But it also costs 50% more than the current street price of its predecessor. So let's have a more detailed look at how the new zoom lens compares.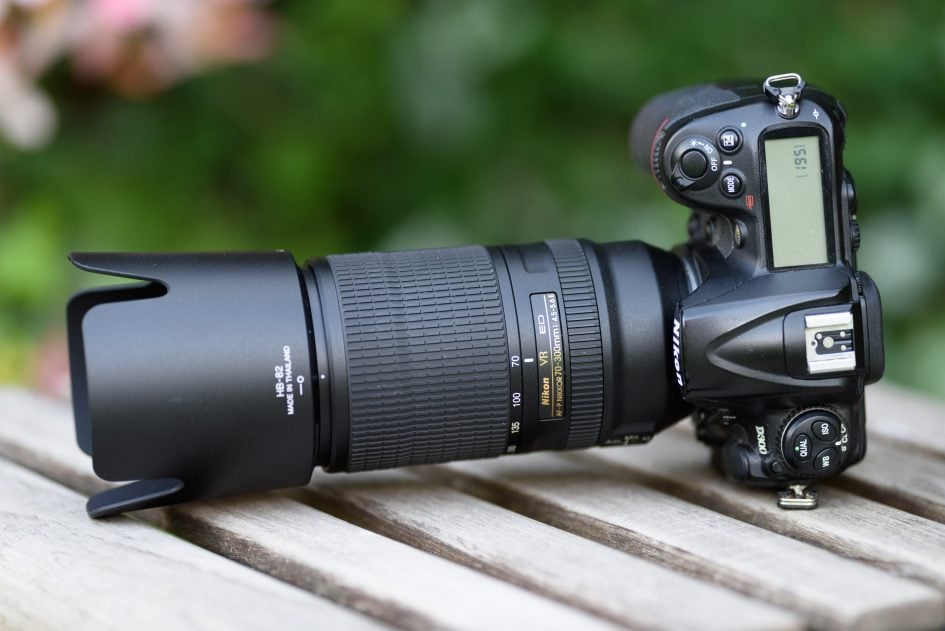 Compared to Nikon AF-S 70-300mm f4.5-5.6G VR
Nikon's older AF-S G version is pretty sharp in the center but loses against its successor as soon as you look towards the DX-corner and even more so in the FX-corner. It also suffers from strong pincushion distortion from 135mm focal length onwards and has disappointing image stabilization (at least in my test-copy): I wouldn't rely on it for more than one stop while on the new lens you can shoot four stops slower and still get usable results. Its AF-S autofocus is reliable but only half as fast as the new AF-P. Plus its resistance to flare, glare, and ghosting is not as good as the new AF-P E. The AF-S G is some 60g heavier but has the benefit of being 23mm shorter than its successor (with lens hood attached). And there are other areas where the older lens bests the new zoom: The AF-S G has clearly less light falloff and offers a better Bokeh plus it is cheaper. And AF-S autofocus will work with older digital DSLR bodies from Nikon without a problem while you have to look very carefully at the list of bodies on the next page that do work with the AF-P.
All-in-all I'd suggest to get the newer AF-P E when you have a body that works with the new autofocus.
Compared to Sigma 100-400mm f5-6.3 OS Contemporary
The new Sigma 100-400mm is the cheapest, smallest and lightest modern zoom reaching 400mm plus it's sharp and has only minor color aberrations. Its biggest let-down is the missing tripod collar and most importantly the disappointing OS performance: it is not very effective around 1/100 sec and 1/50 sec which is a critical range of shutter speeds for such a lens. But all-in-all the lens earned a recommendation in my Sigma 100-400mm f5-6.3 OS review. If you compare it with the new Nikon AF-P 70-300/4.5-5.6E VR you'll notice that although the Sigma is small and light compared to other zooms reaching 400mm it is still almost 500g (66%) heavier and about 2cm longer. The Sigma is also 1/3 of a stop darker than the Nikon but the major difference lies in the focal lengths: 100-400mm vs. 70-300mm.
With both lenses costing about the same I'd suggest getting the Sigma 100-400mm if you need the 400mm at the long end and getting the Nikon if 300mm is long enough for you. You'd surely profit from the much wider angle-of-view that 70mm offer on the short end compared to 100mm.
Nikon AF-P 70-300mm f4.5-5.6E VR final verdict
The Nikon AF-P 70-300mm f4.5-5.6E VR is a mayor upgrade over its predecessor from 2006: It is sharp across the zoom-range right into the corners of a high resolution full-frame sensor with little colour aberrations and distortions, has good image stabilization, is light and relatively small and offers fast, super-quiet, and reliable autofocus – if you have a body that supports the new AF-P. Its build quality may not be top-notch but it has good sealing against the elements and its price is reasonable albeit higher than of its predecessor. The only real downsides I found in my test are pretty strong light fall-off and Bokeh that is not as attractive as its predecessor. Still I'd highly recommend this lens for someone looking at the 70-300mm zoom range.
Good points:
Very good image quality.
Good image stabilization for stills.
Reliable and very fast and quiet autofocus.
Bad points:
Strong light fall-off.
Bokeh could be better.
autofocus only works on newer Nikon bodies.
Read on, there's much more to this review: use the tabs to visit the other pages which include more in depth information, full quality test results, and sample images! I also have additional sample images here.

Check prices on the Nikon 70-300mm f4.5-5.6E at Amazon, B&H, Adorama, or Wex. Alternatively get yourself a copy of my In Camera book or treat me to a coffee! Thanks!