Photography eBooks are a great way to learn and become inspired about our wonderful hobby. I have a great selection of eBooks for you below, all of which are sold as downloadable PDF files which can be opened and read on just about anything whether you have a desktop computer, laptop, tablet or even smartphone! You can also store eBooks on multiple devices so they're always available when you need them. Not only are they all useful, but you'll also be supporting me when you buy any of the books below, so it's a great way to help keep Cameralabs running and the reviews coming! Thanks for your help and I hope you enjoy them!
Gordon Laing, Editor, Cameralabs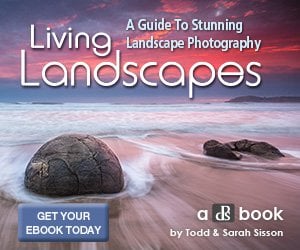 Living Landscapes, by Todd and Sarah Sisson
Price: $29.99 USD (eBook PDF download)
Todd and Sarah Sisson are two of my favourite landscape photographers and in this superb ebook, they'll reveal the secrets behind their wonderful photos. Over 130 pages, it combines tutorials, field guides and technical advice, using the beautiful scenery of New Zealand as a backdrop. An informative and attractive ebook that's highly recommended for anyone wanting to improve their landscape photography! Well worth the price.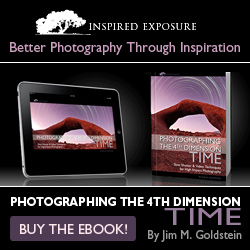 Photographing the 4th Dimension: time, by Jim M Goldstein
Price: $20 USD (eBook PDF download)
A great-looking and highly informative eBook for anyone interested in long exposure photography. Whether you're into painting with light, capturing star-trails or creating timelapse video, author Jim M Goldstein has the answers. One of my favourite eBooks to date and one you'll want in your collection even if it's just to browse the great images.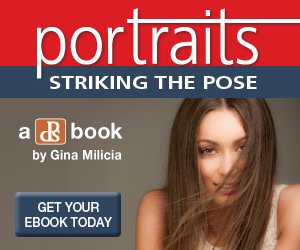 Portraits: Striking the pose, by Gina Milicia
Price: $19.99 USD (eBook PDF download)
Posing is something that can make or break a portrait. Do it badly and your subject looks awkward and the resulting image is spoiled (and quickly deleted). Do it well and your subject will be at ease and their true character will shine through. In 'Portraits: Striking a pose', photographer Gina Milicia shares the tips and tricks she's used on royalty, rockstars and supermodels. We're not talking about wildly unnatural poses, but natural poses you can use with anyone, at any time. If you'd like to take your portrait photography to the next level, whether in a professional environment or simply taking better photos of your friends and family, I can recommend this ebook!
Troubleshooting
When you buy an eBook, you'll be sent an email with a download link. if this email doesn't appear in your inbox, please check your junk folder. Emails from Cameralabs will use the address shop at cameralabs.com.
If you receive the email but can't download the file, try using a different browser. I find Chrome or Firefox work best.
The download link will expire after a few days or a certain number of attempts. If your link has expired before you could successfully download the file onto your computer, please contact me at shop at cameralabs.com, replacing the word 'at' with the @ symbol.
How to get an eBook onto your iPad
1: Download the eBook PDF file onto your computer using the link that's emailed to you.
2: Connect your iPad to your computer and start iTunes if it doesn't start automatically.
3: Find your iPad listed in the left hand column of iTunes and click on the Books section. Books should be listed next to Music, Movies and TV Shows, but if it's not visible, click on the iTunes drop-down menu at the top, select Preferences and in the General section, make sure you have Books ticked in the 'Show' list.
4: With Books selected in iTunes, simply drag and drop the eBook PDF file from your computer into the iTunes window and it will be copied onto your iPad.
5: You should now be able to see and tap your eBook from the iBooks app on your iPad.