Best vlogging camera 2020
If you're looking for the best vlogging camera, you've come to the right place! I joined YouTube back in 2006 and started using video for presenting guides and gear reviews. During the last 14 years I've learned a lot about video production and what features are most important to vloggers, especially when working by yourself, and I've always evaluated new cameras both from a stills photography and video perspective.
On this page I'll shortlist the cameras and accessories which I can personally recommend for vlogging at every level from budget to high-end. I'll start with a video where Doug Kaye and I discuss what we look for on a vlogging camera, before making some recommendations. Or scroll beyond the video and check out the written version below!
Recommended vlogging cameras
Before splashing out on a new camera, it may be worth considering vlogging with your phone; if it has decent quality video, it could be perfectly adequate. To take your phone's quality to the next level though, i'd strongly recommend filming with a gimbal for smooth results and connecting a decent microphone for decent audio quality. There's a wealth of gimbals designed for phones, but one of the best is the Zhiyun Smooth Q, while for audio, look no further than a Rode VideoMic Me (for phones with 3.5mm sockets) or the VideoMic Me-L (for iPhones with Lightning ports). Check out Ben's review of the Rode VideoMic Me-L below to find out more about vlogging with your phone and an external microphone.
Best budget vlogging camera
One of the best overall cameras for vlogging is also one of the most affordable and compact: the DJI Osmo Pocket leverages the company's experience in gimbals to deliver the effective stabilisation of a much bigger system in a convenient pocketable device. The Osmo Pocket may only have a small phone-sized sensor, so won't match the options below in low light quality or potential for blurring in the background, but crucially houses it on a tiny gimbal that'll out-perform most optical and sensor-based stabilisation systems. The screen's small, but good enough for casual filming, or you can connect your phone for a bigger view and easier access to settings. The camera can be set to face away or towards you at the press of a button, while the USB C charging port on the base can be adapted as a microphone input, which works a treat with lapel-based lav mics. It'll also film 1080 or 4k video, although due to the small sensor, the footage can become noisy in low light. Overall a strong option for the reasonable asking price of around 350 dollars or pounds, and ideal for those who value stabilisation and portability over the promise of a bigger sensor and interchangeable lenses.
For a step-up in quality and flexibility over the typical sensors in a phone or the Omso Pocket you'll be looking at spending $400 to $550 for a budget camera with interchangeable lenses; all my recommended models are available in a kit with an optically-stabilised lens, have decent-sized APSC or Four Thirds sensors for good quality in low light, sport forward-facing screens as well as reliable autofocus, although at this price you won't get a microphone input or a viewfinder. The best of the bunch is also the cheapest – the Canon EOS M100 which packs a 24 Megapixel APSC sensor with Canon's excellent Dual Pixel CMOS autofocus and a touch-screen that flips up to face you – see my Canon EOS M100 review for more details. The M200 has since been released, but offers little over its predecessor, so look out for bargains on the older model.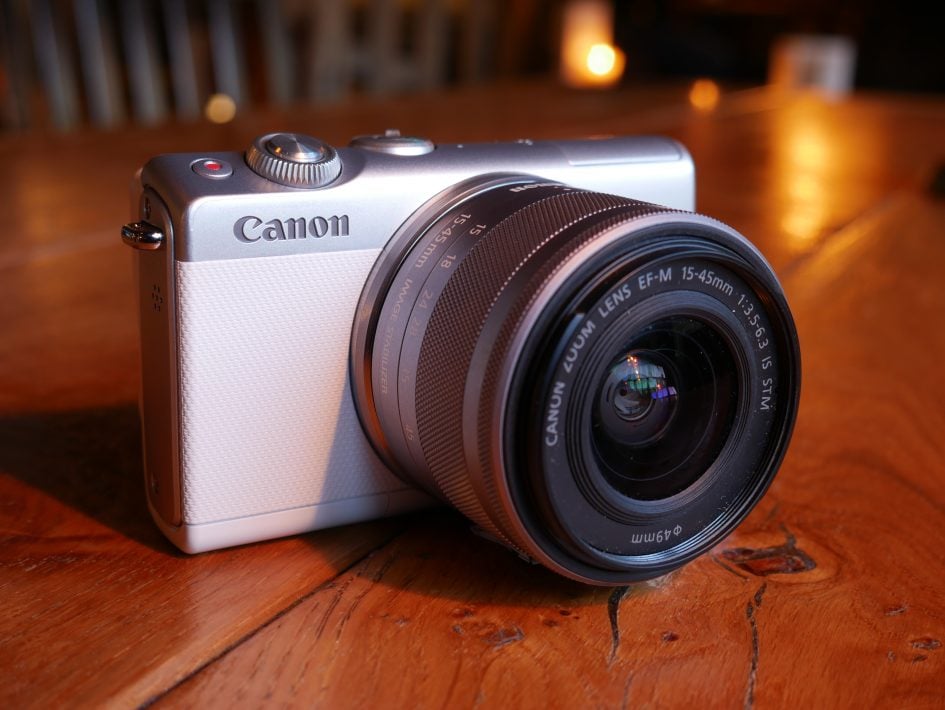 Also consider the Sony A5100 which also has a 24 Megapixel APSC sensor, this time with embedded phase-detect autofocus that's equally as confident, and again a screen that flips-up to face you. I personally prefer Canon's colours though, so it's my budget choice. If you really want 4k video on a budget though, check out the Panasonic Lumix GX80 / GX85, which includes built-in stabilisation albeit with contrast-based autofocus which isn't as confident as the other pair – see my Panasonic Lumix GX80 / GX85 review for more details.
Best mid-range vlogging camera
At the mid-range price-point between $649 and $799 you'll get the large sensor, stabilised lens, flip-screen and decent autofocus of budget models, but also the benefit of a microphone input and a built-in viewfinder. Of these, my favourites are again both from Canon, and again both featuring 24 Megapixel APSC sensors with Dual Pixel CMOS autofocus. The cheapest is the Canon EOS 250D / Rebel SL3, a DSLR that's perfect for vlogging in live view with a fully-articulated touchscreen; consider coupling it with the EF-S 10-18mm STM zoom for a wider view. For a little extra you could go for the Canon EOS M50, a mirrorless camera that's smaller (and to me, cuter) than the 250D / SL3; consider coupling it with the EF-M 11-22mm STM lens for a wider view.
Note the M50 also offers 4k but with a severe crop and basic autofocus, so I'd only consider it as a 1080p / Full HD camera. Both Canon models deliver very nice colours and tones out-of-camera and are my vlogging picks at this price-point. See my Canon EOS 250D / SL3 review and Canon EOS M50 review for more details.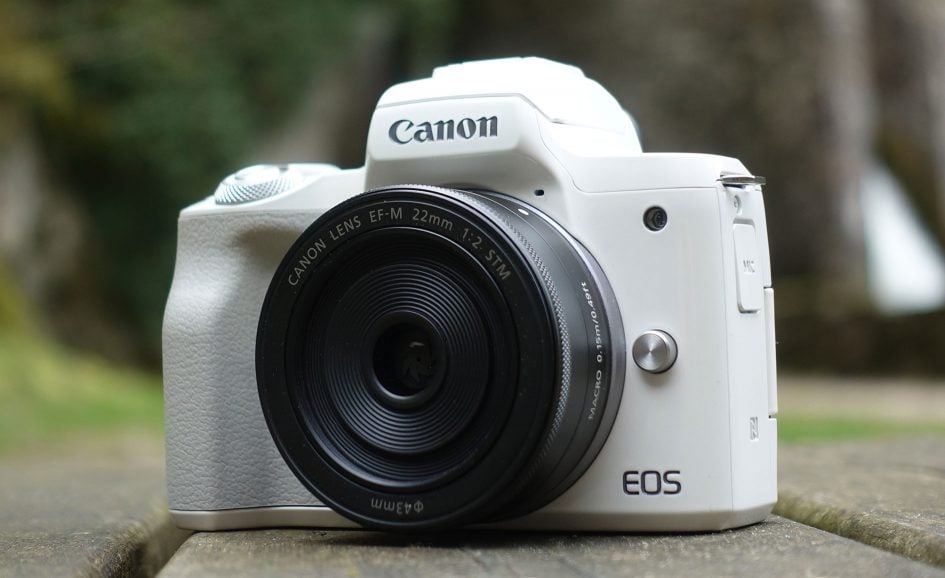 For roughly the same price as the EOS M50 you could alternatively get the Fujifilm X-T100, which also features a 24 Megapixel APSC sensor, although the confident focusing area isn't as broad as the Canon and you'll need a 2.5 to 3.5mm adapter to connect most microphones – see my Fujifilm X-T100 review for more details. There's also the Panasonic Lumix G80 / G85 which may not have as confident autofocus as the Canons, but benefits from built-in stabilisation and usable 4k video, not to mention good discounts now the newer G90 / G95 is available – see my Lumix G80 / G85 review for more details. Both the Fujifilm and Panasonic also have access to a broader range of lenses than the Canon EOS M models if you're thinking of building a bigger system for photography as well as video.
One of the best quality options for the money is the Sony A6400, which sports great quality video, unlimited recording times, confident autofocus, a screen that angles-up to face you and a microphone input too, although mounting anything significant on the hotshoe will block most of the screen. There's no built-in stabilisation though, so you'll need a lens with OSS or a gimbal to keep things steady. See my Sony A6400 review for more details, and if you can live with a lower resolution viewfinder, no picture profiles for grading and a body that's not weather-sealed, you could go for the otherwise identical Sony A6100 at a lower price.
Best pocket camera for vlogging
The mid-range price-point is also where you'll find the first compact camera worth considering for vlogging: the Canon PowerShot G7X III is a pocketable camera with a 20 Megapixel 1in sensor, a screen that flips-up to face you, a nice bright lens with a built-in neutral density filter, microphone input and even live streaming straight to YouTube over Wifi; the contrast-based autofocus isn't as confident as the other models recommended here (so it's better-suited to vloggers who don't move back and forth too much) but the price coupled with its good quality video and pocketable body make for a compelling combination. See my Canon G7X III review for more details and keep an eye open for deals on the older Canon G7X II which lacks a mic input but is a great starter camera.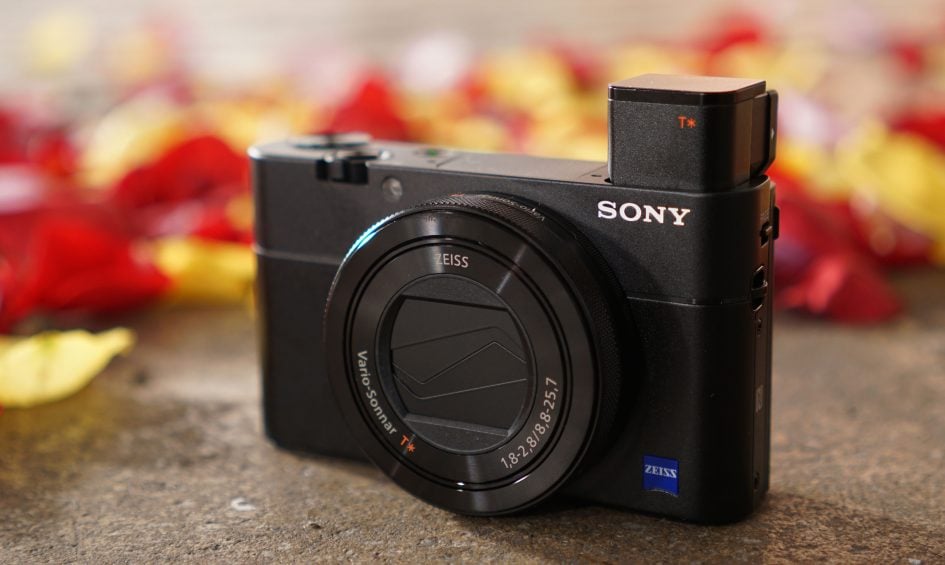 If you can stretch further you can buy one of the most capable pocket vlogging cameras around, the Sony RX100 VA (note this is a slightly improved version of the RX100 V). The RX100 VA is one of the few compacts to boast phase-detect autofocus which allows it to confidently lock-onto the subject and track it across the frame. It has a popup viewfinder, a screen that flips-up to face the subject, films decent quality 4k, offers a bunch of colour profiles and a wealth of slow-motion options too. The lens is also bright and includes a built-in neutral density filter, a useful feature lacking on the latest RX100 VI version. There's sadly no microphone input, but in every other respect, the RX100 VA remains one of the most powerful and capable vlogging cameras and is one of my personal favourites. Check out my vlog test below and see my Sony RX100 VA review for more details. If you'd like a pocket Sony with a mic input, consider the Sony RX100 VII which also sports a longer 24-200mm zoom range and unlimited recording times, although the compromise over the VA is a dimmer aperture and lack of ND filter. See my Sony RX100 VII review for more details.
Priced higher still but still worth considering is the Canon PowerShot G1X III, which squeezes-in the same large 24 Megapixel APSC sensor as the EOS M50, has a built-in viewfinder, fully-articulated touchscreen, great autofocus, attractive colours and a built-in ND filter. There's no 4k and like the Sony RX100 VA, there's no microphone input either, but the hotshoe makes it easier to mount an external recorder. The G1X III is really all about having the sensor of a bigger camera in something that's coat-pocketable, but if you don't mind carrying something a little larger you could save money on something like an EOS M50 and enjoy a microphone input plus the chance to swap lenses. Check out my vlog test below and see my Canon PowerShot G1X III review for full details.
Best high-end vlogging camera
If 4k and professional video functions are critical for you, then Panasonic has some great options based on a 20 Megapixel Four Thirds sensor (a little smaller than APSC but larger than 1in). The Panasonic Lumix G9 may be pitched primarily as a stills camera, but can film great quality 4k at up to 60p and also features a fully-articulated touchscreen and built-in stabilisation – see my Panasonic Lumix G9 review for full details. Indeed it's revealing that one of the only cameras to out-feature it for video is the Panasonic Lumix GH5 which remains one of the most powerful pro video cameras at an 'affordable' price – see my Panasonic Lumix GH5 review for full details. Note both Panasonic bodies employ contrast-based autofocus which in my tests isn't as confident as phase-detect or Dual Pixel CMOS AF for video.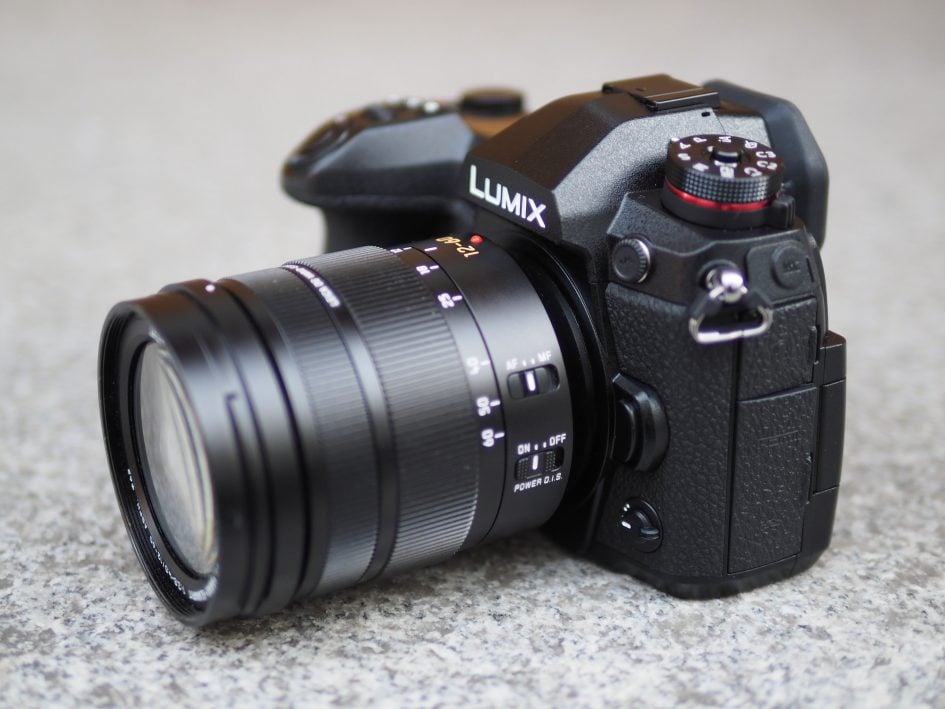 If you're satisfied by the Four Thirds sensor but desire more confident phase-detect autofocus, then consider the Olympus OMD EM1 II. It may lack some of the pro video features of the top Lumix bodies, but still records great looking video (including 4k), has a fully-articulated touchscreen and arguably the best built-in stabilisation around. See my Olympus OMD EM1 II review for more details.
At this price point you can also switch to full-frame sensors which deliver better quality in very low light. Of these, the most affordable with a fully-articulated screen is the Canon EOS 6D Mark II, a DSLR which also sports Dual Pixel CMOS AF, although only films in 1080p. See my Canon EOS 6D Mark II review for more details. If you prefer mirrorless, consider the Canon EOS RP which shares the same sensor as the 6D II, but packs it into a smaller body that still features a fully articulated screen. See my Canon EOS RP review for more details.
Also consider the higher-end Canon EOS R, another mirrorless camera with a fully-articulated screen that can face forward – although since its 4k suffers from such a severe crop, it's only the 1080 video that benefits from the full-frame sensor. See my vlogging example below and Canon EOS R review for more details.
Frustratingly I've not been able to include any of Sony's full-frame mirrorless cameras as while the latest models sport some of the best-looking 4k quality and excellent autofocusing, they fail vloggers at the first hurdle by not having screens that face-forward. That said, the feature-set may prove sufficiently compelling for you to consider fitting an external HDMI monitor, in which case take a look at the Sony A7 III which ticks almost every box for stills and video shooters – see my Sony A7 III review for more details.
Best vlogging accessory
Decent sound quality will greatly enhance your videos and beyond recording in a quiet environment the best approach is to use an external microphone and position it as close to you as possible. While many video creators enjoy good results with a shotgun-style microphone mounted to a hotshoe, like the Rode VideoMic Pro+, I've become very fond of the freedom and quality of wireless systems with a lapel mic that can be positioned just under your chin on a collar. One of the most affordable, compact and innovative options is the Rode Wireless Go which delivers a wireless range good enough for all vloggers and the useful inclusion of a mic built-into the transmitter unit – it'll transform the way you vlog, especially if you walk and talk in noisy environments! Check out my video review below.
The next step to enhance the quality of your footage is to ensure it's stable, and unless you're lucky to be filming with one of the cameras with above-average stabilisation, that means using a gimbal. The Zhiyun Webill Lab is one of the best value options for small to medium-sized cameras, although there are models for lighter or heavier loads if preferred.
That's it for this guide. If you found it useful don't forget you can treat me to a coffee to help fuel my reviews, and if you're shopping online, please do check prices using the links here. Thanks for your support!