Nikon AF-P 70-300mm f4.5-5.6E VR review
In depth
The Nikon AF-P 70-300mm f4.5-5.6E ED VR is a stabilized 4.3x telephoto zoom corrected for use on full-frame Nikon bodies. It can also be used on DSLRs with DX-sensors where its field-of-view is reduced to an equivalent 105-450mm.
Announced in July 2017 it is the successor to Nikon's AF-S 70–300mm f4.5–5.6G IF-ED VR from 2006. Nikon claims faster autofocus and better image stabilization. The lens is also lighter and has better weather-proofing than its predecessor plus it sports the electromagnetic diaphragm mechanism of all new Nikon lenses. But at 750 USD / 879 EUR list-price it's also around 50% more expensive than its predecessor at current street prices.
To find out how the new Nikon AF-P 70-300mm f4.5-5.6E VR performs I tested it against its predecessor, along with the Sigma 100-400mm f5-6.5 OS Contemporary, and the Nikon 80-400mm f4.5-5.6G VR, all on a demanding D810 body. So if you're looking for a telephoto zoom lens you've come to the right place!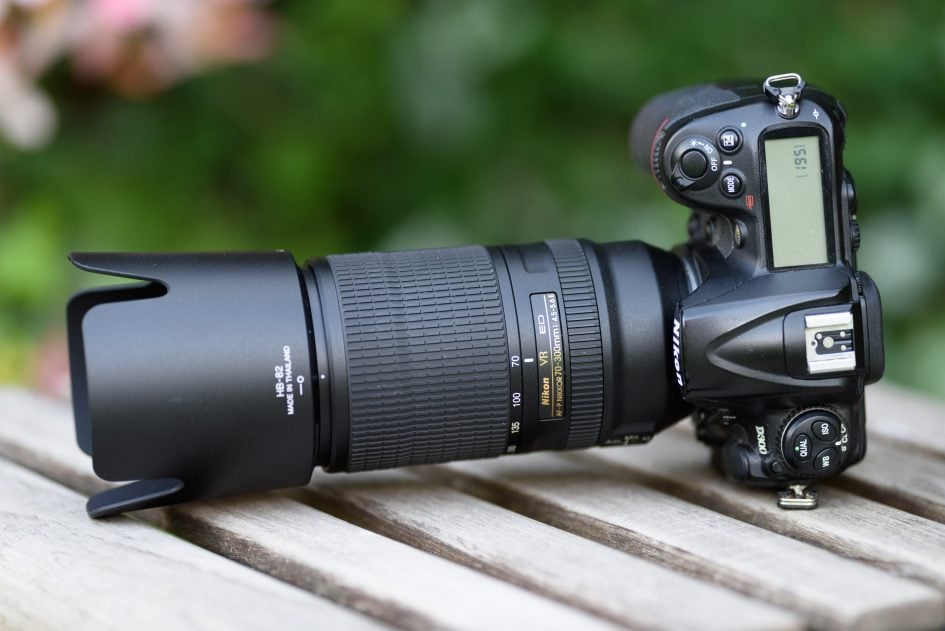 Facts from the catalog
As usual I'll have a look at the technical data of the Nikon first. I've rated the features with a [+] (or [++]), when it's better than average or even state of the art, a [0] if it's standard or just average, and [-] if there's a disadvantage. For comparison I use the Nikon AF-S 70-300mm f4.5-5.6G VR ("predecessor" for short).
Size (diameter x length): 81 x 146mm (3.2 x 5.7 in.), the lens hood adding 78mm (with a diameter of 96mm). Zooming out adds another 56mm which gives a total maximum length of 280mm. The zoom cannot be locked – just like its predecessor – and does exhibit some zoom creep. The predecessor is 80 x 144mm, the lens hood adding 63mm. Zoomed out to 300mm it has a total length of 257mm. [0]
Weight: 671g (24 oz.) plus 60g for the plastic lens hood. The predecessor is 748g with the lens hood adding another 46g. [0]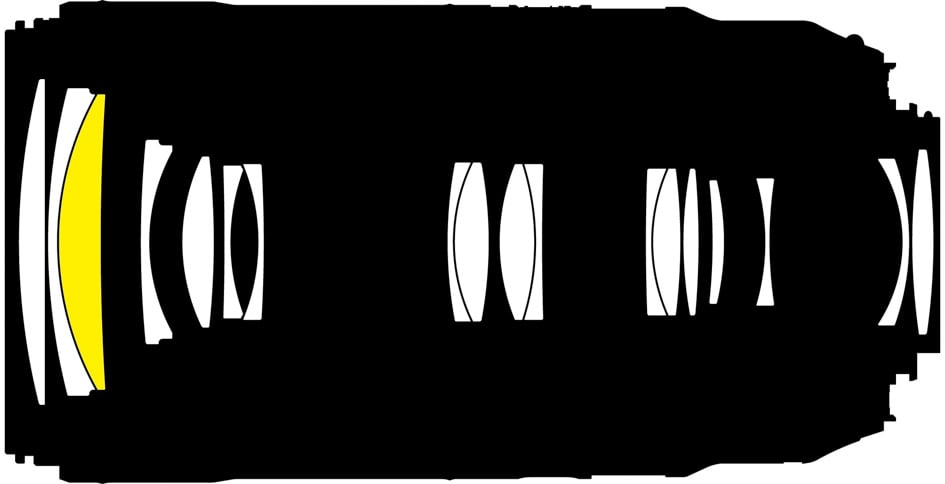 Optics: 18 elements (including 1 special dispersion elements) in 14 groups vs. 17 elements in 12 groups for the predecessor. 14 groups have 28 air/glass surfaces that produce a lot of opportunities for flares and ghosts. We'll see how this works out in practice. [0]
Closest focus distance is 1.2m (3.9 ft.) with a magnification of 1:4. The predecessor also achieves a magnification of 1:4 but at 1.5m distance. In my tests I was able to achieve 1:3.8 magnification for the new lens and 1:3.7 for its predecessor with manual focus. [+]
Filter-thread: 67 mm, just like the predecessor. [0]
Image stabilization: Yes, like its predecessor. There are two different modes of stabilization: normal and "Sport". The predecessor had normal and "active" modes. [+]
Auto focus: AF-P, using a pulse/stepping motor built into the lens that is said to "focus smoother and quieter than previous drive systems". So AF also works on camera bodies which don't have an AF-drive built in. This new AF-P is fully compatible with the D5, D750, D610, D600, D3300 and later, D5300 and later, D7500 and D500, although some of those bodies need a firmware update to work properly. On the D4, D4S, D3, D3X, D3S, D810, D810A, D800, D800E, Df, D700, D300, D300S, D7200, D7100, D7000, D5200 AF-P works but the lens changes focus whenever the camera wakes up from standby. To avoid this effect you can change the time the camera stays "awake" before going into standby in the custom settings ("c2" on a D8x0) but I'm not sure that is available on all of the cameras listed above – and it certainly draws more power the longer the camera stays out of standby. It also means there is a disappointingly long list of Nikon DSLRs that won't autofocus with this lens. Manual-focus override is by simply turning the focus ring which is the same as with its predecessor. But the system is "AF-by-wire" so you cannot MF if the camera is switched off or in standby. It also gives a strange feeling of disconnect between the focus ring and the focus action aggravated by the missing distance-window on this lens. But there are benefits too: the gearing of focus movement allows for very precise manual focus, if you set focus mode to A/M the lens does not change focus if you inadvertently nudge the focus ring just a bit, plus the focus ring moves very softly and is easily operated with one finger. Still: I personally prefer a well implemented AF-S better than this AF-P. [0]
Covers full frame/FX or smaller = very good. Same with the predecessor. [+]
Price: around 879 EUR (incl. 19% VAT) / 750 USD. This is 50% higher than the current street price of 550 EUR for its predecessor but that is still a reasonable price. [0]
Comes with a soft lens case, the lens hood is included, reversible for transport, and the lens caps are standard. When using the onboard flash of the D810 the lens hood does not cast a shadow  at the bottom of the image at any focal length. [0]
Distance information is relayed to the camera, so the camera and flashes can do all the advanced exposure-related stuff with this lens. Same for the predecessor. [+]
Aperture ring: no, same as with the predecessor. The aperture is actuated electromagnetically which puts away with the mechanical coupling that Nikon uses on all older lenses. [0]
Sealing: yes, a rubber grommet at the lens-mount plus additional sealing throughout the lens – but not towards the front cap. [+]
The score in the "features-department" is 0[-]/8[0]/5[+]. So the lens is well-featured.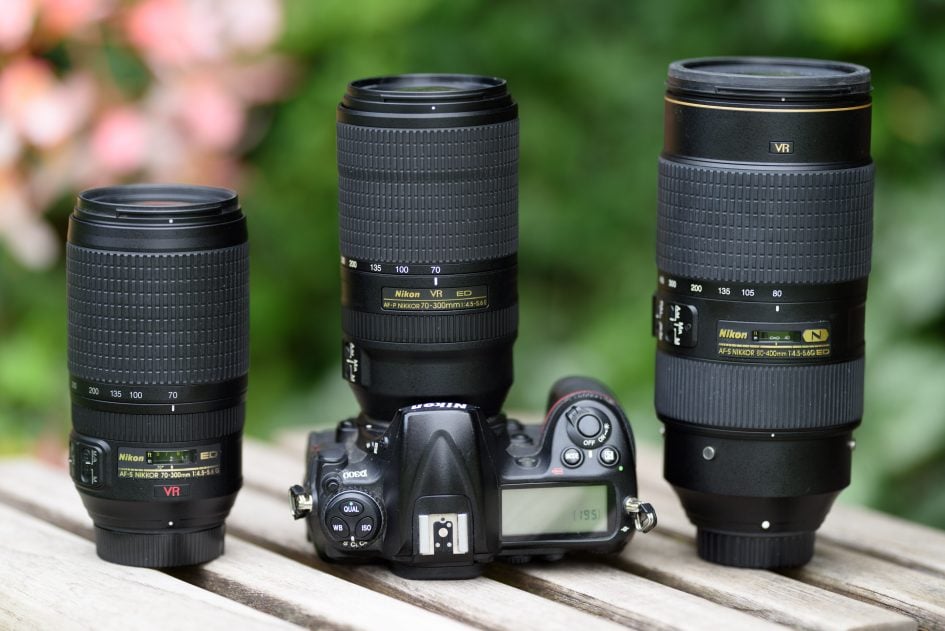 Alternatives:
Except for the new Nikon and its predecessor there are really only two other stabilized 70-300mm zooms corrected for full-frame sensors with mounts for Nikon DSLRs:
The Tamron SP AF 70-300mm f4.0-5.6 Di VC USD from 2010 is a little brighter at the short end (f4.0 vs. f4.5) but otherwise pretty similar to the Nikon AF-S 70-300/4.5-5.6G VR down to size, weight, minimum focus distance and magnification. But at 300 EUR it is cheaper still and it needs only 62mm filters.
The Sigma AF 70-300mm f4.0-5.6 DG OS from 2009 has to be considered discontinued. It is still in Sigma's catalog with a list-price of 200 EUR but it's hard to find in shops anymore.
If you accept (or seek) a little longer focal lengths there are mainly two other options:
Sigma's new 100-400mm f5.0-6.3 OS. It is on average a third of a stop darker than the new Nikon which is not really a big issue. But you should not underestimate the difference on the short side: 100mm focal length gives you a clearly narrower angle of view than 70mm (24 degrees vs. 34 degrees). On the other side the additional 100mm reach on the long end is often very welcome. It's also a relatively small (86 x 182mm / 3.4 x 7.2in.) and light (1147g / 40oz.) lens and costs around 870 EUR. See my Sigma 100-400mm f5-6.3 OS C review where it earned a Recommended.
Nikon's AF-S 80-400/4.5-5.6G VR. This is a much larger (96 x 203mm / 3.8 x 8.0in), heavier (1,570g / 55oz.) and more expensive lens (2350 EUR). But at 80mm it's almost as wide on the short end as the new Nikon 70-300  plus it offers a 33% longer reach. In my Nikon 80-400mm f4.5-5.6G VR review it earned a Highly Recommended.
Here is the angle of view that the new Nikon 70-300mm covers with its 4.3x zoom:

Focus and zoom
Focus accuracy and repeatability is critical to consistently produce sharp shots. Repeatability (the accuracy of focus on the same subject after repeated focus-acquisition) of this lens at standard settings and 200mm focal length is pretty good (measured 98.9% in Reikan FoCal) with no outliers over a series of 30 shots. There is some performance variation whether the lens focuses from infinity or from a closer distance which can be minimized by judiciously fine-tuning AF in camera. At 200mm focal length the lens focuses without hunting in around 0.3 sec from infinity to 2m, which is very fast. The predecessor needs 0.6 sec, has a repeatability of 98.1%, and had one mild outliers in 20 shots under the same test conditions.
The focus ring has some slack between its movement and the focus-action as the AF-P simply does not react if you turn the focus ring too slowly. There is also no sense in measuring any traditional focus throw as the gearing seems to depend on the speed of turning the focus ring but I could fine-tune focus pretty precisely none-the-less. Its rubberized surface is 13mm wide and the ring can be easily turned with one finger. There is no distance window on the lens. The zoom ring turns through 80 degrees and has a 59mm wide rubber surface. It is a bit on the stiff side but cannot prevent zoom creep. There is no zoom lock and no distance limiter. The zoom ring is at the front and the focus ring closer to the camera.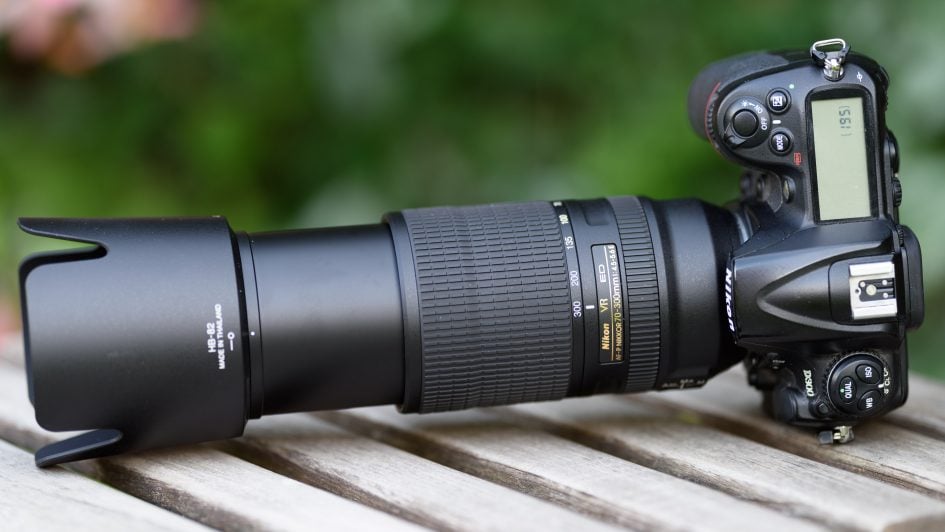 AF-operation for stills can sometimes be heard from the outside but if you record video with the built-in microphone the AF-drive produces no sound at all. Specifically there are no clicks at the start or stop of focus-movements. In this respect AF-P is clearly better than any AF-S I've tested so far. Image stabilization is also inaudible both on the outside and when recording video.

As you pull focus, you'll notice only little focus breathing: When I adjusted the focus from infinity to 2m on the new Nikon, I measured a 2% increase in magnification at 200mm focal length which is barely visible and should not disturb videographers. In comparison its predecessor magnifies the image by 16%.

Image stabilization

To test the effectiveness of the image stabilization I did a series of 140 test-shots hand-held with the new Nikon at 300mm focal length. I tested VR in normal mode with shutter speeds from 1/320 of a second down to 1/10 sec. Shots at 1/320 sec  with VR=Off are used as reference of how good my hand-holding was at the time of the test and Reikan FoCal did the chore of evaluating the sharpness of all shots. All-in-all the results are  very convincing: At 1/20 sec most of the shots were pretty sharp. Even at 1/10 sec about half of the shots were still very usable. So that's a good 4 stops of stabilization.

Next check out my quality results!

Check prices on the Nikon 70-300mm f4.5-5.6E at Amazon, B&H, Adorama, or Wex. Alternatively get yourself a copy of my In Camera book or treat me to a coffee! Thanks!