Canon SELPHY CP1500 review
The Canon SELPHY CP1500 is a compact photo printer that can make lab-quality 6x4in postcard sized prints from your phone, computer or camera. And yes, you can also use it to make passport ID photos.
Announced in Summer 2022, it's the successor to the best-selling CP1300, available in black, white or pink, and in the video below I'll show you what's new, how it works and find out whether it's worth buying. If you prefer to read a written version, keep scrolling!
I'll start with media and running costs. The CP1500, like its predecessors, is not an inkjet printer and you cannot use your own ink or paper with it. Instead it employs the same dye-sublimation process as pro labs that needs special paper and an ink ribbon designed specifically for it.
These are sold together in packs from Canon and contain exactly the right amount of ink for the number of sheets included. Note the CP1500 is not supplied with any media as standard, so you'll need to buy a pack or look for a bundle from day-one.
Canon's KP-36IP pack costs around $16 or pounds and contains paper and ink to make 36 postcard prints, working out around 44 cents or pence per print. Meanwhile the RP-108 pack costs around $35 or pounds, has enough paper and ink to make 108 postcard prints, which works out around 32 cents or pence per print.
So even when you buy media in bulk, it works out more expensive than most labs or online printing services, but you have the convenience of printing whenever you like without delay – and even wherever you like too if you buy the optional rechargeable battery pack, although this actually costs a little more than the printer itself, more than doubling the overall cost.
Like earlier models, the 6x4in or 148x100mm size is the biggest you can print. Although officially known as postcard size, the paper itself is really too thin to write on the back and directly mail, and in the absence of a sticky back, you'd ideally glue it onto a card or stick it in an envelope for posting.
Smaller and sticky-back print options are available though, including 86x54mm credit card size with optional sticky backs, as well as 54x54mm square stickers and 22×17.3mm mini stickers. These all work with an optional loading tray that costs around $16.
Now for a look around the printer itself, which is based on the previous CP1300 with a similar size and 850g weight, but with a number of tweaks. Most obviously the 3.2 in tilting screen of the 1300 has been switched for a slightly larger 3.5in screen that's now fixed in position. Navigation is still performed by a four way pad with an OK button in the middle, but the buttons around it have been greatly simplified from eight to just three.
As before, the ink cassette is inserted into a compartment on the right side, while a flap on the front folds down to accommodate the paper cassette. This slots in for use, but can be removed and flip shut for storage or transportation.
With the flap open, you'll notice an SD slot in the top right corner for directly inserting a memory card, while a single USB C port on the left side allows you to connect a card reader for other formats or USB storage. You can also connect the printer directly to a computer over USB, or to compatible phones and cameras (supporting PictBridge), although most will prefer to use a wireless connection. The printer supports wireless printing using Apple Airprint for iOS or Macs, as well as Mopria for Android, but for the most features and options, I'd recommend using the Canon SELPHY Photo Layout app for iOS or Android.
Round the back is a socket for the supplied AC mains adapter, along with a removable panel to connect the optional rechargeable battery pack. This turns the CP1500 into a portable printer with enough charge for around 72 prints, but costs around $200 or £180 just by itself, greatly increasing the cost of the system.
Canon SELPHY CP1500 verdict
Canon's CP1500 updates one of their most popular photo printers, making it a little quicker and easier to use, while retaining the core capability of outputting lab-quality postcard sized prints from a variety of sources including phones, computers and SD memory cards.
The running costs of around 30 to 50 cents or pence per print makes it more expensive than most highstreet or online services, but like its predecessors you have the convenience of printing at home, or indeed anywhere if you buy the optional battery, although this will more than double the initial cost.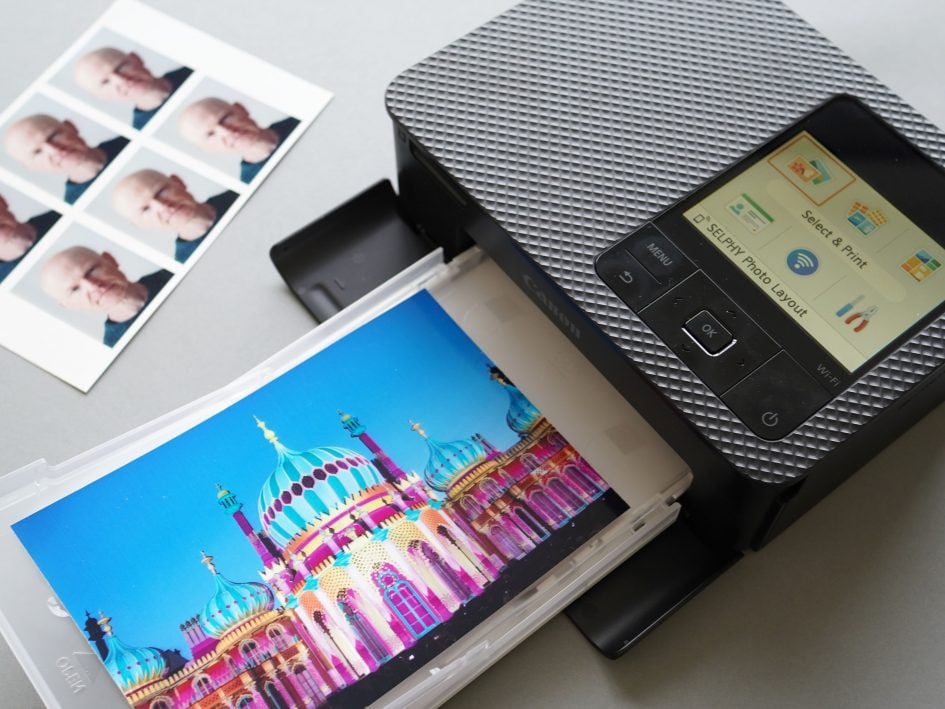 The print quality is on the whole very good, roughly matching most highstreet labs and a step-up from inkjets, and the ability to easily make passport ID photos is a potential business within itself. Like earlier models you may occasionally notice a faint vertical line on some prints, but this can normally be resolved by reloading or changing the paper.

The CP1500 is also happiest operating on a flat surface, making it more of a transportable printer rather than a truly portable one. If you're looking to walk around with a printer, say at an event while handing out prints, then you'll be better-served by one of the many INSTAX models which can operate at any angle and already include rechargeable batteries. But while the largest INSTAX prints come from the Wide model, they remain smaller and more expensive than the postcard size from the CP1500.

Ultimately the CP1500, like the earlier versions, is a fun and useful printer to have around the home, not to mention some businesses. It'll produce great-looking photo prints easily and unlike inkjets won't suffer from clogged nozzles. It's not as robust or truly portable like an INSTAX, but the prints are larger and cheaper. So long as you understand the limitations, I can recommend it!

Check prices on the Canon SELPHY CP1500 at B&H or WEX UK. Alternatively get yourself a copy of my In Camera book, an official Cameralabs T-shirt or mug, or treat me to a coffee! Thanks!