Tamron 70-180mm f2.8 Di III VC G2 review
Intro
The Tamron 70-180mm f2.8 Di III VC VXD G2 (model A065) is a 2.6x telephoto zoom designed for Sony's Alpha mirrorless cameras and corrected for full-frame sensors. This is now the second generation (hence the "G2″ moniker") of the A056 model from April 2020, improving on the optical formula and adding optical image stabilization "VC". It complements Tamron's other zoom lenses for E-mount with a fast f2.8 focal ratio: the 17-28mm f2.8 Di III RXD (model A046) and 28-75mm f2.8 Di III VXD G2 (model A063). Physically, the new lens shares the same small 67mm filter thread with the shorter zooms and it is only 83mm diameter wide and 157mm long – but extends when zoomed to 180mm focal length. It weighs 855g and can go down to a maximum magnification of 1:2.5 at 70mm focal length.
The Tamron 70-180mm f2.8 VC G2 is made in Japan and listed at 1499 EUR (incl. 19% VAT) / 1199 USD / 1329 GBP. PS – if you're interested in the other two f2.8 zooms for E-mount in Tamron's line-up check out my in-depth Tamron 17-28mm f2.8 Di III review and Tamron 28-75mm f2.8 Di III G2 review.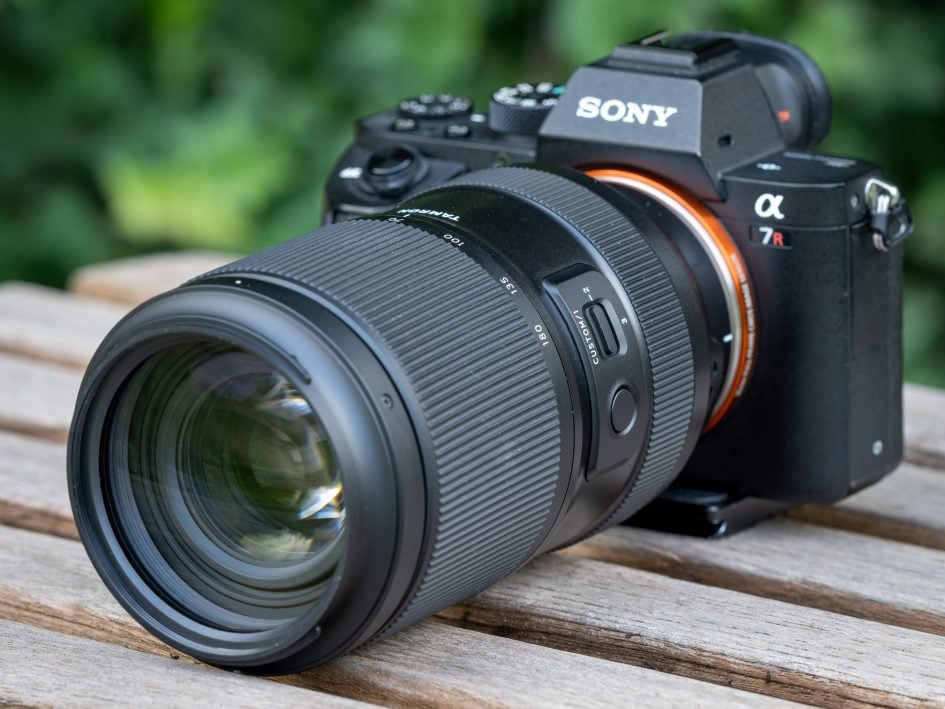 Facts and features
Let's compare the Tamron 70-180mm f2.8 Di III VC VXD G2 ("Tamron G2" for short) to its predecessor the 70-180mm f2.8 Di III VXD (model A056) ("Tamron G1") and the Sony FE 70-200mm f2.8 G Master OSS II ("Sony GM II"). As usual I've rated the features with a [+] (or [++]), when it's better than average or even state of the art, a [0] if it's standard or just average, and [-] if there's a disadvantage.
Size (diameter x length): 83 x 157mm (3.3 x 6.2in.) plus 46mm for the lens hood (94mm diameter). This is a bit larger than the Tamron G1 at 81 x 149mm + 46mm lens hood but still much smaller than the Sony GM II at 88 x 198mm + lens hood. Zooming the Tamron G2 to 180mm focal length extends the lens by 27mm which is still shorter than the Sony GM II which does not change its length during zooming. [+]
Weight: 855g (30 oz.) plus 50g for the lens hood. That's a bit heavier than the 800g + 46g lens hood of the Tamron G1 but still 200g lighter than Sony's 1050g + lens hood. The detachable tripod foot adds another 78g to the Sony GM II. [+]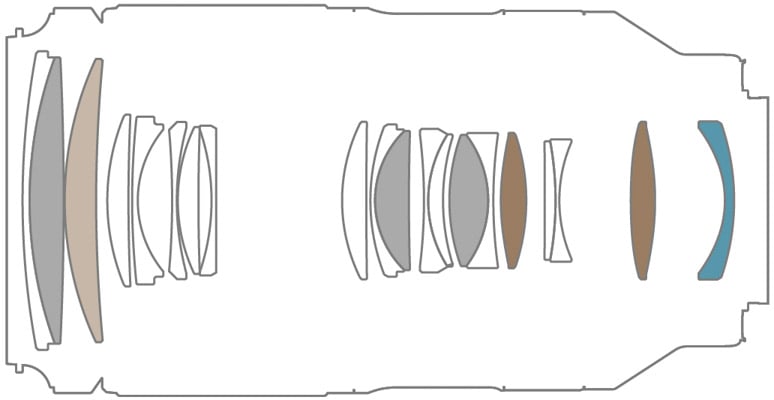 Optics: The Tamron G2 has 20 elements in 15 groups (up from 19/14 of the Tamron G1) including 4 special dispersion elements and 3 aspherical elements. Both G1 and G2 lenses use the latest generation of Tamron's anti-reflexive coating. The Sony GM II has 17 elements in 14 groups. All three lenses have fluorine-coating on the front element to repel water, dust, and dirt and make cleaning easier. [+]
Minimum object distance in manual focus is 0.30m (0.98ft.) at 70mm focal length with manual focus and 0.84m (2.8ft.) at 180mm focal length. Maximum magnification of 1:2.5 at 70mm focal length is a bit weaker than from the Tamron G1 albeit still very good and comes with a slightly longer working distance of 13cm (lens hood detached). At 180mm focal length maximum magnification of the Tamron G2 is 1:4.4 with a working distance of 0.64m, and 1:10 is achieved at an object distance of 1.87m. The Sony GM II achieves its maximum magnification of 1:3.3 at 200mm focal length and 0.82m minimum object distance. This leaves 0.60m working distance between front lens and object. [+]
Teleconverter: The Tamron G2 (or G1) cannot use Sony's 1.4x and 2.0x teleconverter. [-]
Filter-thread: The Tamron G2 shares the same 67mm filter-thread with its shorter siblings the 17-28mm f2.8 Di III and 28-75mm f2.8 Di III G2 which is very convenient – and saves costs. The Sony GM II takes 77mm filters. [+]
Image stabilization: Other than the Tamron G1 the Tamron G2 now offers optical stabilization. Same with the Sony GM II. [+]
Auto focus: All lenses in this comparison offer autofocus with built-in focus drive. Manual-focus override is by simply turning the multi-function ring which by default acts as focus ring. The action of the focus ring can be switched via Tamron's lens Utility (TLU) between the usual variable gearing or linear gearing (90, 180, 270 or 360 degrees) and the direction of the ring can be reversed. This makes smooth focus pulling for videographers much easier. Sony's focus ring has linear response. [+]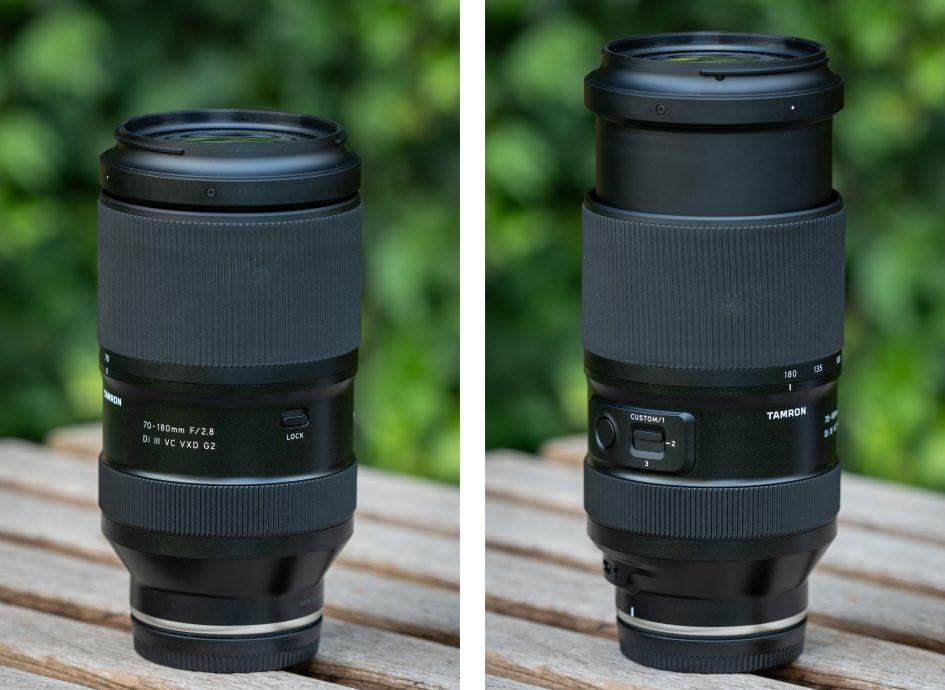 Lens profile: The lens comes with a lens profile for vignette-, CA-, and distortion-compensation which can be controlled from the camera. Adobe's RAW converter (as of version 16.0) does not recognize the profile completely: Vignette is compensated as it was set in camera (but you cannot switch between off and auto in post-processing) while CA-compensation is always ON, distortion compensation always OFF. To get rid of the distortions in RAW files you currently need to manually correct them. [+]
All three lenses cover full frame or smaller. [+]
Price: 1499 EUR (incl. 19% VAT) / 1199 USD / 1329 GBP. This is about half of what the Sony GM II costs: 3000 EUR / 2800 USD / 2600 GBP. The Tamron G1 can still be had for 1000 EUR / 1100 USD / 1000 GBP. [+]
The Tamron G2 (as the G1) comes without a pouch but the lens hood is included and reversible for transport. The Sony has a nicely padded lens case plus strap and a tripod-collar. And its lens hood has a sliding window to access rotating filters. [0]
Aperture ring and other control elements: The Tamron lenses don't have a dedicated aperture ring. But with Tamron's Lens Utility (TLU) you can connect a computer to the Tamron G2 and assign the focus set button to switch the focus ring to operate the aperture. For connecting computer and lens only a USB-C cable is required – no need to buy the TAP-in Console/USB docking station which older Tamron DSLR lenses needed. You can also assign other functions to the focus set button apart from the usual focus preset e. g. make the focus automatically shift between two focus positions A and B, switch between AF and MF, activate the focus limiter or assign a function from the camera body. The selected extra functions are assigned to the custom switch with three positions. The Tamron G2 also offers a zoom-lock to prevent the zoom from extending when in the 70mm position. The Sony GM II offers a dedicated de-clickable aperture ring plus three focus hold buttons and a slew of other switches to control specific lens functions. [+]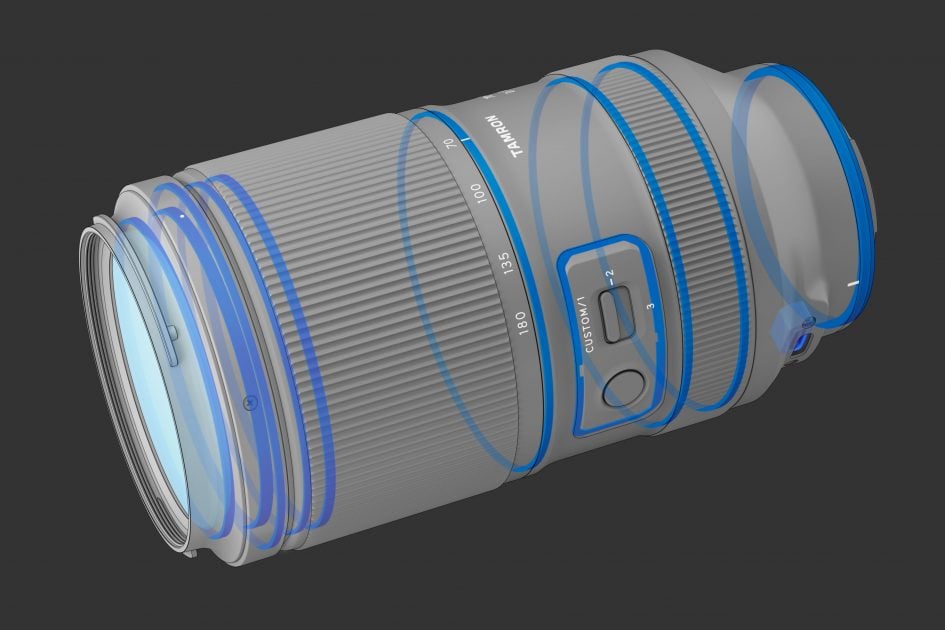 Sealing: All three lenses have a rubber grommet at the lens-mount plus further special weather-sealing throughout the construction. [+]
At a score of 1[-]/1[0]/12[+] the Tamron 70-180mm f2.8 VC G2 is a well featured design with its major advantages being small and light, and only half the price of Sony's 70-200mm f2.8 GM OSS II. And Tamron did not skimp on features like thorough weather sealing, focus set button, optical image stabilization, and customization via USB port. Plus it can reach magnifications of 1:2.5 – albeit at a very short working distance. The only feature that's missing is compatibility with teleconverters – which only the Sony lens offers.

Coverage
Here is the angle of view that the Tamron 70-180mm f2.8 VC G2 covers with its 2.6x zoom compared to Sony's FE 70-200mm f2.8 GM OSS 2.9x zoom (shot another day):


I wouldn't worry about the missing 20mm on the long end of the Tamron G2: You can always crop 11% into the image to achieve the same angle of view as a 200mm lens. This reduces the resolution of a 42MP image shot at 180mm to 34MP which is hardly noticeable.

Focus and zoom
Focus accuracy and repeatability is critical to consistently produce sharp shots. Repeatability (the accuracy of focus on the same subject after repeated focus-acquisition) of the Tamron G2 at 180mm focal length is very good (measured 98.8% in Reikan FoCal) with no outliers over a series of 40 shots. There is no focus variation whether the lens focuses from a closer distance or from infinity and I seldom detect some hunting. At 180mm focal length the lens focuses in around 0.7 sec from infinity to 1.87m (1:10 magnification), which is a bit faster than the Tamron G1 at 0.8 sec.
The zoom ring turns through 58 degrees the way Sony users are used to and has a 45mm wide rubber surface with a good grip. It turns with medium resistance and can hardly be operated with one finger. The lens shows no zoom creep even without using the zoom lock. The focus ring is 16mm wide, located at the back of the lens, and moves smoothly.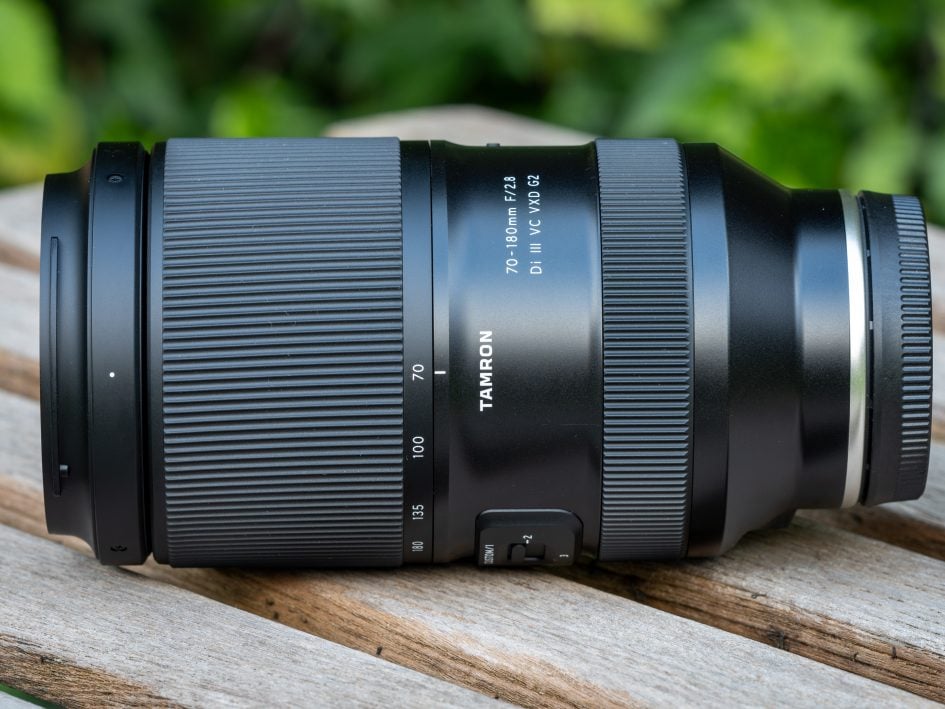 In photo mode AF-operation of the Tamron G2 can be heard from the outside but image stabilization is almost inaudible. If you record video with the built-in microphone the AF-drive or VC is quiet, only turning the zoom ring registers as a slight friction noise. When the lens is powered down the focus group inside the lens slides back and forth freely as the focus drive is not engaged. That makes a low thunking sound and you can feel the focus group moving around.
As you pull focus, you'll hardly notice any focus breathing: The image became 0.4% more magnified when I adjusted focus from infinity to 1.87m at 180mm focal length. This is less than the 4% of the Tamron G1. The same test at 70mm focal length produced a 0.4% decrease in magnification.
I also tested whether the Tamron G2 allows you to change the focal length without altering its focus. This characteristic is called parfocal. I manually focused the lens at 180mm and then slowly zoomed back checking focus on the way. The 70-180mm f2.8 VC G2 did not keep its focus perfectly. See the following 100% crops shot at 180mm f2.8 and 173mm f2.8:

So when shooting stills it's best to re-focus after changing the focal length. When shooting video this small focus error might not be relevant – unless you change focal length very fast: In this case the lens gets out of focus visibly until the control loop catches up and brings the lens back in focus.

Image stabilization
To test the effectiveness of the image stabilization with the Tamron 70-180mm f2.8 VC G2 on an A7R II body, I did a series of 200 test-shots hand-held at 180mm focal length. I tested with shutter speeds from 1/200 of a second down to 1/6 sec. I used the shots at 1/200 sec with SteadyShot=off as reference of how good my hand-holding was at the time of the test and Reikan FoCal did the chore of evaluating the sharpness of all shots.

Here's the results: With SteadyShot=on the combo produced results down to 1/50 sec (2 stops) which had a comparable distribution to the shots at 1/200 sec with SteadyShot=off. At 1/25 sec (3 stops) 14 out of 20 shots were very usable. But at 1/12 sec (4 stops) results became very erratic with only 30% usable images. This is roughly a 3 stop advantage from image stabilization at 180mm focal length. I had certainly hoped for more as these results are not better than what the Tamron 70-180mm f2.8 G1 had achieved – without the aid of VC. Perhaps results are closer to Tamron's claim of up to 5 stops on newer Sony Alpha camera bodies.

Next check out my quality results!

Check prices on the Tamron 70-180mm f2.8 Di III VC G2 at B&H, Adorama, WEX UK or Calumet.de. Alternatively get yourself a copy of my In Camera book, an official Cameralabs T-shirt or mug, or treat me to a coffee! Thanks!