Canon EOS M50 review so far
The Canon EOS M50 is a mid-range mirrorless camera with a 24 Megapixel APSC sensor, viewfinder, fully-articulated screen and 4k video. Announced in February 2018, it's officially pitched between the entry-level EOS M100 and the step-up EOS M6, but actually sports some of the most advanced features in the series: it's the first Canon mirrorless to boast 4k video and a side-hinged screen that can flip to any angle. Coupled with a hotshoe and microphone input, the M50 is likely to be as popular with vloggers as it is with those looking for an upgrade from smartphone photography.
Like earlier models in the series, the M50 employs a 24 Megapixel APS sensor with Dual Pixel CMOS AF for smooth and confident refocusing, but depending on the lens you fit, Canon's upgraded the autofocus area and or the number of AF points. The previous Dual Pixel CMOS AF system covered roughly 80% horizontally and vertically, dividing the area into 49 points. Now when using the EF-M 15-45mm, EF-M 11-22mm, EF-M 18-55mm and EF-M 22mm, the area remains the same but the number of points doubles to 99. Fit the EF-M 28mm Macro, EF-M 18-150mm or EF-M 55-200mm (not to mention most adapted EF-S or EF lenses), and the points increase further to 143 spread across a broader area that covers 88% horizontally and a full 100% vertically.
The EOS M50 debuts Canon's latest DIGIC 8 processor, allowing a slight boost in continuous shooting (10fps with Single AF or 7.4fps with Servo AF), support for an additional compressed 'C-RAW' option that's full resolution but around 40% smaller, eye detection, a new silent scene mode that employs an electronic shutter, and at last 4k video. The EOS M50 can film 720p up to 120p for slow motion, 1080p up to 60p and 4k up to 30p, and there's an external microphone input too. I'm delighted to find 4k here, but there are some restrictions: it only works with contrast-based autotocus (sadly Dual Pixel is for 1080p on the M50 at best) and it employs a severe crop of 1.56x (or 1.75x or 2.2x if you're applying the optional digital stabilisation modes) so vloggers will want the wider EF-M 11-22mm zoom. Wrapping-up the specs are a 0.39in / 2.36 million dot OLED viewfinder, a fully-articulated 3in touchscreen that can flip to face the subject, and Wifi with NFC and Bluetooth, the latter providing seamless connectivity and GPS location tagging with your phone.
Canon may be pitching the M50 as a mid-range model, but if you can live without the greater physical controls of the top-end M5, I'd say the new features make the M50 the most compelling in the series to date and also a keen rival for Fujifilm's recent XA5. Expect the EOS M50 in March 2018 for a body price of $779 USD / 539 GBP / 629 EUR or with the EF-M 15-45mm kit zoom for $899 USD / 649 GBP / 759 EUR. I attended a Canon press event to bring you my hands-on first-looks video review above!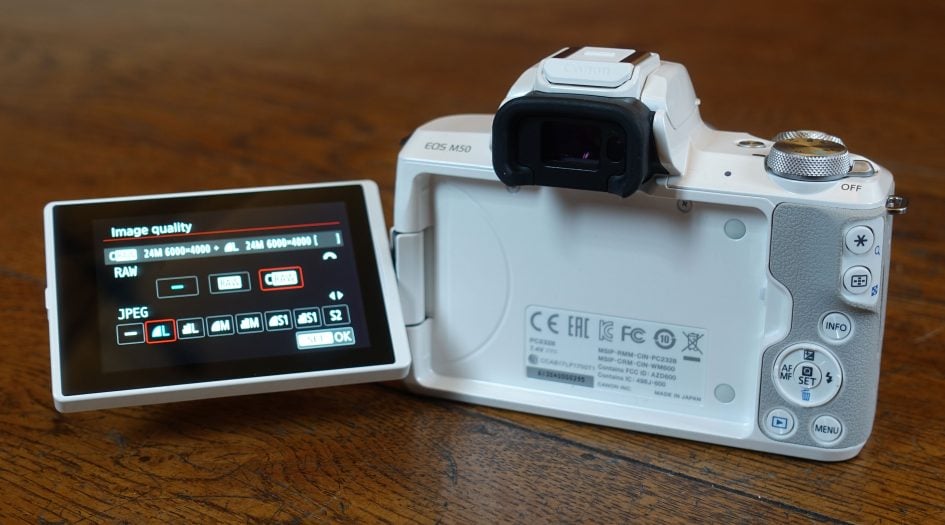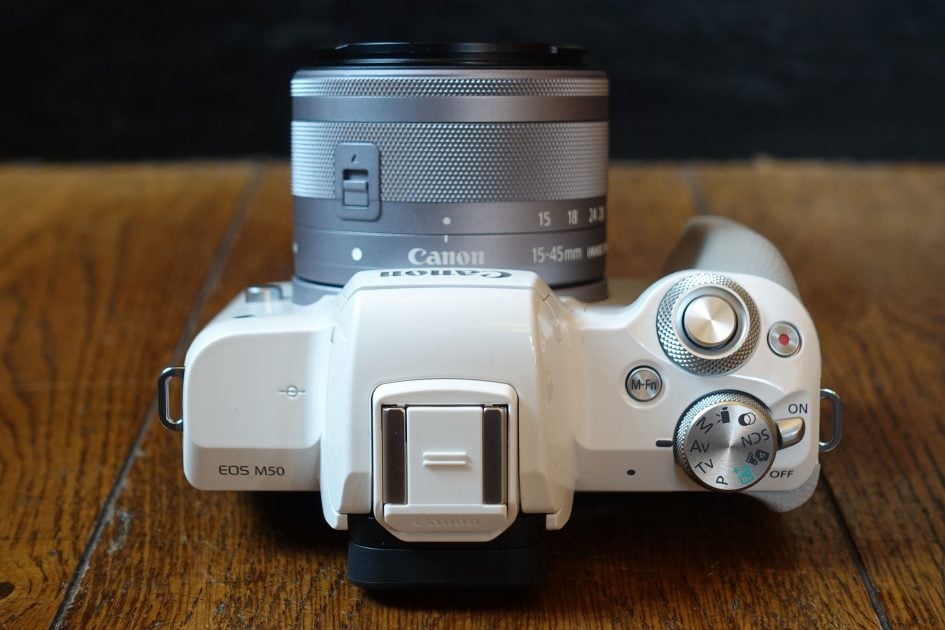 PS - if you find my work useful don't forget you can support me when you shop for anything atB&H or Adorama using these links. Alternatively get yourself a copy of mytreat me to a coffee! Thanks!