Canon EOS 40D screen
Canon EOS 40D features continued…
Lenses and viewfinder / Screen and menus / Sensor and processing / Anti dust
Canon has equipped the EOS 40D with a 3in colour monitor sporting 230k pixels. This is half an inch bigger than the 2.5in monitor of the EOS 30D, and looks much bigger in practice although the resolution is the same. Interestingly in an age where the viewing angle of LCD monitors generally increases though, Canon's reduced the 40D's screen to 140 degrees compared to 170 on the 30D.
This has been done to improve the ease of viewing outdoors, and when directly compared against its predecessor or the 5D, the 40D's screen is certainly brighter. Don't expect miracles though – if you have very bright sunlight directly shining on the 40D's screen, it remains hard to see, but it is at least an improvement over the 30D and 5D in this regard.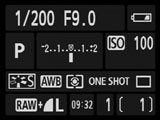 Viewed alongside Canon's previous DSLRs, the 40D's screen is probably the company's best to date, but its rivals have raised the bar in their latest generations. Both the Nikon D300 and Sony A700 now employ 3in screens with four times the resolution of the EOS 40D, and it really shows. The higher resolution monitors may not affect final image quality, but they can help with focusing during Live View, while images in playback look fantastic and there's also an opportunity for better-looking menus, thumbnails and graphics. Don't get us wrong, the 40D's screen is still very good, but the higher resolutions of the Sony and Nikon monitors are preferred from an aesthetic point of view if nothing else.
Back to the EOS 40D now, where a menu option allows you to view the shooting information in large clear fonts, arranged on-screen in a similar way to the EOS 400D / XTi. This is of course in addition to the shooting information which always appears in the secondary LCD screen on top of the body – and also through the viewfinder. Canon's certainly covered all bases here.

Canon EOS 40D Live View

One of the major new features of the Canon EOS 40D is its Live View facility which lets you compose using the colour monitor and overlay graphics on the screen like an alignment grid or a live histogram. Below are examples of each from the EOS 40D.
Live View is one of those features which currently polarises DSLR owners though: some people value it, while traditional photographers often wonder what all the fuss is about. Revealingly Canon appears to have a foot in both camps when it comes to the EOS 40D. It makes a big deal about the new feature and yet when you pick up the camera, there's no obvious button to activate it.
Bizarrely, Live View is also disabled as standard, so you'll need to enter a menu to enable the feature, after which the SET button on the back of the camera will activate it. It's almost as if Canon's a bit embarrassed about the feature, hiding it from conservative users and hoping those who are interested will seek it out.
It's also revealing the first instruction about Live View in the User Guide is to switch the lens to manual focus. That's not to say the 40D can't autofocus in Live View – indeed the AF-ON button can perform this function – but you'll need to enable this in a menu too. And there's no live histogram either without enabling a custom function. All very odd.
Once you've enabled everything though, Live View on the 40D works just fine. There's the usual pause as the mirror flips up to expose the sensor, along with a slight delay as it flips back and forth again to autofocus. Sadly the EOS 40D doesn't feature contrast-based AF which can perform without interrupting Live View, but at least a newly designed motorised shutter-cocking system results in a little less noise than rival cameras.
Indeed while Live View on some cameras has a reputation of being noisy and indiscreet, the EOS 40D offers a choice of modes allowing very quiet operation. The 40D is already quieter when shooting in Live View, but an additional Silent Shoot mode takes this even further. With Mode 2 selected in the Silent Shoot menu, it's possible to shoot using an electronic first curtain shutter and delay the re-cocking of the physical shutter by holding the shutter release button down.
The idea is to press the shutter release button to take the photo (with a very faint click), but keep it held until you're out of ear shot, after which you can let go, allowing the 40D to audibly re-cock the physical shutter. You may only be able to take one photo with this technique, but it could be useful in certain situations. Check out our Silent Shoot video demonstration.
In terms of shooting details, the 40D's Live View mode allows you to overlay a grid for alignment and / or a live brightness histogram – see screen shots above. By pressing the magnify button, you can also zoom-in by five or ten times to confirm focus, and use the joystick to examine different areas of the image.
This magnified manual focus assistance works well under normal conditions, but wanting to push it further we also tried it at night for astro-photography. Using lenses operating between f4 and f5.6, only the very brightest stars were visible on-screen, but we could easily move the manual focus assist frame over them and magnify the area to confirm sharp focus. This proved very useful in practice. For a full demonstration of Live View, check our Canon EOS 40D video tour – this includes a demonstration of using Live View during remote capture with a PC which we'll explain on the next page.
Canon EOS 40D menus

Canon's (perhaps sensibly) abandoned the long single menu of the EOS 30D and 5D and instead gone for a tabbed approach with the EOS 40D. So press the Menu button and you'll be presented with nine tabbed pages: two for recording, two for playback, three for setup, and one each for custom functions and My menu settings. Each page has no more than seven options and it's easy to navigate using the finger and thumb dials, or the joystick.
In playback mode, pressing the Info button cycles between a clean image, one overlaid with a little shooting information, a thumbnail with a brightness histogram only, and finally a thumbnail with both brightness and RGB histograms.
You can also use the magnify buttons to zoom-in on an image or zoom out to display either four or nine thumbnail views. If you're directly connected to a PictBridge-compatible printer, the EOS 40D also allows you to perform a number of manipulations including trimming and fine rotation, along with Levels adjustments.