Canon EOS 40D verdict
Canon's EOS 40D arrived almost like clockwork, 18 months after its predecessor. This came as no surprise since Canon's updated this particular product line at predictable intervals, but the burning question was how much of an upgrade it would be.
The earlier EOS 30D may have been a case of 'if it ain't broke, don't fix it', but by resting on its laurels for a product generation, Canon lost significant market share to Nikon.
Canon had to come back fighting with the EOS 40D, and it's certainly delivered the goods. The new DSLR may resemble its predecessor from the outside, but features worthy upgrades in almost every department. The key specifications of resolution, continuous shooting, autofocus, weatherproofing, screen and viewfinder have all been improved, and there's now also the addition of Live View, anti-dust features and full remote control using your PC. In short the EOS 40D handles like a dream, feeling tough, very responsive, and confident to handle just about any situation.
Canon's certainly delivered an excellent camera and a worthy successor to the EOS 30D, but the competition hasn't stood still. Nikon and Sony in particular have two new models which look set to be the 40D's biggest rivals. So how does it measure up? We'll start with the model which came before it.
Compared to Canon EOS 30D

The new EOS 40D improves on its predecessor in almost every respect. The resolution has a slight, but measurable increase, the continuous shooting accelerated from 5 to 6.5fps, the AF system and weatherproofing improved, and both the viewfinder and screen enlarged. The EOS 40D also features Live View, anti-dust, interchangeable focusing screens and full PC remote control. Oh, and the ISO value is also finally shown at all times on both the secondary LCD screen and in the viewfinder.
If you value these performance enhancements, it could be worth upgrading from the 30D, but if you skipped a generation and are still using the 10D or 20D, there's enough here for most to justify a purchase. See our Canon EOS 30D review for more details.
Compared to Canon EOS 5D

Canon's EOS 5D is now the oldest camera in its current DSLR line-up and many are expecting an upgrade during early 2008. The 5D may not feature Live View, anti-dust or quick continuous shooting, and even its 2.5in screen is looking a little small nowadays, but it still has one literally big draw: a full-frame sensor.
In many of our tests, the EOS 40D may have come close to the EOS 5D, but Canon's full-framer still resolves greater detail and out-performs it at higher sensitivities. It is however trading on image quality alone now and has fallen noticeably behind on the latest features. Hopefully the 'EOS 5D Mark II' will bring Live View, anti-dust, faster shooting and a bigger screen to Canon's 'affordable' full-frame category, but if the 40D's image quality is good enough for your requirements, it represents better value. If however you're not bothered by these new features though and simply desire the best image quality without investing in a 1Ds Mark II or III, then the EOS 5D remains a great choice – although remember it's likely to be updated soon. See our Canon EOS 5D review for more details.
Compared to Nikon D80

Nikon's D80 has arguably been the biggest thorn in Canon's side during recent times. The two companies have always tended to position their DSLRs in-between each others, so it came as no surprise to find the D80 was a superior camera to the EOS 400D / XTi. It was after all more expensive and you got what you paid for. The big surprise though was just how many new DSLR owners did just that, spending more to enjoy a superior product, which also arguably out-performed the higher-end EOS 30D in many respects.
With the EOS 40D though, there's no doubt which is the superior camera. In its favour the 40D is tougher, quicker, fires-off frames more than twice as fast, while also featuring Live View, a bigger screen, PC Sync port, anti-dust features and optional accessories including a wireless transmitter. To be fair the Nikon D80's viewfinder still appears slightly larger and doesn't charge extra to see a grid through it, but it's clear the EOS 40D is superior overall. This shouldn't be a surprise though as Canon's new body is about 50% more expensive, so while it is a better DSLR, it also reinforces how good value the D80 remains. See our Nikon D80 review for more details.
Compared to Nikon D300

Nikon's new D300 is priced about one third higher than Canon's EOS 40D, so is unsurprisingly a better-specified product. The big problem for Canon is that it's sufficiently in-reach of many potential 40D owners to be considered a serious rival. Once again people may save hard and go for the superior specification. We haven't tested a final production model yet, so a comparison has to be done on paper specifications, but the D300 certainly looks very strong.
In its favour the D300 has a higher resolution 12.3 Megapixel sensor, contrast-based AF in Live View for uninterrupted viewing, a great-looking screen with four times the detail, an impressive-sounding 51-point AF system, HDMI port for connection to an HDTV, and while the basic continuous shooting is a tad slower at 6fps, the addition of the optional battery grip accelerates it to 8fps. It's not superior across the board though – unlike the 40D, Nikon's not implemented the useful live histogram facility in Live View, and the D300's screen refresh of 15fps may not appear as smooth as the Canon. These aside though, the D300 remains a better-featured camera overall – on paper anyway – but if it delivers on expectations, the question is whether potential 40D buyers can be persuaded to part with the extra cash. See our Nikon D300 review for more details.
Compared to Sony Alpha DSLR-A700

Sony's second ever DSLR, the Alpha A700 is likely to be the Canon EOS 40D's other major rival. Costing just a little more, the A700 boasts three major benefits over the 40D: a higher resolution 12.2 Megapixel sensor, a great-looking screen with four times the detail, and crucially, built-in anti-shake facilities. Sony's also fitted an HDMI port, although unusually though for the gadget giant, the A700 isn't equipped with Live View facilities, and unlike Canon and Nikon, there's also no Wifi wireless image transfer options.
The A700 is ultimately a less 'professional' camera than the 40D and D300, instead targeting high-end enthusiasts. The choice between it and the EOS 40D will very much depend on weighing up which feature-set you prefer. For more details, see our Sony Alpha DSLR A700 review.
Canon EOS 40D final verdict

Canon's EOS 40D features many improvements over its predecessor and finally shows the pesky Nikon D80 who's boss – albeit one which costs almost half as much again. Canon's delivered a superb DSLR which handles beautifully, is packed with useful features and delivers great-looking images.
The Live View facility works well, especially when remote-controlled using a PC, and the silent-shooting modes prove it doesn't have to make a racket either. The anti-dust system whether through luck or design also proved quite effective in our tests, with foreign particles rarely being an issue. And while our studio resolution tests proved some 10 Megapixel DSLRs resolved slightly more, it didn't make a big difference in real-life. Ultimately the 40D most-impresses out in the field where it's simply an extremely quick and capable camera which confidently handles almost any situation. Sure, the default settings could do with a slight boost in sharpening to unveil the finest details, but this is easily adjusted if desired.
Beyond Canon's habit of burying many features in custom menus though there's actually very little to complain about unless you look at the feature-sets of what are likely to become its two biggest rivals, the Nikon D300 and Sony A700. Both feature slightly higher 12 Megapixel resolutions which may not make a huge difference in real-life, but will undoubtedly help in marketing terms. Both also boast 3in screens with VGA resolution, which may do nothing to improve final image quality, but look absolutely fantastic in use. Both cameras additionally sport HDMI ports, which again while far from necessary, all adds up to the 40D looking a bit old-fashioned at times. And while the Sony A700 doesn't have Live View, it does feature built-in stabilisation which works on any lens you attach.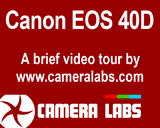 The bottom line is you'll have to compare features between the three cameras and weigh up which are of the most value. Is Live View more important to you than built-in anti-shake for example, and are the D300's extra features worth the money, or would you sooner spend the difference on a lens? It's also crucial to pick up each camera in person as one will undoubtedly feel better to you. But if the 40D's price and feature-set suits your requirements, you'll have few if any complaints – and unlike the others, it's in the shops right now. Ultimately the EOS 40D is a superb DSLR which confidently earns our Highly Recommended rating – just be aware there's at least two very worthy rivals to seriously consider.
To see and hear the 40D in action, check out our Canon EOS 40D video tour.
New: Canon WFT-E3(A) wireless transmitter review and video tour.
Support this site by shopping at Amazon
---

Good points
Superb handling and 6.5fps shooting.
Great build & improved weatherproofing.
Live View and PC remote control.
Effective anti-dust during our test period.

Bad points
Resolution not a big step-up.
Default settings benefit from sharpening.
Screen doesn't have VGA resolution.
No HDMI port and tough rivals.

Scores
(compared to 2007 mid-range DSLRs)


Build quality:
Image quality:
Handling:
Specification:
Value:

Overall:



18 / 20
18 / 20
19 / 20
18 / 20
17 / 20

90%