Tamron 100-400mm VC review
Verdict
The Tamron 100-400/4.5-6.3 VC is an interesting lens for people looking for an affordable and light long telephoto zoom for high resolution APS-C/DX or full-frame/FX sensors. For only 840 EUR / 800 USD Tamron built a lens that delivers sharp and contrasty images over most of its zoom range that weighs only 1.1kg / 39oz. Its performance coupled with the multitude of customizing AF and VC via computer (needs Tamron's Tap-in console) make for a compelling package. But there's also one downside to this lens: the AF produces more outliers than usual.
Let's see how the new lens compares to the alternatives from Sigma and Nikon.
Tamron 100-400mm vs Sigma 100-400mm
Sigma's 100-400mm hit the streets half a year before Tamron's new zoom. And it is still the shortest und cheapest alternative if you want to reach 400mm focal length. It is almost as sharp as the new Tamron and its adaptability to different lens mounts (Nikon, Canon, Sony) is a unique benefit. Its biggest let-down is the missing tripod collar (not even optionally available) and most importantly the disappointing OS performance: it is not very effective around 1/100 sec and 1/50 sec which is a critical range of shutter speeds for such a lens. But its focus repeatability and accuracy is better than from the Tamron. The difference in focal ratio at the short end (f5.0 of the Sigma vs. f4.5 of the Tamron) should not be overrated: it's just a third of a stop. All-in-all the Sigma 100-400/5-6.3 OS earned a recommendation.
For more details see my Sigma 100-400mm f5-6.3 OS review.
Tamron 100-400mm vs Nikon 80-400mm
Nikon endowed their 5x gold-ringed telephoto zoom with very good image quality: Easy to focus, sharp across the full-frame sensor, and with only little CA. It becomes a bit softer at the long end with a slight weakness at 300mm but still delivers pretty high resolution. Its focal ratio of f5.6 should not be overrated regarding light gathering power, but it makes the Nikon clearly larger and heavier (by 400g, almost 40%) than the new Tamron. The major benefit of the Nikon is its 5x zoom range: it is 20% shorter at the wide end which might help you frame the shot when a subject gets too close or you are in a tight place. But it's 2.7x more expensive than the new Tamron which is easily the decisive factor when you're on a budget. But all-in-all its optical quality, the effective image stabilization plus reliable AF makes it the most well-rounded offer earning the Nikon 80-400/4.5-5.6G VR a Highly Recommended.
For more details see my Nikon 80-400mm f4.5-5.6G VR review.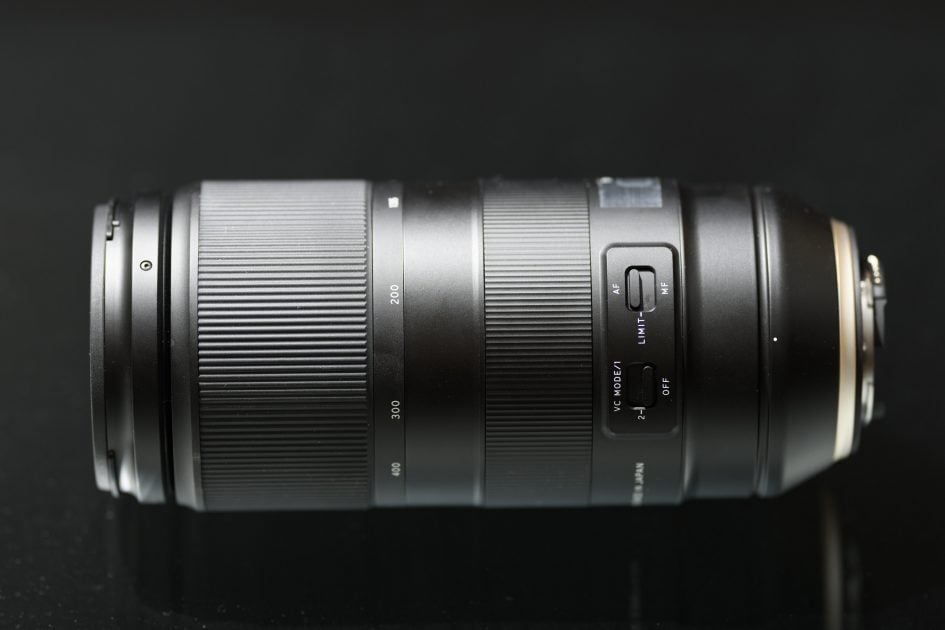 Tamron 100-400/4.5-6.3 VC final verdict
If you like a light package, have a limited budget, and need the reach of a 400mm telephoto zoom, the new Tamron is a good choice: it may not be as cheap or small as the Sigma 100-400mm but it is the lightest modern zoom reaching 400mm and produces very sharp images – if the focus is nailed right. Because its biggest let-down is the somewhat disappointing AF performance: it produces more outliers than other lenses I've recently tested – at least on my copy. But all-in-all the Tamron 100-400/4.5-6.3 VC certainly earns a recommendation.
Good points:
Light build with good weather sealing.
Very good sharpness and contrast across full-frame sensor even wide open.
Versatile customization of AF and VC via USB-dock.
Low price.
Bad points:
AF shows some variability in nailing focus.
Resistance against flare/glare/ghosting could be better.
Tripod collar is seperate accessory.
Read on: use the tabs to visit the other pages which include more in depth information, full quality test results, and sample images! I also have additional sample images here.

Check prices on the Tamron 100-400mm VC at Amazon, B&H, Adorama, or Wex. Alternatively get yourself a copy of my In Camera book or treat me to a coffee! Thanks!