The Nikon Z6 is a full-frame mirrorless camera aimed at enthusiasts, featuring 24 Megapixels, built-in stabilisation, 273 embedded AF points and 12fps burst shooting. Announced in August 2018 alongside the higher resolution but more expensive and slightly slower Z7 model, both cameras launch Nikon's long-awaited full-frame mirrorless 'Z' system.

The Z-system employs a brand new Z-mount with a 16mm flange to sensor distance and a wide 55mm inner diameter, allowing Nikon to more easily deliver high quality across the frame and achieve apertures as bright as f0.95. A 58mm f0.95 Noct lens is promised in 2019, but for now the system launches with three lenses: a 24-70mm f4 'kit' zoom, along with 35mm f1.8 and 50mm f1.8 primes. There's also the FTZ adapter that lets you use any F-mount lens with 93 models supporting autofocus, and if a lens has optical VR, it works alongside the body-based VR to enhance the stabilisation. Along with the 58mm f0.95, a Z-mount lens roadmap promises native 20mm f1.8, 85mm f1.8, 24-70mm f2.8, 70-200mm f2.8 and 14-30mm f4 lenses in 2019, while in 2020 promises native 50mm f1.2, 24m f1.8 and a 12-24mm f2.8 models. Third parties are also expected to launch Z-mount lenses.

Returning to the bodies, both the Z6 and Z7 share a great deal in common, including full-frame back-illuminated sensors with embedded phase-detect AF coverage across 90% of the frame (horizontal and vertical, and operating down to -4EV with an f2 lens). The sensors are stabilized in the body with 5-axes and up to five stops of compensation. They both share the same weatherproof bodies with magnesium alloy front, back and top covers, sealed to the same standards as the D850. Both share the same 3.6 Million dot Quad-VGA OLED electronic viewfinders with 0.8x magnification and the same 3.2in / 2.1 million dot tilting touchscreen. Both have the same controls including twin control dials, AF joystick, AF-ON button, and a small upper OLED panel for basic shooting information. Both employ a single XQD memory card slot and are powered by the EN-EL15B battery, good for 310-330 shots under CIPA conditions and USB-chargeable. Both can film 4k UHD video at 24, 25 or 30p or 1080 at up to 120p with audio, have adjustable movie AF speed and sensitivity, and are also equipped with microphone and headphone jacks, 10-bit output over HDMI with Nikon's flat N-Log profile, focus peaking, zebra patterns, and have Wifi and Bluetooth to support Nikon's SnapBridge technology.

So far, so similar. Where they differ is in sensor resolution, AF points, burst speed and price. The Nikon Z7 has 45.7 Megapixels, 493 AF points, 64-25600 native ISO sensitivity and 9fps bursts versus 24.5 Megapixels, 273 AF points, 100-51200 native ISO sensitivity and 12fps for the Z6. In terms of pricing, the Z6 body will launch at $1999 / 2099 GBP or $2599 / 2699 GBP in a kit with the 24-70mm f4, while the Z7 body will launch at $3399 / 3399 GBP or $3999 / 3999 GBP with the 24-70mm f4 zoom; you can also add the FTZ adapter for just 100 GBP if bundled with the body or kit. Bought separately the 24-70mm f4 costs 999 GBP, the 35mm f1.8 costs 849 GBP and the 50mm f1.8 costs 599, while the adapter costs 269 GBP; clearly it's worth buying the kits with the zoom and the adapter. Sales start in September for the Z7, 24-70mm, 35mm and FTZ, while the Z6 and the 50mm f1.8 should follow in November. I had a chance to try out the Z6, 24-70mm f4, 35mm f1.8 and FTZ adapter at the official Nikon launch event and you can find out all about my experiences in my first-looks video review below!

Check prices on the Nikon Z6 at Amazon, B&H, Adorama, or Wex. Alternatively get yourself a copy of my In Camera book or treat me to a coffee! Thanks!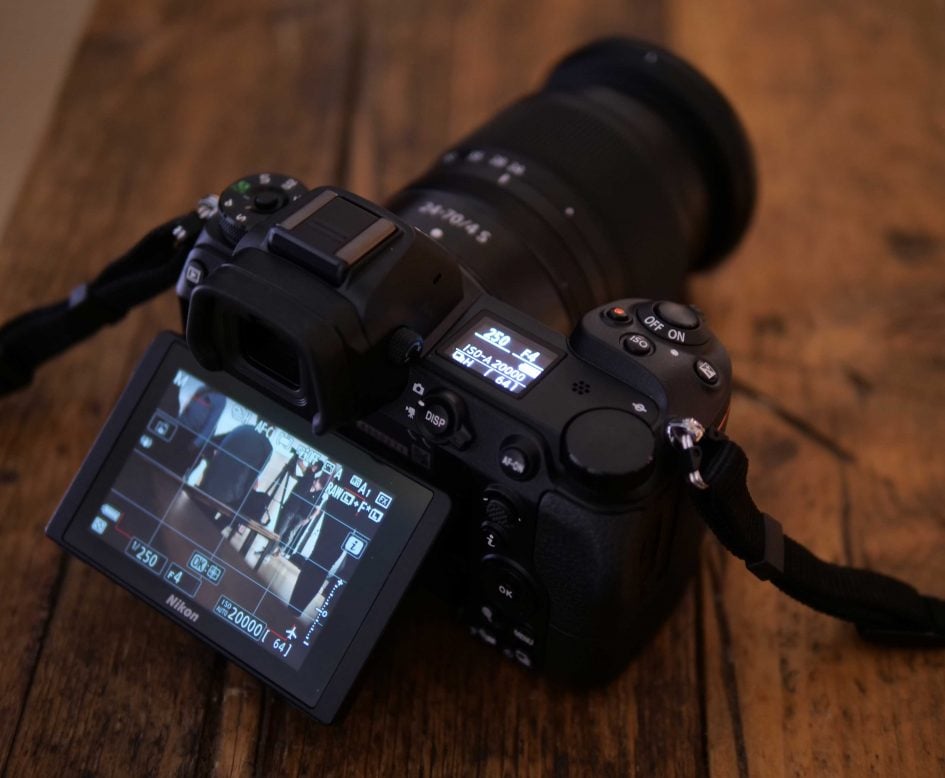 Nikon Z6 vs Sony Alpha A7 III
Nikon is under no illusions that the camera to beat – or at least match – is the Sony A7 III, and the Z6 indeed shares a great deal in common with it. In a similarly-sized weatherproof body you're getting a back-illuminated full-frame sensor with 24 Megapixels, built-in 5 axis stabilisation good for 5 stops, similar top burst speeds (12fps on the Z6 vs 10fps on the A7 III), 4k video up to 30fps or 1080 video up to 120p, tilting touchscreens, embedded phase-detect AF covering large portions of the frame, and Wifi with Bluetooth.
In its favour, the Z6 employs a potentially faster card format with an XQD slot, but sadly lacks the twin slot capabilities of the A7 III. The Z6 has a more detailed viewfinder (quad VGA 1280×960 vs XGA 1024×768 on the A7 III) and a larger screen too (3.2in on the Z6 vs 3in on the A7 III). The Z6 includes an interval timer and timelapse video options in-camera (both sorely lacking from the Sony), 10 bit 4k over HDMI (the A7 III only does 8 bit), a far superior touchscreen interface, and the AF system works down to -4EV compared to -3EV for the Sony, although the Nikon lacks eye-detection which has become very refined on the A7 III. Finally a big advantage of the Z7 over the Sony is the ability to adapt F-mount lenses with decent support for autofocus – something that will tempt existing Nikon owners to stay with the brand.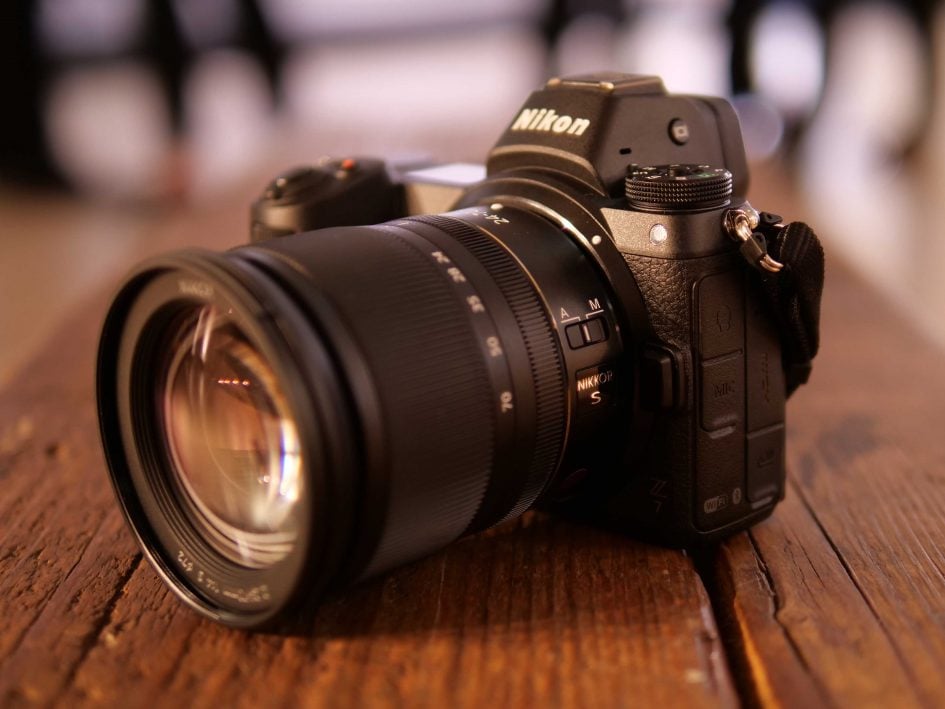 Literally biggest difference though is the lens mount with the wider diameter flange of the Z6 potentially allowing better performance from wide angles or very bright aperture lenses, although the first lens to exploit this isn't expected until 2019. The controls and grip on the Z6 are arguably a little better than the A7 III, and Nikon makes greater claims over the weather sealing than Sony, but I don't think the differences will be huge in practice.
In its favour, the Sony A7 III already has a significant selection of native lenses available, as well as being able to successfully adapt Canon EF lenses with AF (although this may end up being possible on the Z6 too). It boasts twin card slots (albeit SD and only one supporting UHS-II), double the battery life under CIPA conditions, it has eye detection with continuous AF, has a finer array of AF points (693 phase-detect AF points on the A7 III vs 273 on the Z6), and can also shoot deeper bursts compared to the pre-production Z6 I tested, but hopefully this will improve with final models. And while the Z6 can technically shoot faster at 12fps vs the A7 III's top speed of 10fps, the Nikon locks its exposure at this speed whereas the Sony can adjust its exposure. As importantly, if you want live feedback between frames, you have to reduce the speed of the Z6 to 5.5fps compared to 8fps on the A7 III, so for me the A7 III looks more powerful and capable when it comes to autofocus and burst shooting.
Price-wise, there's essentially nothing between them at the time of writing. If you're an existing Nikon owner, then it would make sense to choose the Z6 over the A7 III for better potential compatibility with lenses, accessories and familiarity with the menus. But if you don't have an existing investment in either, the decision becomes harder. Until I get to test a final production Z6, the Sony A7 III is looking potentially stronger with its better battery life, finer autofocus, deeper bursts, twin card slots and eye detection. But don't rule-out the Z6 with its more detailed viewfinder, larger screen, far better touch interface, 10 bit 4k over HDMI, built-in interval timer, and most importantly the potential of that larger lens mount. The latter is a moot point though as at launch there's no lenses which really show off what the Z mount can do, and in the meantime, Sony is ploughing ahead with some superb lenses regardless.
Ultimately we'll have to wait and see how the image and video quality compares, as well as the overall speed and handling, but for now there isn't a decisive leader between them. Nikon appears to have successfully matched most of Sony's key features but not taken a decisive lead. See my Sony A7 III review for more details.
Nikon Z6 first impressions
The Nikon Z6 is a high-end full-frame mirrorless camera that jointly launches the Z-system alongside its higher resolution but more expensive and slower sibling, the Z7. The Z6 enters an established and fiercely competitive market, aiming squarely at the Sony Alpha A7 Mark III and essentially matching many of its features as you'd expect: the Z6 gives you a 24 Megapixel sensor with 273 embedded phase-detect AF points, built-in stabilisation, a large high resolution electronic viewfinder, 4k video at 30p, 1080p video at 120p, a tilting touchscreen, 12fps burst shooting and Wifi with Bluetooth.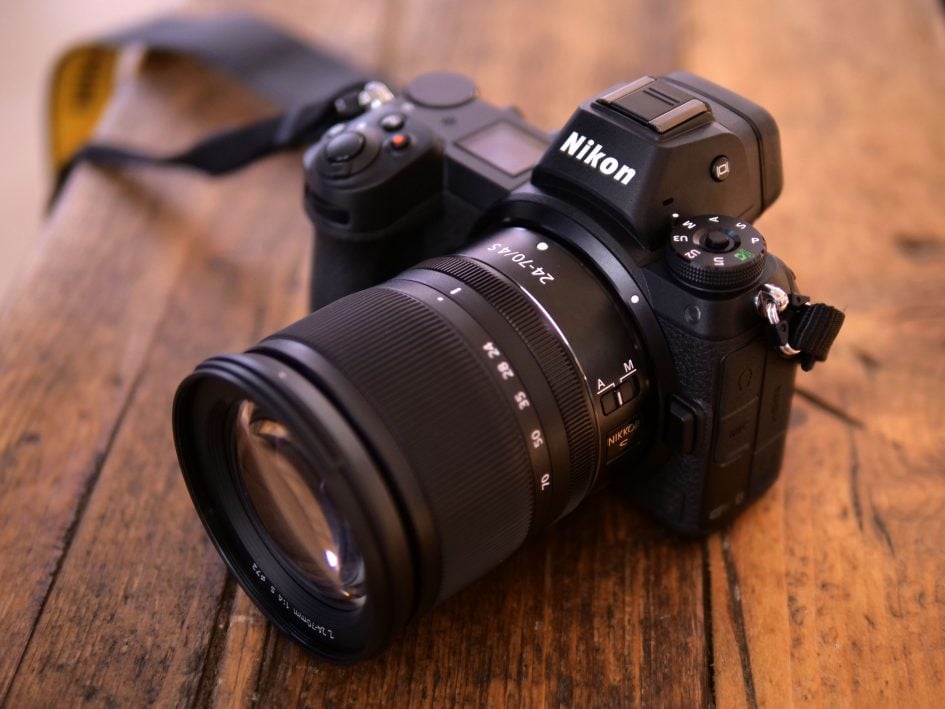 It's an impressive specification to launch with, but one that Sony essentially matches with its A7 III. The Z6 fights back with a potentially faster XQD slot (albeit unforgiveably lacking twin slots), 10 bit 4k over HDMI, a more detailed viewfinder and larger screen, n interval timer and timelapse video features, has arguably slightly better sealing, ergonomics, and menus, and the potential of the wider diameter lens mount (although the first lens to really exploit it won't arrive until 2019). But there's no 4k above 30p, no backlit buttons, no twin card slots, no eye detection, what looks like less capable AF and burst shooting in practice than the A7 III and only three lenses at launch, although an adapter does allow you to mount F-mount lenses. I'd say the Nikon faithful will be happy as they essentially now have a Nikon version of the A7 III with better F-mount compatibility and the potential for some exciting lenses in the future. But for anyone building a new system from scratch, the Sony A7 III remains a highly compelling alternative with an established collection of high quality lenses.

Note these are my first impressions based on a pre-production Z6 body. Only once we've tested final production bodies can we really compare the quality and handling of the Z system. Check back soon for updates!

Check prices on the Nikon Z6 at Amazon, B&H, Adorama, or Wex. Alternatively get yourself a copy of my In Camera book or treat me to a coffee! Thanks!