Sony SAL75300 75-300mm f4.5-5.6 lens review
Intro


The Sony SAL75300 75-300mm telephoto zoom was launched with the A100 digital SLR as part of an optional twin lens kit. While most people will buy it as part of the A100 twin lens kit, the 75-300mm is also now available separately. As such it's arguably going to be the most popular telephoto zoom for the A100 DSLR.
The Sony 75-300mm is designed to complement the standard 18-70mm kit lens, greatly extending the range without any overlap. Indeed since the 5mm difference between them is negligible, the pair offer a huge range from 18-300mm, delivering a 35mm-equivalent field of 27-450mm. The telephoto range of the 75-300mm is ideal for portraits, wildlife and sporting events, along with bringing-in any kind of distant detail. And since the Sony Alpha A100 body has built-in Super SteadyShot, the 75-300mm automatically enjoys anti-shake capabilities.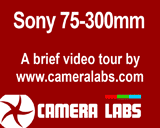 In this review we'll put the Sony 75-300mm zoom through its paces and see how it complements the standard 18-70mm kit lens. We've compared the optical quality of the 75-300mm against the 18-70mm to reveal what you can expect when switching from one to the other. In some cases, one performs better than the other around the 70-75mm mark, so we'll let you know which lens you should be using for the best results. We'll also see how effectively the A100's built-in anti-shake deals with longer focal lengths.