Feisol TT-15 Mark II mini tripod review
The Feisol TT-15 Mark II is a high-end mini tripod that's capable of supporting surprisingly heavy loads with ease. Successor to the original Mark I model, the latest Mark II version adds a third leg angle allowing a lower minimum height, an even lighter frame, and a free-spinning screw-fitting that's tightened from under the main frame.
The core premise remains the same though: like all table-top tripods, the TT-15 II is sufficiently small and light to be carried in any bag or even large pockets, but unlike most rivals, it's built like a high-end tripod with a milled aluminium main-frame and carbon fiber legs that are stable and strong enough to support fairly substantial cameras and lenses – even a semi-pro DSLR.
The design, construction and materials means the TT-15 II costs more than most table-top tripods (typically around $69 USD without a head, although as you'll learn, you may not need one), but its sheer convenience, versatility and strength has made it the number one accessory that never leaves my bag. In my review I'll explain what makes it special and share a selection of situations and images where it's allowed me to get the shot I wanted without having to lug around a full-size tripod!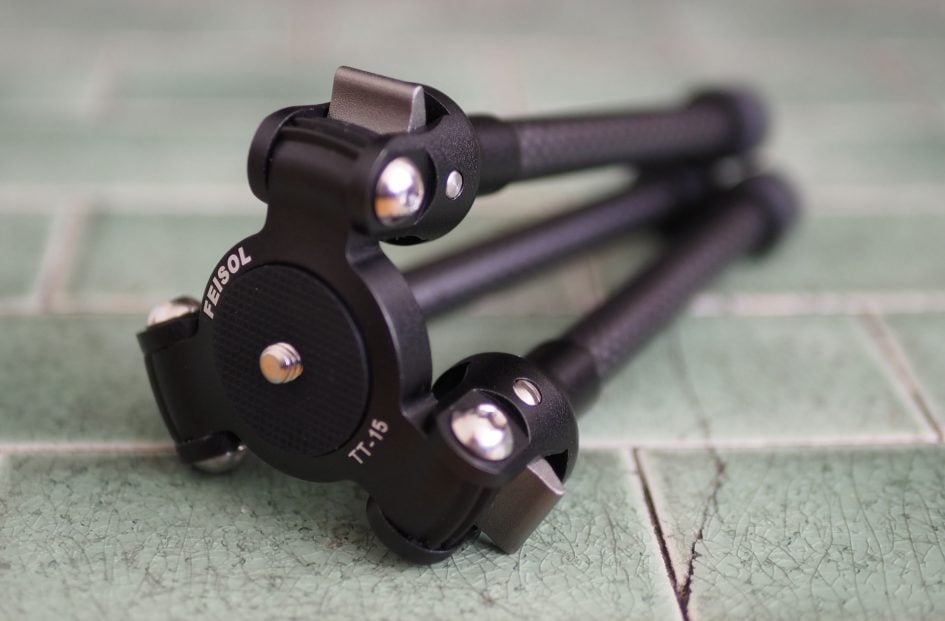 Feisol TT-15 Mark II design
The Feisol TT-15 Mark II looks almost identical to the original Mark I, with both resembling miniaturized versions of high-end tripod legs from the likes of Gitzo or RRS. The TT-15 Mark II weighs just 180g / 0.4lb and measures 16cm / 6.2in when folded-down, yet can handle impressive loads up to 8kg / 18lbs. The anodized aluminium frame, carbon fiber legs and rubber feet are all weather-sealed and can be used in salt water environments. It really is like having a high-end tripod, but in light-weight table-top form.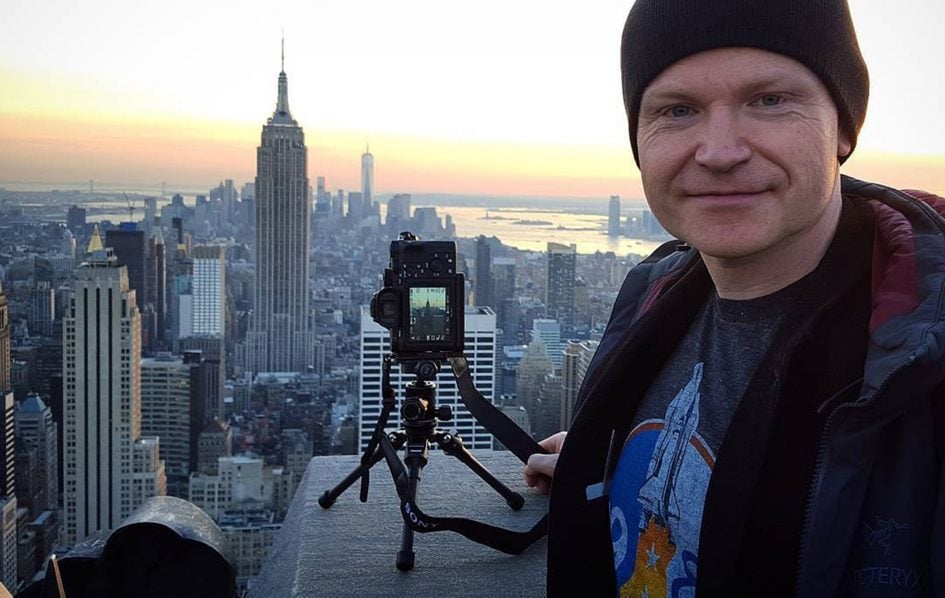 The upper frame is made from a solid block of CNC-milled aluminium, with a 30mm diameter base. A standard quarter-inch threaded screw in the centre of the base spins freely and is tightened under the frame using a wide-slotted head; you can use a small coin to turn the screw, or hold it in place quite effectively with your thumb as you turn the entire tripod or the camera / head above. A 3/8in adapter is also supplied allowing you to mount a head or a larger camera.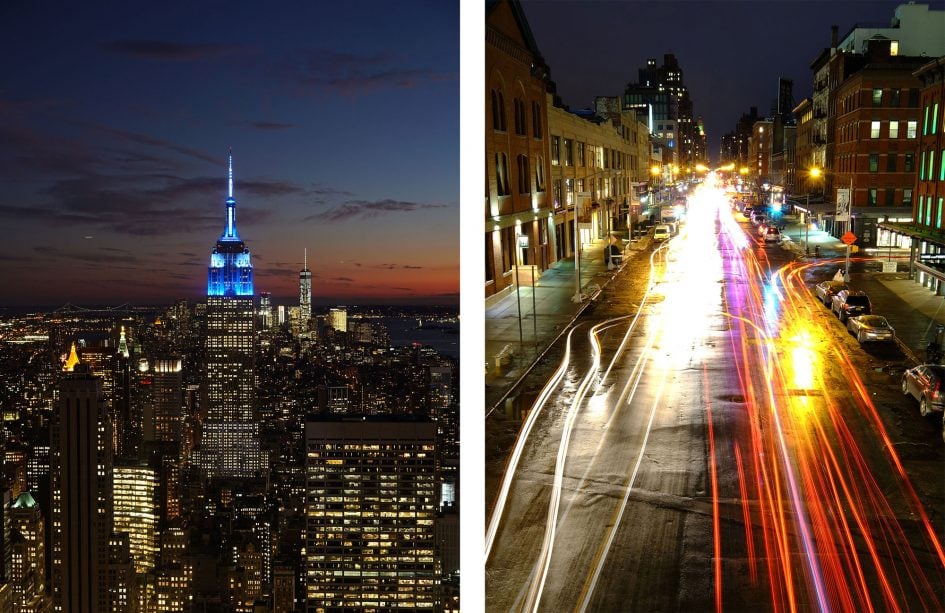 The free-spinning screw is different from the original TT-15 Mark I where the screw was fixed in place, forcing you to spin the entire tripod to wind it into the base of a camera or head. It sounds messy, but to be honest I actually preferred this earlier approach as I could easily rotate the tripod to screw it into a camera or head. Now with the Mark II, I need to consciously hold the tripod against the camera or head, before then turning the screw with a coin or my finger. I don't find it as quick or convenient, but some may prefer it, or probably won't even think about it if they haven't used the Mark I. I think the best solution would have been one of those screws with a small folding handle rather having to find a small coin for a really tight fit.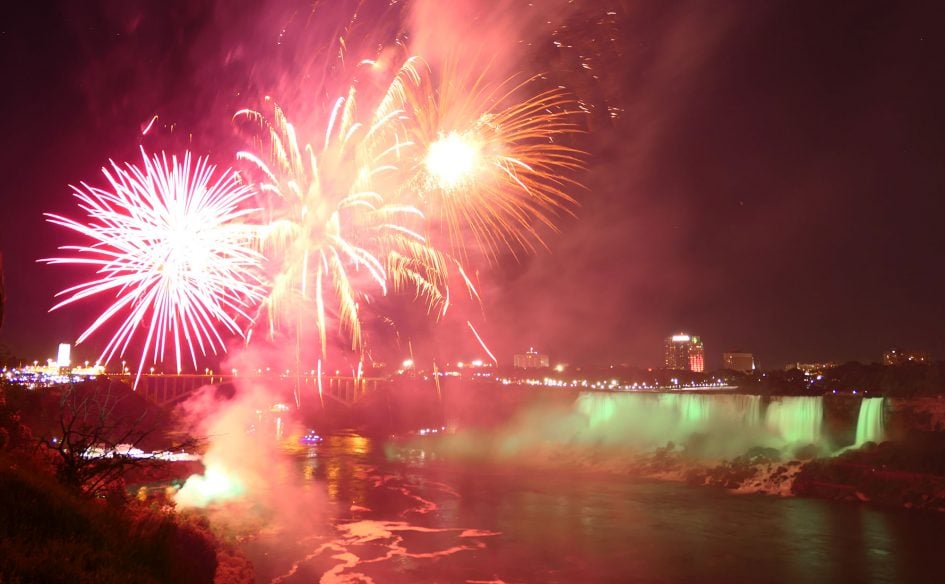 The upper sections of each leg are also made of aluminium and like main frame, are anodized for resistance to corrosion. The hinges between the upper legs and the main frame can be adjusted for tightness using a supplied Allen key.
A spring-loaded ratchet design allows the legs to angle-out and stay locked at one of three positions: 25, 50 and 75 degrees. The lowest position is new to the Mark II and allows the top of the tripod frame to be positioned just 5.3cm above the ground; previously on the Mark I version, you only had two lockable angles, so for anything lower, you'd need to rely on the friction of the joints.

The legs themselves are simple, non-extendable carbon fiber rods. This is in contrast to some table-top or smaller tripods which attempt to pack in multiple sections for the perceived benefit of greater height, but at the cost of stability – after all, the outer legs are so thin to start with, the internal sections need to be thinner still with the end result being a wobbly tripod. So while the TT-15 is never going to be as tall as some rivals, it scores on stability. At the end of each leg is a substantial rubber foot which prevents the tripod from slipping. I've had mine in some precarious positions and it's held solid.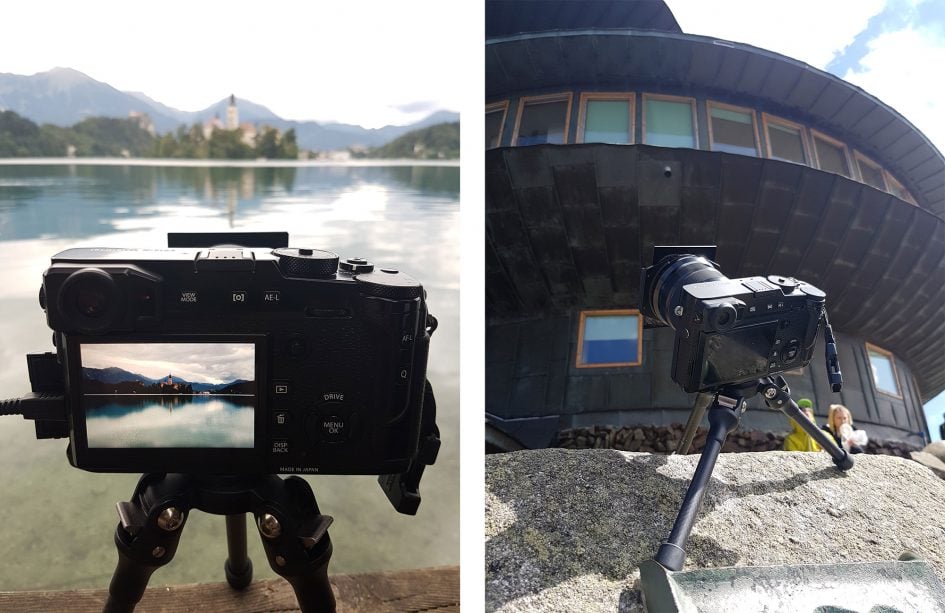 With the legs angled out and locked at the first 25 degree position, the maximum height becomes 14.5cm / 5.67in. I'd say in this position, the TT-15 II is most comfortable with small to medium weights like compacts or smaller mirrorless cameras. If you have a DSLR or a larger mirrorless model, or don't need the maximum height, I'd recommend opening the legs out to the middle 50 degree position, at which point the TT-15 II becomes extremely stable and very confident. Even more so if you open the legs out further to the widest and lowest 75 degree position. It's the 50 and 75 degree positions I use the most, and only deploy the first position when I need the maximum possible height.
I've supported a huge array of cameras and lenses on the TT-15 Mark I and II with success, including semi-pro DSLRs like the Canon EOS 5D Mark IV and Nikon D500, both equipped with medium-sized zooms. I've even pushed my luck with larger zooms using tripod collars and found it really can hold several kilograms with confidence, again so long as you're using the 50 or 75 degree leg positions.
I regularly use the TT-15 for filming video samples for my reviews, and have also used it for many long exposures lasting over a minute. Both instances demand a very stable platform and the TT-15 can deliver it. Of course, for most situations you'll also be placing the TT-15 on a table, ledge, chair, rock or fence to reach the desired height, but I find I often place it directly on the floor or ground for a dramatic perspective.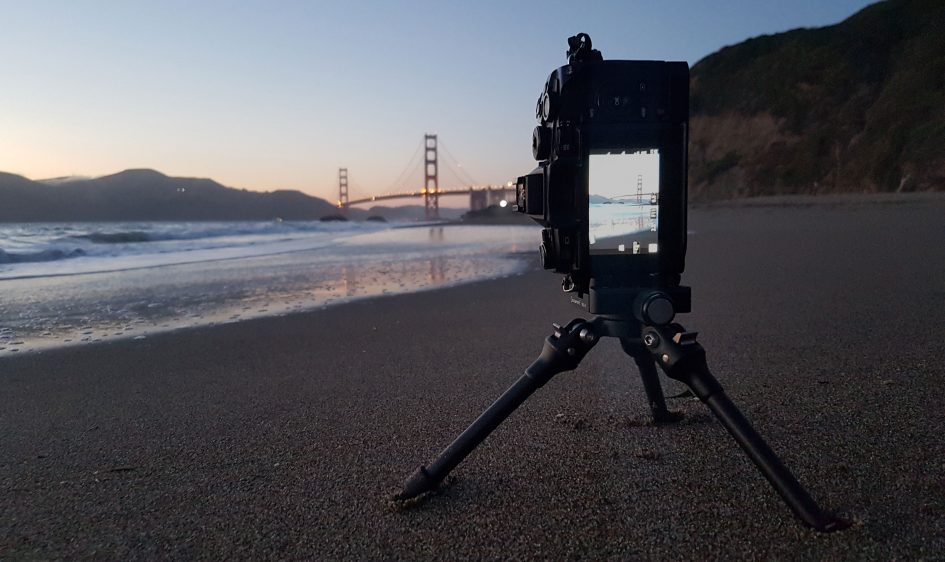 Head or headless?
Unlike many cheaper table-top tripods, the TT-15 doesn't include a head, whether built-in other detachable. In-line with other high-end tripod legs, it simply offers just a screw-fitting onto which you can mount whatever you like.
Most buyers naturally think of fitting a small ball head to the TT-15 – and indeed Feisol suggests its own CB-30D – but doing so will of course increase the overall size and weight, not to mention raising the centre of gravity and rendering it less stable than before. I initially fitted my first TT-15 with a small ball head, but soon found it wasn't actually necessary for most of my shots. Before long I discovered I could simply mount the tripod legs directly to the base of a camera and simply adjust the leg angles slightly to level it where necessary, with the hinge friction easily holding all but the heaviest loads in place.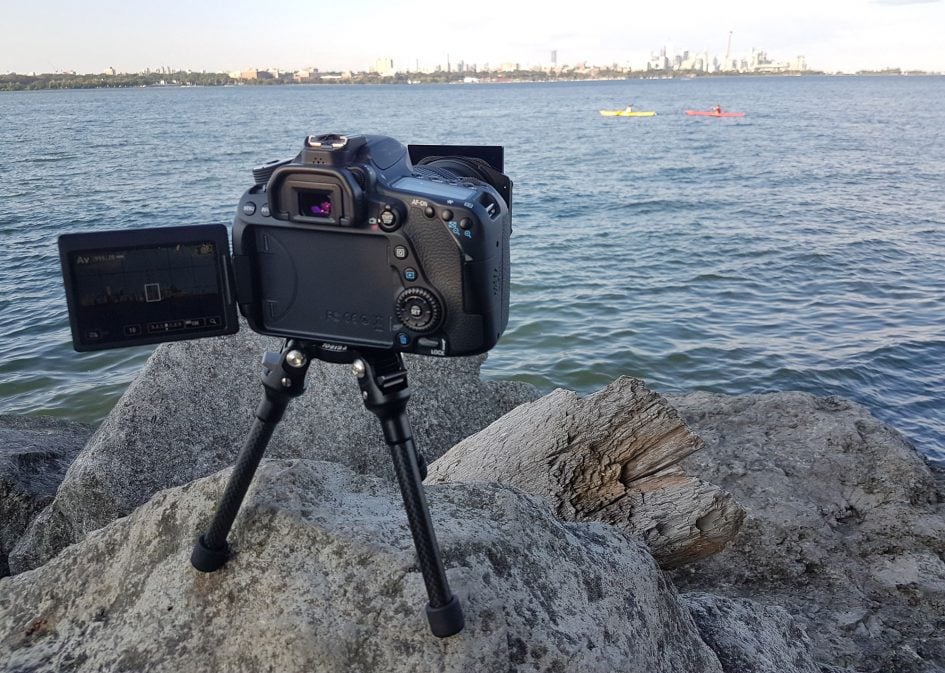 When I want to shoot in the vertical orientation, I found the most compact and stable solution was again to dispense with a ball head and instead just screw a quick release clamp directly to the legs, then fit the camera into it using an L-bracket (see above); I use a Sunwayfoto Mac-14 clamp from B&H. There's similar solutions for those who want a rotating platform for panoramas, such as Feisol's PB-70, but again don't need the full adjustments or height of a ball head.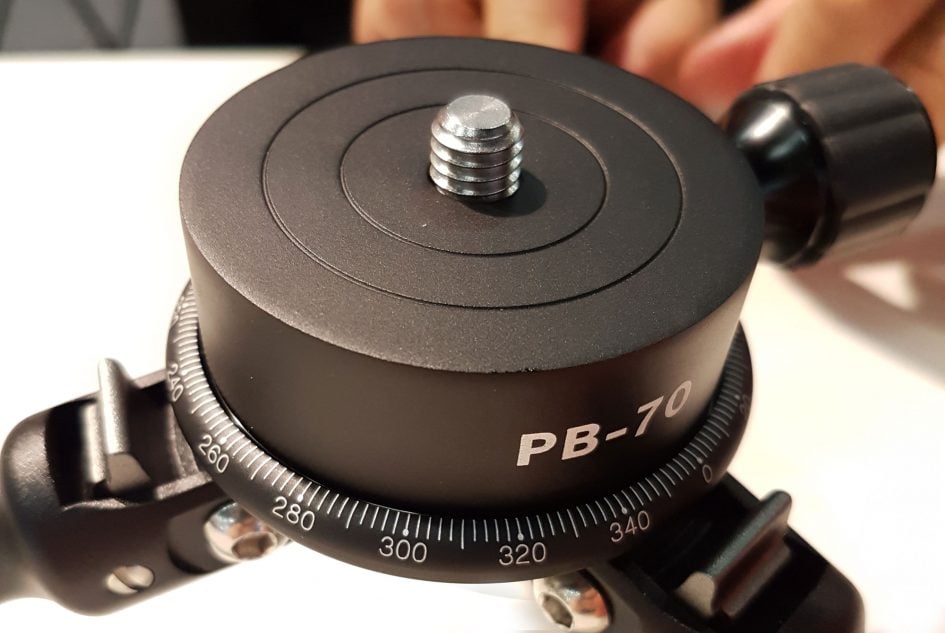 Some may initially mark the TT-15 down for not having a built-in ball head nor extending legs, but both are important factors in the overall stability of the product. Indeed they differentiate it from cheaper table-top tripods in a very positive way, and contribute to my overall preference for it.
Ultimately if you only need to support a compact camera or a small mirrorless for simple shots, then you can definitely get away with models like the Manfrotto PIXI or smaller Gorillapods. But if you want to support a larger, heavier camera, such as a higher-end mirrorless or a DSLR, then you'll really appreciate the extra stability of the Feisol TT-15 II. This stability also becomes invaluable if you're capturing long exposures or filming video, regardless of your camera size.
Feisol TT-15 Mark II final verdict

Feisol's TT-15 Mark II is my favourite table-top tripod, boasting surprising stability and strength thanks to its milled-aluminium frame, carbon fiber legs and rubber feet. Unlike some table-top tripods the legs don't extend nor does it come with a built-in head, but their absence coupled with the high-end build quality are actually the secrets of its success: rather than compromising stability by including arguably unnecessary frills, Feisol has designed a simple product that does what it does extremely well. I've successfully used the TT-15 II with compacts and mirrorless cameras of all sizes, and even semi-pro DSLRs, while shooting long exposures or filming video. Yes it's more expensive than the popular Manfrotto PIXI and the smaller Gorillapods, but having owned all of them, it's the TT-15 II that stays in my bag at all times thanks to its superior performance – plus if you're coming from the high-end, it's also roughly half the price of the RRS Pocket Pod.

Check prices on the Feisol TT15 II at Amazon, B&H, or Adorama. Alternatively get yourself a copy of my In Camera book or treat me to a coffee! Thanks!