Nikon COOLPIX B500 review - Verdict
Verdict
The Nikon COOLPIX B500 is a very attractive proposition for novice photographers moving up from a phone or small compact and looking for a long zoom range in an SLR style body without the expense and complexity of a camera with interchangeable lenses
It's simple, but far from basic, despite the budget price tag. It may not offer manual exposure modes but makes up for it with plenty of scene and feature modes with a proper mode dial to make selection much easier. It has an excellent flip up (and down) screen and even with non-rechargeable alkaline batteries fitted you'll still be shooting long after cameras with proprietary Lithium Ion rechargeables will have given up.
The COOLPIX B500 offers excellent connectivity; Nikon's new Snapbridge technology provides an always-on low power Bluetooth connection which transfers photos to your smartphone in the background and there's also Wifi with NFC for faster manual file transfers and remote shooting. It sounds good, but in practice I found connecting frustratingly unreliable and when it does work, Snapbridge on the COOLPIX 500 feels rough and unfinished. When I used SnapBridge on Nikon's D3400 DSLR I had no problems connecting, so hopefully this is something Nikon can fix with an app and/or firmware update.
In the meantime, in spite of those caveats, the COOLPIX B500 performs well and is great value for money. Read on to see how it compares with its more capable stablemate, the COOLPIX B700 and Canon's PowerShot SX540 HS.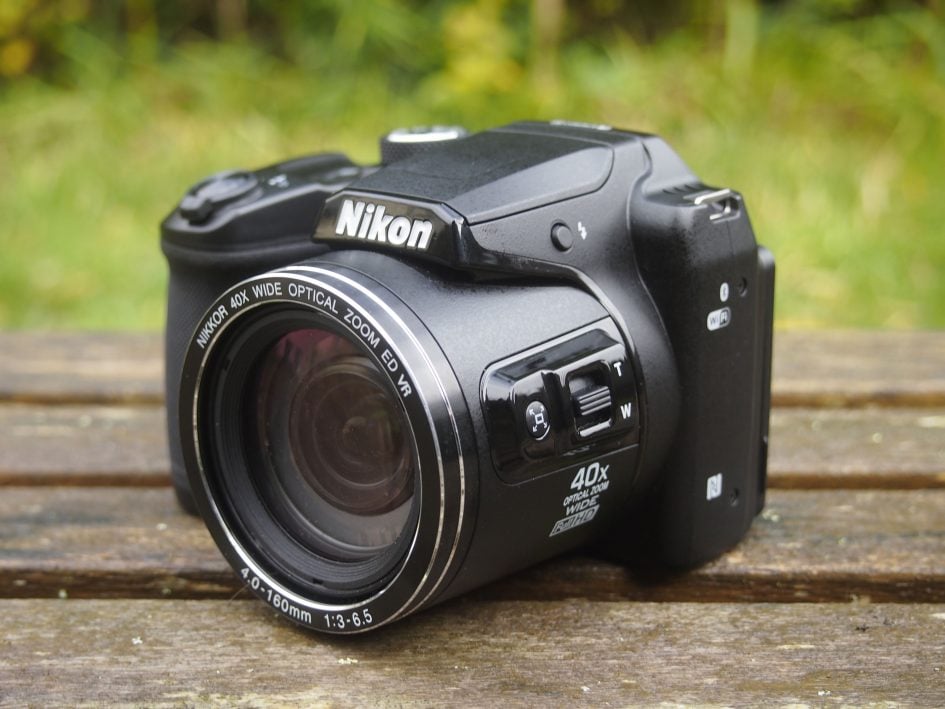 We're talking superzooms, so inevitably the first thing that needs to be discussed is the lens. The numbers are as good a place as any to start and the ones that manufacturers like to draw your attention to are the zoom magnifiaction factors. so the COOLPIX B500 has a 40x optical zoom with a 35mm equivalent range of 22.5 to 900mm. Spend a bit more on the COOLPIX B700 and, among many other things you'll get a 60x zoom with a 24-1440mm range. The Canon PowerShot SX540 HS has a 50x zoom with a 24-1200mm range putting it bang in the middle. All three models offer optical stabilisation allowing you hand-hold the camera at slower shutter speeds than would be possible without it.
There are differences between the three in the maximum aperture, which determines how much light can pass through the lens and therefore how well they perform in low light, but these are fairly minor and unlikely to make much practical difference. The important thing to consider is what kind of photography you want to do and whether it'll benefit from the longer zooms on offer. 900mm is a long lens by any standards and will be long enough for most subjects. but if you're a bird photographer, for example, you might find the extra reach invaluable.
That brings us on to the sensor. The B500's 16 Megapixel sensor produces smaller images than the 20 Megapixel sensors in the COOLPIX B700 and Canon PowerShot SX540 HS. You might expect its images to be less noisy because of that, but in fact at lower sensitivity setting in my tests the COOLPIX B500 was noisier than the B700.
The B500's 3 inch 921k dot articulated screen is excellent, but the COOLPIX B7000's screen is even better as it's side-hinged and can be angled in any direction including forwards for self-shooting. And in addition the B700 has a very good electronic viewfinder which can be a big advantage when trying to frame distant subjects when zoomed all the way in.
Then there's control. Both the COOLPIX B700 and the PowerShot SX540 HS offer PASM shooting modes putting exposure control firmly in your hands. The B700 also provides a wealth of programmable function buttons making it much quicker to change settings like white balance, sensitivity and drive mode. Of course this kind of advanced control isn't for everyone and for some some people the B500's combination of an easy to use auto mode combined with scene and feature modes will be a more comfortable fit.
Both the COOLPIX B500 and B700 have built in Wifi, NFC and Bluetooth and use Nikon's new SnapBridge technology to automatically transfer photos to your phone in the background using the low-power Bluetooth connection, manually transfer photos using either Bluetooth or Wifi and shoot remotely with your smartphone over Wifi. It sounds great, but in my tests with these two models was marred by unreliability and generally poor implementation. When it works though, it's brilliant so lets hope Nikon sorts out the glitches and smooths out the rough edges quickly. The Canon PowerShot SX540 HS offers wireless transfer and remote shooting features over Wifi that, in terms of features are quite similar to those of the COOLPIX models, but Canon has nothing to compete with the always-on SnapBridge, not yet at least.
At the time of writing, the Canon PowerShot SX540 HS was slightly more expensive than the COOLPIX B500, the difference is about the price of an SD card. For that you get a longer zoom, a higher Megapixel count on the sensor, PASM exposure modes and Canon's zoom framing features which are more sophisticated than the B500's. You lose out on SnapBridge connectivity, though. I'd like to say that's a big sacrifice and, had it worked flawlessy for me it would be. But I found SnapBridge on the B500 such a frustrating experience that, for now at least it's currency is a little devalued.
The COOLPIX B700 is anything between one and a half to two times more expensive than the B500 (as always prices will depend on when and where you shop), but you do get a lot more for your money. Not least a much longer zoom, a higher resolution sensor, RAW mode, a more versatile screen, an electronic viewfinder, more exposure modes, and 4K movies plus the same SnapBridge features. See my upcoming Nikon B700 review for more details.
As always, you'll need to think about whether these features are important to you and if they'll really make a difference to your photography. For a first time foray into the world of super-zoom photography, the B500 has a lot to offer and comes Recommended. Where it not for the problems with SnapBridge it would have been Highly Recommended.

Check prices at Amazon, B&H, Adorama, eBay or Wex. Alternatively get yourself a copy of my In Camera book or treat me to a coffee! Thanks!