Fujifilm INSTAX Link Wide review
The Fujifilm INSTAX Wide Link is a portable instant photo printer that connects to your phone over Bluetooth and prints any picture onto the largest INSTAX Wide paper.
The printer costs around $150 or 130 pounds, is available in ash white or mocha grey, and only works with Fujifilm's Link Wide app, available for Android or iOS phones. The Wide prints work out about a dollar or 85p each when bought in twin packs of 20 photos, which only works out a few cents or pence more per print than the smaller Square or Mini formats. Like all INSTAX formats, each cartridge contains ten prints and everything needed to develop them, so there's no inks or any extras to worry about.
A new Wide product has certainly been a long time coming. Fujifilm's last Wide product was the 300 camera, six years ago, during which time we've only seen new Mini and Square products. In my review below I'll show you what it can do, showcase the app features and compare it to the other instant formats! If you prefer to read a written version of the highlights, keep scrolling…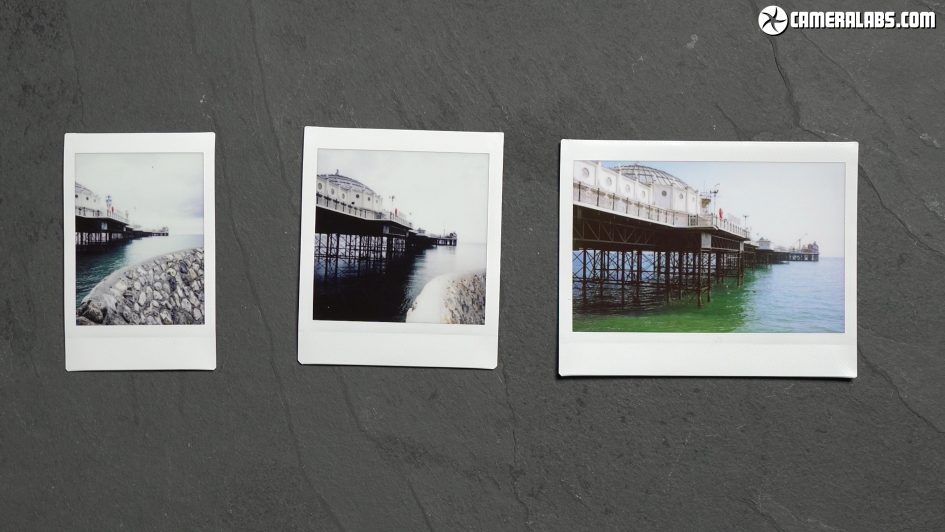 Above: Before going any further, let's put the three INSTAX formats into perspective: here's INSTAX Mini on the left, INSTAX Square in the middle and INSTAX Wide on the right. All three measure the same height, 85mm for the paper and 62mm for the image itself, but obviously vary in width: the actual picture is 46mm wide for Mini, 62mm for Square and 98mm for Wide, making Wide just over double the width of Mini.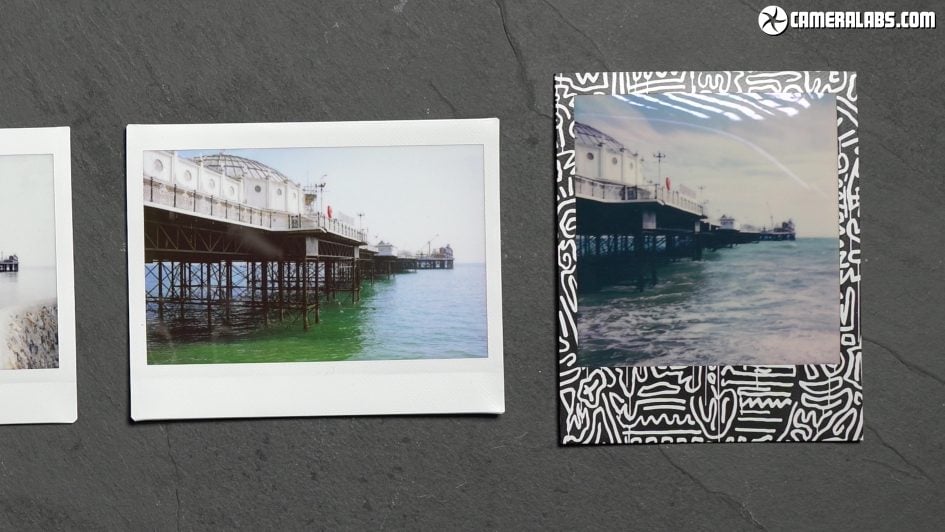 Above: For reference, here's a Polaroid i-Type print on the far right, where the image measures 78x78mm. That actually makes them almost the same total area, but with different shapes: square for the Polaroid and roughly 3:2 for INSTAX Wide, matching most DSLRs and mirrorless cameras with a small slice shaved-off.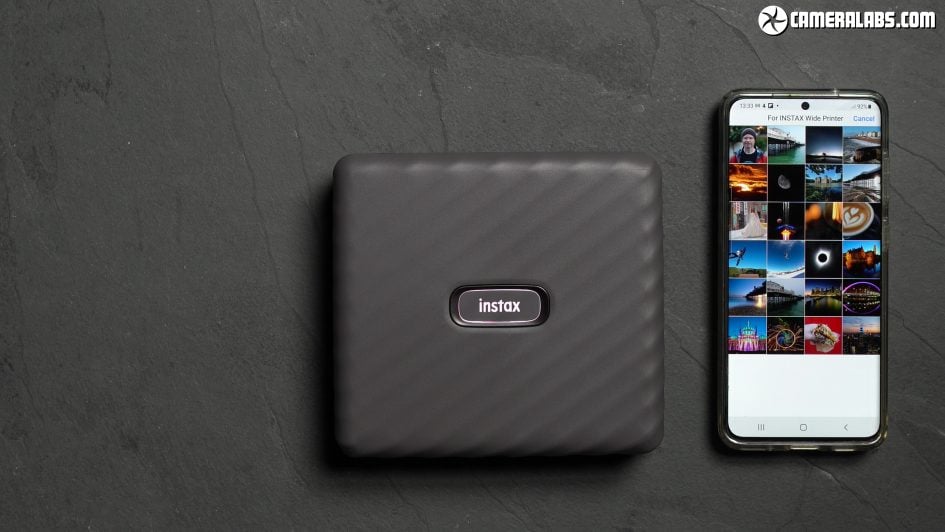 Above: The benefits of a phone-controlled printer over an instant camera are letting you choose prints before making them, creating multiple copies if desired, and of course printing images from any camera so long as they've been copied onto your phone first.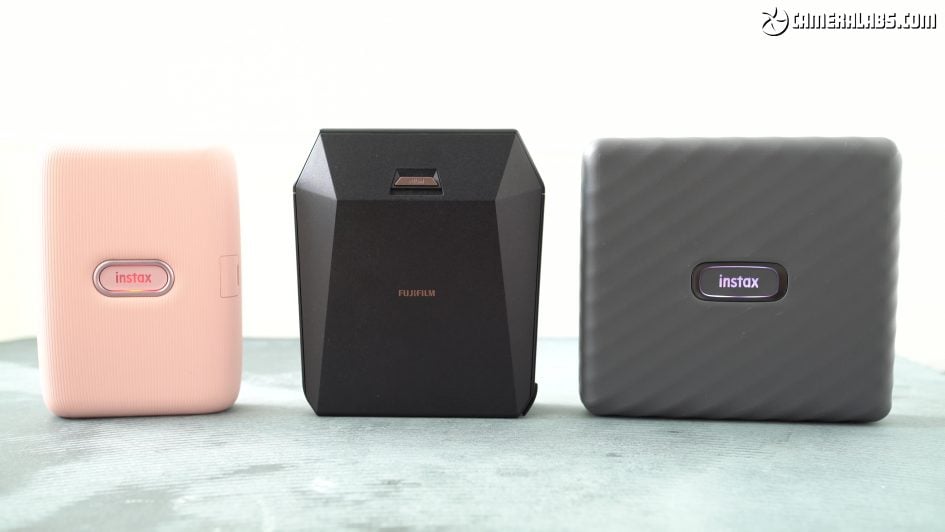 Above: Fujifilm already had portable printers for the Mini and Square shapes that worked with your phone, but until now the missing link – literally – has been one for the Wide format. Now the INSTAX Link Wide completes the set, allowing you to print to whichever INSTAX format you prefer, and refreshingly there's not much price difference between them either. Note each printer will only work with one INSTAX format though, so the Link Wide can only use the Wide cartridges. Also note the SP-3 in the middle is the odd one out, using Wifi for communication, versus Bluetooth for the Mini and Wide. I assume a Link Square printer using Bluetooth will come in the future.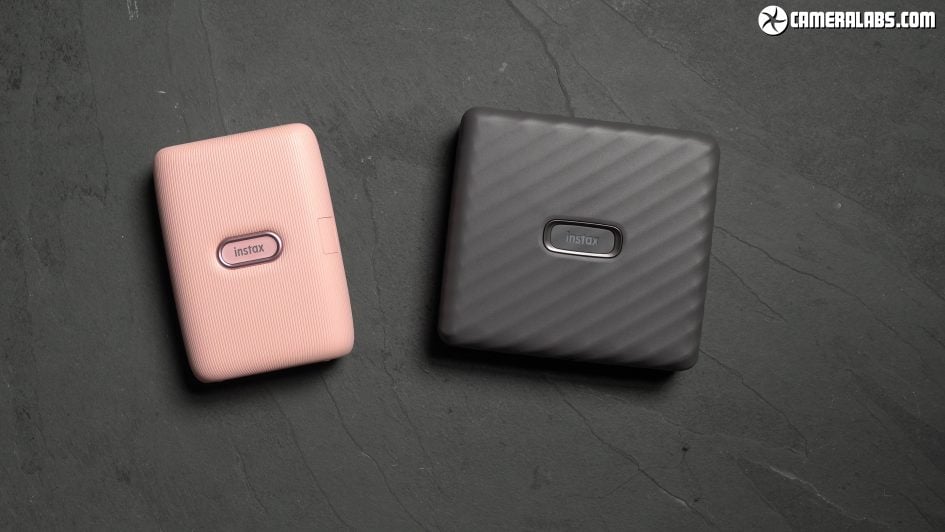 Above: In terms of operation, the INSTAX Link Wide is essentially a bigger version of the INSTAX Mini Link, launched two years earlier. Round the back are levers to open them up to load film cartridges, but no physical window or shot counter to indicate that anything's inside, so be sure to check the app if you're unsure.
Both employ built-in rechargeable batteries that last about 100 shots or 10 packs and take about an hour and a half to recharge over a Micro USB port – yep, not USB C on either. There's only one button on each model, the INSTAX logo itself which you press to switch-on and which lights-up to indicate the status. Like other INSTAX formats, the prints emerge almost immediately, then gradually fade into view, reaching full saturation around 90 seconds later.
Oh and while the INSTAX Link Wide is designed primarily for printing from your phone, it will also print directly from selected Fujifilm cameras over Bluetooth from the playback menu. At the time I made this review, it was only supported on the X-S10, updated to firmware 2.1 or newer, after which you'll find a new menu option to send an image direct to the printer over Bluetooth; it'll also now talk to the smaller INSTAX Mini Link printer too. Hopefully Fujfilm will add this functionality to more of its Bluetooth-equipped cameras in the future.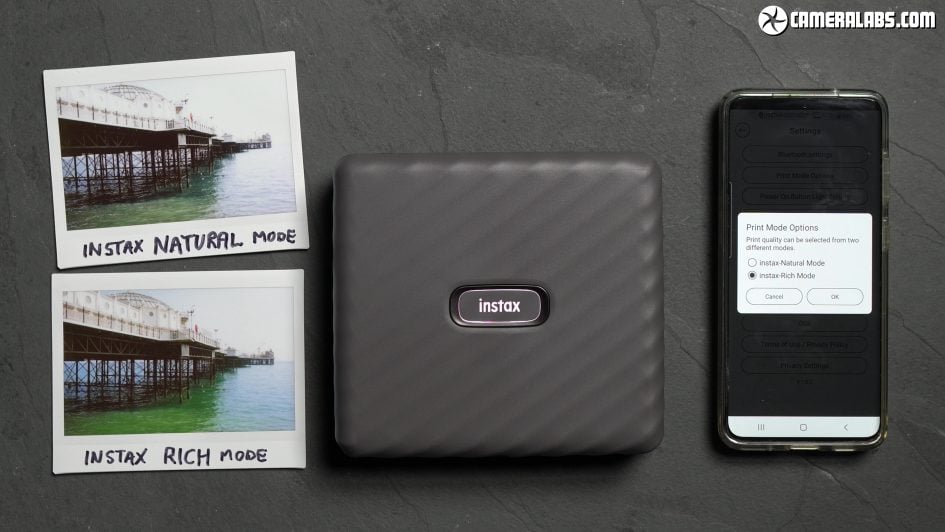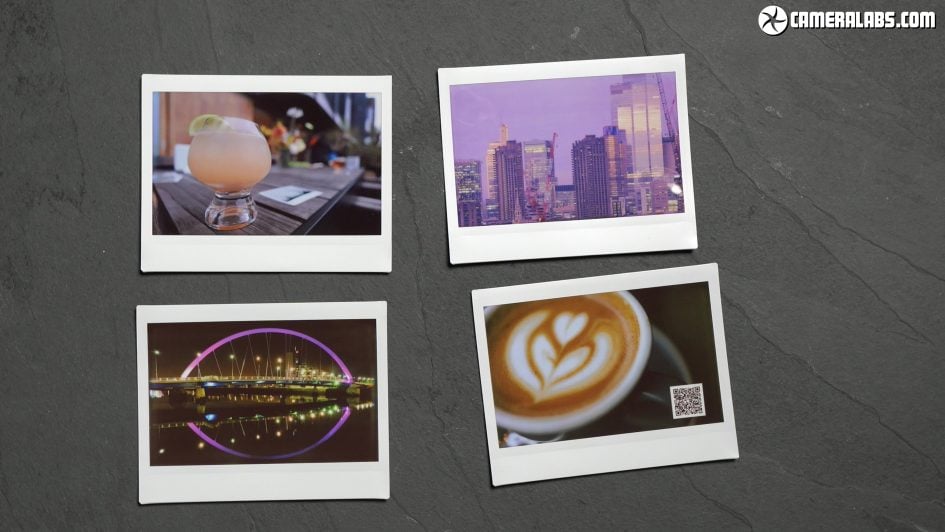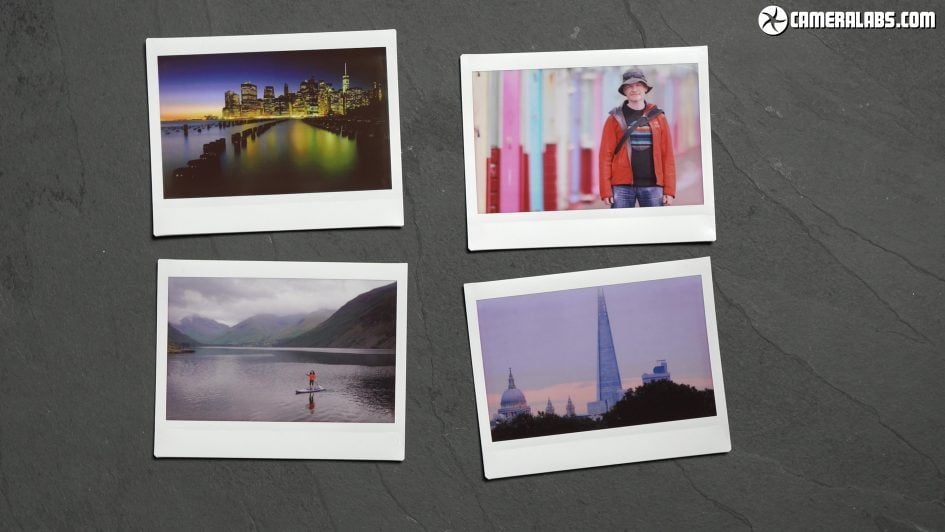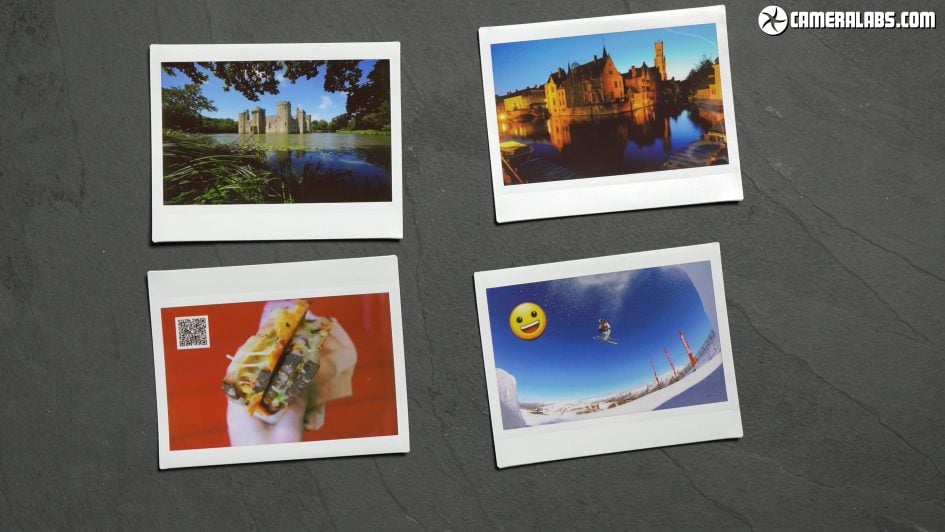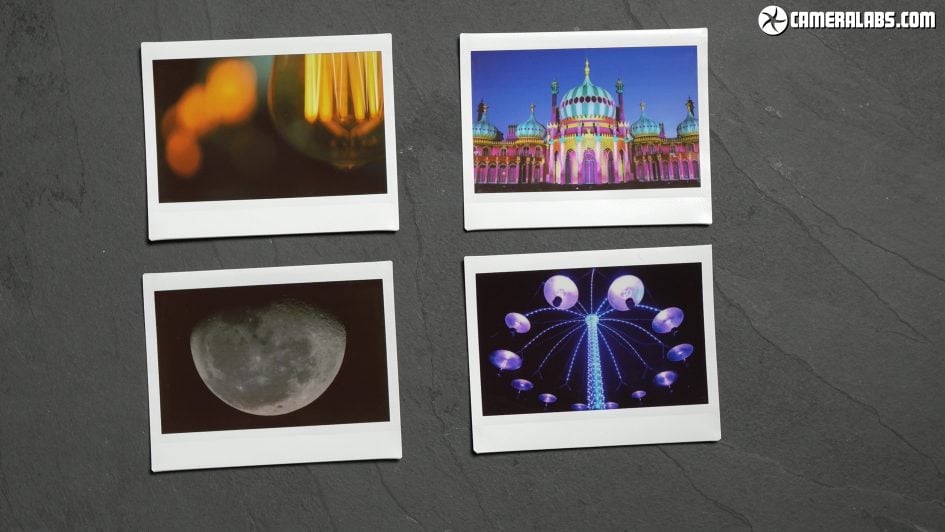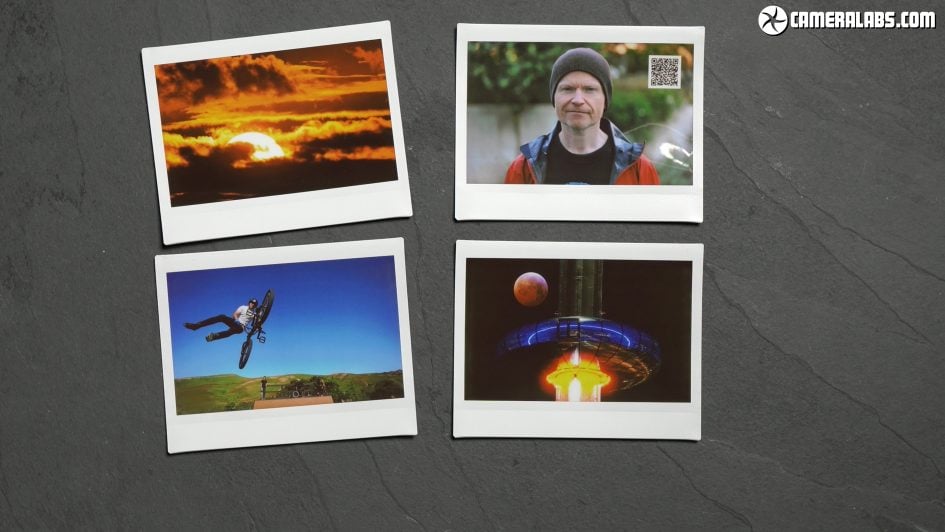 Verdict
The INSTAX Link Wide finally delivers the impact of Fujifilm's largest instant format with the convenience and flexibility of a wireless printer. Any image you have on your phone, whether taken with the phone itself, copied from any camera, or simply downloaded, can now be printed on paper that's just over double the width of INSTAX Mini. This alone could be enough to sell it to INSTAX Wide fans, but Fujifilm's also provided some fun extras with the app optionally embedding QR codes in the corner that can link to websites, map locations, text messages or even short audio clips. Text and audio messages are hosted on Fujifilm's servers and expire two years after creation, so you can't use them for archive, but they're still fun to play with.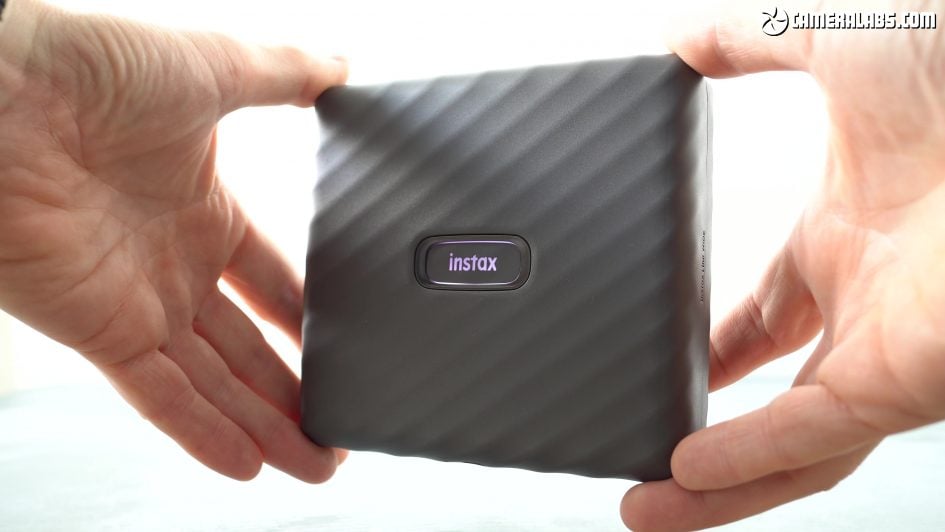 The only question is whether the format and price are right for you. If you're drawn to INSTAX Wide simply for its bigger size, printers like Canon's SELPHY CP-1300 will deliver even larger and cheaper postcard-sized prints, but the printer is pickier about operation, while the battery to make it portable is an optional extra. In contrast, like other INSTAX printers, the Link Wide is truly portable, with a built-in battery, no fiddly parts, nor any need to lay it flat during operation. In fact it even comes with a wrist strap so you can carry it around at events. Indeed the robustness is part of the INSTAX charm, and the ability to now print to the Wide format only enhances its appeal.

Check prices on the INSTAX Link Wide at Amazon, B&H, Adorama, WEX UK or Calumet.de. Alternatively get yourself a copy of my In Camera book or treat me to a coffee! Thanks!