Compact digital camera group test - Verdict
Verdict
Finding an overall winner is difficult as all four cameras had key things going for them, which could totally sway your opinion. That said a winner did emerge, but before announcing it, we'll round-up each camera in turn.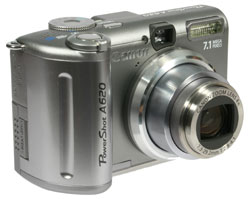 Canon's PowerShot A620 is a compact which will delight enthusiasts. It features a wide range of creative control and was the only model which could be manually adjusted in the same way as a more serious camera. The 4x zoom is more useful than the usual 3x range, the 1cm macro mode allows amazing close-ups and the flip-out screen encourages unusual angles.On the downside the A620 can hardly be described as sexy. Placed alongside most mid-range compacts, it's also much bigger and heavier – and you'll need to supply your own batteries. So if you're after a compact which will turn heads or slip into a shirt pocket, look elsewhere. Noise levels were also higher than we'd like at 400 ISO. If however you're after a compact with great overall quality and the best creative control, the A620 is an ideal choice. Note the slightly cheaper A610 is essentially the same camera, but with 5 Megapixel resolution.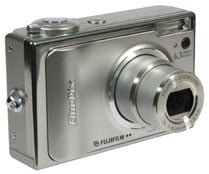 Fujifilm's FinePix F11 is leading the field in terms of sensitivity, allowing you to take photos in dim conditions where others would struggle or give up entirely. It can actually be four times more sensitive than most compacts, yet as our results show, there's impressively little compromise in noise levels. Our tests also showed the F11 was a great optical performer.
The body is compact and the screen large, but the design is unremarkable. While there's some manual control for enthusiasts, it's neither as flexible or easy to access as the Canon A620. For the price though the F11 represents great value. The results are excellent, and if you've ever suffered from camera shake, its unique high sensitivity options could be the answer.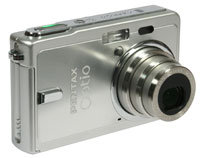 The Pentax Optio S6 is by far the smallest camera on test here, and if you absolutely need something this size, then look no further. It's not just about size either – the S6 has some great features including a cunning movie mode which squeezes much more footage in the same memory than its rivals without compromising quality. The large detailed screen also looks great.
With a body this size though, there are compromises. The body's harder to hold steady and the actual sensor is physically smaller than the others, resulting in higher noise levels. The optical quality and resolving power are also below the other three tested here, and manual exposure control is the most limited of the pack.
Ultimately it boils down to size. If you can live with something larger, you'll get better results with a different model. But if size is everything, the S6 is capable of delivering acceptable results and will impress anyone who sees it.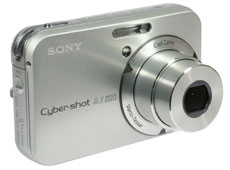 Everyone who saw the four cameras on test agreed Sony's Cyber-shot DS-N1 was by far the most stylish. It's not the smallest by any means, but thanks to a slim body, can be slipped more discretely into pockets than, say, Fujifilm's chunkier F11. The large screen is also very impressive, and while the touch control can be slow in operation, it's a neat feature.
In terms of results, the N1 was a mixed bag. Test the quality in the middle of the photo and it'll comfortably beat any of the others, but as you approach the corners, it can become quite soft. The corners improve with smaller apertures under bright conditions though, and everyday shots look great with low noise levels considering the high resolution. If you have a higher budget and are after a stylish camera with good overall results, but aren't bothered about having the greatest manual control, the Sony N1 is the model to go for.
While each of the four cameras will appeal to people with specific requirements, some stand out and appeal to a broader market overall. Fujifilm's FinePix F11 wins our first Highly Recommended award for a good, solid camera, which delivers great results and impressively usable high sensitivities at a decent price.
Sony's Cyber-shot DSC-N1 is also Highly Recommended for those with larger budgets who are looking for a stylish camera with quality results and many unique features including a huge touch-sensitive screen and built-in photo album.
As Camera Labs is targeted at enthusiasts though, there's one obvious winner: the Canon PowerShot A620. Many photographers can become infuriated with compacts, unable to find or control the creative options they're after. In contrast the A620 presents its full range of exposure modes in the same way as an SLR, allowing enthusiasts to feel right at home and get the results they want straightaway.
This alone would justify it to many photographers, but throw in a longer 4x optical zoom, fabulous 1cm macro mode, flexible flip-out display and great overall results, and you've got a clear winner. We admit it may be the largest and least stylish of the four on test, but simply leads the way in creative control. If you're looking for a compact which performs well in Automatic, but can also be controlled like a far more serious camera, you won't be disappointed.
Update: please visit our Compact digital Camera Buyer's Guide for an update of the best buys around right now.
---

Fujifilm FinePix F11

Good points
Very high 1600 ISO sensitivity
Great optical quality
Large 2.5in screen
Supplied with 64MB card (on test model)

Bad points
Possible to insert battery wrong way round
Not the slimmest compact around
Some manual controls hidden in menus

Scores
(relative to mid-range compacts)

Build quality:

Image quality:

Handling:

Specification:

Value:

Overall:

15 / 20
17 / 20
17 / 20
16 / 20
18 / 20

83%
---

Pentax Optio S6

Good points
Exremely small and light
Large, detailed 2.5in screen
Divx movie mode

Bad points
Optical quality below other four
Higher noise levels
Very limited manual control
Small body harder to hold steady

Scores
(relative to mid-range compacts)

Build quality:

Image quality:

Handling:

Specification:

Value:

Overall:

15 / 20
12 / 20
13 / 20
15 / 20
15 / 20

70%
---

Sony Cyber-shot DSC-N1

Good points
Stylish looks and good build quality
Very large 3in screen
Touch-screen control
Built-in photo album

Bad points
Soft in corners at open apertures
Higher price than rivals
Manual but no A or S priority
No on-screen grid option

Scores
(relative to mid-range compacts)

Build quality:

Image quality:

Handling:

Specification:

Value:

Overall:

17 / 20
17 / 20
16 / 20
17 / 20
16 / 20

83%
---
Canon PowerShot A620
Good points
4x optical zoom lens
Great level of manual and creative control
Flip-out and twist screen
Superb 1cm macro mode
Bad points
Largest and heaviest in group
Need to supply own batteries
Noise levels relatively high at 400 ISO
2in screen small by today's standards
Scores
(relative to mid-range compacts)
Build quality:
Image quality:
Handling:
Specification:
Value:
15 / 20
16 / 20
18 / 20
18 / 20
18 / 20
85%