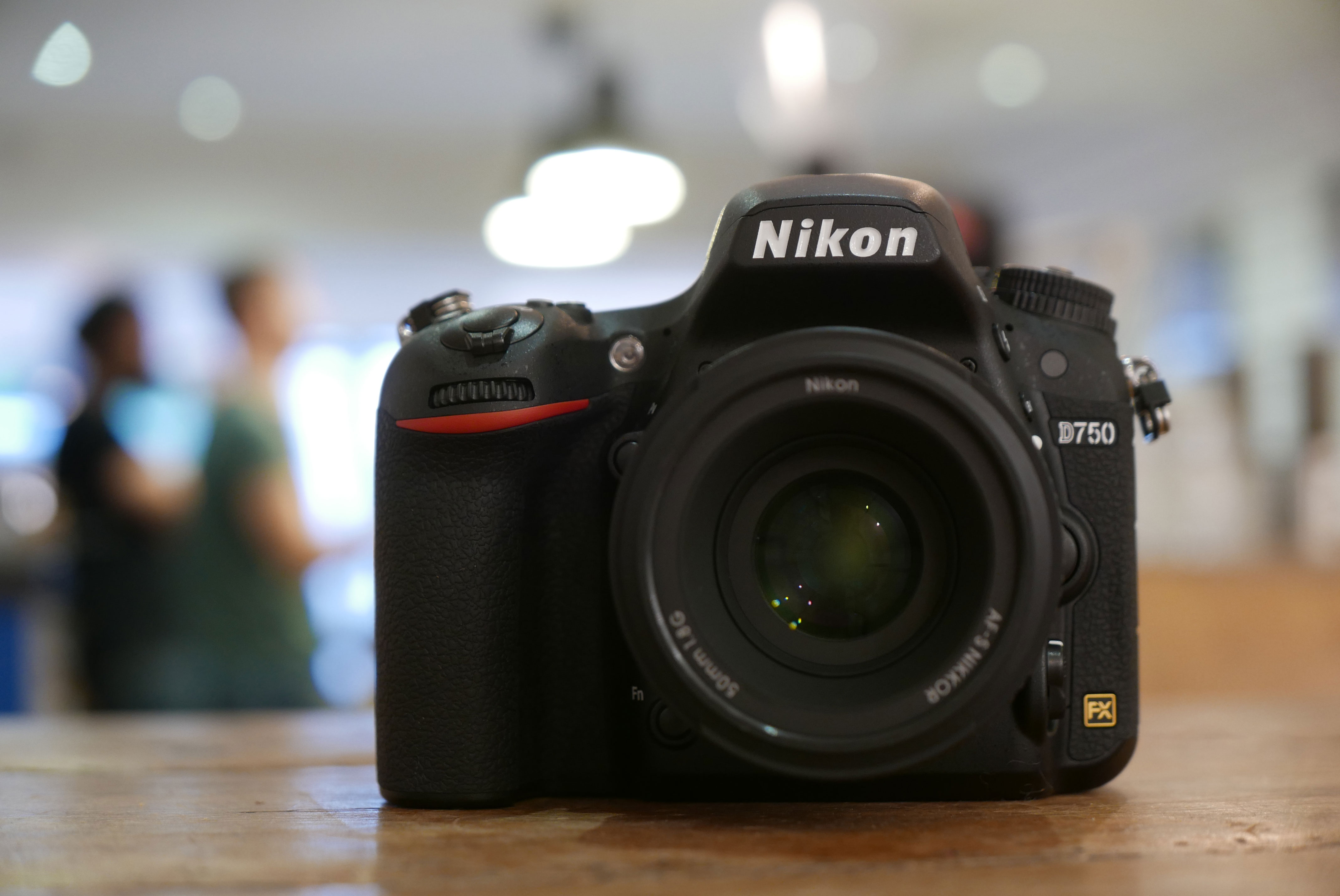 Verdict
The Nikon D750 is a very capable high-end DSLR that successfully positions itself between the existing D610 and D810 – a slot which may, at first, seem unnecessary, but which has ended up delivering one of the most compelling models in the range. Nikon's been very careful with the feature-set, picking aspects of both models on either side of it, while adding others that make it unique and arguably the company's most forward-thinking full-frame DSLR to date.
First the basics: the body is smaller and lighter than the D810, but shares the build quality and weather sealing of the higher-end model. Personally-speaking, this is a perfect fit: more serious than the D610 but lacking the heft of the D810. Pick up the D750 and you're in no doubt this is a tough and confident camera, but without the bulk of the higher-end models. The handling also impresses with an AF system that's better in low light than the D810 and especially the D610, coupled with continuous shooting that's a little faster than both. And the image quality is as you'd expect very good: plenty of detail and low noise levels until you reach the highest echelons of the ISO range. Sure it's not as detailed or crisp as the D810 at lower ISOs, but that camera represents the pinnacle of Nikon's current image quality.
The two new headline features are built-in Wifi and the articulated screen, both firsts for a full-frame Nikon DSLR. The Wifi implementation is basic, but it feels churlish to complain until it's a standard feature on all Nikon DSLRs. The tilting screen is a real highlight though, allowing you to easily compose at high or low angles, and the mounting feels very robust. It all adds up to one of the most compelling DSLRs in the Nikon lineup, indeed my personal favourite right now. I'll now go into more detail before comparing it against some alternatives.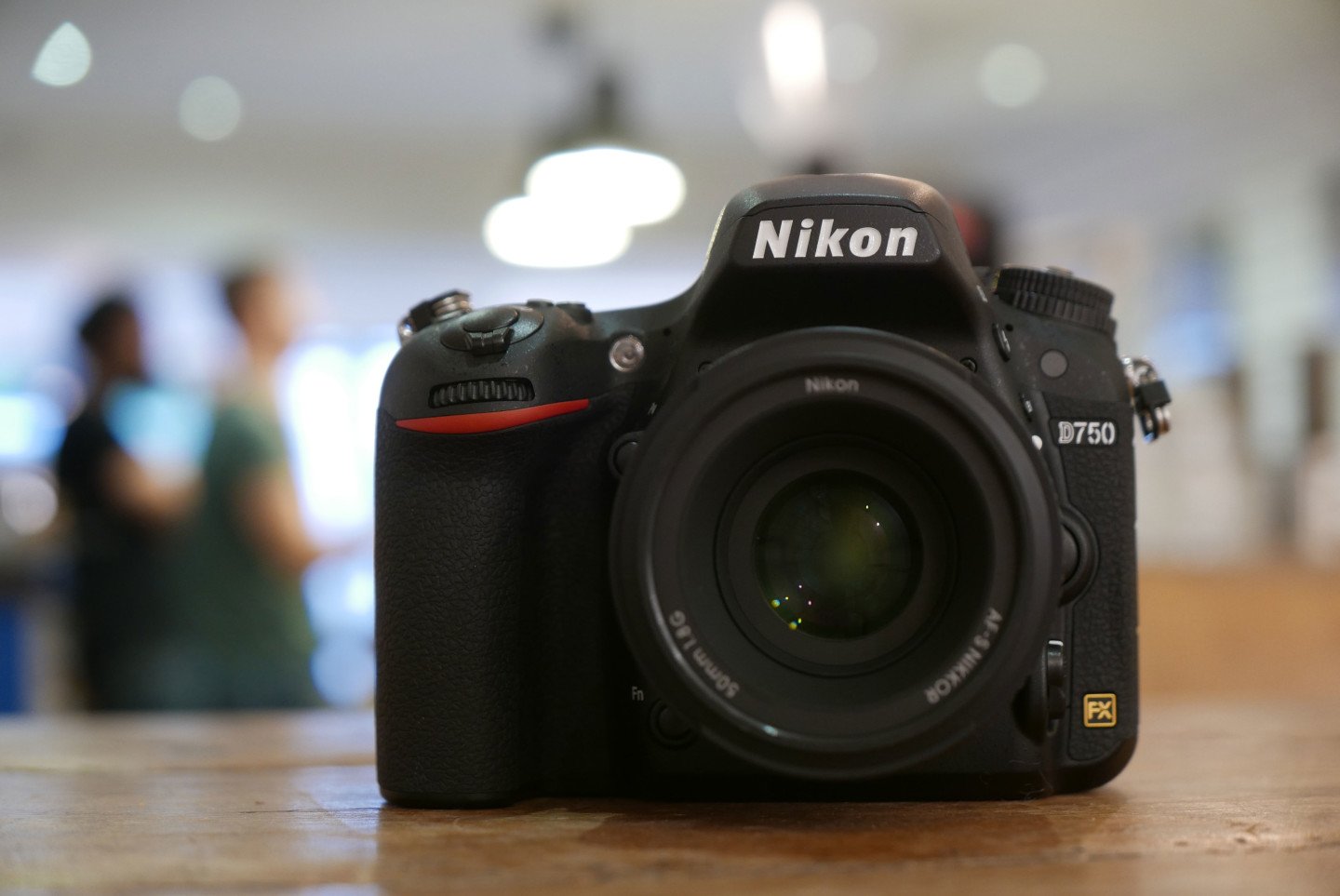 I'll start with image quality. I have a detailed report in my D750 quality and D750 noise pages (which I'll update with RAW results once there's support from Adobe), but for now say I was very satisfied with the output from the D750. I shot at everything from 50 to 51200 ISO, and for exposures as long as four minutes and found little to complain about. Yes, the D810 is better: it's not only more detailed, but the details are crisper thanks to the absence of an anti-aliasing filter, but the D750 certainly isn't shabby. It's natural to wonder how it may have looked without an AA filter, but maybe the pixel-pitch of 24 Megapixels on full-frame isn't as good at avoiding moire as either packing 36 Megapixels into the same area, or 24 into the smaller APS-C area. Revealingly I did spot small instances of moire on some D750 images that were missing on equivalent D810 images, but it was never anything to be worried about outside of a pixel-peeping testing environment.
Nikon's movie modes are becoming steadily better with every generation and the D750 is certainly a very capable video camera. Again I've gone into detail in the D750 movie mode section of my main review, but for now will mention Power Aperture as a highlight, smoothly adjusting the lens aperture even when recording internally to an SD card. As with still photos I found the D810 delivered slightly crisper and more detailed video output, but again I found the D750 met most of my needs, and the presence of an articulated screen makes it a lot more usable for movie shooting than the models on either side of it. I also loved being able to generate a timelapse video in-camera, and the new exposure smoothing option certainly seems to eliminate flickering. Here's a timelapse I generated in-camera.
One of the most interesting aspects of the D750 is discovering which of the features were inherited from the D610 and which came from the D810. The D750 shares the maximum 1/4000 shutter speed with the D610, which can be annoying at times, but at least there's the Time option at the other end of the scale which lets you start a long exposure with a single button press and end it with another – I managed to shoot four minute exposures without the need for a cable release accessory, see below. From the D810 though, the D750 inherits nine-frame auto exposure bracketing, flat picture profiles (especially useful for grading video), clarity adjustment, highlight-weighted metering and the 91k dot RGB metering sensor that can perform face detection and expose for them.
In-camera RAW conversion, 4 mins, f/5.6, 100 ISO, 50mm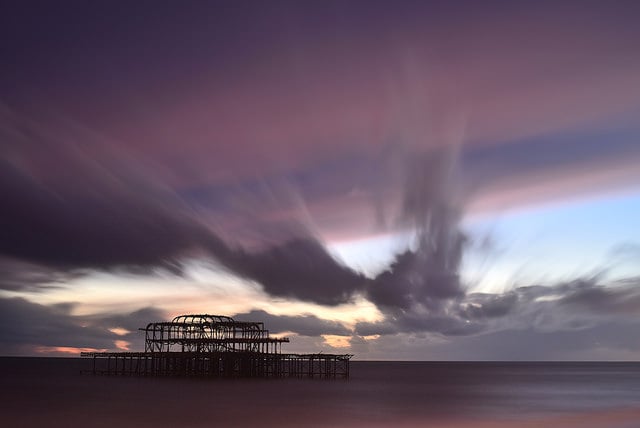 Click image to access original at Flickr. Original JPEG also available
During the 2014 Lewes Bonfire celebrations (East Sussex, UK), I saw a lot of the D750's technologies come together to deliver a very high hit rate under challenging conditions. First the light levels were low but also very dynamic with passing torches of fire. Secondly the subjects were in constant motion, requiring confident continuous AF and a reasonably quick shutter speed, which in turn needed a high ISO for the given light levels. In almost every case though, the D750's new AF system successfully tracked subjects in very low light, its metering system detected and correctly exposed for faces, while finally the full-frame sensor didn't flinch at being regularly driven between 6400 and 25600 ISO. The results were photos like this, taken almost effortlessly.
1/500, f/2, 6400 ISO, 50mm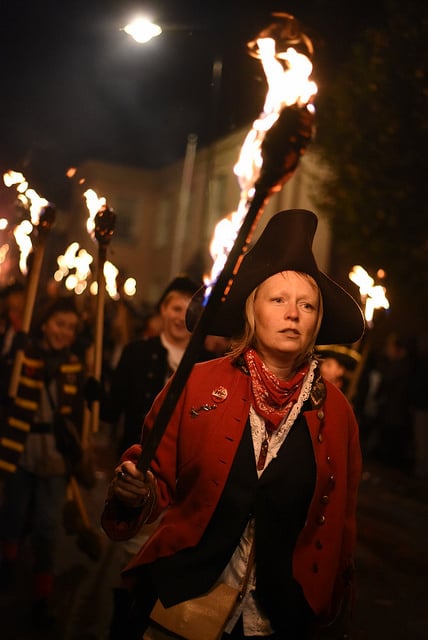 Click image to access original at Flickr
It's not all roses though: the experience above was using the D750 as a traditional DSLR, shooting through its optical viewfinder. Switch into Live View to exploit the tilting screen and the AF speed greatly decreases as does any chance of focusing on moving subjects. While I loved having the tilting screen on the D750, it was most useful for stills when shooting relatively static subjects. If you want quick AF when composing with a screen, your best bet is still a mirrorless camera, although Canon's 70D and 7D II come close, albeit with cropped APS-C sensors.
And while it does seem churlish to complain about the D750's built-in Wifi (given it's a rare treat on a Nikon camera), I will anyway! The remote control facilities are rudimentary to say the least, with no control over exposure. If you initiate image transfer from your handset, you'll need to wait for the entire contents of the card to be scanned first which could take the best part of a minute if you have lots on there. GPS tagging can only be done when copying images from the camera to your handset, and only acquiring your current position, which of course could be different from where you actually took the photo. And while I feel the D750's security risks have been overstated, the fact is in the default configuration its Wifi network is completely open with no password required to connect. But hopefully all of these could be addressed in future versions of firmware and the app, so finger's crossed. Again I'm just relieved there's Wifi built-in.
Beyond this though there's actually not much to complain about. Scratch beneath the surface and you'll understandably notice a number of aspects where the D810 is more sophisticated – for example the D750 lacks the D810's PC Sync port, 1/8000 shutter, 1/250 flash sync, AF-ON button, Mode button, TIFF files and chunkier control dials – but there obviously needs to be come differentiation and I think Nikon's made the right decisions for the current range.
Owners of the older D700 may be less pleased though. While the D750 sports double the total pixel count and faster continuous shooting from the body alone, not to mention dual memory card slots, better AF in low light, built-in Wifi, an articulated screen and the ability to shoot video, there will be those who'll miss the PC Sync port, 1/8000 shutter, 1/250 flash sync, AF-ON button, Mode button and TIFF files of the D700, along with its killer ability to shoot at up to 8fps when fitted with a grip packed with AA batteries.
So is the D750 an upgrade to the D700? It is in some respects, but equally a downgrade in others. Certainly the D700 feels closer to the D810 in many 'professional' respects, so it's a case of carefully weighing up what you'd gain against what you'd lose. It's not a forgone conclusion by any means. And speaking of pros and cons, here's a rundown of the feature differences between the D750 and the models on either side before my final verdict.
Nikon D610 vs Nikon D750
The D610 is the model below the D750 in the range, but they share a number of things in common. They both have 24 Megapixel full-frame sensors with anti-aliasing filters. They both have weather-sealed bodies and optical viewfinders with 100% coverage and 0.7x magnification. They both sport dual SD memory card slots, maximum shutter and flash sync speeds of 1/4000 and 1/200 respectively, headphone and microphone jacks, and 3.2in screens. Certainly if you thought the D610 would be cut-down due to its position as the 'budget' model in the full-frame range, you'd be wrong – it's surprisingly well-featured for the money. So what are the benefits of spending the extra on the D750?
In its favour over the D610, the D750 enjoys superior build quality and a grip which to me feels better, it has an articulated screen that tilts vertically to face up or down (plus the panel's brighter too), it has built-in Wifi, a more sophisticated AF system that works in much lower light (51 point / 15 cross type / -3EV versus 39 point / 9 cross type / -1 EV), 1080p video at up to 60p (vs 30p), deeper 9 frame bracketing (vs 3 frame), a more sophisticated 91k pixel metering sensor (vs 2016 pixel sensor), highlight-weighted metering option, Picture Controls with a flat option and a clarity adjustment, Power Aperture (for quiet adjustment of the aperture while filming), zebra patterns (to indicate areas of over-exposure), slightly faster continuous shooting (6.5 vs 6fps), and slightly longer battery life.
And in favour of the D610? It's cheaper by about 25% for the body alone, or around the same price when bundled with the basic 24-85mm f3.5-4.5G zoom lens. I think it's easy to initially disregard the D610 now the more sophisticated D750 is sat above, but Nikon's ensured there's a great deal of high-end features available on this 'affordable' body. It's certainly a great option for entering into the World of full-frame DSLR photography, especially if you don't want or need the extra facilities of the D750.
See our Nikon D610 review for more details
Nikon D810 vs Nikon D750
The D810 is positioned above the D750 in Nikon's DSLR range and delivers what the company describes as its best image quality to date. D4 owners may disagree when it comes to low light, but there's no arguing with the sheer resolving power of the D810, sharing the massive 36 Megapixels of its predecessors, but now only available without an anti-aliasing filter for the ultimate crispness. Its superior resolving power is borne-out in my tests too, with noticeably finer and crisper details at all but the highest ISOs. I also found the video to be slightly better quality too, presumably due to a scaling factor that's more conducive to retaining detail. So if you desire the ultimate image quality, the D810 is a step-up from the D750 and the best you'll get without investing in medium format.
But when comparing the D810 and D750 there's more than just image quality on the table, and a surprising amount in common too. They both share the same degree of weather-sealing, the same coverage and magnification on their optical viewfinders, they both have dual memory card slots (although the D810 is CF and SD as opposed to twin SD), both share essentially the same movie capabilities including Power Aperture control, both have the same 3.2in screen panel, 91k dot metering sensor, Highlight-weighted metering option, Flat Picture Control and Clarity adjustment, 9-frame AEB, headphone and microphone jacks, and they both have AF systems with 51 points and 15 cross-type sensors. So what else do you get on the D810 considering it cost almost 50% more?
Beyond the higher resolution, the D810 most obviously has a faster shutter and flash sync speed of 1/8000 and 1/250 respectively, along with a shutter block that's rated to 200,000 actuations versus 150,000. Look a little deeper though and there's more: the D810 has a PC Sync port, USB 3 port, an AF-ON button, support for TIFF files, uncompressed RAW, 5:4 aspect ratio stills, a split-screen Live View option which lets you zoom-in on two different areas, chunkier finger and thumb dials, a Mode button (which some photographers prefer over a mode dial), and a lower base sensitivity of 64 ISO (expandable to 32 ISO).
It's far from one-sided though. In its favour, the D750 features an articulated screen that tilts vertically, built-in Wifi, an AF system that works in lower light (-3EV vs -2EV), faster continuous shooting in the FX format (6.5fps vs 5fps), the option to apply a small selection of digital effects including a miniature mode, and a full Auto option. The D750 is also smaller and lighter than the D810 (without compromising weather-sealing) and to me feels more comfortable, but I realise this is a very personal choice. Oh and let's not forget the significant price difference which at the time of writing accounted to the best part of $1000 USD, enough to buy a decent lens, another camera body or a nice holiday.
There's certainly a lot to like on the D810, especially its superior image quality, but the fact the D750 throws in an articulated screen and Wifi with a considerably lower price tag is enough to make many think twice about whether they really need the higher-end model.
See my Nikon D810 review-in-progress for more details
Also consider the Sony A7
If you want a 24 Megapixel full-frame sensor, tilting screen and Wifi in a smaller, lighter and more affordable body than the D750, consider Sony's mirrorless Alpha A7. The focusing may be faster through the viewfinder of the D750 and the Nikon is much better when it comes to continuous AF, but the little Sony is a compelling alternative if you're happy with electronic composition. See my Sony A7 review for more details.
Nikon D750 final verdict
The Nikon D750 is a highly satisfying camera, carving a surprisingly successful niche between the 'budget' D610 and high-end D810, and ending up, in my view anyway, as more compelling than either. The build quality, AF and general handling are a comfortable step-up from the D610, and Nikon's been careful to include a number of useful technologies from the D810 without stepping too much on its toes. The result is a camera that handles confidently and delivers great quality images in a variety of conditions. It is the best overall DSLR I've tested for a long time.
The camera feels great in your hands and inspires you to go out and shoot. I particularly liked the AF system and how it kept working in very low light. The articulated screen is great for composing at high or low angles. The movie mode keeps getting better and I enjoyed having Power Aperture control without having to use an external recorder. And of course the big full-frame sensor is happy to shoot at high sensitivities with minimal issues.
Indeed there's very little to complain about. Once you've noted the limitations of the built-in Wifi (which hopefully could be improved with new firmware and app), and the fact the Quiet mode isn't all that quiet, about all you're really left with are observations on what's missing from the D810 and D700 and what kind of photographers it ends up being aimed at. Â
The absence of a 1/8000 shutter and boostable shooting speed certainly suggests the D750 is not the affordable full-frame sports camera some were hoping for. Sure 6.5fps isn't bad, but high-end sports photographers desire more, and lest we forget the much older D700 could be boosted to 8fps (albeit at 12MP and only with a suitably-powered grip). Equally the lack of PC Sync port and a maximum sync speed of 1/200 may limit it for studio photographers. In use I personally felt the D750 was best-suited for landscape, architectural and some portraiture, a target market that's not much different to the models on either side of it. So while I do feel the D750 carves itself a successful and compelling niche between the D610 and D810, I still think there's room in the range for a higher-speed full-framer for those who want a more affordable option to the D4 – arguably the upgrade D700 (and perhaps even D300s) owners really wanted.
But unless you are a high-end sports shooter, don't let any of that detract from the D750. It's a powerful and versatile camera that's arguably more compelling than the D810 for most photographers at around two thirds of the price. Don't get me wrong, the D810 will deliver better image quality and also enjoys the benefits I've listed in my comparison above, but would you be willing to pay $1000 USD more for it, while missing out on lower light AF, built-in Wifi and a tilting screen? We all of course have different needs from our cameras and different budgets too, but for me the D750 hits a price-performance sweet-spot, and becomes my favourite DSLR in the current Nikon lineup.
Good points
Great quality across broad ISO range from FX sensor.
Very good build quality and ergonomics.
Fast 51-point AF works in very low light (-3EV).
6.5fps continuous shooting speed
Vertically-articulated 3.2in screen.
Built in Wifi with smartphone remote control.
Very capable movies, 1080 60p, Power Aperture.
Bad points
Basic Wifi facilities and network open by default.
Quiet options not all that quiet.
No focus peaking.
Focusing in Live View slower than mirrorless cameras.
Can't boost speed in DX mode or using battery grip.
Maximum shutter and sync speeds of 1/4000 and 1/200.