Intro
One of four new J-series compacts announced by Fujifilm in February 2010, the FinePix JZ300 is a 12 Megapixel super-zoom with a 10x optical range and 2.7in screen. It can shoot HD video at 720p resolution at 24 frames per second and, what's more, you can use the optical zoom while shooting video.
With three auto exposure modes, Scene recognition, Face detection and a variety of Scene modes, the FinePix SJ300 has all the features you expect to find in a mid-range compact with the added benefit of a very capable zoom. Holding steady at a maximum equivalent focal length of 280mm can be demanding but the JZ300 has optical image stabilization to iron out the shakes and wobbles that can ruin a potentially great telephoto or low-light shot.
While you're not spoilt for choice if you're looking for an affordable compact super-zoom, the FinePix JZ300 does have competition. We tested it alongside Panasonic's Lumix DMC-FS30 / FH20. With an 8X optical zoom the Lumix FS30 / FH20 doesn't quite match the JZ300's range, but it packs an extra 2 Megapixels on the sensor, effectively closing the gap, and is similarly priced. If you're looking for compact super-zoom that can shoot HD video, has a range of auto modes and some control over settings, but won't break the bank, it's likely both of these models will be on your shortlist. Read on to find out which is the right one for you.
| | |
| --- | --- |
| | |
| | |
| | |
'Chunky' is the word that comes to mind when looking at the JZ300. At 29mm thick it's not what you'd call ultra-compact; it is pocketable, but we're probably talking coat or jacket pockets rather than trouser or shirt ones and, of course, it'll fit comfortably in a handbag too. Packing a 10x zoom into a small space is no mean feat and the FinePix JZ300 has very similar weight and dimensions to the Lumix FS30 / FH20
Available in black or silver, the JZ300 has the look and feel of a serious camera. With its metal casing and rounded corners it looks stylish enough, but you won't find any frivolous colours in the range and, while it's a handsome, sturdy camera, if you're looking for a fashion accessory this isn't it.
It's a very comfortable camera to hold and use. Your fingers wrap around the right side with the Fujifilm and 10x zoom badges on the front providing good purchase – not that your really need them as the matt metal casing is very grippable. The natural resting place for your thumb is bang in the middle of the mode dial on the rear panel which is fine, but you do need to take care that you don't inadvertently move it off your selected setting.
The FinePix JZ300's lozenge-shaped on/off button is sited in the conventional top panel position just to the left of the shutter release button which sits in the centre of the zoom collar. This has a forward-facing nipple which makes for easy zooming in and out using your index finger.
On the rear panel at the top the mode dial has positions for eight exposure modes including Program, SR (Scene Recognition) Auto, Auto (without the scene recognition), four manually selectable scene modes and the movie mode. Two of the scene modes allow you to shoot in natural light without flash. One disables the flash and automatically increases the ISO to permit shooting in low light without it. The other takes two shots – one with the flash and one without so you can choose the best one. The other two scene modes, labelled SP1 and SP2 are set by default to portrait shooting modes but can be rather usefully configured to any of the scene modes available from the menu.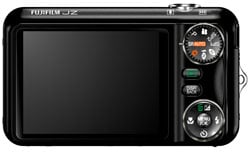 In the centre section of the rear panel are two buttons; one enters playback mode and the other toggles display overlays and doubles up as a back menu navigation button. At the bottom of the rear panel a control disc provides a four-way menu navigator and one-touch access to exposure compensation, flash, self-timer and macro functions. The top (exposure compensation) button on the control disc also functions as a delete button in playback mode.
At the centre of the control disc a menu/OK button activates the shooting and playback menus, depending on the current mode, and is used to make selections within the menu screens.
Support this site by
shopping below

The battery and SD card compartments are situated behind a hinged flap on the bottom right. A spring-loaded clip stops the battery from falling out when you open the door and the SD card employes the usual push-to eject mechanism. The JZ300 isn't compatible with the latest SDXC format cards.
The metal tripod bush is slightly offset to the right, but is fairly centrally located, so there are none of the levelling or stability problems you get with corner-located bushes like that on the Panasonic Lumix DMC-FS30 / FH20. You won't be able to switch cards or batteries with the camera mounted on a tripod, but for a compact that's not a huge inconvenience.
The FinePix JZ300 has a USB-style output port concealed under a flush-fitting flap on the right side of the camera body. A USB cable is supplied so you can connect the camera to a computer or printer, but the A/V cable is optional, so there's further cash outlay involved if you want to view your video and photos on your TV. Even then, you'll be viewing them in standard resolution over a composite video link as the JZ300 has no HDMI port.
The FinePix JZ300 has a built-in flash with a quoted maximum range of 2.6 metres using the Auto ISO setting at the maximum wide angle lens focal length. This makes it difficult to compare in terms of outright power, but in our flash tests, shots taken in Program mode with the ISO manually set to 100 looked quite dark. With the ISO set to auto the camera chose higher ISO settings that, predictably, produced much better-looking results, albeit with more noise. The flash recharges pretty quickly, taking around two to three seconds to reach readiness between shots. If you have the image preview set to the default 1.5 second display, by the time it disappears the flash will be ready to go again.
The flash fires automatically when the lighting conditions demand it and it can be forced on or off. There's also a slow synchro mode for illuminating foreground subjects while capturing a naturally-lit scene. In some modes the flash can be configured to fire a red-eye-reducing pre-flash and there's also in-camera red-eye reduction software that can be applied either at the time of shooting or later for images shot using Face recognition.
The FinePix JZ3000 has an NP-45A Lithium-ion battery pack which provides enough power when fully charged for 230 shots using the CIPA (Camera Imaging Products Association) standard. The battery is charged outside of the camera using the supplied charger.
| | | |
| --- | --- | --- |
| Fujifilm FinePix JZ300 coverage wide | | Fujifilm FinePix JZ300 coverage tele |
| | | |
| 5-50mm at 5mm (28mm equivalent) | | 5-50mm at 50mm (280 mm equivalent) |
The FinePix JZ300's zoom lens has a truly impressive range for a camera in this price bracket. Its 10x optical zoom ranges from 5 to 50mm, which in 35mm terms is 28 to 280mm. That means you have everything covered from true wide-angle landscape shots and cramped interiors all the way to telephoto performance that goes well beyond the reach of similarly-priced compacts offering up to 5x optical zoom ranges.
When you press the on/off button, the JZ300's lens extends by about 24mm and the camera is ready for action in just over two seconds, it's not lighting fast, but it's no slouch either. The zoom is quiet in operation, but isn't consistently smooth across the entire range, appearing to pause, or a least slow, at one or two points during its travel. This is even more noticeable if you look at the zoom indicator bar displayed in the top left of the screen.
The lens also loses track of focus while zooming in both directions. This isn't at all unusual though, particularly on compacts with a wide zoom range, and the JZ300 regains the focus almost the instant you take your finger off the zoom rocker. This would be less of a problem were it not for the fact the JZ300's optical zoom remains operational during video recording. Most compacts disable the optical zoom during video recording so this isn't an issue, but the loss of focus during zooming while video recording with the JZ300 is a shame. The speed of the zoom – it goes from 28 to 280mm in around three seconds is also less than ideal for video use. Having made those criticisms, it's only fair to reiterate that to have the optical zoom functioning at all during video shooting is something of a rarity and therefore to be welcomed even with the limitations.
Mostly, though, you're going to be using the zoom for still shooting. As we've said, if you keep your finger held on the zoom collar it covers the full zoom range in about three seconds, losing the focus somewhat drastically, but regaining it quickly. By flicking the zoom with your index finger you can coax it through 19 discrete steps. Each time you do this, the camera beeps, which is distracting. You can stop it doing this by enabling silent mode, but then you lose the other sounds as well.
The closest focusing distance in macro mode with the lens at the maximum wide angle setting is a fairly average 5cm and with the lens at it's maximum telephoto setting you can close in to about a metre – that's just about close enough to get a reasonably good shot of a large butterfly.
Fujifilm FinePix JZ300 IS: off / continuous

100% crop, 5-50mm at 50mm, 1/30, 200 ISO, Program mode, IS off.

100% crop, 5-50mm at 50mm, 1/30, 200 ISO, Program mode, IS on.
The Fujifilm FinePix JZ300 has optical image stabilization to reduce the effects of camera shake and make it possible to hand-hold the camera at slower shutter speeds than would ordinarily be possible. The system in the JZ300 moves the CCD sensor to compensate for camera movement. It's called Dual IS mode in the menu system though it's not clear if this is a reference to the fact that it can be set on continuously or to activate on first press of the shutter release (you can also turn it off and this is recommended for when the camera is mounted on a tripod). The manual states that the ISO may be increased when the IS is activated but in practice we found this didn't occur.
The crops above are from shots taken with the FinePix JZ300 with the lens set to its maximum focal length of 280mm equivalent. In Program exposure mode with the ISO set to 200 the camera selected an exposure of 1/30th of a second at f5.6. According to the photographer's 'One over the focal length' rule of thumb you'd expect to start seeing camera shake at exposures slower than 1/280th of a second. The crop on the left was taken with IS turned off and the one on the right with it set to continuous. As you can see, the FinePix JZ300 has produced a nice sharp image with no evidence of camera shake at 1/30th of a second – a little over of three stops better than you'd expect to manage with an unstabilized lens.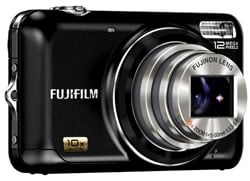 Like many recent compacts the FinePix JZ300 has has a face detection autofocus mode. It's activated by default in many modes but can be turned off in Program mode. It works pretty conventionally, locking onto the main subject and displaying a green square and indicating other faces in the frame with a white square. When you half-press the shutter release the focus is locked on the main subject.
In practice the JZ300's face detection AF works well enough, but when the conditions are less than perfect, e.g. in poor light or when subjects are more than a few metres from the camera or not facing you, it becomes very hesitant. Faces may not be detected at all and the FinePix JZ300 will frequently detect a face one moment then lose it the next. It's definitely worth having for portraits and group shots, just don't expect too much from it. The higher end FinePix JZ500/JZ510 compacts add face recognition which allows you to register personal information for up to 8 people and prioritize focus on them when their face appears in the frame.
If it can't detect a face, or when face detection is disabled in Program mode the FinePix JZ300 defaults to Center AF mode. This focuses on a small central region of the screen, so you need to make sure that whatever you want to focus on is in the middle of the screen before locking focus by half-pressing the shutter release and then recomposing the shot. While this will be second nature for anyone who has previously used spot or centre AF, the lack of multi-area AF, which allows you literally point-and-shoot without worrying at all about focusing is a bit of a disappointment.
The FinePix JZ300 has one further focus mode, Tracking, which does what it says, locking onto an object in the frame and continuously adjusting the focus to keep it sharp even if it (or you) move around. The FinePix JZ300's tracking is rock solid and rarely came unstuck even in poor lighting conditions. It even managed to regain objects that left the frame once they re-entered it, which was pretty impressive.
The FinePix JZ300's screen measures 2.7 inches diagonally and has 230 thousand pixels, which is fairly typical for a camera in this price range. Indoors and outside on a less than brilliant day it's fine, but in bright sunshine and even on a cloudy bright day the FinePix JZ300's screen can become difficult to see. All LCD screens have problems in bright light, but the FinePix JZ300 faired particularly poorly. Certainly, side-by-side with the Panasonic Lumix FS30 / FH20 it looked washed out and lacking in contrast. You can increase the brightness, but this will only get you a minor improvement, it's lack of contrast that's the problem. The angle of view is reasonably good horizontally, but tilt it vertically and the illumination falls off pretty rapidly, meaning that for over-the-head shots, there's going to be a lot of guesswork involved.
The FinePix JZ300's menu system is activated by pressing the menu button at the centre of the control disc. In shooting mode this displays the shooting menu which contains, among other things, ISO sensitivity, Image size and compression settings, White Balance, Continuous shooting options Face Detection and AF modes. These settings may be restricted depending on the shooting mode, for example the ISO sensitivity is disabled in all modes bar Program.
On a separate set-up tab you'll find card formatting, date and time settings, sound settings, IS mode, power settings and digital zoom. Once you're familiar with the camera you can also turn off the Guidance display which provides balloon tips with brief descriptions of selected menu functions.
Support this site by
shopping below

In playback mode the menu provides slideshow, basic editing including cropping and red-eye removal (for photos taken using Face detection), voice memo, erase and protect options. There's also a search filter that can be used to locate pictures by date, type (still or movie), and scene (if taken in SR Auto mode). The search can also locate all shots taken using face detection that include faces.
Though the two-tab menu system is easy enough to navigate, the FinePix JZ300 lacks a 'quick menu' button providing access to frequently used settings, like the one on the Panasonic Lumix FS30 / FH20. A fast route to settings like ISO, white balance, AF mode and continuous shooting is a real advantage and, if you like to make the most of these features, you'll feel the lack of it on the JZ300. That's balanced out to a degree, however, by the selectable Scene mode positions on the mode dial (see below).
The FinePix JZ300's 'point-and-shoot' auto mode is SR Auto, the SR standing for scene recognition. It recognises six different scene types – portrait, landscape, night, macro, backlit portrait and night portrait.
When the scene is determined an icon is displayed on the screen and the best exposure and focus modes are set. In terms of its speed and accuracy (and taking into account our earlier reservations about the face detection) it's one of the better scene recognition systems we've used.
If a scene can't be recognised the FinePix JZ3000 defaults to Auto mode, which can also be selected manually from the mode dial. Auto mode allows you to set image size and quality, colour rendering, continuous shooting, face detection and AF mode from the menu system, but not the ISO. It also disables the exposure compensation button on the control disc.
Program mode provides the most control over exposure settings, allowing you to manually set the ISO and adjust the automatically determined exposure settings by up to 2 stops in either direction.
The FinePix JZ300 has 13 scene modes including two portrait options, snow, beach, fireworks, sunset, flower and text. These can be assigned to one of two positions – SP1 and SP2 – on the mode dial, giving you quite a versatile range of exposure options without the need to access the menu system at all.
The FinePix JZ300 can shoot HD movies in 720p resolution at 24 frames per second as well as standard resolution 640 x 480 pixel and 320 x 240 pixel sizes both at 30 fps. Movie files are saved in an AVI container using a Motion JPEG codec. You can see a sample of the 720p video opposite and as always, registered members of Vimeo can download the original file for evaluation on their own computers.
As with all cameras that use a CCD sensor, the JZ300 is prone to streaking – vertical colour bars – when shooting into the light or subjects with bright highlight details like reflections on water.
As mentioned earlier, the JZ300's 10x optical zoom can be used during video recording. The zoom motor is quiet, but not quiet enough to avoid being picked up by the camera's mic, and the zoom control doesn't have variable speed, so looks a bit frantic while the focus wanders during zooming. It seems churlish to complain, however, when few other compacts currently offer this feature.
If you're looking for a compact with good continuous shooting performance the Fujifilm FinePix JZ300 sadly isn't it. Its continuous shooting mode operates at around one frame per second, which is no worse than many similarly-priced models, however, it stops after three frames and, at full resolution takes several seconds to write those three frames to the card. Reducing the image size doesn't speed up the frame rate, though it does take a little less time to store the images.
The FinePix JZ300's 1/2.3in CCD sensor records 4:3 images with a maximum size of 12 Megapixels measuring 4000 x 3000 pixels. It can also record at lower resolutions including a cropped 9 Megapixel 16:9 format. There are two compression modes, fine and normal, the former producing JPEG files with an average size of 4MB. The ISO sensitivity range is 100 – 1600 ISO with a 3 Megapixel 3200 ISO option and in auto modes the shutter speed range is 0.25 seconds to 1/2000. The FinePix JZ300 has 40MB of internal memory, although with room for around ten best-quality images you'll be wanting to fit an SD card sooner rather than later.
To see how the quality of the FinePix JZ300 measures-up in practice, take a look at our real-life resolution and high ISO noise results pages, browse the sample images gallery, or skip to the chase and head straight for our verdict.