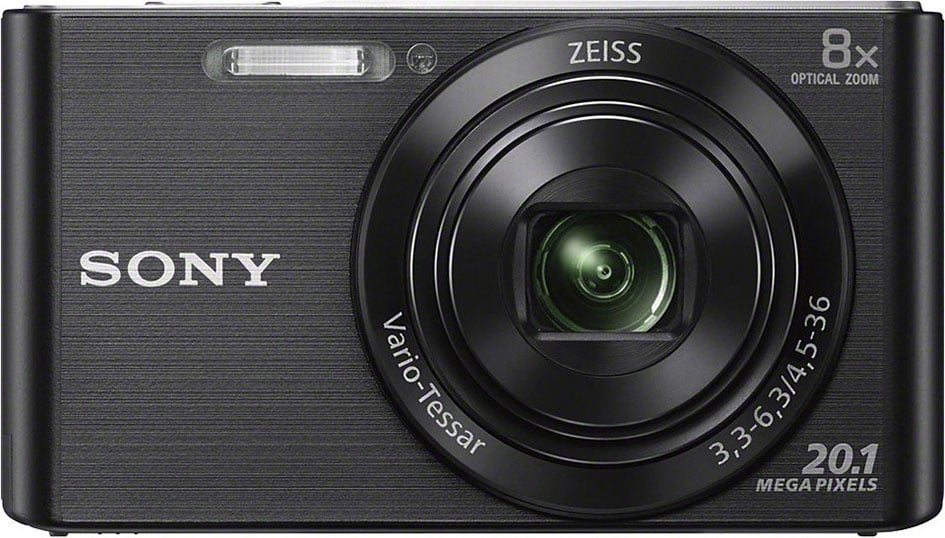 Sony Cyber-shot W830 review
Verdict
The Sony Cyber-shot W830 squeezes an 8x optical zoom into a very compact body at a low price. The other thing it packs a lot of is Megapixels, 20.1 million of them to be precise. And though the wisdom of that is debatable, the W830 delivers decent still image quality and the option for big prints.
It's also okay for movies, so long as you're happy with 720p video. It lacks a dedicated record button, but flicking the mode switch to the movie position is no great chore and it means you get to frame up your shots in a 16:9 view. It provides two HD movie quality options, both of which produce good results, though its CCD sensor copes badly with bright highlights
Other highlights are a wide choice of AF area modes (though no moveable area), smart self timer and smile shutter options and of course Sweep panorama mode, here with a full 360 degree option. In most other respects, the W830 is a rather average performer. Though there are plenty of AF area options, none perform particularly well in low light. The 2.7 inch LCD screen isn't one of the better ones and the camera has no Wifi. Continuous shooting is slower than a frame a second, it has a limited choice of special effects filters, battery life is average to low and power management non-existent. But again we're talking about a low-cost camera here, so before my final verdict, let's see how it compares against a similar rival.

Compared to Nikon COOLPIX S3600
Like the Sony Cyber-shot W830, the COOLPIX S3600 is a point-and-shoot compact with an 8x stabilised optical zoom. Both are ultra compact and will fit in your shirt or jeans pocket (though the W830 is a bit smaller) and both sport 2.7 inch LCD screens with a resolution of 230 thousand dots.
The similarities don't end there. they both have a 20.1 Megapixel CCD sensor and can shoot 720p HD video at either NTSC or PAL frame rates of 30 and 25fps respectively.
They're also prettly closely matched on price, so beyond tossing a coin how do you decide which one to go for? Well, despite the similarities there are also enough differences to differentiate these two models and make a buying decision easier. First of all, despite the fact that both models share the same sensor resolution and both are equipped with CCD sensors, there are significant differences in the picture quality. In my tests the Sony W830 produced better quality photos with more detail than the COOLPIX S3600 and also produced less noise at the lower ISO sensitivity settings.
Then there's video quality. You can check for yourself by comparing my video samples on the first page with those from my COOLPIX S3600 review, but in my view the H.264 codec in use on the W830 produces visibly superior results to the Motion JPEG codec used on the COOLPIX S3600. Not only that, the better quality H.264 video on the W830 takes up less space on the card, meaning you can shoot longer clips before bumping up against the 2GB filesize limit imposed by both models.
Beyond image quality, lets take another look at their respective lenses. Both models have an 8x stabilised optical zoom, but the W830's lens is about a third of a stop brighter. It's a small difference, but added to the W830's superior noise performance it does mean you'll get cleaner results in all lighting situations.
Both models have a good range of shooting modes including auto with scene detection, program auto and scene modes. But the COOLPIX S3600 goes way beyond what the Cyber-shot W830 has to offer in the way of special effects filters. Not only does the COOLPIX S3600 have a lot more of them, it provides several routes to effects in camera either applying them as the shot is taken, immediately after, or later while you're reviewing. The W830's four Picture effects look pretty scant in comparison. Against that, the W830 has the excellent Sweep panorama mode with a variety of angles and resolutions including a full 360 degree sweep.
Neither model has a full resolution continuous shooting mode worth talking about, but the COOLPIX S3600 does at least, like most Nikon compacts offer a range of reduced resolution and feature continuous modes. Ultimately, the W830 has more to offer and produces better quality stills and video. But the COOLPIX S3600 wins on classy good looks and a box load of special effects filters.
See my upcoming COOLPIX S3600 review for more details.
Sony W830 final verdict
The Sony W830 is an uncomplicated proposition. It's a competitivitely priced ultra compact with an 8x zoom lens. There are models with bigger zooms, but they tend to come with bigger bodies and higher price tags. And there are more fully featured point-and-shoot compacts, but not with an 8x optical zoom. Though the W830 doesn't have strength in depth, it gets it right where it matters. The image quality is as good as you'll get on a 20 Megapixel compact, and certainly one in this price bracket.
The hard truth is that if you want better than this, bigger screen, Wifi, faster continuous shooting, stacking modes, 1080p video, more effects, you're going to have to increase your budget. As long as you're clear about what you're getting, to spell it out, a competitively priced ultra compact with an 8x zoom and an otherwise fairly basic feature set, the W830 is delivers what it promises and is certainly worthy of a Cameralabs Recommended award.
Good points
8x stabilised optical zoom.
360 degree Sweep Panorama.
Dedicated movie mode.
In-camera battery charging.
Bad points
Fiddly shutter release.
Lacklustre screen with narrow vertical viewing angle.
No Wifi.

[geot country="US"]Buy the Sony DSC-W830 from amazon.com[/geot][geot region="UK"]Buy the Sony DSC-W830 from amazon.co.uk[/geot][geot region="Germany"]Buy the Sony DSC-W830 from amazon.de[/geot][geot region="France"]Buy the Sony DSC-W830 from amazon.fr[/geot][geot region="Spain"]Buy the Sony DSC-W830 from amazon.es[/geot][geot country="Italy"]Buy the Sony DSC-W830 from amazon.it[/geot][geot country="Canada"]Buy the Sony DSC-W830 from amazon.ca[/geot][geot exclude_region="UK,Germany, France,Spain" exclude_country="Italy,Canada,US"]Buy the Sony DSC-W830 from eBay[/geot], B&H, or Adorama. Alternatively you could treat me to a coffee!