Zhongyi Mitakon Speedmaster 85mm f1.2 review
Verdict
A 85mm lens with a bright f1.2 focal ratio for only 500 EUR/USD/GBP: To good to be true? Well, the Zhongyi Mitakon Speedmaster 85mm f1.2 delivers blurred backgrounds and shallow depth of field like very few other lenses do. And Canon's or Nikon's 85mm f1.2 lenses are more than four times as expensive while Sony does not even offer an equivalent lens.
So, where's the catch? The most important downside: The Mitakon is manual focus only. This may be an absolute no-go for many photographic assignments. But even if you have the time to focus manually (and your subject doesn't move/breath) I found it not as easy to nail focus than with other, sharper MF lenses. Which leads straight to the other weakness of the Mitakon: Wide open it is soft in the center with strong aspherical aberrations producing a soft veil until stopped down to f1.8 or beyond. And the APS-C/DX corners are even worse: For better acuity you need to stop down to at least f2.8 or even further depending on how important sharpness of peripheral image elements is in your image. And "peripheral" can even mean the eyes of your model in a head-and-shoulder portrait. And finally the Mitakon 85mm f1.2 is very susceptible to flare and glare which makes shooting into strong contra-light a risky business especially when using the lens wide open. You might like the look which a combination of low contrast and soft rendering produces but I personally find the results often flat and unappealing – unless you do some heavy lifting in post-processing to give the image more oomph. And then there is the issue – at least on my copy of the lens – that the hard stop at infinity seemed to be a bit before "real" infinity focus could be achieved.
Let's have a closer look at how the Mitakon 85mm f1.2 compares to some alternatives – all of which offer autofocus and automatic aperture operation plus EXIF data. And I cannot emphasize enough how much easier it is to shoot living, breathing subjects with autofocus and eye-detection when your depth of field is measured in centimeters. So in the following paragraphs I'll concentrate on the differences in optical performance.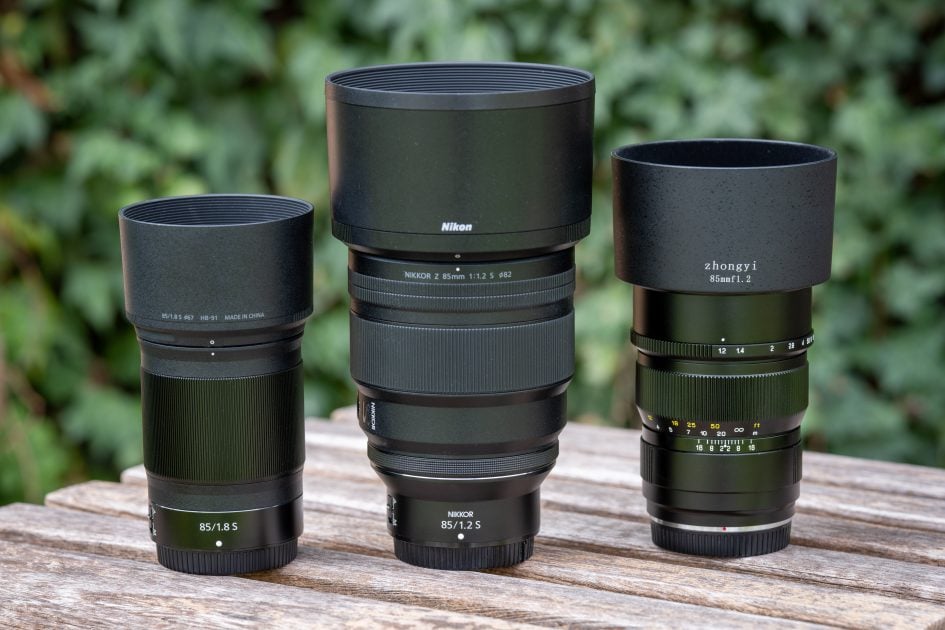 Compared to Nikon Z 85mm f1.2 S
Optically the Nikon Z 85mm f1.2 S is superior to the Mitakon in every aspect: It is sharper, has less color aberrations and field-curvature, is far more resilient against contra-light, and delivers the smoothest Bokeh of any lens up to 135mm focal length which I've tested so far. But then it's bigger, heavier and 4-5 times as expensive as the Mitakon. So in a way the Nikon and the Mitakon represent polar opposites of how to build a 85mm f1.2 lens. Btw.: If you balk at the price of the Nikon, read on: There are other alternatives to the Mitakon which are more affordable than the Nikon Z 85mm f1.2 S.
For more details see my Nikon Z 85mm f1.2 S review where it came Highly Recommended.

Compared to Sigma Art 85mm f1.4 HSM
The Sigma Art 85mm f1.4 HSM is a large and heavy lens and is available with mounts for Canon EF, Sony E, Nikon F, and Leica L DSLRs but still can be used via adapter on modern mirrorless bodies. When I first tested the lens in 2017 I was impressed with its Bokeh and the comparisons in this review show that the Sigma is still top notch – only bested by the Bokeh of Nikon's Z 85mm f1.2 S. The lens is also much sharper than the Mitakon and far more resilient against strong contra-light but can produce some purple fringing around specular highlights. With a price of around 1100 EUR / 1200 USD / 930 GBP the Sigma is an attractive alternative to the Mitakon for those who have the budget and are looking for a large aperture 85mm lens with a Bokeh that is only a little behind the best. Just make sure AF accuracy and repeatability (via adapter) of your copy is OK as I had some problems during my test.
For more details see my Sigma 85mm f1.4 Art review where it came Highly Recommended.

Compared to Sony FE 85mm f1.4 GM
At 1500 EUR / 1800 USD / 1500 GBP Sony's FE 85mm f1.4 GM certainly is not a cheap lens. But it is sharp and produces a very creamy Bokeh in the background and a soft albeit "colorful" transition in the middle-ground. The Sony may show more longitudinal color aberrations than the Mitakon but it has a far better resistance against flare, glare and ghosting which results in a much higher contrast especially when used wide open.
For more details see my Sony FE 85mm f1.4 GM review where it came Highly Recommended.

Compared to Canon RF and EF 85mm f1.2L
Canon sells a high-end RF 85mm f1.2L lens designed for its mirrorless cameras which performs very well, but again at a high price. That said, it's also possible to adapt the older EF 85mm f1.2L and enjoy a similarly shallow depth-of-field with the benefit of autofocus at a much lower price, especially if you're willing to buy a second hand / used model. Gordon made a Canon RF 85mm f2 vs used EF 85mm f1.2L review, both costing a similar amount, around £700. And remember it's possible to adapt Canon EF lenses to many different mirrorless cameras, not just Canon ones.

Compared to 85mm f1.8 lenses
85mm lenses with a focal ratio of f1.8 like the Nikon Z 85mm f1.8 S, Viltrox AF 85mm f1.8 II (available for Canon RF, Sony E and Nikon Z mount), or Sony FE 85mm f1.8 are much smaller, lighter and more affordable but collect over one stop less light than f1.2 lenses when used wide open. This means you need to shoot them at (roughly) half the shutter speed or double the ISO sensitivity. This may cause problems if you're shooting fast moving subjects (not likely with the manual focus Mitakon) or in low light situations. And as the Mitakon starts to sharpen up nicely from f1.8 onward the remaining differences in sharpness are probably not the decisive factor in choosing between the Mitakon and one of the f1.8 alternatives. So one major question remains: How does Bokeh quality compare between the Mitakon shot at f1.2 and one of the f1.8 lenses? Well, one thing is clear: The background is 50% more blurred at f1.2 than at f1.8 and depth of field is 1/3 narrower. But with a high contrast subject or background Bokeh of the Mitakon looks more nervous at f1.2 than e.g. from the Nikon Z 85mm f1.8 S. This may not matter much in portrait shooting and Bokeh quality is often a thing of personal preferences but I wouldn't dismiss f1.8 lenses straight away when looking for a 85mm lens with a pleasing Bokeh.
For more details see my Nikon Z 85mm f1.8 S review, Viltrox AF 85mm f1.8 II review , or Sony FE 85mm f1.8 review.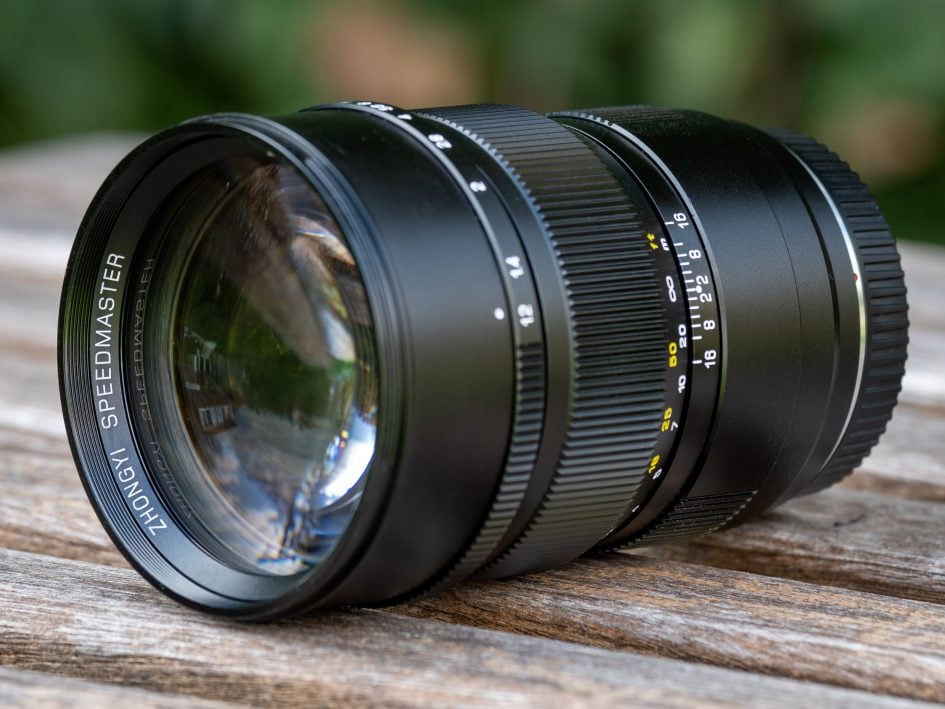 Mitakon 85mm f1.2 final verdict
The manual focus Zhongyi Mitakon Speedmaster 85mm f1.2 is one of only a few 85mm f1.2 lenses available, and at around 500 EUR/USD/GBP pretty cheap too. Its background Bokeh wide open is heavily blurred (although not very smooth) and the lens produces a very shallow depth of field. Available in Sony E, Canon RF and Nikon Z-Mounts, it does not attain the optical heights of the considerably more expensive alternatives from Nikon or Canon as it has loads of optical aberrations: Astigmatism, field-curvature, spherical aberrations, purple fringing, and very low resistance against flare and glare especially wide open. But if you're into portraiture those flaws might well be acceptable – provided you know how to precisely nail focus manually. With this caveat in mind I can still recommend the Mitakon 85mm f1.2 for the money, but bargain hunters may also want to consider adapting a used Canon EF 85mm f1.2L for which has the benefit of autofocus for a couple hundred more.
Good points:
Strong background blur and separation.
Soft rendering wide open still produces quite some detail in the center and FF/FX-corner.
Relatively well controlled color aberrations and coma.
Distortions easy to correct.
Low price.

Bad points:
Manual focus only, hampered by soft rendering.
Purple fringing and halos around bright lights.
Strong astigmatism/field-curvature.
Very strong veiling glare wide open in challenging contra-light.
Manual aperture actuation only, no (EXIF) data transmission.
No weather sealing.
Very visible focus breathing.
Check prices on the Zhongyi Mitakon Speedmaster 85mm f1.2 at B&H or Adorama. Alternatively get yourself a copy of my In Camera book, an official Cameralabs T-shirt or mug, or treat me to a coffee! Thanks!