Zeiss Otus 85mm f1.4 review
In depth
The Zeiss Otus 85mm f/1.4 is a short telephoto lens that follows the much acclaimed Otus 55mm. With the first Otus, Zeiss made ambitious claims for performance that were delivered in practice, albeit at a high price and with manual focus only (see my Zeiss Otus 55/1.4 review). So expectations for the second model in the series are equally high or even higher than the first, especially as it's even more expensive with a price tag of 4000 EUR.
Like its shorter brother the new Otus is available with Canon mount "ZE" and with Nikon F-mount "ZF.2", but can be used via adapters on other manufacturers' bodies, such as the Sony A7 series. And like all Zeiss lenses, excluding the Touit and Batis series, it is manual focus only.
The lens goes head-to-head with short telephotos from almost any camera maker: Nikon, Canon, Sony all have their own version of a 85mm lens with an aperture larger than f1.8, but none carry this kind of price tag nor describe themselves as being "the best short tele lens in the world". So the questions are: does this lens continue to redefine what performance level you can get from a modern design and high quality glass? How much better is this lens than the equivalent offering from, say, Nikon. And can the lens really justify a price of 4000 EUR? In my Zeiss 85mm f1.4 review I'll share my findings, including sharpness results, contra-light performance, bokeh, and a selection of sample images when mounted on a demanding 36MP Nikon D800 body.
PS – don't forget you can support my work next time you order anything at Amazon, B&H or Adorama by first clicking through to them using the links above and in the sidebar. It works for anything you order at any time – thanks for your support!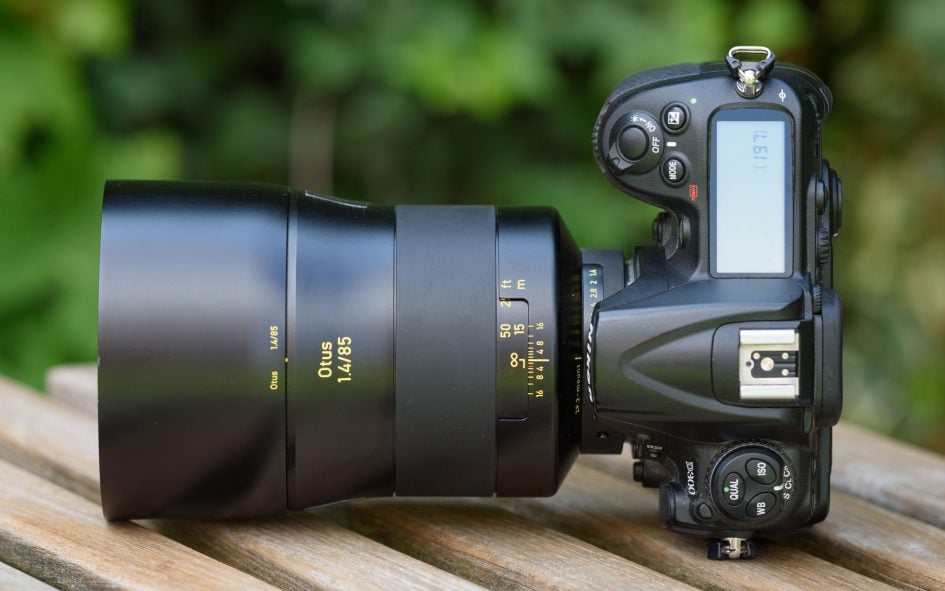 Facts from the catalog
As usual I'll have a look at the technical data first – based on the Nikon ZF.2 version. I've rated the features with a [+] (or [++]), when it's better than average or even state of the art, a [0] if it's standard or just average, and [-] if there's a disadvantage.
Most features are compared to Nikon's own AF-S 85/1.4G. See my Nikon 85mm f1.4G review for more details.
Size (diam. x length): 101 x 113 mm (4.0 x 4.4 in.) w/o lens-caps. The lens hood adds another 49mm to a total length of 154mm (6.4 in.). Much longer and bulkier than Nikon's 85/1.4G at 86 x 84 mm, but astonishingly shorter by 3mm than the 55/1.4 Otus. The most notable aspect of the size of this lens is its girth: you got to have big hands to mount or dismount this lens without fear of dropping it and the massive weight (see below) doesn't help in this respect either. The 55/1.4 Otus is slender by comparison. [-]
Weight: at 1113 g (39.3 oz) quite heavy. Add another 100 g for the metal lens hood. The Nikkor 85mm f1.4G is only 595g. [-]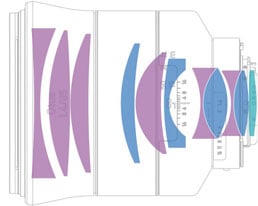 Optics: 11 lenses in 9 groups vs. 10 elements in 9 groups for the Nikkor 85/1.4G. So this is about par for the course. The lens employs both aspheric and special dispersion elements while the Nikon does not offer any fancy elements but boasts its Nano-coating. [0]
Closest focus distance/max. magnification: 0.8m (2.6 ft.) / 1:7.7. Pretty much standard for a 85mm lens. The Nikkor 85/1.4G offers 85 cm with slightly less magnification of 1:8.3. [0]
Filter-thread: 86mm = bigger than the 77mm standard for many pro-lenses. So expect to invest into new filters with the new lens. [-]
Image stabilization: No, same as any other fixed focal f1.4 lens. [0]
Autofocus: No! Manual-focus only. [-]
Covers full frame/FX or smaller: very good [+]
Price: around 4000 EUR new (incl. 19% VAT). Nikon's 85/1.4 costs around a third of that. [-]
Comes with no lens pouch but a metal lens hood is included, reversible for transport, and the lens caps are similar to Nikon's. [-]
Distance information is not relayed to the camera, so some of the advanced exposure-related calculations that Nikon bodies can do (e.g. while using a flash) do not work with this lens. [-]
Aperture ring = yes (Nikon ZF.2 version only), so you can control aperture from the lens just like in old times. [+]
Sealing: no rubber-grommet at the lens-mount. I asked Zeiss about their lens being "hardened" for the elements. They replied that the enclosure of the optical groups effectively seals the lens against dust and moisture. [0]
The score in the "features-department" is 7[-]/4[0]/2[+]. The new Otus is much larger and heavier than the competition, has no AF, no lens-pouch, no electronic distance information, and an exorbitant asking price. On paper it looks even worse than the 55/1.4 Otus, the extra minus being the larger than normal filter-thread. So only an extraordinary optical performance will make this lens interesting to anybody.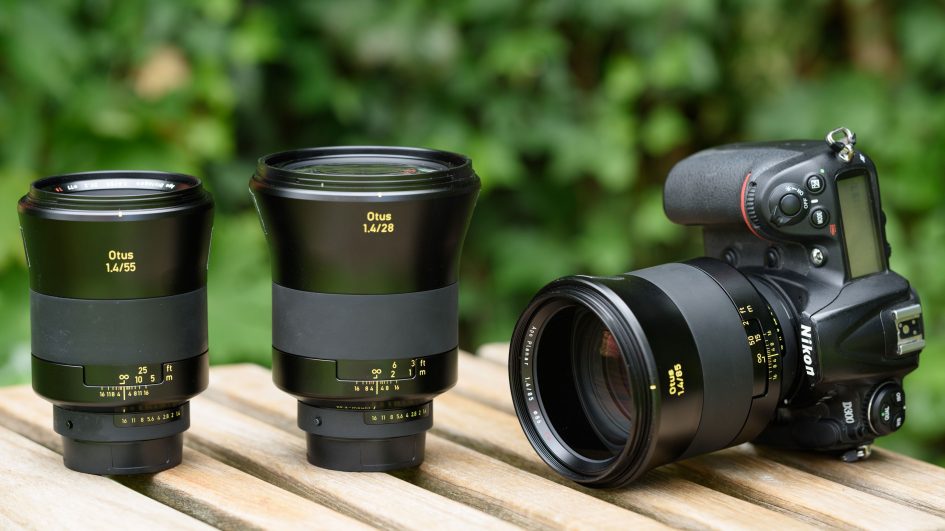 Alternatives
The market for large aperture 85mm lenses is totally crowded: every big camera manufacturer plus two other lens-manufacturers offer at least one f1.4 version:
– From Nikon there is the AF-S 85/1.4G (see my Nikon 85mm f/1.4G review) with a street price of around 1450 EUR. This is the closest competitor performance-wise from Nikon. And there is also Nikon's 85/1.8G that should also be considered as alternatives to a f1.4 lens: after all, it is much smaller, lighter, cheaper (around 440 EUR), less obtrusive and also offers a good image quality (see my Nikon 85mm f1.8G review). The loss of 2/3 of a stop may not be as relevant as the marketing literature is wanting you to believe.
– Canon offers the EF 85mm 1.2 II L USM (around 1750 EUR) that is another half-stop brighter than the f1.4 competition; this lens however is more about delivering an extremely shallow depth of field than it is about edge-to-edge sharpness. Like Nikon, Canon also offers the very capable and much more affordable EF 85mm f1.8 USM.
– Sony has the AF 85mm 1.4 which is a Zeiss Planar T* design and costs around 1260 EUR. Zeiss additionally offers an 85mm f1.8 Batis lens in the full-frame FE-mount with AF.
– Sigma offers its Sigma AF 85/1.4 EX DG HSM at around 880 EUR (see my Sigma 85mm f1.4 review). As this is an older design it will be interesting to see whether Sigma announces a newly designed 85mm f1.4 Art.
– All the the above mentioned alternatives offer the benefit of autofocus but there are also other manual focusing lenses: the Zeiss ZF.2 Planar T* 85/1.4 at 1100 EUR and the Samyang / Rokinon / Walimex 85/1.4 IF below 400 EUR (see my Samyang 85/1.4 review).
Focus
As with the 55/1.4 Otus I can only say: if you can't manage to precisely focus manually you better forget about this lens, skip this review to avoid being infected by the superior image quality, and head over to alternative normal lenses that offer autofocus. But if your shooting style allows for confirmation in magnified live view, or taking a second or third shot to nail focus properly then chances are that the Zeiss Otus is one of the most accommodating lenses for the intricacies of manual focus. And to be honest: even with all the auto-focus lenses I use I almost always check for perfect focus, because with less than ideal targets there's always a chance the camera pulled focus to a different spot than you intended it to.
The focus ring has no slack/play between its movement and the focus-action and a throw of 261 degrees, which is the largest throw I ever saw on any lens, even macro-lenses; for comparison, the Nikon 85/1.4G turns 95 degrees. This is ideal for accurate focus wide open although you need to get used to the amount of movement that is needed to acquire focus. The focus ring is easy to grip even with gloves although it has no structure. It moves very smoothly and can be operated with one finger. It has hard stops on both sides of the distance scale so you know exactly when you've reached one or the other end of the focus range. But the hard stop on the far end is a bit beyond infinity so you star-gazing photogs still need to find exact focus manually if you want to capture the Milky Way in all its sparkling glory. Videographers may be interested in focus breathing: yes, it is visible and things in the background become larger the closer you focus but the effect is not too strong.
Build quality
The lens has nine rounded aperture blades and the aperture ring has half-stop clicks up to f11, although there's no smooth step-less option that videographers would have liked. To operate the aperture from the camera simply set it to f16 where it is automatically arrested with a small latch/button. The lens is built like a tank with a fully metal outer barrel, metal innards, and a metal lens hood that fits seamlessly at the lens-front and does not rattle. This full-metal build is frowned upon by some fearing problems at sub-zero temperatures. But I tested the 55/1.4 Otus coming from a night in the deep-freezer and neither did my naked fingers stick to the cold metal surface nor did the focus-action become too stiff. Operating the lens at -22 degrees Celsius (-8 degrees Fahrenheit) was no problem at all and I expect the 85/1.4 being no different in this regard.
The design is gently curved even with the lens hood attached and the surfaces are all smooth and easy to clean except for the rubber focus ring. All-in-all holding and operating this lens conveys a feeling of great craftsmanship and solid high-quality build that is in-line with the 55/1.4 Otus and exceeds any other lenses I've ever touched.