Zeiss Otus 100mm f1.4 review - Verdict
Verdict
The Zeiss Otus 100mm f1.4 is, unsurprisingly, an excellent lens. It delivers extra sharp images with very high acuity across the full-frame sensor, even with the aperture fully opened to f1.4. The Bokeh produces very soft backgrounds and longitudinal color aberrations are well controlled as is coma. This performance coupled with the tank-like build-quality and sleek design is a unique combination.
But an eye-watering price-tag of 5000 USD / 4500 EUR means it's not simply a case of awarding it our "Highly Recommended" rating without additional consideration and justification. And apart from the high price there are other negative aspects of this lens too. Let me go through them step-by-step:
Size/Weight: The new Otus may not be the largest or heaviest 100/105mm prime ever but it is not much lighter than the Sigma 105mm f1.4 Art! Put it on a full-frame DSLR with the lens-hood mounted and you're talking about schlepping over 2 kg around with a total length of around 24 cm. But to put this in perspective: Mount the Nikon AF-S 24-70/2.8E VR on a D850 and you get a package of almost the same weight that is even 2 cm longer. So yes, the Zeiss Otus is far from unobtrusive, but all being told it is well in the range of other professional lenses that you might carry around.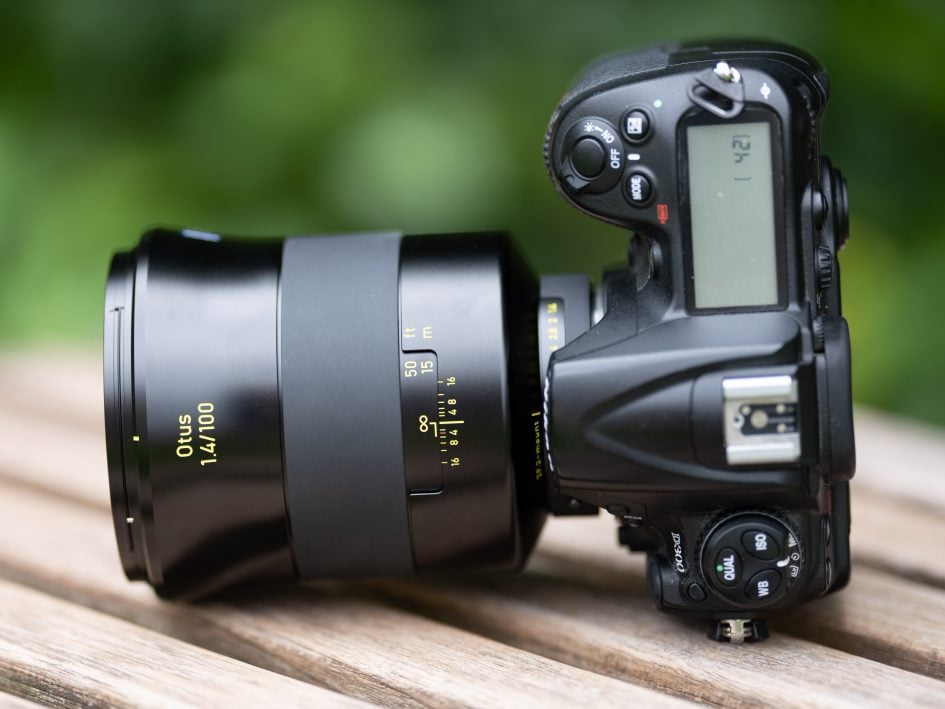 Manual focus: If you can't manually focus a 100mm f1.4 lens precisely, forget about the Zeiss Otus. The lens may have the best, smoothest focus ring with a turn of 315 degrees, but if you try to focus it through an optical DSLR viewfinder with its over-transparent focusing screen and only a little green dot to indicate correct focus then there's a strong chance of missing the precise distance; indeed having the longest focal length in the Otus family to date makes it the hardest to focus for DSLR owners using their optical viewfinders. But if you can use magnified assistance and focus-peaking on a mirrorless body or in live view on a DSLR, you should nail the focus perfectly. It just takes some time. And even autofocus lenses can miss a bit on optimal focus at f1.4 – and when they do I often find it hard to get the correct focus because the focus-ring on AF-lenses normally is much too sensitive to make small corrections. But if you need to work/focus fast you should avoid this lens and look for an alternative with autofocus.
No image stabilization: Stabilization is very important with high resolution full-frame sensors approaching 50MP as well as 24MP APS-C/DX sensors as it is increasingly hard to achieve really sharp shots devoid of (micro-)blur. The old 1/focal-length rule for shutter-speeds that are on the safe side no longer applies for the pixel-densities of modern sensors: today we're more talking about using 1/200 sec on an unstabilized lens of 100mm focal length. Canon and Tamron have proven that they can build large aperture 85mm primes with image stabilization and not compromise image quality. But there is currently no stabilized prime faster than f2.0 with a focal length of 100mm or longer. So using the Zeiss 100mm f1.4 Otus via adapter on a Nikon Z or Sony mirrorless body is the only way to get (sensor-based) image stabilization.
Let's see how the new lens compares to some alternatives.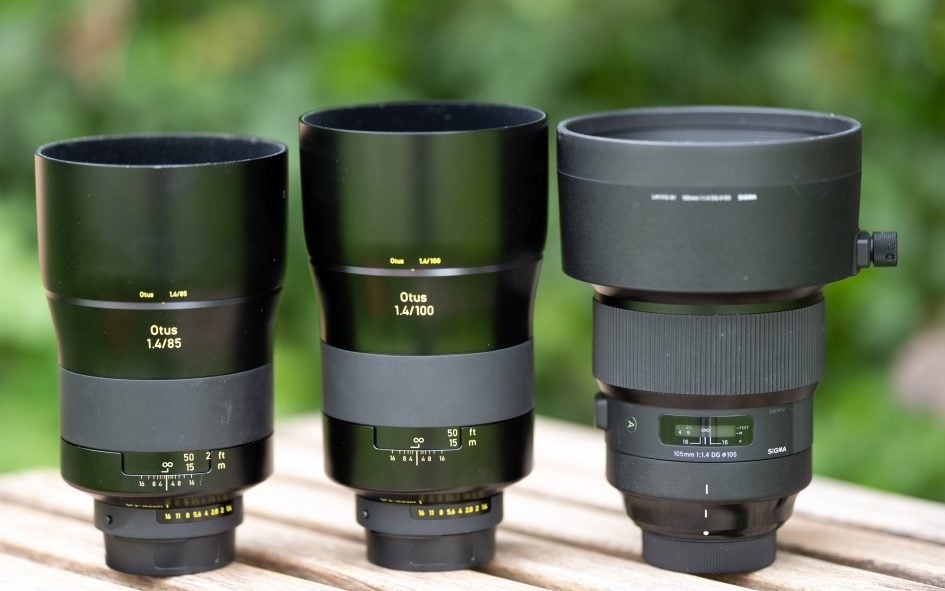 Compared to Nikon 105mm f1.4E
Nikon endowed their longest f1.4 prime with very good image quality: sharp across the full-frame sensor, with only little CA, and a reliable autofocus. You can easily use this lens wide open and get sharp and contrasty shots right into the corners of a high resolution full-frame sensor. Still its optical performance is not quite up there with the new Zeiss Otus or Sigma's 105mm f1.4 Art. But it has the benefit of a slighter build, needs only 82mm filters, and is 25%/350g lighter than the new Zeiss Otus which is quite noticeable when you carry the lens all day. Plus it costs less than half of what Zeiss wants for their new Otus.
For more details see my Nikon 105mm f1.4E ED review where it earned a Highly Recommended.
Compared to Sigma 105mm f1.4 Art
With the 105mm f1.4 ART, Sigma has produced one of their finest lenses in their acclaimed Art line: it's extra sharp in the APS-C/DX image-circle and has the most beautiful Bokeh I've ever seen. It might be the largest and heaviest lens in its class but take the included tripod-mount off and it is only 200g heavier than the new Zeiss Otus. Its optical performance surpasses the Nikon 105mm f1.4E and is neck-and-neck with the new Zeiss Otus, it offers autofocus for faster and easier shooting, and at 1300 EUR it is far, far cheaper than the 100mm Otus. But even if price were of no concern the Bokeh and the autofocus would make me chose the Sigma 105mm f1.4 Art over the Zeiss 100mm f1.4 Otus.
For more details see my Sigma 105mm f1.4 Art review. where it easily eared a Highly Recommended
Compared to Zeiss 85mm f1.4 Otus
Four years ago Zeiss produced a large aperture prime that still is at the top of its game even with the latest 50MP full frame bodies: It produces clearer shots than with any other 85mm lens I've tested. Plus there is its exceptional build quality that even a Sigma Art lens cannot reach. But you lose 15% reach with this 85mm lens as compared to 100mm focal length. And the lens is manual focus only plus its price is very high – although the street price in Europe is currently 20% below the list price of the new 100mm f1.4 Otus.
For more details see my Zeiss 85mm f1.4 Otus review where it earned a Highly Recommended.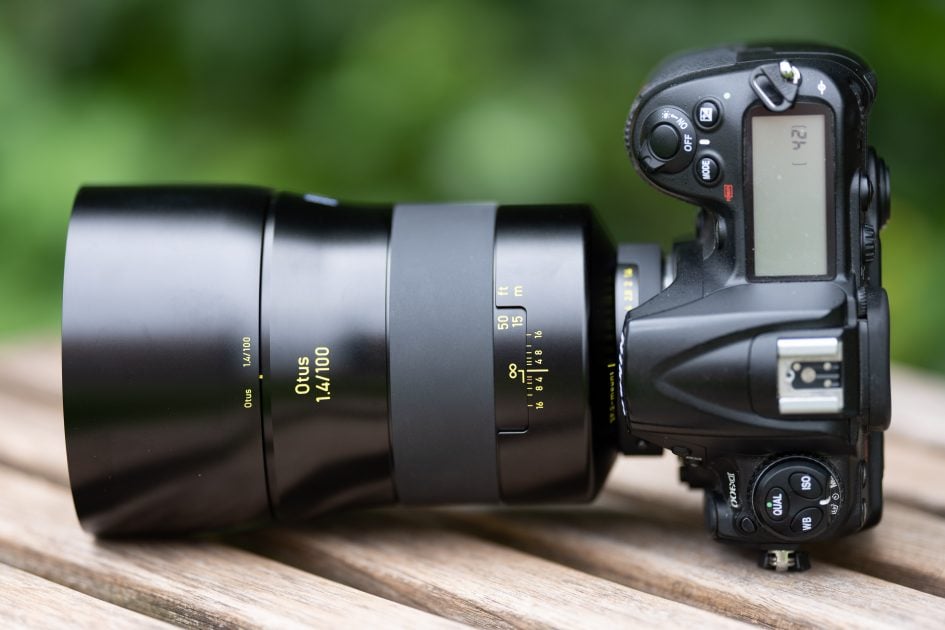 Zeiss Otus 100mm f1.4 final verdict
The Zeiss 100mm f1.4 Otus is an excellent lens, no doubt, surpassing the image quality of Zeiss's own 85mm f1.4 Otus which is no small feat. It can be confidently used even at f1.4 with little to no compromise in optical performance. It may lack autofocus and image stabilization (like all Otus lenses), but that is of less concern when used on a modern mirrorless body. And its build quality is unsurpassed. For all of this the Zeiss 100mm f1.4 Otus earns a Highly Recommended, albeit with the caveats mentioned regarding focus, stabilization and of course price.
But since Zeiss started its Otus line in 2013 the competition has upped the ante in optical design and proved it can also produce excellent lenses. Of recent rivals, the Sigma 105mm f1.4 Art is a testament to that with autofocus and a price tag that's less than a third of the 100mm Otus. As they say: competition is a good thing. It's your choice!
Below I have listed the good and bad points of the Zeiss Otus 100mm f1.4 for you.
Good points:
Excellent sharpness across the full-frame area.
Only little longitudinal CAs and little coma.
Excellent build quality.
Good Bokeh.
Bad points:
No autofocus.
Extremely high price.
Large and heavy.
No weather sealing at the lens mount.
I'm going to be shooting more with the new 100mm Otus and will update the samples page over the next few days. So check back soon to see more images ( incl. portraits) shot with this extraordinary lens.

Check prices on the Zeiss Otus 100mm f1.4 B&H, Adorama or WEX!