Zeiss Otus 100mm f1.4 review
Intro
The Zeiss Otus 100mm f1.4 is a high-end medium-length telephoto lens corrected for full-frame sensors and available in Canon EF and Nikon F mounts. Launched in May 2019, it becomes the fourth in the acclaimed Otus series, joining the existing 28mm, 55mm and 85mm models, with all sharing the same f1.4 focal ratio and uncompromised approach to image quality.
With an f1.4 focal ratio the new Otus 100mm f1.4 also joins the Sigma 105mm f1.4 Art and Nikon 105mm f1.4E as the brightest lenses at the 100-105mm focal length, although crucially the Sigma and the Nikon enjoy autofocus while the Otus, like the others in the series, is manual focus only.
To be included into Zeiss's acclaimed Otus series of top-notch lenses it should have excellent optical performance and build quality. This all comes at a price though: 4500 EUR / 5000 USD may be in line with the other Otus lenses but is still extremely expensive compared to rivals.
The Zeiss 100mm f1.4 Otus is also pretty close in focal length to the 85mm f1.4 Otus. To find out whether the new 100mm Otus is anything more than a minor variation of an existing lens I tested it on the 46MP Z7 body against Zeiss's own 85mm f1.4 Otus, Sigma's 105mm f1.4 Art which is my current reference 105mm lens, and Nikon's 105mm f1.4E ED. So if you like to know how the brand new Zeiss 100mm f1.4 Otus performs, you've come to the right place! PS – if you're interested in the other Otus lenses in Zeiss's line-up check out my in-depth reviews: Zeiss Otus 28mm f1.4 review / Zeiss Otus 55mm f1.4 review / Zeiss Otus 85mm f1.4 review.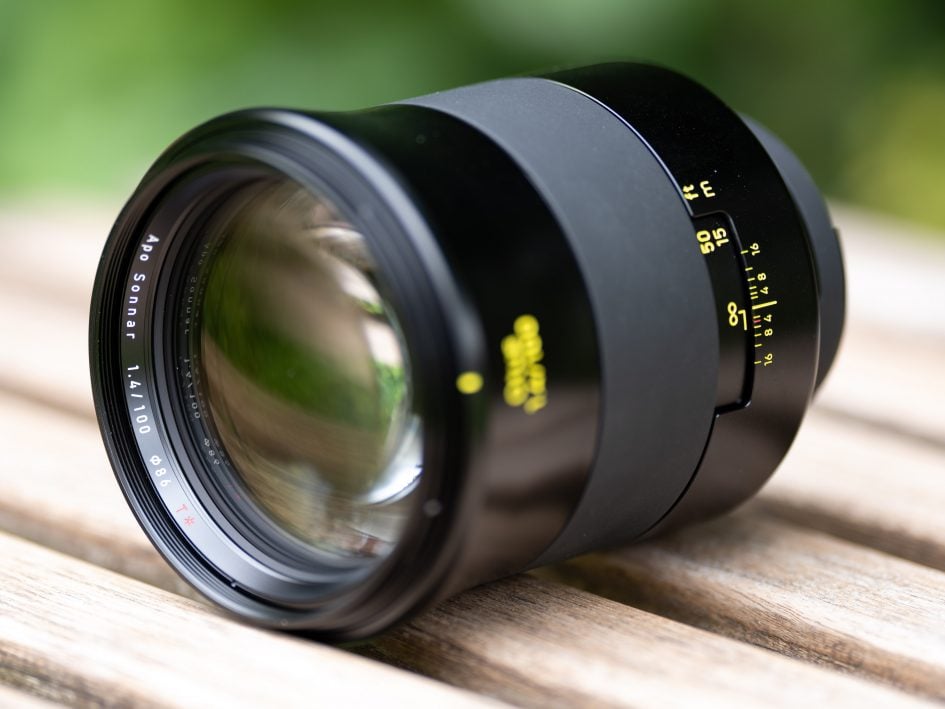 Facts from the catalog
As usual I'll have a look at the technical data of the Zeiss Otus first. I've rated the features with a [+] (or [++]), when it's better than average or even state of the art, a [0] if it's standard or just average, and [-] if there's a disadvantage. For comparison I'll use the Nikon 105mm f1.4E ("Nikon" for short) and Sigma's 105mm f1.4 Art ("Sigma").
Size (diameter x length): 101 x 126mm (4.0 x 5.0in), the lens hood adds 49mm (with a diameter of 107mm) which gives a total length of 175mm (6.9in). The Nikon is 95 x 106mm with the lens hood adding another 47mm (111mm diameter). The Sigma is 116 x 129mm, the lens hood adds 43mm (with a diameter of 128mm). [0]
Weight: 1307g (46.1 oz) plus 107g (3.4 oz) for the metal lens hood. The Nikon is 979g, the lens hood adds another 55g. The Sigma comes in at 1496g plus 104g for the carbon fiber lens hood and 123g for the detachable tripod collar which adds up to a total weight of 1723g.  [-]
Optics: 14 elements in 11 groups vs 14 elements in 9 groups for the Nikon and 17 elements in 12 groups for the Sigma. This is a complex design for a prime lens and contains 9 special dispersion elements and one aspherical lens element. The Nikon has no aspherical elements, the Sigma has one. [+]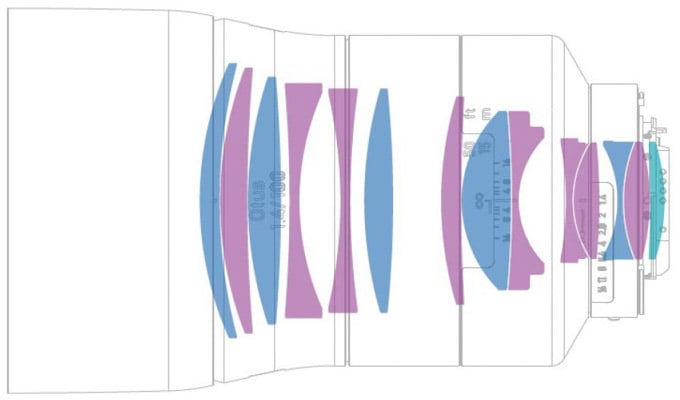 Closest focus distance is 1.0m (3.3ft) with a magnification of 1:8.6. A magnification of 1:10 is achieved at a distance of 1.15m. The Nikon does 1:6.7 at 0.92m in manual focus and and achieves 1:10 at 1.26m while the Sigma goes to 0.94m with a magnification of 1:7.7 in manual focus. It achieves 1:10 magnification at 1.18m distance. [0]
Filter-thread: 86mm which probably means that you will need a new filter set. The Sigma is even worse with its 105mm filter thread while the Nikon takes cheaper 82mm filters. [-]
Image stabilization: No. That's about par for the course on large aperture primes. Unfortunately at a focal length of 100mm and with today's high resolution sensors it's pretty challenging to avoid blur/shake with hand-held shots. Use 1/200 sec to be on the safe(r) side or use a tripod. Canon has proven that you can build f1.4 primes with image stabilization and not compromise image quality for it. But use any of these lenses (via adapter) on a modern mirrorless body from Nikon or Sony and get sensor-based image stabilization "for free". [0]
Auto focus: No, all Zeiss Otus lenses are manual focus only. The Nikon and the Sigma offer autofocus with manual-focus override by simply turning the focus ring. [-]
Covers full frame/FX or smaller. Same with the alternatives. [+]
Price: 4500 EUR (incl. 19% VAT) / 5000 USD. The Sigma has a street price of around 1300 EUR / 1600 USD and the Nikon is around 2000 EUR / 1900 USD. [-]
The Otus comes with no lens pouch but a metal lens hood is included, reversible for transport, and the lens caps are similar to Nikon's. The Nikon comes at least with a soft lens pouch. The Sigma is the best equipped: It comes with a nice padded lens case and a strap, the lens hood is included, made from carbon fiber to reduce weight and a rubberized front segment to prevent dings and scratches from setting the lens down on the lens hood. And Sigma added a detachable tripod mount with an Arca-Swiss style interface. [-]
Distance information is not relayed to the camera, the lens delivers a value of 0.01m regardless of the distance you choose. This disables some of the advanced exposure-related stuff e.g. a Nikon body can do although the lens does have electrical contacts and communicates some EXIF data with the body. The Nikon and the Sigma relay subject-to-camera-distance. The Canon EF-mount version of the Sigma is also compatible with the lens aberration corrections available in recent Canon bodies to compensate for vignetting, chromatic aberrations and distortion. [0]
Aperture ring: yes (Nikon ZF.2 version only), so you can control aperture from the lens on a modern Nikon F-mount DSLR. Use the Otus via FTZ adapter on a Nikon Z body and the aperture ring loses its function. The aperture is actuated mechanically not electronically like with the Nikon or Sigma. [+]
Sealing: no rubber-grommet at the lens-mount. I asked Zeiss about their Otus lenses being "hardened" for the elements. They replied that the enclosure of the optical groups effectively seals the lens against dust and moisture. But still: without a seal between the lens and the body there is the risk of moisture getting in there. The Nikon only has weather sealing at the lens-mount while the Sigma offers further special weather-sealing throughout the construction. [0]
The score in the "features-department" is 5[-]/5[0]/3[+]. So the lens does not appear well-featured. Its major downsides being the price, missing autofocus, the considerable weight and size, and the need to use 86mm filters. So only extraordinary optical performance will make the new Zeiss Otus interesting to anybody.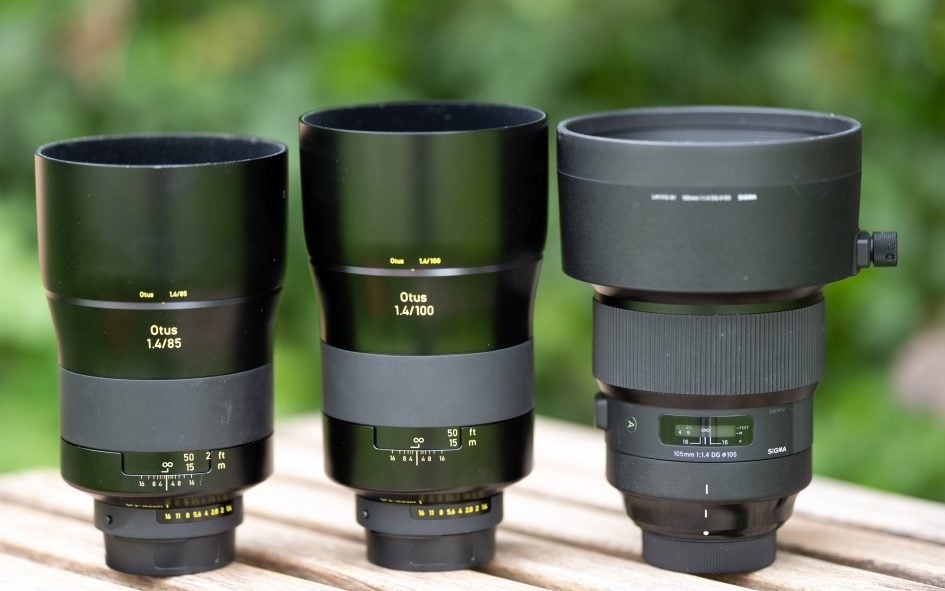 Alternatives:
There are no other 100mm f1.4 (or f1.8) lenses available for Canon, Nikon or Sony owners. So you either need to go slightly longer (105mm) or shorter (85mm).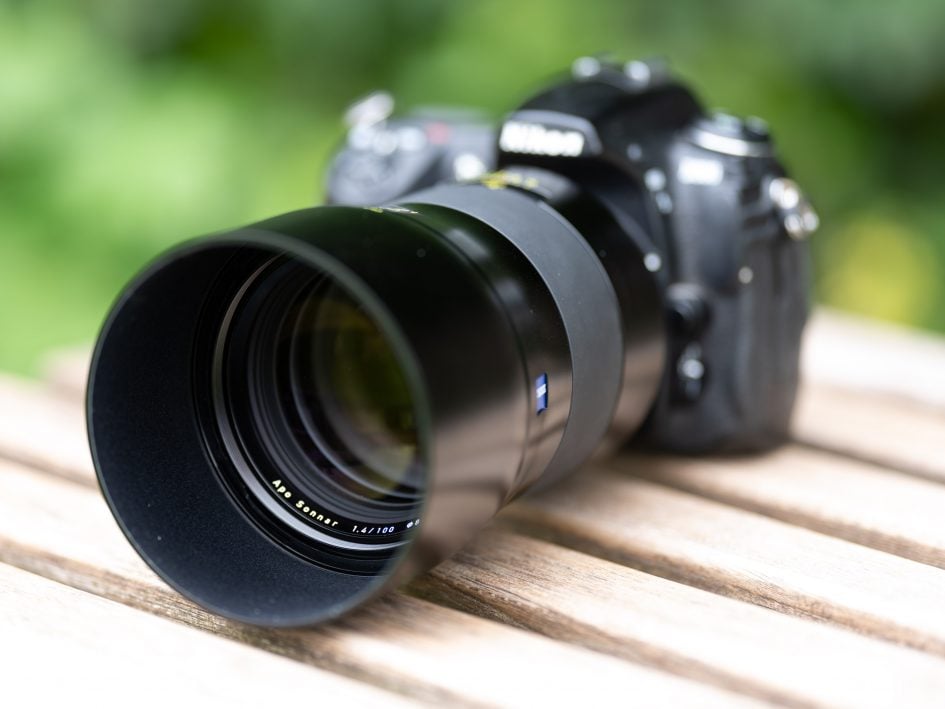 Focus
As with all other Otus lenses I can only say: if you can't manage to properly focus manually you better forget about this lens, skip this review to avoid being infected by the superior image quality, and head over to alternative lenses that offer autofocus. But if you are using this lens adapted on a mirrorless body like the Nikon Z or Sony Alpha models, focus peaking and a magnified viewfinder make it easy to focus precisely. It just takes more time than with an autofocus system. And to be honest: Even with all the autofocus lenses I use, I almost always check for perfect focus, because with less than ideal targets there's always a chance the camera pulled focus to a different spot than you intended it to.
The focus ring has no slack/play between its movement and the focus-action and a throw of 315 degrees, which is ideal for accurate focus wide open. The focus ring is easy to grip even with gloves although it has no structure. It moves very smoothly and can be operated with one finger. It has hard stops on both sides of the distance scale so you know exactly when you've reached one or the other end of the focus range. But the hard stop on the far end is a bit beyond infinity so you star-gazing photographers still need to find exact focus manually if you want to capture the Milky Way in all its sparkling glory.
As you pull focus, you'll notice some focus breathing: the image becomes more magnified at closer focusing distances. When I adjusted focus from infinity to 1.15m on the new Zeiss Otus, I measured a 11% increase in magnification. This is very visible and might not please videographers. The Zeiss 85mm f1.4 Otus and Sigma 105mm f1.4 Art increase magnification by 10% resp. 13% and the Nikon 105mm f1.4E even by a whopping 28%.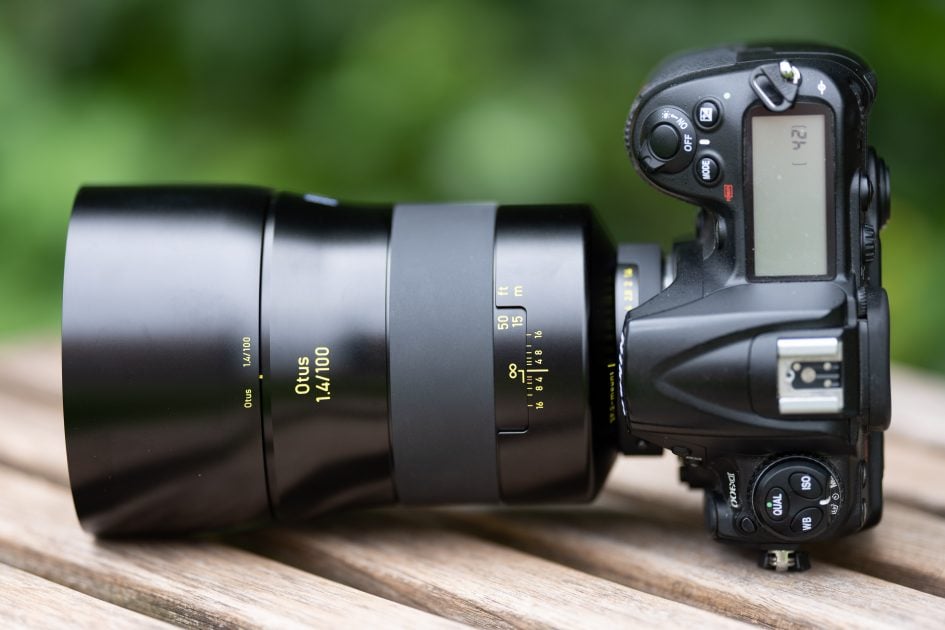 Build quality

The lens has nine rounded aperture blades and the aperture ring has half-stop clicks up to f11, although there's no smooth step-less option that videographers would have liked. To operate the aperture from a Nikon F-mount DLSR simply set it to f16 where it is automatically arrested with a small latch/button. The lens is built like a tank with a fully metal outer barrel, metal innards, and a metal lens hood that fits seamlessly at the lens-front and does not rattle. This full-metal build is frowned upon by some fearing problems at sub-zero temperatures. But I tested the earlier 55mm f1.4 Otus coming from a night in the deep-freezer and neither did my naked fingers stick to the cold metal surface nor did the focus-action become too stiff. Operating the lens at -22 degrees Celsius (-8 degrees Fahrenheit) was no problem at all and I expect the 100mm f1.4 being no different in this regard.

The design is gently curved even with the lens hood attached and the surfaces are all smooth and easy to clean except for the rubber focus ring. All-in-all holding and operating this lens conveys a feeling of great craftsmanship and solid high-quality build that is in-line with the other Otuses and exceeds any other lenses I've ever touched.

Next check out my quality results.

Check prices on the Zeiss Otus 100mm f1.4 B&H, Adorama or WEX!