Zeiss Batis 85mm f1.8 review - Verdict
Verdict
The Zeiss 85mm f1.8 Batis is a short-telephoto prime lens for Sony's mirrorless bodies, that's priced right between Sony's FE 85mm f1.8 and FE 85mm f1.4 GM lenses. The image quality is clearly better than Sony's f1.8 model, and its build quality is very compelling. Add to that the built-in image stabilization plus a clever display for shooting distance and depth-of-field and you get a package that has a lot going for it.
Let's have a closer look at how the Zeiss Batis compares to some alternatives.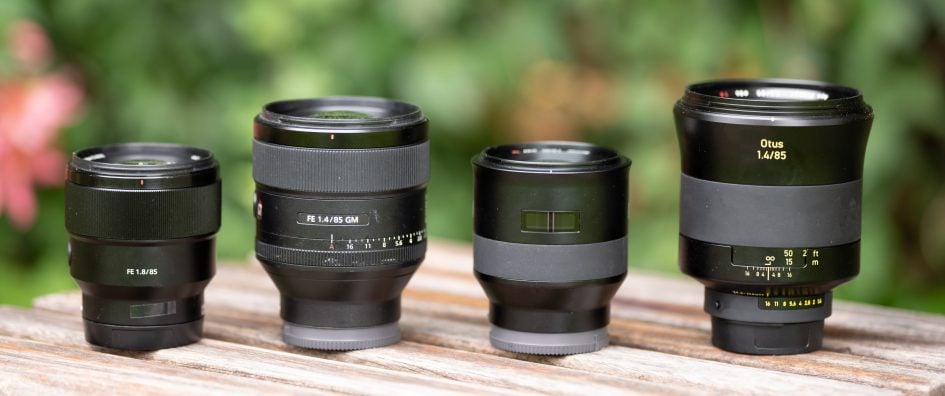 Compared to Sony FE 85mm f1.8
The Sony FE 85mm f1.8 has some clear advantages: It is the smallest, lightest and cheapest large aperture 85mm full-frame prime lens that autofocuses on Sony mirrorless bodies. It performs quite well although it's not as sharp as the Zeiss Batis. But should the photographic subject require highest sharpness or less longitudinal CAs it's easy to achieve by stopping the lens down to f2.8 or f4.0 – which is helped in many situations by the three stop benefit of the sensor-based image stabilisation provided by all but the oldest Sony A7 bodies. In my tests the body-based compensation working alone proved more effective than the combination of optical and sensor stabilisation employed by the Batis, although owners of unstabilised Mark I A7 bodies will still appreciate its presence. The Sony FE 85mm f1.8 also focuses faster than the Batis. But with respect to loCA, flare/glare and haloing it lags behind the Zeiss lens.
For more details see my Sony FE 85mm f1.8 review where it earned a Recommended.
Compared to Tamron 85mm f1.8
The Tamron SP 85mm f1.8 Di USD for A-mount is optically the same as the stabilized version which earned a Highly Recommended in my Tamron SP 85mm f1.8 VC review. The lens produces very sharp images right into the corner of the full-frame sensor where the Batis is a bit soft. It's also cheaper than the Zeiss lens even if you add the cost for an adapter. At 700g it is surprisingly heavy for an f1.8 focal ratio but its size is not bulkier than the Zeiss Batis. The A- to E-mount adapter adds 26.5 mm in length though. The Tamron has weather sealing and fluorine coating at the front lens and offers quiet and fast AF operation.
Compared to Sigma 85mm f1.4 Art
The Sigma Art AF 85mm f1.4 DG HSM is the only other f1.4 85mm lens with E-mount and autofocus besides Sony's 85mm f1.4 GM. It is optically superior to the Zeiss Batis and collects 2/3 of a stop more light with its f1.4 focal ratio. This is also the reason why it's better than the Batis with respect to creamy Bokeh.  At a price that is comparable to the Zeiss lens and with a similarly impressive build-quality it is an alternative that is well worth considering. Its only real drawback is its size and especially its weight of over 1.2 kg.
For more details see my  Sigma 85mm f1.4 Art review.
Compared to Sony FE 85mm f1.4 GM
Sony's flagship G Master 85mm lens is the most expensive of the lenses compared here. Its optical performance is quite impressive and tops the Zeiss 85mm f1.8 Batis. It has a customizable focus-lock button and adds an aperture ring that can be used with clicked 1/3 stops or without click-stops for smooth aperture operation in videos. It is 400g heavier than the Zeiss Batis but still 300g lighter than the Sigma Art. Its major drawback is the price: it costs 50% more than the already not cheap Zeiss 85mm f1.8 Batis – or the Sigma 85mm f1.4 Art which also offers an f1.4 focal ratio.
See my Sony FE 85mm f1.4 GM review for more details.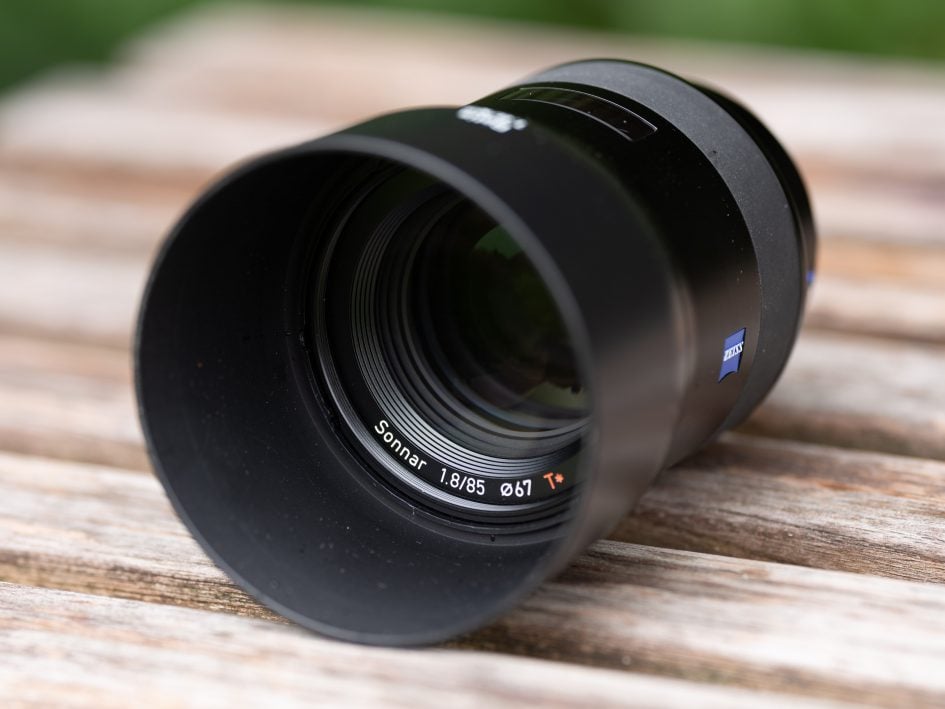 Zeiss 85mm f1.8 Batis final verdict
The Zeiss 85mm f1.8 Batis is short-telephoto lens for Sony's e-mount mirrorless cameras, and a clear step-up in image quality over Sony's own FE 85mm f1.8 lens: it's sharper in the important areas, has less longitudinal CAs, less haloing around bright light sources, and better resistance against flare and glare in strong contra light. It also has superior build quality plus a useful display to indicate distance and depth-of-field. The presence of optical stabilisation is desirable for owners of Mark I A7 bodies, although gives it no advantage over unstabilised lenses mounted on more recent bodies with SteadyShot inside; indeed the combination of optical and sensor-shift stabilisation actually proved less effective than body-based stabilisation alone in my tests. The Zeiss Batis is also slower to focus and has worse vignetting than the native Sony lenses. Its biggest distractor though is its price which is double that of Sony's own FE 85mm f1.8 and equal to the very good Sigma 85mm f1.4 Art. That said, it's still cheaper than Sony's flagship 85mm G Master and its overall optical qualities earn it a Recommended.
Good points:
Small and light.
Very good resolution and contrast in the APS-C image-circle.
Minimal distortions (through lens profile).
Good build-quality and weather sealing.
Unique OLED display indicating distance and depth-of-field.
Optical image stabilization of 2-3 stops.
Bad points:
Very slow to focus.
Longitudinal colour aberrations up to f2.8.
Resistance against flare, glare, and ghosting still could be better.
'Only' f1.8 focal ratio makes Bokeh less desirable than from f1.4 lenses.
Comparatively high price.
Check prices on the Zeiss Batis 85mm f1.8 at Amazon, B&H, or Adorama, or Wex. Alternatively get yourself a copy of my In Camera book or treat me to a coffee! Thanks!