Zeiss 25mm Batis f2 review
In depth
The Zeiss 25mm f2.0 Batis is a wide-angle prime lens designed for Sony's mirrorless cameras, and corrected for use on full-frame bodies. The 25mm focal length delivers a popular field-of-view that's wider than 28mm without the distortion related to even wider options. Launched in 2015, the 25mm f2.0 Batis is a cheaper, smaller, and lighter alternative to Sony's flagship FE 24mm f1.4 G Master. It is part of a five lens "Batis" line-up, ranging from 18mm focal length up to 135mm which all feature a unique OLED display, indicating the focusing distance and depth-of-field range at a glance.
To find out how the Zeiss 25mm f2.0 Batis performs I tested it against the Sony FE 24mm f1.4 GM on the 42MP A7R II body and compare it also to the Sigma 24mm f1.4 Art and the Zeiss 28mm f1.4 Otus. So if you're interested in which wide-angle prime to choose, you've come to the right place!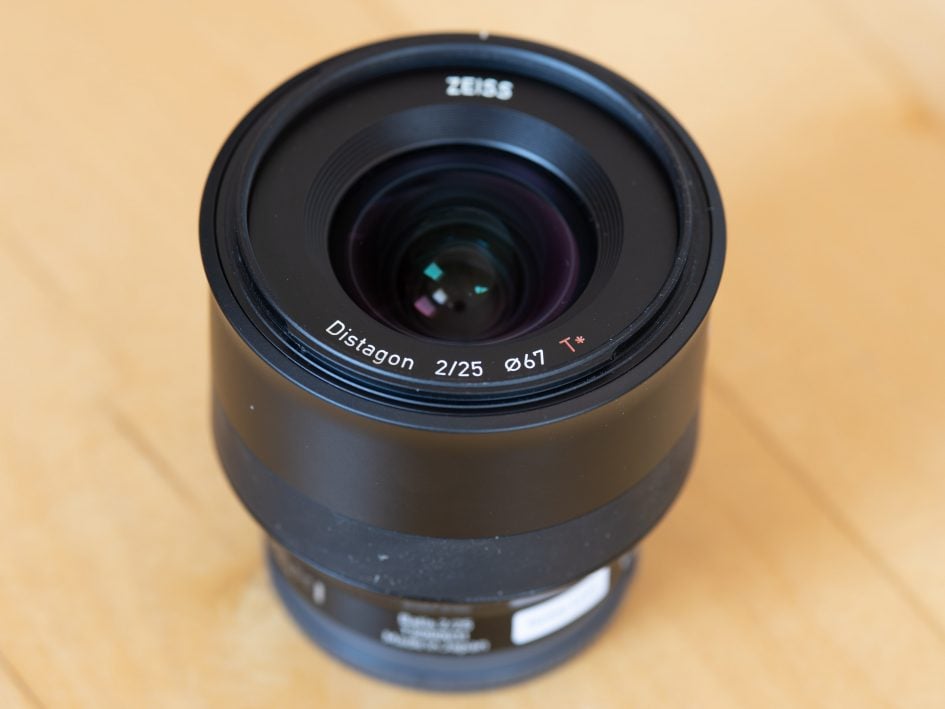 Facts from the catalog
As usual I'll have a look at the technical data of the Zeiss 25mm f2.0 Batis first. I've rated the features with a [+] (or [++]), when it's better than average or even state of the art, a [0] if it's standard or just average, and [-] if there's a disadvantage. For comparison I use the Sigma 24mm f1.4 Art and the Sony FE 24mm f1.4 GM ("Sigma Art" resp. "Sony GM" for short).
Size (diameter x length): 81 x 73mm (3.2 x 2.9in.) plus 36mm for the lens hood (92mm diameter). The Sigma Art is much bigger at 85 x 119mm (without lens hood) as it was designed for DSLRs and has to bridge the difference in flange distance. The Sony GM is 75 x 92mm + 31mm for the lens hood which is 95mm in diameter. [+]
Weight: 335g (11.8 oz.) plus 25g for the lens hood. It's the lightest of the lenses compared here but then it has a one stop slower focal ratio. The Sigma Art is much heavier at 760g (26.8 oz., without lens hood). The Sony GM is in between at 445g (15.7 oz.) plus 33g for the lens hood. [+]
Optics: 10 elements (including 5 aspherical elements alone) in 8 groups. The Sigma Art has 15 elements in 11 groups. The Sony GM has 13 elements in 10 groups plus fluorine coating on the front to repel water, dust, and dirt and should make for easier cleaning. [+]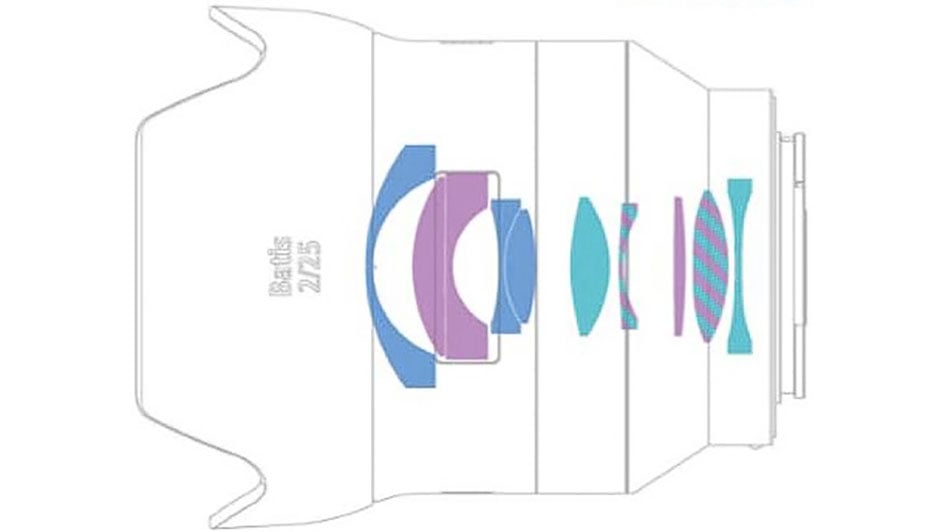 Closest focus distance is 0.19m (7.5in.) in manual focus with a magnification of 1:4.8. A magnification of 1:10 is achieved at 0.32m distance. The Sigma Art and the Sony GM both achieve a little less magnification of 1:5.3 and 1:5.4 respectively. [0]
Filter-thread: 67mm, same as with the Sony GM. The Sigma Art takes 77mm filters. [+]
Image stabilization: No optical stabilization of the lens. The Sony A7 bodies provide built-in sensor-shift stabilization. Same with the Sigma Art and the Sony GM. [0]
Auto focus: Built-in AF drive. Manual-focus override is by simply turning the focus ring. The focus ring has a non-linear gearing that allows for precise manual focus but makes smooth focus pulling for videographers almost impossible. The Zeiss also offers a unique display for focus distance and depth of field. Unfortunately the display is hard to read under sunny conditions. The Sony GM has no distance markings but it comes with a customizable focus-lock button on the barrel and its gearing is linear which makes smooth focus pulling for videographers easy. Focus on the Sigma Art works differently as it has a direct linear mechanical coupling between the focus ring and the focus action. It also offers the distance and dof markings that normally come with lenses designed for DSLRs. [+]
Covers full frame/FX or smaller. Same with the competition. [+]
Price: The lens currently sells for 1130 EUR (incl. 19% VAT) / 1200 USD. The Sigma Art goes for much less: 730 EUR / 850 USD while the Sony GM is more expensive at 1600 EUR / 1400 USD. [0]
The Zeiss Batis lens comes in a nice package but has no pouch which is a shame for a lens costing 4 figures. The lens hood is included and is reversible for transport. The Sony GM and the Sigma Art come with a padded pouch (but no strap for the Sigma) and the lens hood of the Sony is lockable. [-]
Aperture ring: no, just like the Sigma Art. The Sony GM has an aperture ring. [+]
Sealing: yes, a rubber grommet at the lens-mount plus further special weather-sealing throughout the construction, just like the Sigma Art and the Sony GM. [+]
The score in the "features-department" is 1[-]/3[0]/8[+], the most distinguishing features of the lens being its small size and low weight plus the OLED display for distance and dof (but see caveat above). Plus it is well protected against the elements and costs less than Sony's alternative. But then the Zeiss Batis is only f2.0. A few nit-pickings: Delivering the lens without a pouch and using a barely visible dark-blue knob to mark the correct position of the mount were not the most inspired design decisions. And my copy of the lens was visibly decentered – not a good testament of Zeiss's quality control.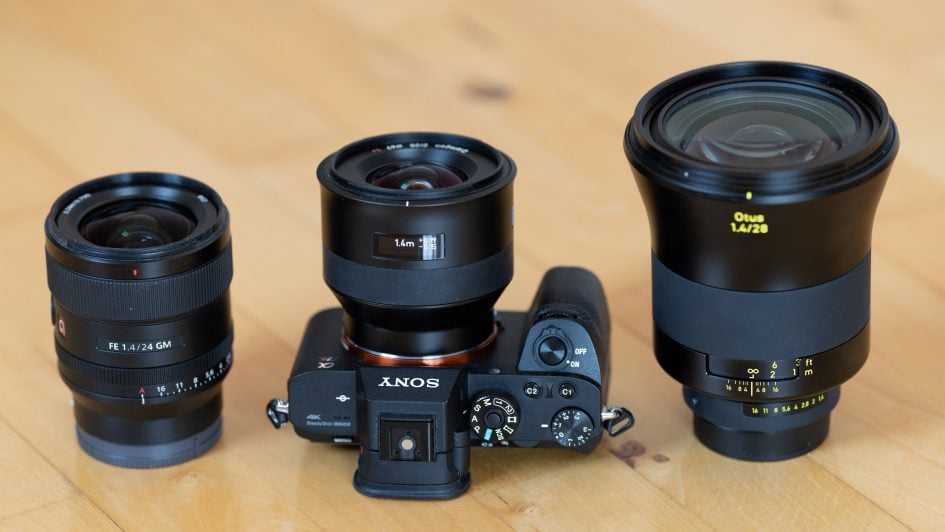 Alternatives
If you want a 24/25mm lens with E-mount, autofocus, and a large focal ratio there are only two alternatives:
Sigma offers the AF 24mm 1.4 DG HSM Art (730 EUR / 850 USD). It's an optical design from 2015 for DSLRs which is available in E-mount since 2018. See my Sigma 24mm f1.4 Art review where it earned a Highly Recommended.
Sony has the FE 24mm f1.4 GM from 2018 for 1600 EUR / 1400 USD. It offers a focus lock button and a de-clickable aperture ring which is great for videographers. See my Sony FE 24mm f1.4 GM review where it earned a Highly Recommended.
If you consider slightly longer, manual focus, or adapted lenses there are some other alternatives, e. g.:
Sony's FE 28mm f2.0 from 2015 is a diminutiv lens of size 64 x 60mm and only 200g weight. As it has E-mount it needs no adapters and offers autofocus as well. It's also the cheapest of the alternatives at around 400 EUR / 450 USD. But you get a 12% longer focal length. It can be transformed into a 21mm ultra-wide or 16mm Fisheye with a pair of optional converters and earned a recommendation in Gordon's Sony FE 28mm f2.0 review-so-far.
Zeiss also offers the 28mm f1.4 Otus from 2014 which is manual focus only and can be used on an EF to E-Mount adapter. The lens is extremely big and heavy (1.3kg) and sells for a whopping 4500 EUR / 5000 USD. But its optical performance is top notch. See my Zeiss 28mm f1.4 Otus review where it earned a Highly Recommended.
Samyang/Rokinon/Walimex has a 24mm f1.4 ED AS UMC lens for Sony E-Mount from 2013 but only for manual focus which costs around 540 EUR / 500 USD.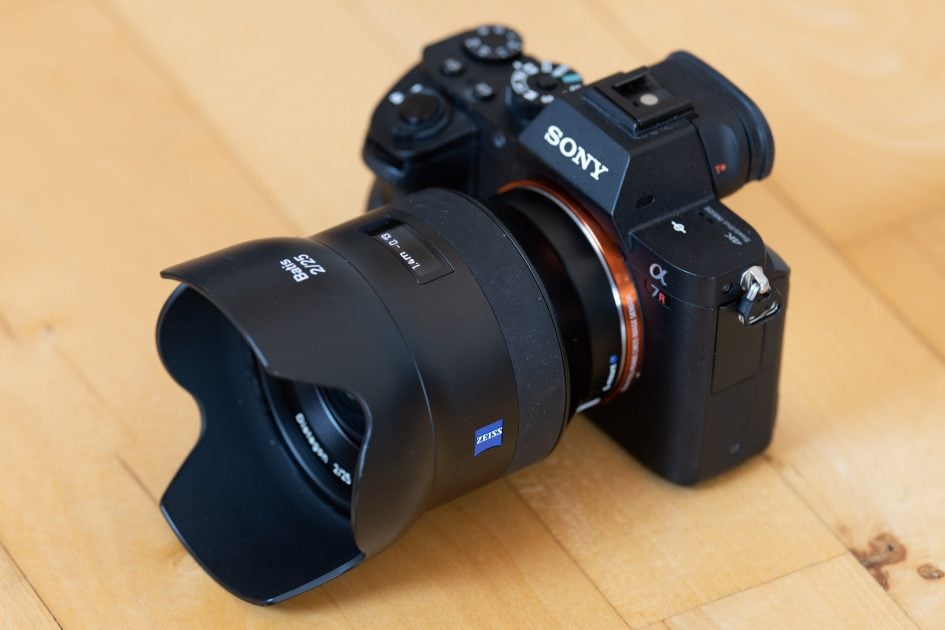 Focus

Focus accuracy and repeatability is critical to consistently produce sharp shots especially with large aperture lenses. Repeatability (the accuracy of focus on the same subject after repeated focus-acquisition) of this lens is very good (measured 99.1% in Reikan FoCal) with no outliers over a series of 40 shots under daylight at 9EV. Consistency dropped to 97,3% (which is still good) under incandescent light. That probably is the Sony A7R II AF at work here as I've seen similar results when testing the Sony 24mm f1.4 GM. There is no focus variation whether the Zeiss Batis focuses from a closer distance or from infinity.

The lens focuses in around 0.6 sec on an A7R II from infinity to 0.32m (1:10 magnification), which is fast. The Sony 24mm f1.4 GM is a little faster at 0.5 sec while the Sigma Art is similarly fast (but the Sigma was measured on a Nikon D810). The focus ring is 16mm wide. It moves very smooth and can easily be operated with one finger. My only gripe is that the focus ring is pretty close to the camera body: I often missed it on the first try.

AF-operation of the lens is inaudible from the outside and if you record video with the built-in microphone the AF-drive produces no sound. As you pull focus, you'll notice some focus breathing: the image becomes 3% more magnified when I adjusted the focus from infinity to 0.32m. This is not too distracting when shooting videos.

Next check out my quality results!

Check prices on the Zeiss Batis 25mm f2 at Amazon, B&H, Adorama, or Wex. Alternatively get yourself a copy of my In Camera book or treat me to a coffee! Thanks!