WD My Passport Wireless SSD review
The WD My Passport Wireless SSD is a portable drive with fast solid state storage, an SD slot for backing-up photos and videos without the need for a laptop, Wifi for wireless access, and a built-in battery allowing it to operate for ten hours without any cables. Launched in January 2018, it essentially takes the existing My Passport Wireless model and switches the traditional spinning hard drive for a solid state drive, or SSD for short. SSDs work out more expensive per Gigabyte than spinning drives, but are faster, more durable, consume less power, and are often physically smaller too. WD's SSD version is available in 250GB, 500GB, 1TB or 2TB models, while the older hard drive-based version is available in 1 to 4TB models.
WD offers a wealth of portable drives, ideal for backing up your photos, videos and other precious data, but most are simple devices which require a host computer or laptop to provide power and data transfer over a cable. In contrast, the My Passport Wireless drives are entirely self-contained devices with their own built-in rechargeable battery as well as Wifi allowing you to connect directly to them wirelessly with a phone, tablet or computer (whether peer to peer or via a shared access point). They also sport an SD slot (as well as a USB port for other card readers) which can backup your photos and videos with a single button-push, or even automatically as you insert the card; if your camera has wireless FTP, it may even be able to wirelessly talk directly to the drive. Taking these capabilities and running with them further, the My Passport Wireless drives can also be used as DLNA or Plex media servers, wirelessly streaming content to compatible players like smart TVs, and their batteries can also be used to charge other devices over USB like phones. And while it seems a little traditional, they can also be connected directly to a computer over USB for the fastest data transfer.
The idea of a self-contained drive is to provide backup in the field without the need to lug around a laptop. At the end of a shoot, you can simply insert your SD card into the device and relax in the knowledge it's made a backup of the contents. Then you can use your phone or tablet to wirelessly connect to the drive and browse or share your work. Conversely the drive can be used as a wireless NAS, providing shared and collaborative storage for multiple users. There's lots of different ways you can use the My Passport Wireless SSD and in my review I'll discuss how it could fit into your workflow as a photographer.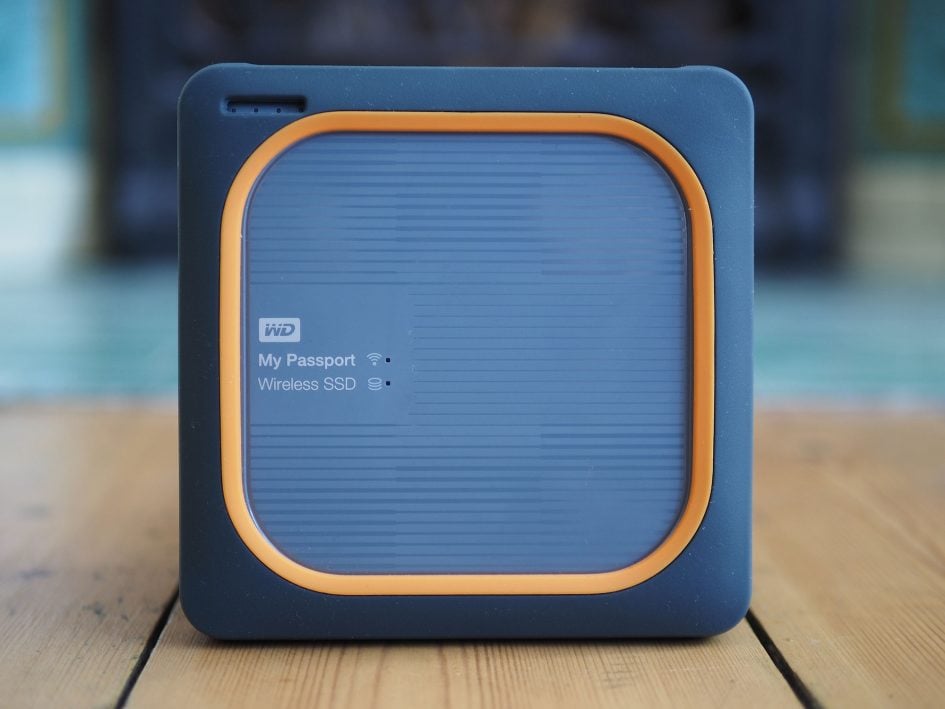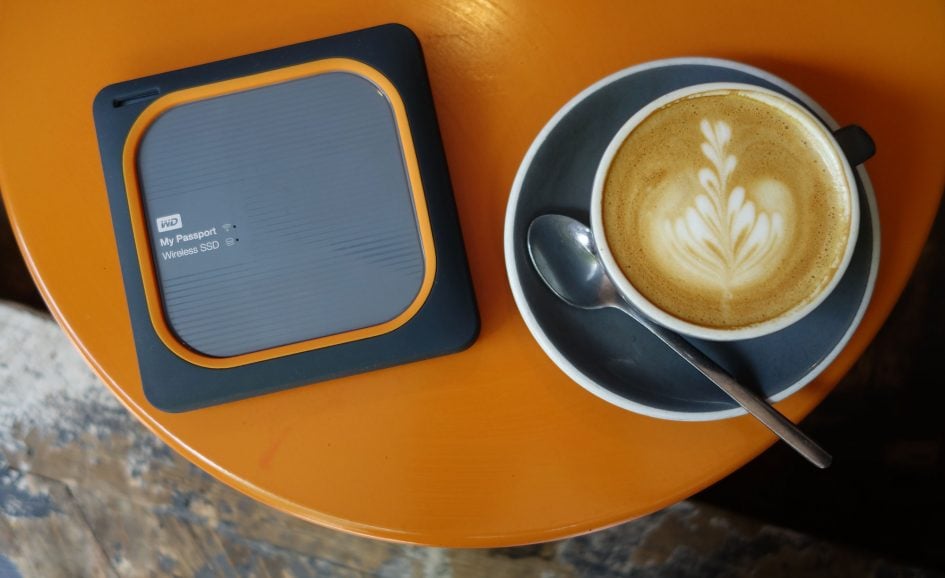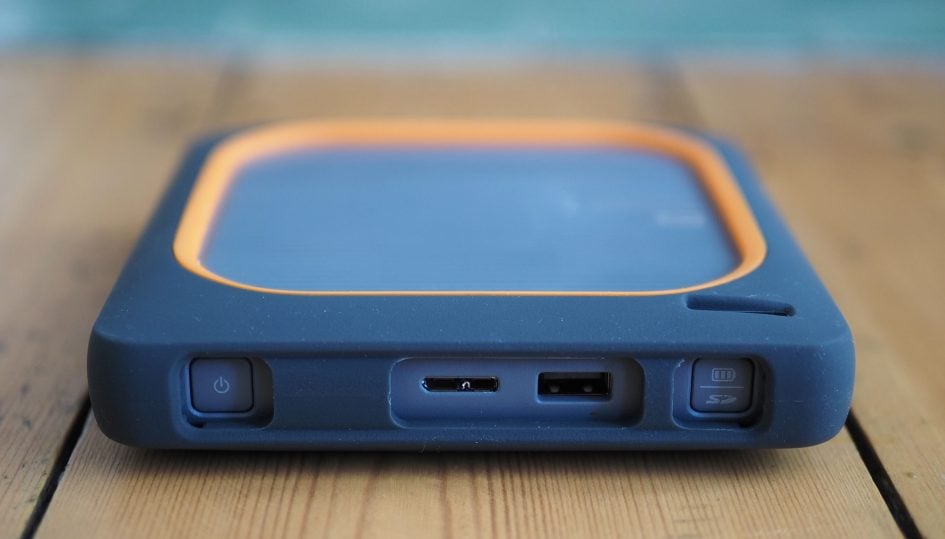 WD My Passport Wireless SSD: setting up
Before using the WD My Passport Wireless SSD, you'll need to connect to it wirelessly and configure it. You can either do this using the free WD My Cloud app for Android or iOS smartphones and tablets, or via a web browser on a computer. In either case, you'll need to switch on the drive and connect your device to its Wifi access point – the My Passport Wireless SSD broadcasts two Wifi networks, one at 5GHz for speed and the other at 2.4GHz for longer range. Either will do for the configuration and the password is written on a label under the drive.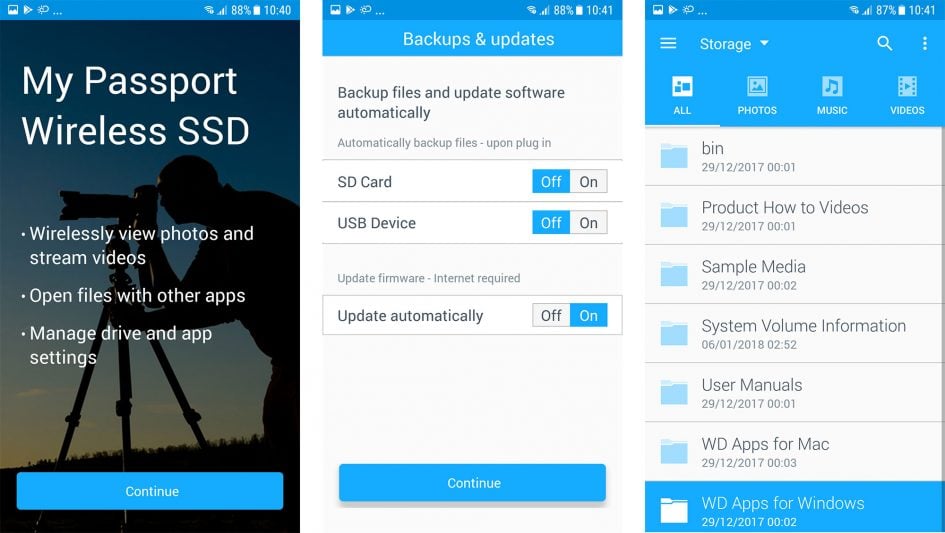 Once your device is connected to the drive's Wifi access point, follow the instructions in the WD My Cloud app or via the web interface on a browser pointed to the drive's default IP address. During the configuration process, you'll be asked if you want to connect the drive to a home or office Wifi network and if you want to make the drive visible on these networks. Two notes on this: first, my home Wifi network has a hidden SSID and I needed to use the broader options on the web-based interface to access and connect to it. Secondly, if you connect the drive to a network and enable sharing, then any device on that network will be able to access it – this is great for using the drive as a wireless NAS, but obviously you wouldn't want to connect it to a public network and enable the same sharing rights.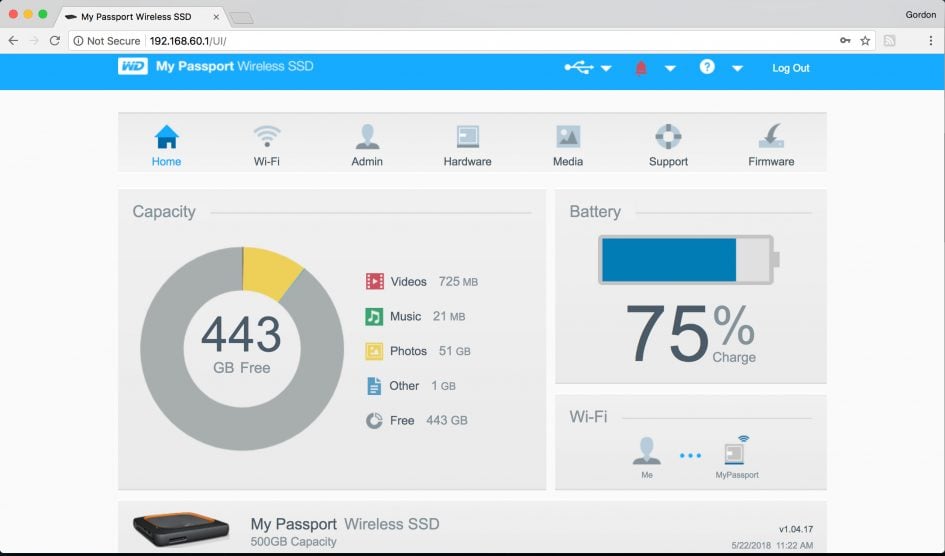 Within the configuration, you'll also have the option to automatically start backups as soon as an SD card is inserted or a device connected to the USB 2 port; if you don't, then you'll need to manually initiate the backup by pressing the SD button on the drive.
Once the configuration is complete, you'll be presented with the dashboard for the drive which indicates the capacity and battery life remaining, as well offering further configuration options like changing the Wifi defaults.
WD My Passport Wireless SSD: in-use
There are three main ways to connect to the WD My Passport Wireless SSD: first, by wirelessly connecting your device direct to the drive's own Wifi network, secondly, by connecting to the drive wirelessly via a shared access point (like a home or office access point), and third, by connecting a computer directly to the drive using a USB 3 cable.
Each has its pros and cons. If you connect wirelessly, whether directly or via an access point, multiple devices can access the device simultaneously and there's no need for cables; connecting via a shared access point also means your device still enjoys internet connectivity (assuming the access point also does), but data transfer to and from the drive will be slower than a direct connection. Meanwhile a cabled USB 3 connection will bypass all of the clever features and treat the drive as a simple external disk that's only talking to a single client, but it will deliver the maximum data speed – dramatically so.
To compare the connection speeds, I connected my MacBook Pro (13in / late 2013) to the drive first via a shared access point, second with a direct 5GHz wireless connection, and third using a direct USB 3 cable. In each case I timed how long it took to copy a 2.99GB folder containing a mix of 177 JPEG and RAW photos from the computer to the drive, and then to read it back again (following a delete and restart to clear any caching).
With the drive connected via my home access point (in an adjacent different room), it took nine minutes and 13 seconds to write the folder of images and 11 minutes and 16 seconds to read it back again.
With the computer connected directly to the drive's own 5GHz Wifi network and positioned close to each other, the same folder took four minutes and 15 seconds to write the folder and six minutes and 32 seconds to read it back again. Out of interest I repeated the test with the computer connected directly to the drive's 2.4GHz Wifi network, where the same folder took nine minutes and one second to write and 10 minutes and 15 seconds to read back again.
So in this test, there's no doubt the 5GHz direct connection was the fastest wireless option, although the similarity in speed between the 2.4GHz direct connection and the test via my home access point suggests the latter also had a 2.4GHz link in the chain. I should note my access point, laptop and of course the drive all have 5Ghz options, but it's hard to force it across all three without disabling the 2.4GHz radio.
The wireless options however paled in speed compared to a direct USB 3 cabled connection With the drive connected directly to my laptop with USB 3, the same folder of images took just 9.4 seconds to write and 18 seconds to read back. Not nine or 10 minutes to write, but 9 or ten seconds. This is obviously a huge improvement over the wireless options and the only way you'll exploit the faster speed of the internal SSD versus a traditional hard disk (as the bandwidth on the SD slot is also limited as I'll show in the next section).
To measure the potential speed of the SSD in a more formal environment, I performed speed benchmarks using both my MacBook Pro laptop and my Windows 10 desktop PC, both using USB 3 cabled connections. Note when connecting directly to a Mac over USB you'll either need to install the supplied Paragon utility for it to work with the default NTFS file system, or reformat the drive with HFS using the Mac's Disk Tools; if you'd like to directly connect it to PCs and Macs, you should stick with the default NTFS file system and use the Paragon driver. The following results are with the drive formatted with NTFS.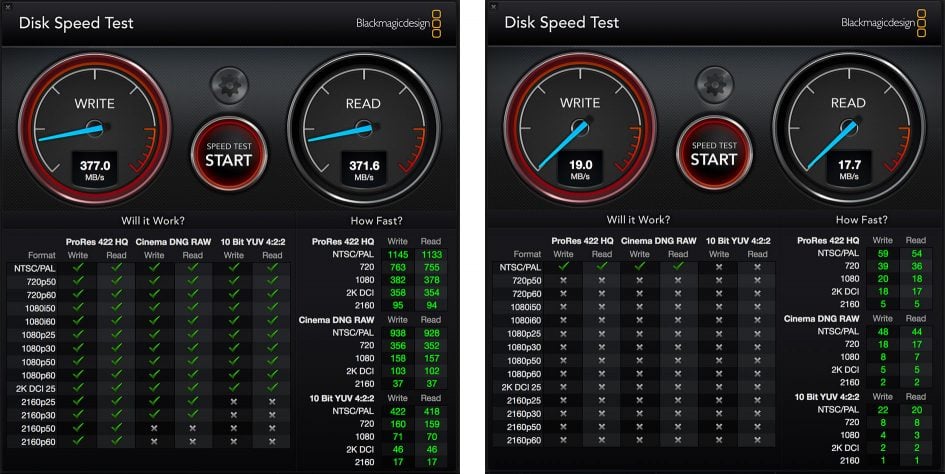 But while a direct USB connection is massively faster, it does restrict the drive to being accessed by one device at a time; ideal if you're simply dumping a load of data to or from it, but in effect no different to a basic portable hard disk. The benefit of connecting to the My Passport Wireless SSD over Wifi is being able to treat the drive like a wireless NAS, a storage volume accessible by multiple devices simultaneously.
With the My Passport Wireless SSD connected to my home access point, I was able to connect to it using two laptops and an iPad over Wifi, as well as a Windows 10 PC connected to my home network with a cable. All could read from and write to the drive simultaneously, albeit with progressively slower speeds as a result. I also tried connecting the two laptops and one iPad to the drive's own Wifi directly and again was able to read and write with all devices simultaneously. The speeds may not be great, but it's certainly very easy to deploy the My Passport Wireless SSD as a battery-operated and wireless shared storage device whether at home, in the office or even on the road where there's no internet, access points or even any power outlets. Just switch it on and connect to its Wifi with multiple devices to collaborate on a project or simply share files.
A quick note on presentation: when you're connected to the drive wirelessly, the My Passport Wireless SSD appears in the Network section of your computer's drive browser. On a Mac, you can access it via the Finder by opening the Network, after which it presents a standard folder labeled Storage; subsequently it simply appears as Storage in the main Finder view of your computer, allowing you to easily drag and drop files. Meanwhile Windows 10 presented it under Computer, Media Devices and Storage, or via the Network, within which I could again access the Storage folder with drag and drop facilities.
WD My Passport Wireless SSD: SD card backup
The WD My Passport Wireless SSD is designed to backup the contents of SD memory cards in the field, without the need for a laptop or an AC power supply. In theory you simply insert a card into the drive's slot, after which any photos or videos are automatically copied over without further interaction. In practice it works as advertised.

As noted earlier, you can configure the drive to automatically start copying the contents of an inserted card as soon as it's pushed into the slot, or following a manual push of the SD button on the side; the same applies to other media types connected via a card reader plugged into the USB 2 port, although their speed will be limited by the port. I opted for the drive to start the process automatically and also configured it to only copy new items, essentially performing incremental backups every time the same card was re-inserted.
There's no display on the drive, but four blue LEDs indicate the backup progress, one quarter at a time. To test the speed in practice, I inserted a card with the same test folder used in my previous benchmarks, containing 2.99GB of data across a mix of 177 JPEG and RAW files. I inserted the card and straightaway the drive got to work, completing the task one minute and three seconds later. For comparison, the same folder took just under ten seconds to write when the drive was connected directly to a computer using a USB 3 interface, but over four minutes when directly connected wirelessly over 5GHz Wifi.
I repeated the test but this time with a much larger folder containing 44.08GB worth of data across a mix of 3428 image and video files. Again the backup process began as soon as I inserted the card, and this time completed 15 minutes and 23 seconds later. I'd estimate a little over 20 minutes for a full 64GB SD card. Again a faster SD card could see this process completed sooner, but generally I'd insert the card and let it finish the task unattended, sometimes with the drive in a bag or on a car seat.
While there are multiple folders already present in the WD My Passport Wireless SSD by default – including user manuals, apps and sample media – all backups from SD cards are stored in a dedicated folder named, appropriately enough, SD Card Imports. Within here you'll find folders labeled by date, and within these, folders labeled by time, and finally within those, a folder with the card identification name which itself contains the actual backup itself. This deep nesting may involve a number of clicks before you reach the desired content, but represents a sensible approach especially once you start adding other cards or supplemented ones into the mix.
If you remove a card that's already been backed-up, add more photos or video to it then re-insert it, the drive will create a new folder labeled by the time of the new backup, within which again a folder is placed with the card ID and the contents. If you have the drive setup to only copy over new files, then this folder will only contain the new files since the last backup, otherwise you get a fresh copy of the entire contents to date. If this new backup took place on the same day as a previous one, then this new time-stamped folder will be nestled within the existing date folder. If it's a new day, then a new date folder will be created for it.
Once again I'd recommend selecting the option to copy new files only, otherwise your drive will fill up fast with duplicated content. I would however have liked the option to copy new files into the same folder as previous backups for that particular card so that all the files from a trip or event ended up in the same place. As it stands, you'll need to do some re-ordering when you return home to create a single folder with, say, all the images from a multi-day event which you backed-up daily. Forgive me if I've missed how to do this.
When I started testing the drive, one of the other big questions I had regarded which actual files and folders would be backed-up from an inserted SD card. Obviously the most important one is DCIM which typically contains all the JPEG and RAW files as well as, for many cameras, any video files. But other cameras store their videos in alternative folders, particularly Sony and Panasonic. An SD card could include MISC, AVF_INFO, MP_ROOT and PRIVATE, the latter where Sony for example stores its videos (either in the AVCHD file or the M4ROOT folder). I'm relieved to report the backup process of the My Passport Wireless SSD simply sucks them all up. Anything that's in the root of the SD card is copied over, so no videos, nor logs or other data are left behind.
A quick note on cameras already equipped with Wifi. These are generally designed to connect to phones, tablets and in some instances computers, but rarely direct to storage devices. The exceptions are high-end cameras which support FTP over wireless, such as Canon and Nikon's pro bodies with the appropriate wireless adapters. In theory these should be able to FTP direct to the My Passport Wireless SSD and transfer images without cables or computers inbetween. I wasn't able to try this during my tests with the drive, but will update the review if I get the chance in the future; I also hope it works with the FTP capabilities of Sony's A9.
WD My Passport Wireless SSD: WD My Cloud app
The WD My Passport Wireless SSD may work quite happily as a wireless or wired storage device for computers, but it's also designed for those who want to leave their laptop at home and access their content via a smartphone or tablet. WD provides the free My Cloud app for iOS and Android devices to access the contents of the drive wirelessly, as well as to configure it and set it up in the first place. I tried it on an Apple iPad and a Samsung Galaxy S7 Android phone.
Connecting to the drive is certainly easy. If the drive is already connected to a shared access point, say in a home or office, then your phone or tablet should be able to talk to it via the app straightaway. If you're connecting directly to the drive, say in the field, then you'll need to browse the available Wifi networks with your device and choose the drive's 2.4GHz or (preferably) 5GHz network, using the password printed on a label underneath. From this point on the experience is the same whether connected via a shared access point or directly.
On an Android phone you can tap your way through the various nested folders, or drill-down by photos, music or videos. If you choose to view all files, then each occupies a separate line with a small thumbnail on the left and the name to its side. If you choose to view by photos, they're presented as thumbnails alone with three in a row, allowing you to scroll through them faster. Tapping any photo file or thumbnail retrieves a version to fill the phone's screen and once in this view you can pinch to zoom-in a little or swipe fairly quickly and responsively between them. An HD button on my Android app purports to retrieve a higher resolution version for closer examination, but on my phone made no discernable difference with the previous version. Tapping the photo also brings up an option to save the image into your phone's internal memory, after which you can post or share it, although you will need to understand how the folders are named and arranged in your Android phone in order to save it somewhere you'll subsequently find it.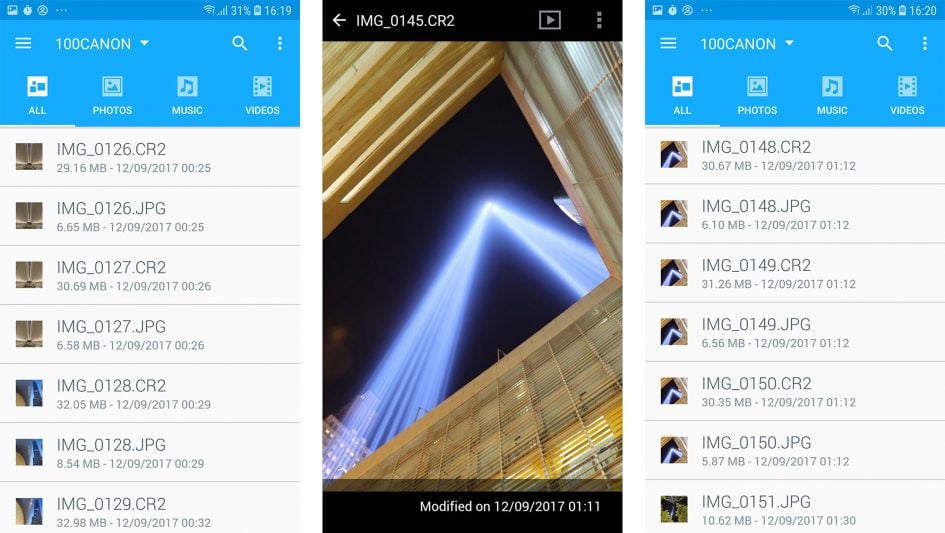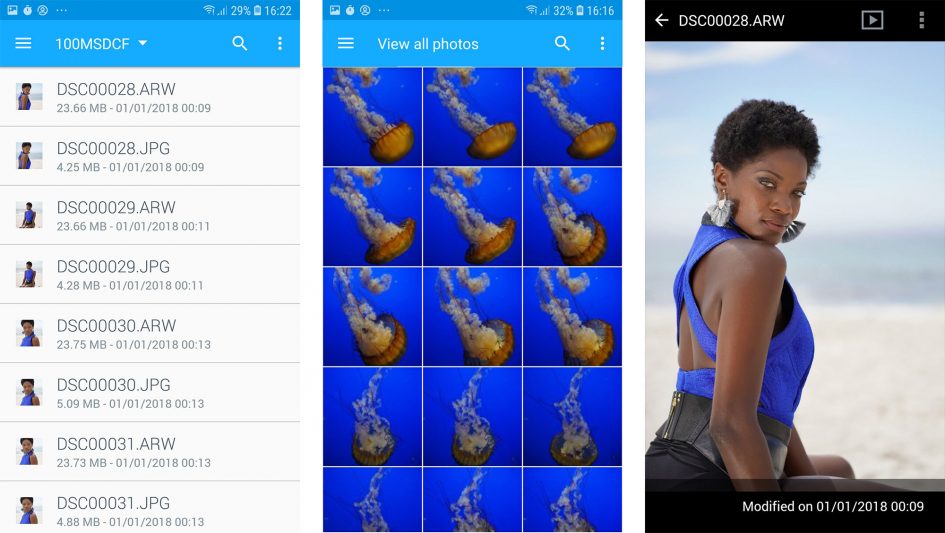 The app can happily view compatible RAW files that have JPEG previews built-into them. WD provides a list of compatible cameras, although you may find newer unlisted models also work so long as they share a similar format to previous models; for example, I was able to view RAW files taken with a Sony A7 III even though it hadn't yet been added to the compatibility list; WD can also provide compatibility with newer cameras via firmware and app updates, although none were available during my testing period.
The Android app worked fairly well in my tests, although was limited by the smaller screen of my phone. When I had lots of images in a folder including many similar-looking ones, I often found it hard to pinpoint the exact one I was looking for, switching back and forth between thumbnail and full-screen views. I also found my phone stopped generating thumbnails after a while and only showed the image when it was tapped, rendering the browsing process very frustrating, although I believe this was a specific problem with my phone. I'll update this page once I try it on other phones.
The experience on an iPad was far superior, as the larger screen allowed the app to display thumbnails on one side and a large view of the selected image on the other. This made navigating through large folders of images so much easier, and the app overall felt more confident and responsive, generating thumbnails quickly and making it easy to save them onto the device for subsequent posting or sharing.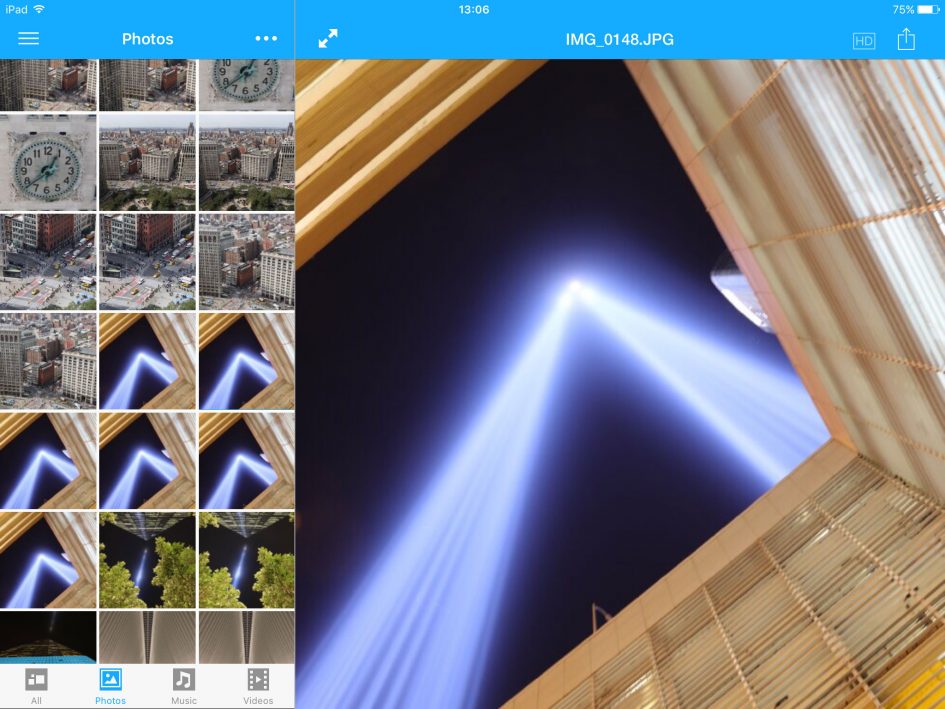 While it is possible to view the contents of the drive with a phone, I'd only recommend it for very casual browsing or if you only have a handful of images to go through. If you need to go through large folders of images and possibly make selections of the best ones while on the road, you'll definitely want to use a tablet instead like an iPad.
Of course you could alternatively use a computer to browse, sort and edit the files whether on the road or back at base, and if you're dealing with a lot of data you'll almost certainly be connecting the drive over USB 3 to a computer at some point simply to get photos or videos off it in a timely fashion. If you are mostly going to connect to the drive to a computer you may think a 'dumb' external disk would be a better bet, but don't forget the built-in SD slot – you could still enjoy the security of easy backup in the field without having to carry a laptop with you all the time.
WD My Passport Wireless SSD: Media Server
The WD My Passport Wireless SSD has one more trick up its sleeve: it can be used as a wireless media server, dishing-up photos, music and videos to compatible players. By default, the installed Twonky server presents the contents of the Sample Media folder to DLNA players, and was immediately recognised by my connected Blu Ray player at home as well as the media players on my Windows 10 PC.
By default you'll need to put any content you'd like to stream into these standard folders, but it's possible to scan for more content or alternatively install the more capable Plex server and instruct it to serve-up content from multiple folders including the SD Card Imports. This in turn would allow you to backup an SD card before viewing your day's photos or videos as a slideshow on, say, a hotel smart TV. Viewing photos or videos on a big screen is a really great way of browsing your work away from home and provides a more effective overview than struggling with a phone screen.
It's also of course possible to store a bunch of your own photos, music and videos on the device to enjoy while you're on your travels. Again it can be configured to present itself as a DLNA media server, allowing any compatible player to access the content.
Also consider
WD isn't the only company to offer self-contained storage solutions designed to operate without a laptop. There's LaCie's DJI Copilot hard drive, not to mention Kickstarter projects like the Gnarbox, currently gearing-up to launch its version 2 model by the end of 2018. The Gnarbox in particular looks like an interesting alternative, exploiting a physically smaller SSD drive to accommodate a smaller case that's also fully waterproof. I hope to review this when it comes out.
WD My Passport Wireless SSD: verdict
The WD My Passport Wireless SSD is a highly versatile device that lets you backup your photos in the field without lugging around a laptop or power supply. Its built-in SD slot can automatically copy the contents of your cards before then letting you browse them wirelessly with a phone or tablet. The built-in Wifi lets you share the storage with multiple computers, tablets and phones like a wireless NAS, or as a wireless media server streaming content to DLNA or Plex compatible players like smart TVs. Meanwhile the battery can be exploited as a power bank to charge USB devices like phones.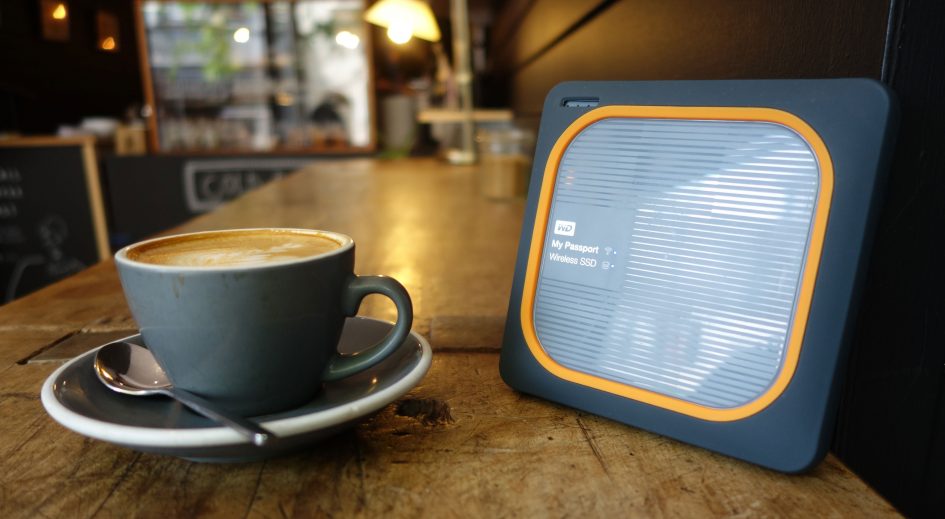 In practice it all works too, making it an ideal device for anyone who wants the security of easy backup in the field without having to carry a laptop all the time. You should think carefully about your intended workflow though: if you intend to browse the contents of your backup in the field, you'll much prefer doing so with a tablet than a phone, and if you end up needing your laptop after all, you could save money and space by using a simple external drive instead – see my WD My Passport Ultra review. It's also important to remember most cameras now have built-in Wifi, allowing you to browse and copy photos onto your tablet or phone without the need for anything else.

In terms of the drive itself, the SSD is nice to have for lower power consumption and greater durability, but you won't exploit its speed with any of the wireless connections, nor even the SD slot; the speed benefit only kicks-in with a direct USB 3 connection. I was also a little disappointed WD didn't employ a physically smaller drive to get the overall size down: as it stands, the unit itself is fairly large and while it is considerably smaller and lighter than any laptop, it's still hefty compared to a basic portable drive whether mechanical or solid state. And while the rubber bumper helps soften any blows, it's far from bullet-proof and in no way water-resistant.

Ultimately if you can't imagine travelling without your laptop, then you should simply go for a smaller and cheaper portable drive instead like WD's My Passport Ultra. And if your camera has Wifi and you only want to copy a few images onto your phone for sharing, then the camera's own app is the way forward. But if you can see yourself exploiting the standalone capabilities of the My Passport Wireless SSD for backing-up SD cards in the field and wirelessly sharing its contents, then it's a product I can recommend.

Check prices on the WD My Passport Wireless SSD at Amazon, B&H, or Adorama. Alternatively get yourself a copy of my In Camera book or treat me to a coffee! Thanks!