WD My Passport Ultra review
The WD My Passport Ultra is a portable drive that's powered by your computer or console over a single USB cable and provides plenty of storage for backup, data transportation or simply just expanding the capacity of a system who's internal drive has become stuffed to the brim. In this review I tested the 4TB My Passport Ultra (the largest at the time of writing), although smaller 1 or 2TB capacities are also available. I also compared it to a selection of other portable drives including the slightly cheaper WD Elements series. If you're looking for a portable drive to expand your laptop or to backup, transport or share your photos, videos, music, documents or any other data, you've come to the right place!
As a photographer, I've relied on portable drives for many years, using them on location to backup the contents of memory cards at the end of each shooting day (before putting them in a safe), or at home or in the office to backup larger quantities of data (whether from a laptop or a desktop). What makes them particularly compelling are their compact size and easy connectivity. They're typically small and slim enough to slip into any bag or pocket and are powered directly from a USB port with a single cable, so no need to carry a power supply or multiple cables. Their portability makes it easy to take your backups off-site, offering greater protection against fire, flood and theft. Remember not to keep your backup next to the original data!
Portable drives are also invaluable for expanding the storage of cramped laptops. When your internal drive becomes too full to work on bigger projects, a portable drive can provide some breathing space without having to attempt an often awkward boot drive swap or an expensive system upgrade. I often use mine when working on video projects when I can't squeeze all the assets onto my internal drive. Sometimes if I need the faster speed of my internal drive to work on the project files, I'll temporarily swap-out some other data to a portable drive while editing the video, then reinstate them once the file's been rendered.
In short, a portable hard drive is an invaluable accessory for anyone, whether you work on laptops, desktops or games consoles and on this page I'll help you choose the right one.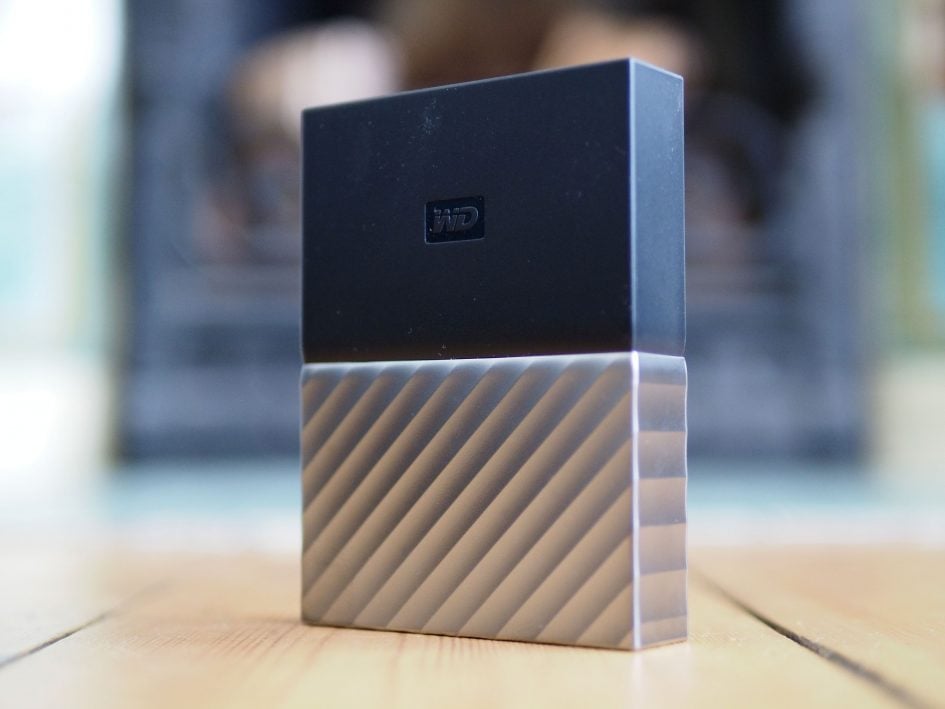 Western Digital, or WD for short, has long been the leader in portable hard drives and recent acquisitions have allowed the company to expand into solid state SSD drives. WD now offers a range of portable drives that can be powered by their host using a single USB cable, some using traditional 2.5in spinning hard disks and others employing solid state SSDs, the former delivering higher capacities at lower prices and the latter boasting faster speeds, smaller cases and potentially greater robustness. Some models additionally offer wireless connectivity, while others are pre-formatted specifically for certain platforms (like Macs), although there's nothing preventing you from doing this manually – Mac owners need only use the Disk Tools utility (Launchpad / others) to reformat using the native Journaled file system.
The Elements SE, My Passport and My Passport Ultra series all employ the same 2.5in hard disks, USB 3 interfaces (backwards-compatible with USB 2 devices), and are available in the same capacities from 1 to 4TB at the time of writing; the only difference between them is their external finish and bundled software.
In terms of software, the basic Elements drives simply come with utilities to configure the sleep timer, LED access light and format the storage. Meanwhile the My Passport drives are additionally supplied with backup scheduling software and 256 bit AES hardware encryption which allows you to set a password to access your data. WD charges only a little extra for the My Passport series over the Elements models but I wouldn't place too much importance on the supplied software and encryption. Most modern operating systems offer built-in backup solutions, and third party options are easily available. Meanwhile the hardware encryption sounds useful to keep your data secure, but the systems employed by WD have been cracked in the past so I wouldn't rely on them for material you absolutely need to keep secret.
So if you eliminate the software and encryption from the respective models, you're really only looking at the finish to differentiate them. The entry-level Elements drives employ a simple plastic case with rounded edges (that's also a little thinner if you opt for the 1TB version), compared to the square-edged metal and plastic cases with diagonal grooves and coloured finishes of the My Passport models. The My Passport drives measure 82x110mm and either 13.5mm thick for the 1 and 2TB models or 21.5mm for the 3 and 4TB versions. Meanwhile the Elements drives share the same 82x110mm footprint, but are fractionally thinner at 12.8mm for the 1TB model or 21mm for the 2 to 4TB versions. The rounded corners of the Elements drives also make them look a little smaller still not to mention more comfortable stuffed in a pocket.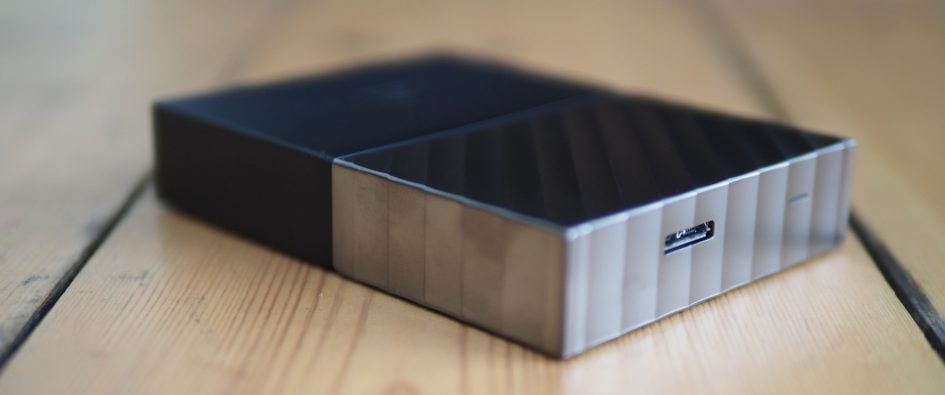 The My Passport Ultra model I tested was supplied in a silver and black finish that certainly looked smart out-the-box, but suffered from visible finger-prints once I'd handled it even a little. If you're likely to keep your drive connected for longer periods as you work, perhaps using it more for storage expansion rather than backup – and don't mind polishing the case to keep the finger-prints off – then you might like the Ultra style. But if you're more value than style-conscious, or only connecting the drive for quick data transfers before putting it away, then I'd opt for the slightly cheaper Elements series which generally offer greater bang for your buck. I say generally as the price difference between them is minimal to start with and often eroded by offers or availability, so always check the prices!

B&H, or Adorama. Alternatively get yourself a copy of my treat me to a coffee! Thanks!

B&H, or Adorama.

WD My Passport performance

To measure the performance of the WD My Passport Ultra drive against other models, I used Crystal Disk Mark under a Windows 10 desktop (Xeon, 32GB RAM, 256GB SSD) and the BlackMagic Speed Test under a MacOS laptop (MacBook Pro late 2013, 2.4GHz i5, 8GB RAM, 256GB SSD). I also timed some simple large photo backups, as well as checking compatibility with a Synology NAS unit.

Starting with Crystal Disk Mark running on my Windows PC, I performed two different tests per drive, using file sizes of 50MB and 1000MB to simulate relative speed when handling photo or video files respectively. For comparison, my PC's internal SSD scored 556.2 and 536.8 Megabytes per second for sequential read and write speeds when using the 50MB test file, and 553.4 and 536.9 Megabytes per second, again for sequential read and write speeds, when using the 1GB test file size. This are pretty quick figures, but par for the course for a fairly good solid state drive / SSD; the full scores are in the screengrabs below.

Next onto the portable drives, and before getting started, a word of warning for anyone who's system offers both USB 2 and USB 3 ports: for the maximum performance, ensure the portable drive is connected to a USB 3 port. It'll work on an older USB 2 port, but the speed will be greatly limited. To find out by how much I connected the drive to a USB 2 port on my PC and measured sequential read and write speeds of just 34 Megabytes per second – not good.
With the My Passport Ultra 4TB connected to a USB 3 port, Crystal Disk Mark measured read and write speeds of 252.8 and 117 Megabytes per second when using a 50MB test size and 132.7 and 122.4 Megabytes per second when the test file size was increased to 1GB. See screenshots below. These are pretty good scores for a physical 2.5in hard disk.

To put the scores above in perspective, I retested my older 1TB WD Elements drive, a model I've come to rely on. This scored 88.48 and 83.14 Megabytes per second for sequential read and write speeds when using the 50MB test file, and 85.41 and 79.75 Megabytes per second, again for sequential read and write speeds, when using the 1GB test file size. See screenshot below.

So the newer 4TB My Passport Ultra scored roughly 50% higher in all the Crystal Mark tests, but managed to deliver a particularly impressive read speed with the 50MB file size, around three times faster than the old 1TB Elements drive. So a good result all-round for a drive that's not just four times bigger in capacity, but comfortably quicker too.
Switching to my Mac laptop, I ran Black Magic Design's Disk Speed Test utility, a tool designed for evaluating drives for video editing, but a good all-round indicator of performance. Starting with the older 1TB Elements drive, Disk Speed Test reported write and read speeds of 78.1 and 77 Megabytes per second, compared to write and read speeds of 114.3 and 120.2 Megabytes per second for the newer 4TB My Passport Ultra. I used a stress test size of 1GB, and once again the newer, larger drive was roughly 50% faster than the older one. See screenshots below.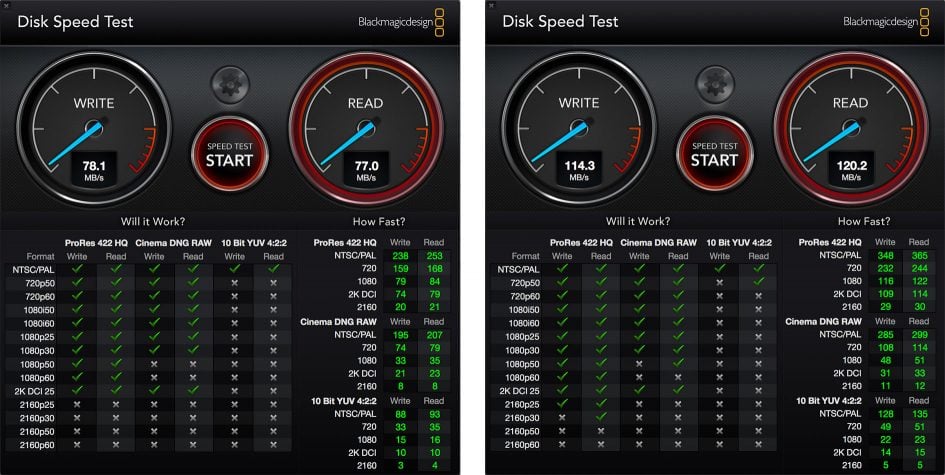 Finally, as a simple real-world test I copied a large folder measuring 2.99GB containing 177 JPEG and RAW files from my Mac laptop to the drive, then back again. It took 44 seconds to write the files from the Mac onto the drive for an average speed of 65.86 Megabytes per second, then 28 seconds to read them from the portable drive and write them back onto the laptop SSD, for an average speed of 106.75 Megabytes per second.
Oh and one more test! I also connected the My Passport Ultra drive to my Synology NAS and it successfully triggered an automatic backup using the USB Copy app; unfortunately the speed was greatly limited by the USB 2 ports on my older NAS unit, but it completed the backup process as instructed.
WD My Passport Ultra verdict
Backing up your data, whether it's photos, videos, music or plain old documents, is critically important, and a crucial part of the process is transporting the backup to a different location – after all, fire, flood and theft will rarely take one drive but leave the backup next to it unharmed. This is why portable drives are so useful. They can store and transport a large quantity of data quickly and easily – just one USB cable will transfer the data and power the drive, and once complete, they're small enough to slip into a jacket or even trouser pocket. Their portability also makes them great for providing more storage for laptop owners who have filled their internal drives, but aren't ready for a system upgrade quite yet.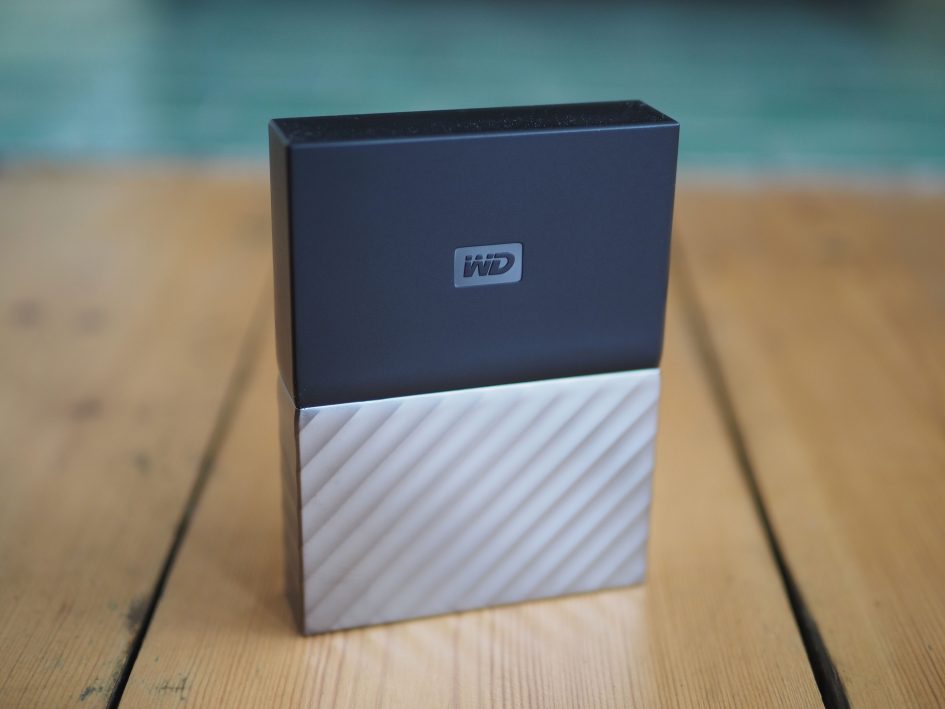 I personally own several portable drives. I use them on the road to backup the contents of memory cards after a day's shooting before locking them into a safe. I use others at home to backup large amounts of data before transporting them to a friend's house to keep them separate from the originals. I sometimes use one when working on my laptop in cafes to accommodate larger video projects which simply won't fit into my internal drive.

Portable drives are incredibly useful and it's easy to justify owning several to manage your data and backups. The question then is which one? I can whole-heartedly recommend WD's portable drives having owned a number without complaint. My preference is for capacity and value, so I opt for those employing traditional spinning drives, and the 4TB versions performed well in my tests. While I admire WD's attempt to make the premium My Passport and Ultra series more visually attractive though, I'm equally happy going for the basic Elements drives as they're the same inside minus the software. Ultimately though the prices are so close, they can often overlap, so check out which represents the best deal when you're ready to buy – just don't wait too long if you're not currently backing up your data.

B&H, or Adorama. Alternatively get yourself a copy of my treat me to a coffee! Thanks!

B&H, or Adorama.