Voigtlander 35mm f2 APO-Lanthar review
Verdict
Voigtländer's 35mm f2 APO-Lanthar is a very good mild wide-angle lens for modern mirrorless cameras from Sony and Nikon with one major drawback: It is manual focus only. But its optical qualities are compelling: My tests showed very good resolution of fine details with minimal color aberrations, very low coma and almost no field curvature – regardless of object distance. And the lens retains good black levels even in strong contra light – unless the sun is at an oblique angle. Its Bokeh may not be great (as is with many very sharp lenses) but it's still pleasing – and better than some of the alternatives. The only real deficiencies optically are a strong light fall-off and visible focus breathing. Fortunately vignetting can be reduced in postprocessing and focus breathing is not relevant for shooting stills. And as Cosina has put everything into a solid and finely crafted metal body which is not too big or heavy, the lens is a joy to use – just like its 50mm f2 APO-Lanthar sibling.
Let's put this into perspective and have a closer look at how the Voigtländer compares to the Nikon Z 35mm f1.8 S, Sony FE 35mm f1.8, and Zeiss Batis 40mm f2 CF.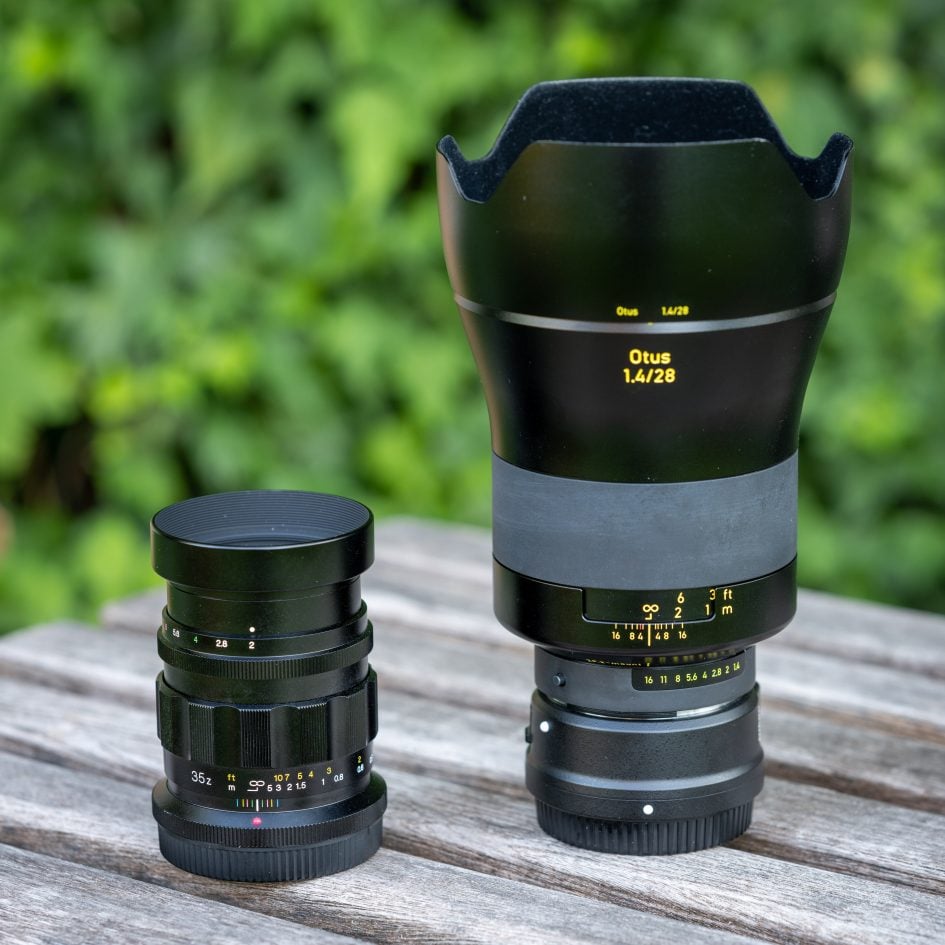 Compared to Nikon Z 35mm f1.8 S
The Nikon Z 35mm f1.8S is a good lens: Resolution and contrast in the center is slightly better than from the Voigtländer but the latter shines when it comes to sharpness further from the optical axis. The Z-Nikkor also delivers a better maximum magnification and very good close-up performance plus retains its high contrast exceptionally well even in adverse contra-light situations. It also focuses fast and reliably and is sealed thoroughly. But its relatively strong loCA show up clearly in high contrast situations when the lens is used wide open, and the Bokeh in the farther background can be quite distracting. The Voigtländer is clearly better in this regard. The price of the Voigtländer makes it a bit more expensive but its optical performance produces better images than the Z-Nikkor. So if you value optical performance and softer Bokeh over the benefits of autofocus the Voigtländer is probably the lens for you.
For more details see my Nikon Z 35mm f1.8 S review where it came Recommended.

Compared to Sony FE 35mm f1.8
The Sony FE 35mm f1.8 surpasses both its 35mm ZA siblings in optical performance but stays small and light, and has a reasonable price tag – almost half of what the Voigtländer costs. But its Bokeh falls behind the Voigtländer's and field-curvature around the APS-C-corner also makes landscape shots a bit softer. The Sony may offer the better maximum magnification but its quality at close-up shots is a bit behind the Voigtländer which also has much less color aberrations. So autofocus and lower price speak for the Sony while better image quality and Bokeh favors the Voigtländer.
For more details see my Sony FE 35mm f1.8 review where it earned a recommendation.

Compared to Zeiss Batis 40mm f2 CF
The Zeiss Batis 40mm f2 CF has a 5mm longer focal length than 35mm lenses which reduces its angle of view by 7 degrees (from 64 degrees to 57 degrees) and increases magnification/reach by 14%. It has the ability to focus-down to 24cm for a magnification of 1:3.1 – more than double that of the Voigtländer. Like other Batis lenses it also features an OLED display for useful distance and depth-of-field information and is thoroughly weather-sealed. In my tests the Zeiss Batis 40mm f2 CF proved to be very sharp across the full-frame sensor in close quarters and at longer distances, had almost no color aberrations, and produced only little coma. But the Voigtländer can do all this even a bit better – and has the better Bokeh too. As both lenses occupy the same price point the decision is quite easy: If you need autofocus, the Zeiss Batis is the preferred choice for Sony users.
For more details see my Zeiss Batis 40mm f2 CF review where it earned a Highly Recommended.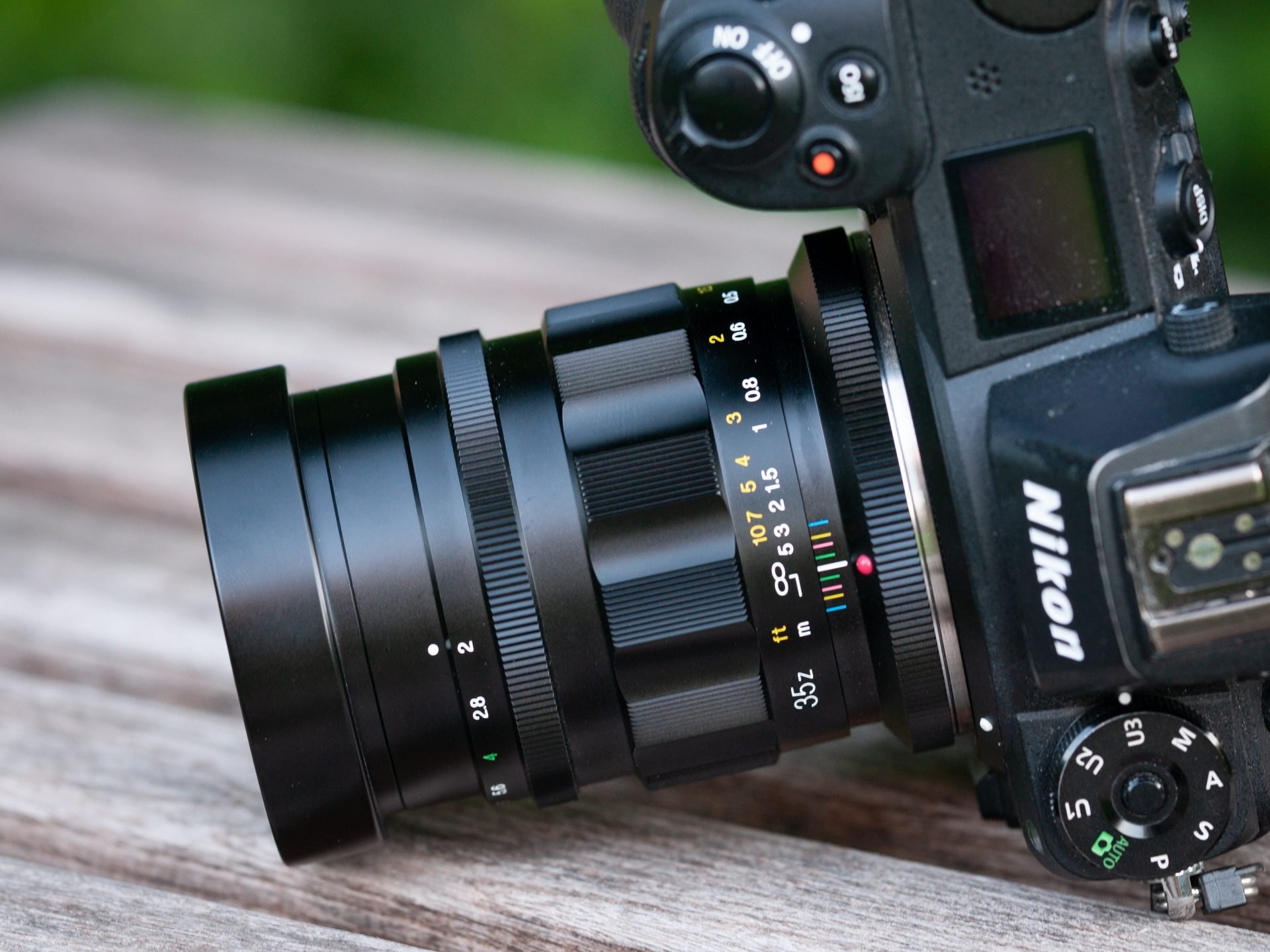 Voigtländer 35mm f2 APO-Lanthar final verdict
The Voigtländer 35mm f2 APO-Lanthar is a very good large aperture mild wide-angle lens – but not for everyone: Shooting moving subjects without autofocus is next to impossible. But if your subjects are mostly static and you know how to precisely nail focus manually then the high resolution of finest details and very good clarity of this lens combined with negligible color aberrations and a relatively nice Bokeh can produce very pleasing shots. This makes the Voigtländer 35mm f2 APO-Lanthar highly recommended.
Good points:
Very good sharpness and high contrast.
Minimal color aberrations and coma.
Almost no field curvature.
Good resistance against flare, glare, and ghosting.
Good (but not great) Bokeh.
Intricately curved aperture blades can produce sunstars even at f2.2.
Very good build-quality.
Bad points:
Manual focus and manual aperture operation.
With the sun at an oblique angle contrast can suffer.
Focus breathing.
Aperture ring not de-clickable on Z-mount version.
No weather sealing.
Check prices on the Voigtlander 35mm f2 APO-Lanthar at B&H, Adorama, WEX UK or Calumet.de. Alternatively get yourself a copy of my In Camera book, an official Cameralabs T-shirt or mug, or treat me to a coffee! Thanks!