Tamron AF 18-200mm F3.5-6.3 XR Di-II LD IF
Intro
Tamron's AF18-200mm F3.5-6.3 XR Di-II LD IF was announced in February 2005 as an all-round 11.1x zoom lens. Featuring coverage from wide-angle to decent telephoto, it's ideal for a wide variety of situations – and for some photographers be the only lens they'll ever need.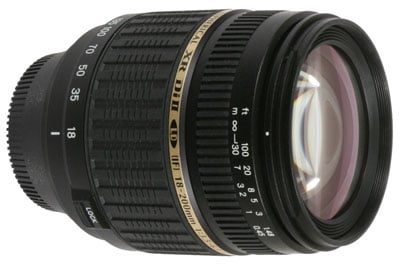 The lens is designed for digital SLRs with cropped sensors and is available in Canon AF, Nikon AFD, Pentax AF and Sony Alpha (formally Konica Minolta AFD) fits. Mounted on all but Canon DSLRs, the Tamron delivers a 35mm equivalent focal range of 27-300mm; Canon DSLRs with their fractionally smaller sensors result in the Tamron delivering a 35mm equivalent range of 29-320mm. It is not compatible with 35mm film or full-frame SLRs.
The optical design consists of 15 elements in 13 groups with three hybrid aspherical and two LD (low dispersion) glass elements. It features internal focusing, a quoted minimum focusing distance of 45cm and comes with a lens hood.
In this review we'll take an in-depth look at the Tamron AF18-200mm F3.5-6.3 XR Di-II LD IF and compare it against its closely-priced rival, the Sigma 18-200mm f/3.5-6.3 DC. To push each lens as hard as possible we tested them using the highest resolution compatible camera available at the time of writing: Nikon's 12.4 Megapixel D2X. Most of the results are however equally applicable to the other versions.
The Corner Sharpness, Fringing, Geometry and Uniformity results are applicable to all the different versions, while the coverage examples will apply to all but the Canon fit, which comes up fractionally longer due to its slightly higher 1.6x sensor crop.
Nikon DSLR owners looking at 18-200mm zooms will undoubtedly also be considering the Nikkor 18-200mm model. With a slightly brighter aperture of f3.5~5.6 and crucially the only one of the three to feature Vibration Reduction to combat camera-shake, the Nikkor's clearly a more desirable product, but can it justify costing twice as much? To find out we compared the Nikkor 18-200mm directly against its more affordable Tamron and Sigma rivals.
The serial numbers of the Tamron, Nikkor and Sigma lenses tested were 024356, 2005489 and 2002583. Due to similarities, many sections of this review are based on our earlier Sigma 18-200mm article.