Tamron 90mm f2.8 VC II review
Verdict
The Tamron SP 90mm f2.8 Di Macro VC ii (model F017) is the second iteration of an already well respected macro lens. So things could only get better compared to the original model F004, couldn't they? Yes, indeed: the new model F017 is the improved version of its older self. Although to be honest, the improvements over its predecessor are not that outstanding to justify a mark-up of 100% in the price. But street-prices may adapt fast as can already be seen in the first two weeks of availability.
My tests show the new Tamron macro lens delivers very good performance: it's very sharp across the full-frame sensor whether at infinity or in 1:1 close-up shots. It has low coma and pretty low longitudinal color aberrations and magenta ghosting – although I wish there would be even less of them. Its image stabilization is good for three stops under normal conditions and also proves valuable in close-up shots. It's relatively light and features improved sealing, a fluorine coating on the front-lens that should be easier to clean and can be updated and adapted to one's needs through the new TAP-in Console from your computer. Focus is fast and precise and quiet – as is the VC. So what's not to like? I found only two things: the focal ratio (maximum aperture) is reduced pretty fast when you focus closer (down to f5.6 at 1:1 magnification) and the lens flares relatively easy.
Now let's see how the new lens compares to the competition.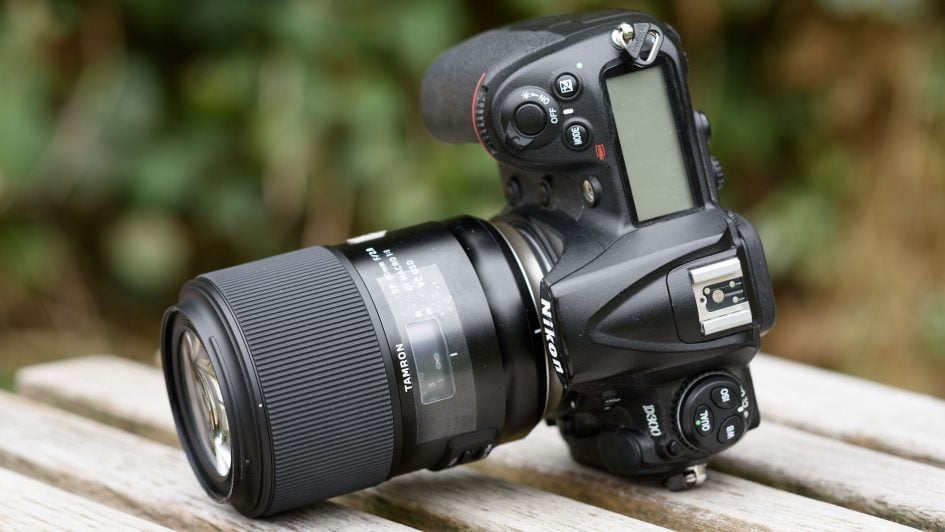 Compared to Tamron SP 90mm f2.8 Di Macro VC USD (F004)
Tamron's older model F004 is currently perhaps the most obvious alternative – although that may not be for long now that the new model F017 is available. At only 400 EUR it's much cheaper than the new model, but otherwise it performs essentially the same. In my tests the resolving power of the F004 was very similar to the F017, a bit better at close range, a bit worse at infinity – but that may be down to sample variations. The optical formula and the manufacturer's MTF charts of both lenses look identical so that was to be expected. And both models have image stabilization which is a very important feature. There I could see some differences with the VC of the F017 performing a bit better. So the higher price of the new Tamron model F017 gets you a little better image stabilization, improved weather sealing and the possibility to customize AF and VC plus update the lens via the USB dock (called "TAP-in Console"). Whether this is worth the mark-up in price will be a moot question as supplies of the F004 are going to dry up soon.

Compared to Nikon AF-S micro Nikkor 105/2.8G ED VR
The Nikon 105/2.8G VR was my reference macro lens until now. It was sharp, reliable and the image stabilization worked well which earned it a Highly Recommended in my Nikon 105/2.8G VR review. Close comparison with the new Tamron lens revealed that the Tamron is just a tad better in resolution, color aberrations and image stabilization in close-up or infinity shots. The only advantages of the Nikon are a bit less flare/glare/ghosting and that it still offers f4.8 at 1:1 magnification. But this half-stop larger aperture might not be relevant as depth of field is razor-thin at 1:1 magnifications and you normally have to stop down to get adequate dof anyway. The other potential advantage of the Nikon over the Tamron is its longer focal length (105mm vs. 90mm). That yields a 1cm longer working distance at 1:1 magnification (2cm at 1:2). But this is hardly relevant in practice: if you really need longer working distances you need to get a macro lens of at least 150mm, or better still, 200mm focal length. To sum it up: on the more relevant parameters the Tamron beats the Nikon and would thus be my preferred choice.
Tamron SP 90mm f2.8 Di VC ii final verdict
The new Tamron 90/2.8 Macro VC ii is a very likeable lens: It combines very good optical performance with very good image stabilization and beats the venerable Nikon 105/2.8G in almost any respect. Its autofocus is reliable (after some tweaking) and the lens performs equally well from close-up to landscapes. As such it easily earns a Highly Recommended.
PS – don't forget you can support my work next time you order anything at Amazon, B&H or Adorama by first clicking through to them using the links above and in the sidebar. It works for anything you order at any time – thanks for your support!
Summary
Good points:
Very good image quality across the full-frame area.
Weather sealing.
Quiet and fast AF operation.
Very good image stabilization.
Bad points:
Longitudinal CAs could be lower.
Lens flares can be a problem.
Read on, there's much more to this review: use the tabs to visit the other pages which include more in depth information, full quality test results, and sample images!