Tamron 85mm f1.8 VC review - Verdict
Verdict
The Tamron SP 85mm f1.8 Di VC USD is the first stabilized large aperture 85mm lens for owners of Canon or Nikon DSLRs. So this gives the lens a pretty unique position. With its f1.8 focal ratio plus image stabilization you can shoot static subjects for longer under challenging light conditions than with a non-stabilized f1.4 lens.
My tests show the new Tamron lens delivers very good performance: it's very sharp across the full-frame sensor right up into the corners whether at infinity or normal distances. In fact it produces the sharpest FF/FX-corners of any 85mm I've seen. It has very low coma and low longitudinal color aberrations with relatively moderate magenta ghosting – something I can only commend the lens for. The lens features improved sealing, a fluorine coating on the front-element that should be easier to clean and can be updated and adapted to one's needs through the new TAP-in Console from your computer. Focus is fast and precise and quiet – as is the VC.
So what's not optimal? First the new lens is a bit bigger and heavier than one would expect from a f1.8 lens, but then image stabilization needs space. In my tests I also found the VC only allowed me to handhold down to 1/20, corresponding to around two rather than three stops of compensation. And the focus needs some fine-tuning depending on the shooting distance which can only be done through the TAP-in Console, not a single fine-tune value in the camera.
Now let's see how the new lens compares to the competition.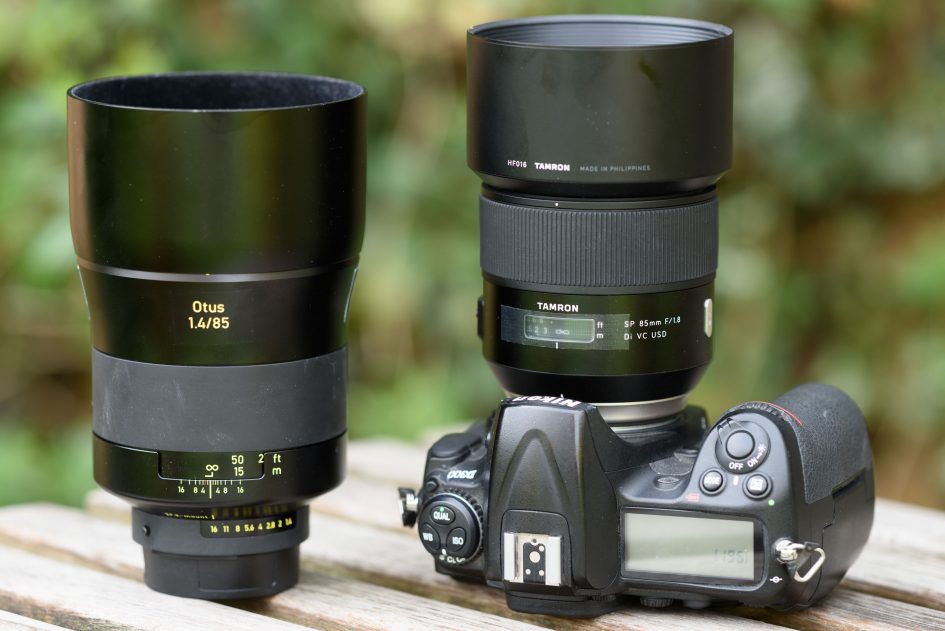 Compared to Zeiss 85/1.4 Otus
It's interesting to see how far the design of lenses have come in the last two years: Sigma started to aim at top performance with their "Art" series, Zeiss delivered top-notch optics in their Otus series and Tamron has also entered the fray with unassuming but well performing lenses, trying to differentiate themselves from the pack by adding image stabilization to their latest 15-30/2.8 zoom and 35/1.8, 45/1.8 and now 85/1.8 primes. Saying that the Tamron beats the Otus in the FF/FX-corner is testament to the extraordinary performance of the Tamron. But in the center the Otus still delivers superior performance with the APS-C/DX-corner on a par. The Zeiss also can produce the better Bokeh when you use it at f1.4. Outside the optical performance the Tamron has the benefits of being smaller, lighter, much cheaper and offers auto-focus and image stabilization over the Otus. But lighter in this case also means a flimsier build of the Tamron whereas the Otus is built like a tank. All-in-all the Tamron represents the clearly better value for money if you don't need an f1.4 focal ratio. For further information about the Otus have a look at my Zeiss 85/1.4 Otus review.
Compared to Nikon AF-S Nikkor 85/1.8G ED
The Nikon 85/1.8G is a very good lens and represents very good value for money which earned it a Highly Recommended in my Nikon 85/1.8G review. It's actually the cheapest 85mm large aperture lens with AF across all Nikon bodies that you can buy and it delivers image quality that is actually better in some respects than its larger (and almost three times pricier) sibling – the Nikon AF-S 85/1.4G. Contrast and sharpness is very good even wide open over the FX image-circle with a slight dip at the DX-corner. It has some longitudinal color aberrations but resistance to magenta ghosting is not bad. Overall the optical performance is slightly behind the Tamron. But it has the benefit of being smaller and much lighter than the Tamron and did I mention cheaper too? So if your budget or space in your bag is limited the Nikon could be the preferred alternative over the Tamron. But if you shoot static objects hand-held under dim light or simply want to stop further down for a larger dof without cranking up the ISO than the image stabilization of the Tamron would make it the preferred choice.
Compared to Sigma AF 85/1.4 EX DG HSM
Funny that this time the offering from Sigma is not really a match for the above mentioned lenses. So it is high time that Sigma delivers a new 85/1.x lens with the kind of performance we've come to expect from their hugely successful "Art" series. Hopefully with image stabilization too. See my Sigma 85/1.4 review for more detail.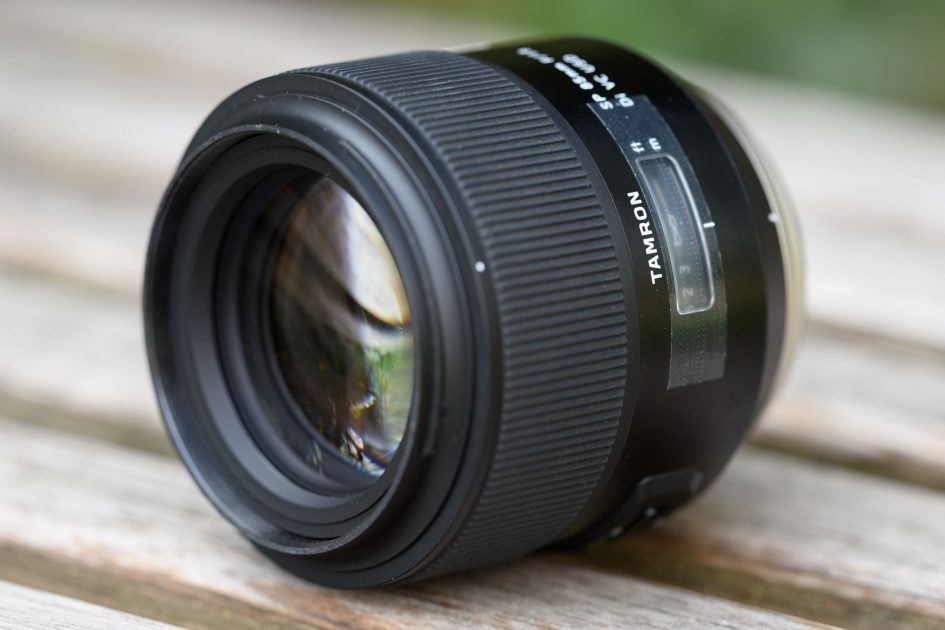 Tamron SP 85mm f1.8 Di VC USD final verdict
The Tamron 85mm f1.8 VC is a unique lens, combining very good optical performance with image stabilisation at a reasonable price. In fact it was the first stabilised large aperture 85mm prime for Canon and Nikon users, and while Canon has since released its brighter EF 85mm f1.4L IS USM with stabilisation, the Tamron is half the price. Its autofocus is reliable (after some tweaking) and the package is not too large or heavy to become intimidating. As an overall package it earns a Highly Recommended.
PS – don't forget you can support my work next time you order anything at Amazon, B&H or Adorama by first clicking through to them using the links above and in the sidebar. It works for anything you order at any time – thanks for your support!
Summary
Good points:
Very good image quality across the full-frame area.
Quite nice Bokeh.
Weather sealing plus fluorine coating at the front lens.
Quiet and fast AF operation.
Image stabilization.
Bad points:
Image stabilization could be better.
AF needs fine-tuning via TAP-in Console.