Tamron 70-210mm f4 VC review
Verdict
The Tamron 70-210mm f4 VC USD is a good lens at the lowest price in its class: The optical performance is good to very good within the APS-C image-circle, although in the corners of a full-frame sensor the results can be soft – the exception being around 150mm where my sample performed at its best. The AF is fast and reliable plus Tamron's VC image stabilization adds 3-4 stops of hand-holding power. The lens seems to be well protected against the elements and delivers a greater macro magnification than the competition. Plus you get compatibility with Tamron's USB "TAP-in" console to fine tune various characteristics of AF and VC.
On the downside, the performance of the lens beyond 150mm is not good enough to really enjoy the results with a tele-converter. And although the lens is indeed the cheapest way to get a stabilized 70-200+mm f4 telephoto zoom you have to bear in mind that the USB console and the tripod collar set you back another 200 EUR if you need them. The catch is in my tests, mounting the lens via the collar to a tripod proved more prone to mirror/shutter-slap than the alternative of mounting the camera directly to a tripod. And one final shortcoming: you cannot switch VC optimization between live-view/video and still photography on the lens – you can only switch modes via TAP-in console.
Let's see how the new lens compares to some alternatives.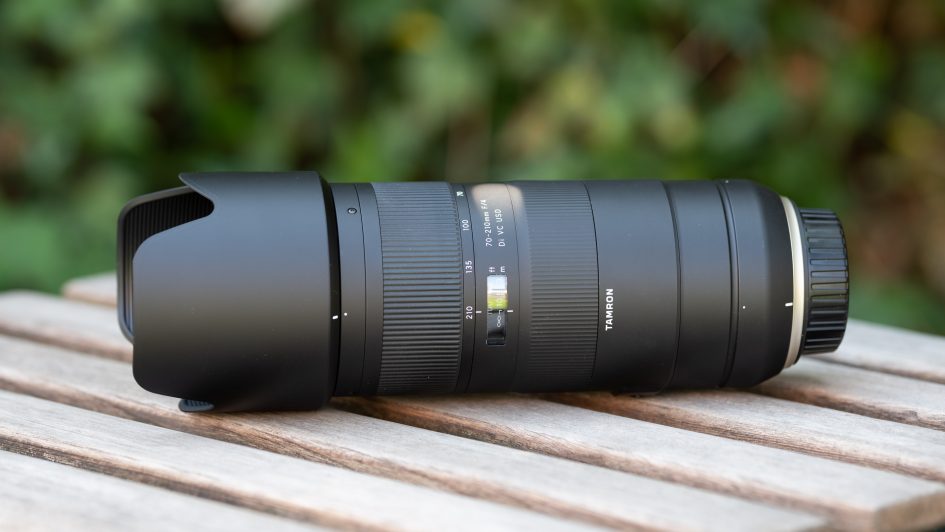 Compared to Nikon AF-S 70-200mm f4G VR
The competing 70-200mm f4 zoom from Nikon is a little better than the new Tamron in many aspects: It is sharper (except for 150mm focal length), has a faster AF,  and slightly better image stabilization. But it's also at least 50% more expensive, has a bit weaker Bokeh and its maximum magnification of 1:3.3 is 20% less than from the new Tamron.
See my Nikon AF-S 70-200mm f4G VR review for more details.
Compared to Tamron SP 70-200mm f2.8 Di VC USD G2
Tamron's 70-200mm f2.8 VC G2 zoom is a very competent lens: It's almost up there with the best Nikon has to offer, even sometimes surpassing the Nikon's 70-200mm f2.8E VR in image quality. It offers a very effective image stabilization of almost 5 stops even if it could not suppress the mirror-slap of the D810 completely and it has a fast and reliable AF. It's priced at half of what you pay for the f2.8 Nikkor but that is still 70% more expensive than the new Tamron 70-210mm f4 VC and not to forget 75%/650g heavier. It also offers a maximum magnification of only 1:5.6. So it depends on what you want: If you prefer the larger f2.8 focal ratio and value the better optical performance but don't mind it being heavier on your shoulders and wallet, than Tamron's 70-200mm f2.8 VC G2 is a very good choice.
See my Tamron 70-200mm f2.8 VC G2 review for more details where the f2.8 Tamron deservedly earns a Highly Recommended rating.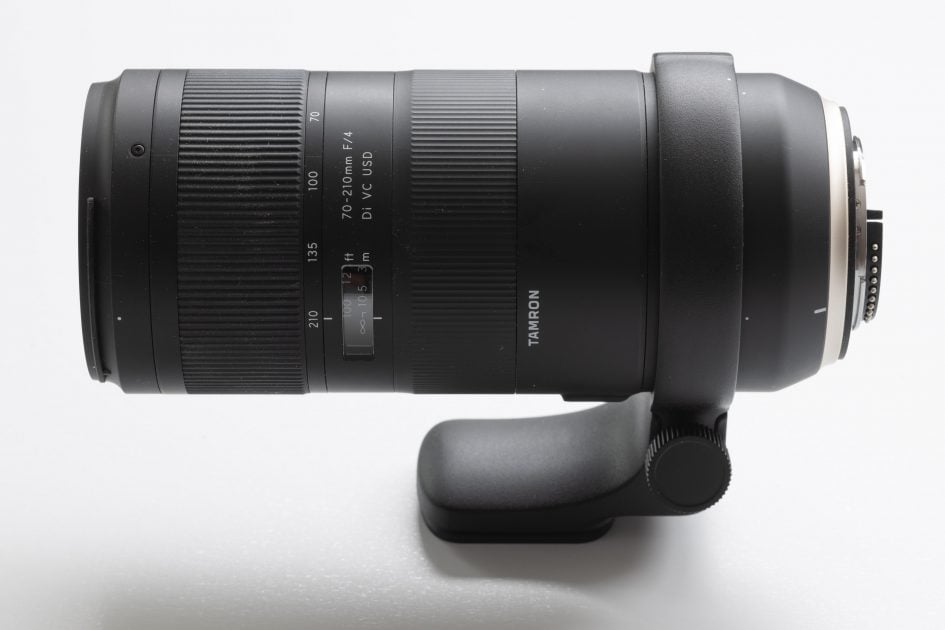 Tamron 70-210mm f4 Di VC USD final verdict
Tamron's new 70-210mm f4 VC zoom is a good lens: It's sharp, has reliable AF, and respectable image stabilization. Plus it offers a very usable maximum magnification of 1:2.7 at a working distance of 0.67m. The front lens has fluorine coating to repel dirt and the lens seems well-hardened against the elements. Plus it's the cheapest stabilized full-frame 70-200+mm f4 zoom you can buy. But if you want sharper results or better stabilization, or indeed need an f2.8 focal ratio then you have to look elsewhere – and pay a substantially higher price for it. This makes the new Tamron a well rounded package deservedly earning a Recommended rating.
Summary
Good points:
Good to very good image quality on a 46Mp full-frame sensor.
Good image stabilization of almost 4 stops.
Maximum magnification of 1:2.7.
Weather sealing.
Quiet and reliable AF operation.
Bad points:
FF/FX-corners mostly soft except for 150mm focal length.
Flare and glare not well controlled.
Tripod collar has to be bought as an extra.
Tripod collar does not cope well with mirror/shutter-slap.
Check prices on the Tamron 70-210mm f4 VC at Amazon, B&H, or Adorama, or Wex. Alternatively get yourself a copy of my In Camera book or treat me to a coffee! Thanks!