Tamron 70-210mm f4 VC review
In depth
The Tamron 70-210mm f4 Di VC USD is a 3x telephoto full-frame zoom available in mounts for Canon and Nikon DSLRs. Announced in February 2018, it's a first from Tamron with a slightly longer reach up to 210mm and a constant aperture of f4 making it possible to reduce size and weight over the usual 70-200mm f2.8 zooms. It's also lighter on the wallet as Tamron prices the new lens at 800 USD/EUR which is well below their own 70-200mm f2.8 VC G2 currently selling for about 1300 USD/EUR.
To find out how the new lens performs optically I tested the Tamron 70-210mm f4 VC against my reference lens in this segment, the Nikkor AF-S 70-200mm f2.8E FL ED VR, and will also show comparisons with Nikon's 70-200mm f4G VR, all on the demanding D850 body. I've also added some material from Tamron's 70-200mm f2.8 VC G2 shot on a D810. So if you're shopping for a 70-200+mm full-frame telephoto zoom, you've come to the right place!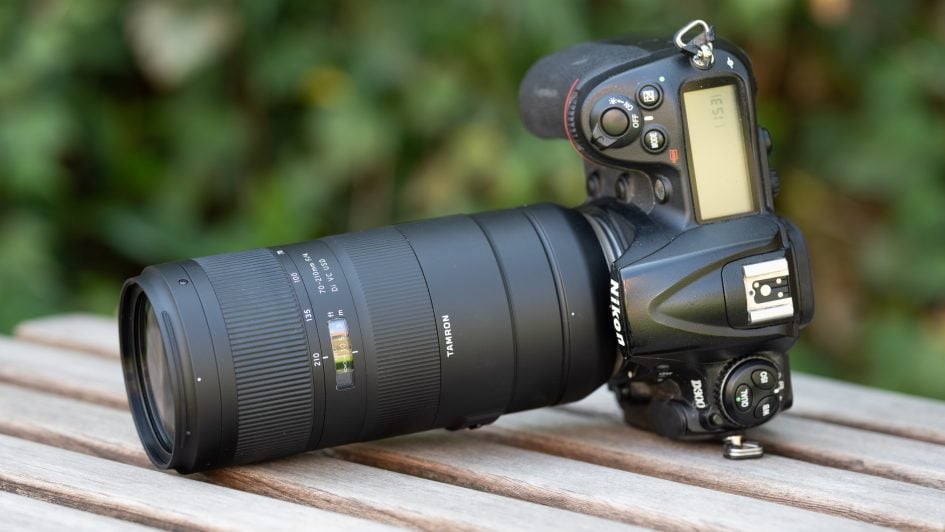 Facts from the catalog
As usual I'll have a look at the technical data first. I've rated the features with a [+] (or [++]), when it's better than average or even state of the art, a [0] if it's standard or just average, and [-] if there's a disadvantage. In this chapter I'll compare Tamron's new lens with the other stabilized 70-200/4.0 zooms from Nikon and Canon. Plus Tamron's larger sibling, the SP AF 70-200/2.8 Di VC USD G2 (the "f2.8 Tamron" for short).
Size (diam. x length): 76 x 174mm (3.0 x 6.9in) plus another 65mm (2.6in) for the lens hood which has a diameter of 85mm. That's about the same as the Nikon or Canon. Zooming or focusing does not change the length of the lens. Again same with the competition. The f2.8 Tamron naturally is clearly larger at 88 x 191mm (3.5 x 7.5in) plus another 89mm (3.5in) for the lens hood. [0]
Weight: 835g (29.5oz). The lens hood adds another 39g, the Arca-Swiss compatible tripod collar is sold separately and adds 145g (5.1oz). While the Nikon weighs about the same Canon has the lightest lens at only 760g. As is to be expected the f2.8 Tamron is over 60% heavier at 1370g (48.3oz.) plus 109g for the detachable tripod collar and 57g for the lens hood. [0]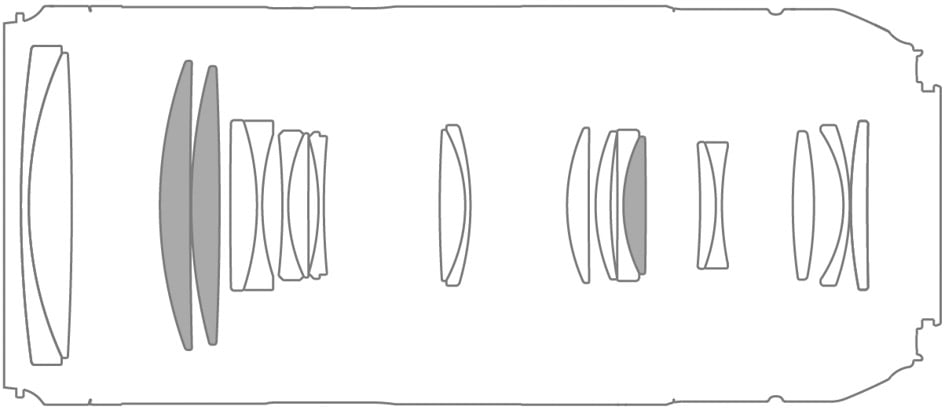 Optics: 20 elements in 14 groups, which is very similar to the Nikon and Canon. The f2.8 Tamron is a slightly more complex design with 23 elements in 17 groups. The new Tamron has three low dispersion elements and employs fluorine coating on the front lens to repel water, dust, and dirt. [+]
Closest focus distance/max. magnification: 0.95m (3.1ft) / 1:3.1. In my test I could go down to 0.89m / 1:2.7 with manual focusing. This gives the new Tamron the best magnification over the competition: Nikon 1:3.3, Canon 1:4.0, and the f2.8 Tamron 1:5.6. The new lens achieves a magnification of 1:10 at 2.37m distance. [+]
Teleconverter: Tamron offers two teleconverters which were specifically designed for use with their new lenses. The TC-X14 transforms the new lens into a 98-294mm f5.6 zoom. It retains the minimum focus distance of 0.95m and increases the maximum magnification to 1:2.2. The tele converter has 6 elements in three groups and adds another 200g. The TC-X20 produces a 140-420mm f8.0 lens which should still auto-focus with the central focus point on most Nikon or Canon DSLR and offers a maximum magnification of 1:1.6. The competition offers tele converters too. [0]
Filter-thread: 67mm which is the same with the Nikon and Canon while all 70-200mm zooms with a focal ratio of f2.8 need 77mm filters. [0]
Image Stabilization: Yes, dubbed VC for Vibration Control. It can be switched off on the lens and you can customize VC operation via the Tap-in console to be more effective for stabilizing the view-finder and shooting video or for shooting stills. But there is no switch on the lens to toggle these settings. Tamron claims their VC yields 4 stops of stabilization. The competition also has image stabilization, dubbed "IS" with Canon and "VR" with Nikon. [+]
Auto Focus: USD (ultra sonic drive), so it also works on DSLRs which don't have an AF-drive built in. Manual-focus override is by simply turning the focus ring. Same with the competition. But the new Tamron allows you to alter the response to manual focus override with the USB TAP-in console from very sensitive to low and you can alter focus fine-tuning at 3 distances and 4 focal lengths with the TAP-in console. The lens does not offer a focus limiter. [+]
Covers full frame/FX or smaller = very good. Same with the competition. [+]
Price: street prices are around 800 USD / 750 EUR (incl. 19% VAT), which is currently the cheapest way to get a stabilized 70-200+mm full-frame zoom. The optional A034TM tripod collar adds 129 USD/EUR. The tele converters TC-X14/TC-X20 from Tamron both have a pretty high asking price of 420/440 USD and 450/500 EUR. And if you want/need the USB TAP-in console that's another 60 USD / 75 EUR.
The Canon is around 1100 USD/EUR, the Nikon at 1400 USD / 1200 EUR, and the f2.8 Tamron at 1300 USD/EUR which includes the tripod collar. [+]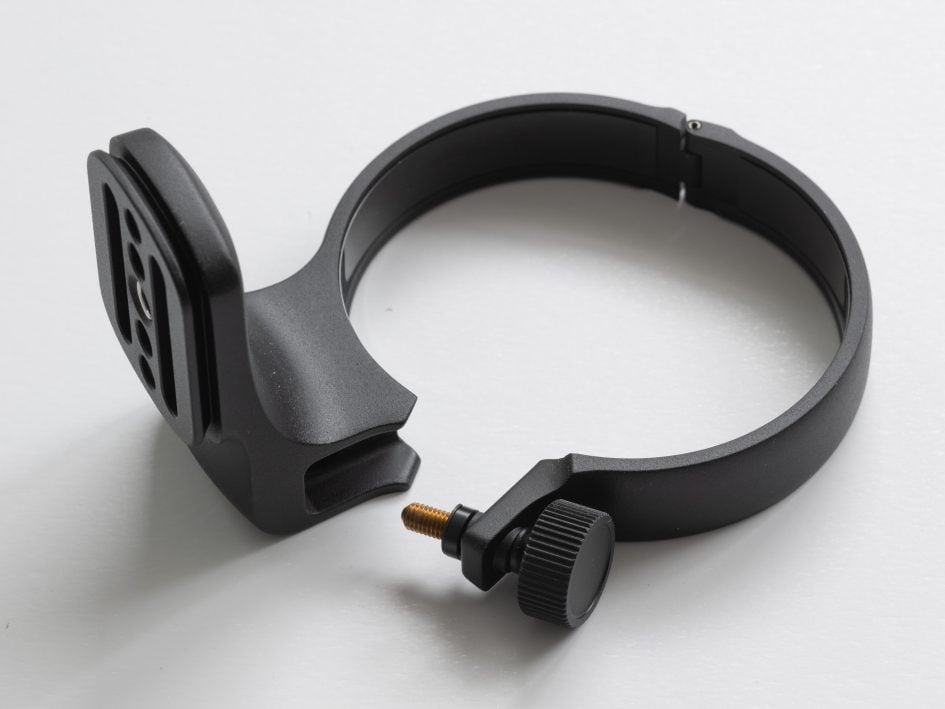 Comes with no pouch and the tripod-collar (with an Arca-Swiss style interface) has to be bought as an extra. It is different from the tripod collar Tamron offers for their 100-400mm zoom lens. In my tests I found out that mounting the lens on the tripod collar was less successful in dampening the mirror/shutter slap of the D850 than mounting the camera on the tripod. The lens hood is included and reversible for transport, the lens caps are standard Tamron's. Both Canon and Nikon also come without tripod-collar. Only the f2.8 Tamron has the tripod collar included (as has any other 70-200/2.8 zoom). [0]
Distance information is relayed to the camera, so the Nikon body can do all the advanced exposure-related stuff with this lens. Same with the competition. [+]
Aperture ring: no. Same as with all the other alternatives. [0]
Sealing: yes. A rubber grommet at the lens-mount plus other "leak proof" seals throughout the lens barrel. [+]
The score in the "features-department" is 0[-]/6[0]/8[+]. This is pretty good: The new lens reasonably small and light, has the lowest price, reaches a good magnification at close distances, and seems hardened well against the elements.
Here is the angle of view that the Tamron covers with its 3x zoom compared to the 2.9x Nikon 70-200/4.0G VR:


And here is the coverage of the Tamron 70-210mm f4 VC plus TC-X14 tele converter:

Alternatives
Nikon 70-200/4.0G EDII VR (see my Nikon 70-200mm f4G VR review where the lens earned a Highly Recommended) going for around 1400 USD / 1200 EUR.
Tokina AT-X Pro 70-200mm f4 FX VCM-S for 850 EUR.
Canon EF 70-200mm f4 L IS USM weighing a meagre 760g and going for around 1100 USD/EUR.
As neither Tamron nor Sigma or Tokina offer a 70-200mm f4 zoom for Sony E mount there is really only one option for Sony users: the FE 70-200mm f4G OSS from 2013. It sells for around 1500 USD / 1300 EUR and weighs 840g without tripod mount. It got a Highly Recommended in Gordon's Sony FE 70-200mm f4G OSS review.
Other alternatives include a variety of 70-200mm f2.8 zooms which are all bigger, heavier and more expensive than the new Tamron but offer an additional stop of light gathering power with their f2.8 focal ratio. A good example is Tamron's own 70-200/2.8 zoom lens which currently sells for 1340 EUR and earned a Highly Recommended in my Tamron 70-200mm f2.8 VC G2 review.
Or you have a look at several 70-300mm zooms which have the benefit of giving you 42% more reach at the long end but typically offer only a f4.5-5.6 focal ratio. A premier example of this class of lenses is Nikon's AF-P 70-300/4.5-5.6E VR which comes Highly Recommended in my Nikon 70-300mm f4.5-5.6E VR review, costs about 750 EUR and is even smaller and lighter than the new Tamron.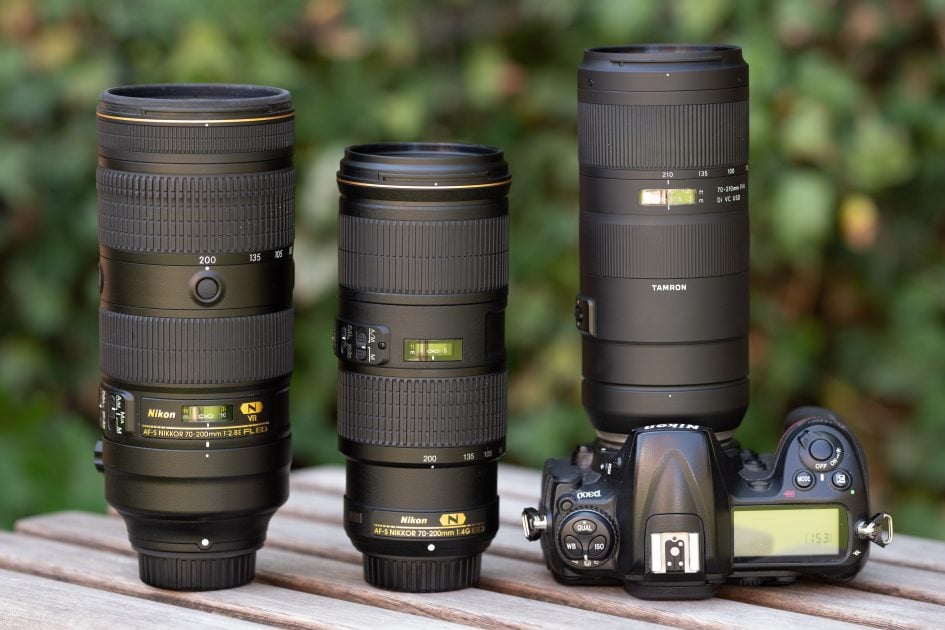 Focus

Focus accuracy and repeatability is critical to consistently produce sharp shots. Repeatability (the accuracy of focus on the same subject after repeated focus-acquisition) of this lens is good (measured 97.8% in Reikan FoCal) with only one mild outliers over a series of 40 shots. There is a slight performance variation whether the lens focuses from infinity or from a closer distance. In both respects the new Tamron is a little better than the Nikon 70-200/4.0G VR. Focus speed is good: At 210mm focal length the lens focuses without hunting in around 0.5 sec from infinity to 2.4m. But it's not as fast as the 0.33 sec of both 70-200mm Nikons.

The focus ring has a very slight slack/play between its movement and the focus-action and a throw of 160 degrees. Its rubberized surface is 28mm wide. The zoom ring turns through 75 degrees and has a 28mm wide rubber surface. Both rings are of medium stiffness. They turn both in the same direction as Nikon users are used to and Tamron did also put the zoom ring at the front and the focus-ring closer to the camera which is the configuration I prefer. But this is the complete reverse of what Canon does e.g. with its EF 70-200/4.0 L IS USM.

AF-operation is barely audible from the outside and also very quiet if you record video with the built-in microphone. The VC-system is virtually silent both on the outside and when recording video. Very good!

As you pull focus, you'll notice quite some focus breathing at 210mm focal length: the image becomes more magnified at closer focusing distances. When I adjusted the focus from infinity to 2.37m I measured a 13% increase in magnification  which is very visible and might displease videographers. Even at shorter focal lengths the effect is quite pronounced. In comparison the Nikon 70-200/4.0G VR increases magnification by 11% at 200mm focal length.

Image stabilization

To test the effectiveness of the image stabilization I did a series of almost 500 test-shots hand-held with the new Tamron at 210mm focal length. I tested with VC in standard mode and in the mode optimized for shooting stills (mode 3) and shutter speeds were from 1/200 of a second down to 1/6 sec. Shots at 1/200 sec with VC=OFF are used as reference of how good my hand-holding was at the time of the test and Reikan FoCal did the chore of evaluating the sharpness of all shots. Here're the details: With VC=ON the lens produced results down to 1/25 sec (3 stops) which were comparable to 1/200 sec with VC=OFF with mode 3 showing some benefit over standard mode at 1/25 sec. At 1/13 sec both modes had a 30% risk of clearly blurred images. This is a 3-4 stop advantage from stabilization in both modes with mode 3 preferably used for stills.

Check prices on the Tamron 70-210mm f4 VC at Amazon, B&H, or Adorama, or Wex. Alternatively get yourself a copy of my In Camera book or treat me to a coffee! Thanks!