Tamron 70-200mm f2.8 VC G2 review
Verdict
The Tamron SP 70-200/2.8 Di VC USD G2 is a worthy successor to Tamron's A009 model from 2012. Optically it outperforms its predecessor, not to mention the rival 70-200mm f2.8 zoom from Sigma at every focal length. Other aspects of the lens are also improved: The AF is 40% faster, image stabilization is almost at 5 stops, the front lens is fluorine coated for easier cleaning, and you get compatibility with Tamron's USB "TAP-in" console to fine tune various characteristics of AF and VC.
What are the downsides? It is 30% more expensive than its predecessor and there were some issues with my copy of the lens: AF needed fine-tuning with the USB-dock because the optimal adjustment lay outside of what could be corrected in camera; and at around 1/100 sec mirror/shutter-slap from my Nikon D810 seems to produce micro-blur that the image stabilization could not compensate.
Let's see how the new lens compares to some alternatives.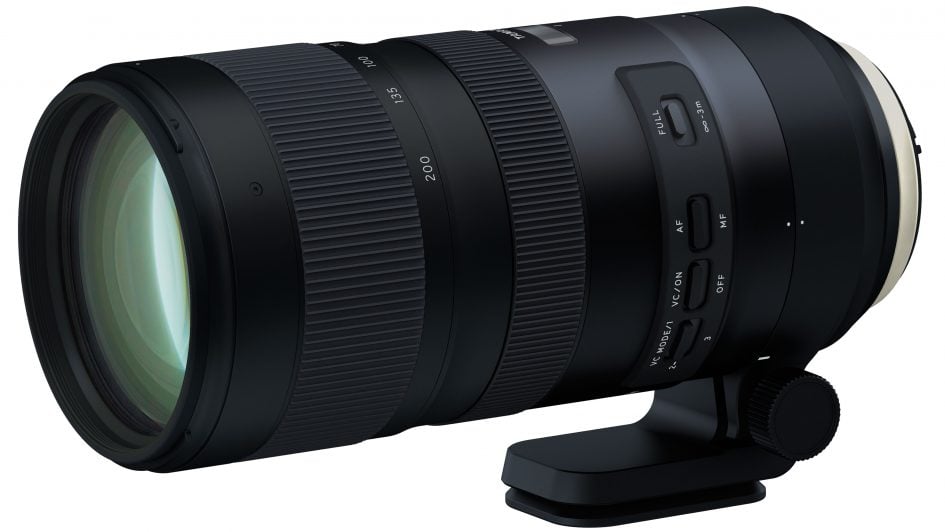 Compared to Tamron SP AF 70-200mm f2.8 Di VC USD (A009)
The older A009 model from 2012 left me with mixed feelings: It seemed like a good design regarding optics as well as AF and image stabilization. But the two copies I tested had nagging issues of decentering, haloing at 200mm f2.8 and the image stabilization needed time to "wake up" and deteriorated in cool weather – although it worked well once awoken. This prevented a recommendation at the time of testing. The new A025 model surpasses the image quality of its predecessor at every focal length across the full-frame sensor, has the faster AF, and the better image stabilization. Plus it did not show the problems of its predecessor. I'd recommend getting the new A025 model over the A009 one.
See my Tamron 70-200/2.8 VC (A009) review for more details.
Compared to Nikon AF-S 70-200mm f/2.8E ED VR
Nikon's new professional 70-200mm zoom is the reference in its class: It has very good image quality over 36Mp full-frame (even wide open), offers a very good image stabilization, works well with 1.4x teleconverter, has a professional build quality with weather sealing, a quiet, very fast, and precise AF operation, and a maximum magnification of 1:4.1. But its price makes it the most expensive 70-200mm you can buy. In comparison the new Tamron offers just a little less image quality and a somewhat slower AF at almost half the price.
See my Nikon AF-S 70-200mm f2.8E VR review for more details.
Compared to Sigma AF 70-200mm f2.8 EX DG APO HSM OS
This design from 2010 shows its age and is no match for the new Tamron: it needs stopping down to f5.6 or f8 to lift border-/corner-performance at longer focal lengths, the AF is not always spot-on, and it has no weather sealing. And although it's currently the cheapest way to get a stabilized 70-200/2.8 zoom I wouldn't recommend getting one. It will be interesting to see if and how Sigma updates their design with the kind of performance we've come to expect from their hugely successful "Art" series.
See my Sigma 70-200/2.8 OS review for more details.
Tamron SP 70-200mm f/2.8 Di VC USD G2 final verdict
Tamron's new 70-200/2.8 zoom is a very competent lens: It's almost up there with the best Nikon has to offer, even sometimes surpassing the new Nikon 70-200/2.8E VR in image quality. It offers a very effective image stabilization of almost 5 stops even if it could not suppress the mirror-slap of the D810 completely and has a fast and reliable AF. And as its price is almost half of what you pay for the Nikkor the new Tamron deservedly earns a Highly Recommended rating.
PS – don't forget you can support my work next time you order anything at Amazon, B&H or Adorama by first clicking through to them using the links above and in the sidebar. It works for anything you order at any time – thanks for your support!
Summary
Good points:
Very good quality over 36Mp full-frame, even wide open.
Very good image stabilization of almost 5 stops.
Constant f/2.8 focal ratio.
Works well with 1.4x and 2x teleconverter.
Weather sealing.
Quiet, fast, and precise AF operation.
Bad points:
30% more expensive than predecessor.
AF needed fine-tuning with USB-dock on my copy.
Flare and glare not well controlled.
Mirror/shutter-slap causes micro blur at around 1/100 sec on my copy

Check prices on the Tamron 70-200mm f2.8 VC G2 at Amazon, B&H, Adorama, or WEX. Alternatively get yourself a copy of my In Camera book or treat me to a coffee! Thanks!