Tamron 35mm f1.8 VC review - Verdict
Verdict
The Tamron SP 35mm f/1.8 Di VC USD is a very interesting addition to large aperture wide-angle lenses: it combines very good performance overall with image-stabilization that adds two stops of hand-hold-ability (in my tests) to its already bright f1.8 aperture. With this lens you can shoot under low-light conditions hand-held that you could not cover with a larger and heavier non-stabilized 35mm f1.4 lens – unless you crank up ISO by 1.33 stops. Plus it can focus so close that it achieves a maximum magnification of 1:2.5.
Is this enough to make it the new reference in 35mm lenses for full-frame bodies? Well, not quite: the bokeh of the lens is not the best and it produces quite some longitudinal color aberrations and magenta ghosting. Those weaknesses need not always occur under normal shooting conditions, they are more likely to show up in high-contrast situations. But when they do they can be quite nasty and are not easy to remove in post-processing.
Now let's see how the new lens compares to the competition.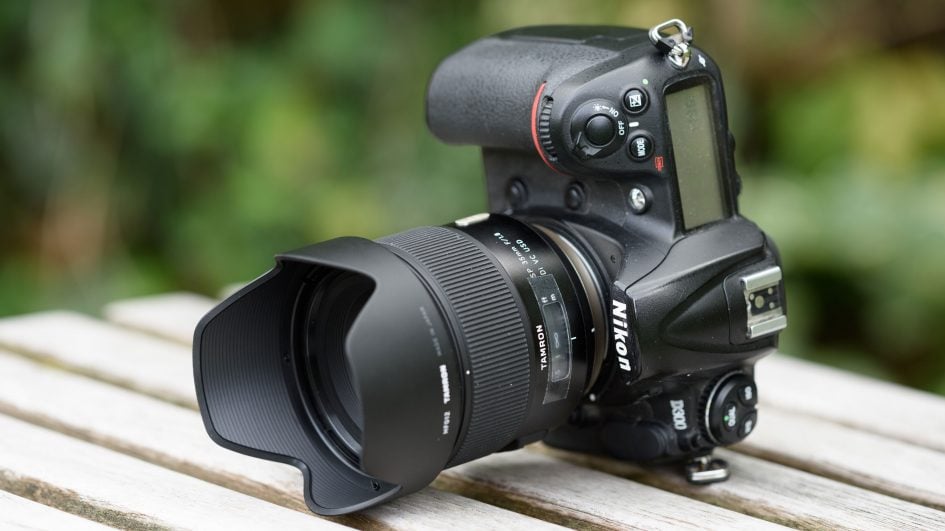 Compared to Nikon AF-S 35mm f1.8G ED
For Nikon users the Nikon 35/1.8G is perhaps the most obvious alternative. It costs less than half of the Tamron, is smaller and lighter and performs on a similar level. It earned a Recommended in my Nikon 35/1.8G review. But it does not have image stabilization, which puts it at a 2 stop disadvantage over the new Tamron. Optically both lenses produce quite similar results with the Tamron having a slight advantage. So the higher price of the Tamron gives you the image stabilization which might just be the thing you needed to get a sharp shot under low-light conditions.
Compared to Nikon AF-S 35mm f1.4G ED
A big step-up in price, size, and weight over the Nikon 35/1.8G is its bigger brother the Nikon AF-S 35mm f1.4G ED. At double the price of the Tamron it offers a 2/3 larger maximum aperture which is good for two things: You can shoot at shorter shutter speeds than with the Tamron and it produces the better Bokeh. The Nikon also has its share of longitudinal CA and has some field-curvature that prevents it from producing sharper APS-C/DX-corners in landscape shots unless you stop down quite a bit. And did I mention that the Nikon 35/1.4G does not have image stabilization? In my Nikon 35/1.4G review the lens earned a Highly Recommended, but that was on a D300. With newer test-shots on a D800 the overall performance is more likely to earn a Recommended. But if you're in for the best Bokeh, the Nikon 35/1.4G ED certainly makes a difference.
Compared to Sigma 35mm f1.4 "Art"
The Sigma 35/1.4 Art is perhaps the most direct competitor for the new Tamron. It almost costs the same and offers a 2/3 of a stop larger maximum aperture but has no image stabilization. So you have to decide what is more important for you: The ability to hand-hold at 1/8 sec which may just be what you need to shoot in dimly lit interiors or in fading light outside from the Tamron. Or the possibility to to get almost 1 stop shorter shutter speeds to better fight motion-blur in moving objects or people plus a better isolation from the background with the Sigma. Optically the Sigma is very good in the center and the FX-corners but has a weakness in-between at the borders of the APS-C/DX image-circle. In my Sigma 35/1.4 Art review the lens earned a Highly Recommended.
Compared to Tamron SP AF 24-70mm 2.8 Di VC USD
A zoom as an alternative to a fixed focal? Well, you lose 1.3 stops of maximum aperture but you gain much in flexibility regarding the right framing of an image where you cannot or don't want to "zoom with your feet". And the image quality of a modern zoom can be quite convincing. In my Tamron 24-70/2.8 VC review the lens earned a Recommended with the image stabilization good for at least two stops. The lens does not excel in the FX-corner (especially at 35mm) but within the APS-C/DX image-circle it is quite good. I only found two issues with the lens: The image stabilization needed some time to "lock-on" and the aperture didn't stop down properly from f2.8 to f4.0 on the tested copy.
Compared to Nikon AF-S VR 24-70mm 2.8E ED
The 24-70/2.8E VR Nikkor is the newest lens in this comparison. Nikon finally integrated an image stabilization (VR) into their professional workhorse zoom. And a very good one at that: the VR in this lens is good for 3-4 stops of hand-holding power, which easily compensates for the 1.3 stops between f/2.8 and f/1.8 maximum aperture. But although at 2500 EUR it is more than three times as expensive as the Tamron 35/1.8 VC it cannot match the image quality of the fixed focal (see my Nikon 24-70/2.8 VR review). It is also a very big and heavy lens. So there's a price to be paid for flexibility: literally and in the form of image quality, size, and weight.
Tamron SP 35mm f/1.8 Di VC USD final verdict
The new Tamron 35/1.8 VC is a very versatile and interesting lens: It offers a fast f/1.8 aperture combined with image-stabilization that is good for two stops in my tests. That makes this lens hold out longer in dimly lit situations. It produces sharp images right into the corner of a full-frame sensor and can focus close up to a magnification of 1:2.5 which is ideal for capturing small subjects. On top of that it's relatively small and light. The only thing standing against a Highly Recommended are the color aberrations of this lens which can be pretty nasty at times. But the Tamron 35/1.8 VC clearly earns a Recommended. Regarding the performance the price of this lens seems okay although compared to the Sigma 35/1.4 Art and Tamron's own 24-70/2.8 VC it looks a bit on the high side.
PS – don't forget you can support my work next time you order anything at Amazon, B&H or Adorama by first clicking through to them using the links above and in the sidebar. It works for anything you order at any time – thanks for your support!
Summary
Good points:
Good to very good quality across the full-frame area.
Weather sealing.
Quiet and fast AF operation.
Good image stabilization.
Maximum magnification of 1:2.5.
Bad points:
Pretty strong longitudinal CAs and purple ghosting.
Nervous Bokeh.