Tamron 150-600mm G2 review - Verdict
Verdict
The Tamron SP 150-600/5-6.3Di VC USD G2 (A022) is a nice upgrade of Tamron's original 150-600/5-6.3 (A011) super-telephoto zoom. It has improved optics and weather sealing, effective image stabilization, and solid build.
But its price tag puts it at the top of comparable 150-600mm zooms right there with the Sigma's 150-600mm "Sports" and even above Nikon's 200-500/5.6E VR.
So the question is, how does it compare to rival super-tele zooms?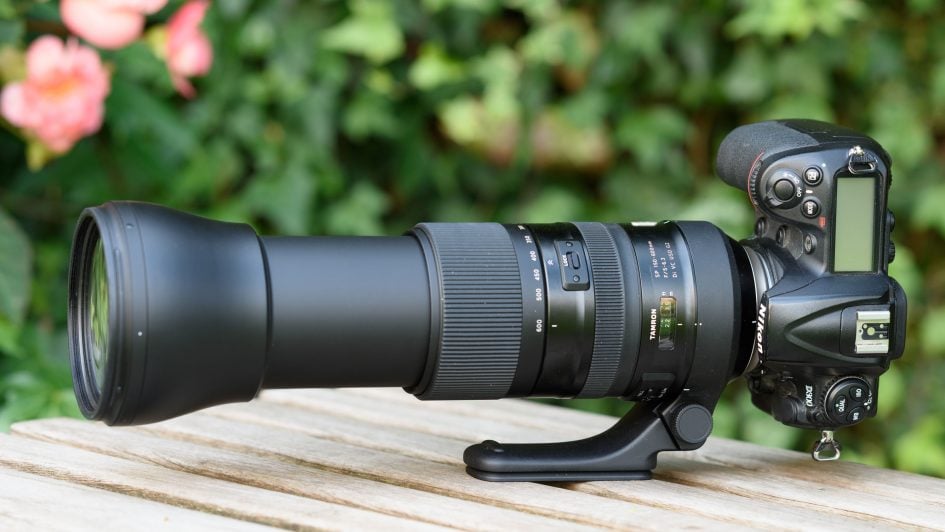 Compared to Tamron SP 150-600mm f/5.0-6.3Di VC USD (A011)
I had Tamron's earlier A011 model when I tested the Nikon 200-500/5.6E VR and I could test it again against Tamron's newest A022 version. This lens is a very solid performer and its price (currently around 900 EUR) was certainly a shock to Sigma when they had only their "Sports" version of a 150-600mm zoom on the market then costing almost twice as much. Tamron's A011 version again proved to be a very competent lens with good performance, a little lighter build than the A022, and respectable image stabilization. Tamron's new A022 model now claims to have better optics, improved build with better sealing, superior coatings, shorter minimum object distance, faster focus, better image stabilization, and compatibility with Tamron's TAP-in console. Of those claims I was able to verify the better optics which show in the APS-C/DX- and FF/FX-corner performance and the shorter MOD resulting in a larger maximum magnification. In focus-speed and image-stabilization I could not detect a significant difference between the A011 and the A022 model – they both deliver very satisfying performances in these aspects. The Arca-Swiss compatible tripod-foot, better coating, and TAP-in compatibility certainly lack from the A011 version but that may not be a decisive factor as these features didn't influence optical performance in my tests.
If you want the best price for a 150-600mm zoom, I can certainly still recommend the older Tamron 150-600/5-6.3 (A011) model. See the full set of test-shots in my Tamron 150-600mm A011 album.
Compared to Sigma 150-600mm f/5.0-6.3 DG OS HSM "Sports"
The Sigma "Sports" is a larger and much heavier lens than the Tamron. But that comes with the most solid build of all 150-600mm zooms with lots of metal parts and a very satisfying tripod mount which lets you easily turn the lens (and camera) between portrait and landscape orientation. Add the metal lens-hood that weighs almost 300g alone and the Tamron certainly seems "light-weight". Price-wise both lenses are on a par. The optical performance of the Sigma "Sports" is comparable to the Tamron G2 (A022) and at the longer focal lengths has an advantage in the FF/FX-corner over the Tamron albeit at a slightly lower performance in the center. The Sigma is compatible with Sigma's USB dock for fine-tuning or firmware updates, and if you change bodies, you can pay to have the mount swapped for your new system. So the Sigma "Sports" has a lot going for it.
Personally I'd still prefer the Tamron G2 (A022) over the Sigma "Sports" because I'm simply put off by the sheer weight of the Sigma. See my Sigma 150-600mm Sport review for more details.
Compared to Sigma 150-600mm f/5.0-6.3 DG OS HSM "Contemporary"
The Sigma "C" is much lighter and cheaper than its bigger brother. And even compared to the Tamron G2 (A022) it is a little lighter. The image quality of the Sigma "C" is also quite good but in my tests it seemed a little behind the Tamron G2 (A022). It is compatible with Sigma's USB dock too and you can swap the mount. This certainly is a service that Tamron does not offer.
See a set of test-shots in my Sigma 150-600mm Contemporary album.
Compared to Nikon AF-S 200-500mm f/5.6E VR
The Nikon AF-S 200-500/5.6E ED VR is a great lens. Optically it outperforms the competing 150-600mm zooms from Sigma and Tamron at every focal length (except at 500mm) which earned the lens a Highly Recommended rating. Its price is slightly below the new Tamron 150-600mm G2 and the Sigma 150-600mm "Sports" but it is only a 2.5x zoom, lacking the 600mm reach on the long end and going down to only 200mm on the short end. I wouldn't worry too much about the missing reach on the long end as all 150-600mm zooms have their weakest performance at 600mm. So you might be equally well off shooting at 500mm with very good sharpness and cropping 20% into the image. The Nikon also offers effective image stabilization, fast and reliable AF, and a maximum magnification of 1:4, but it's also 300g heavier than the Tamron – although comfortably below the weight of the Sigma "Sports".
See my Nikon 200-500mm f5.6E ED VR review for more details.
Tamron SP 150-600mm f/5.0-6.3 VC G2 final verdict
An improved image quality combined with a good image stabilization, improved sealing, shorter minimum focus distance, and an acceptable size and weight makes Tamron's new 4x super-telephoto a compelling package. It's a pity that Tamron didn't position it as the successor to their A011 model at the same price-point. But it certainly earns a Recommended rating.
PS – don't forget you can support my work next time you order anything at Amazon, B&H or Adorama by first clicking through to them using the links above and in the sidebar. It works for anything you order at any time – thanks for your support!
Summary
Good points:
Very good quality over 36Mp full-frame sensor, even wide open.
Good image stabilization.
Works well with 1.4x teleconverter.
Weather sealing.
Quiet, fast, and precise AF operation.
Maximum magnification of 1:3.5 in MF.
Bad points:
Not the cheapest super-telephoto zoom

Check prices on the Tamron 150-600mm G2 at Amazon, B&H, Adorama, or Park Cameras. Alternatively get yourself a copy of my In Camera book or treat me to a coffee! Thanks!