Tamron SP 15-30mm f2.8 VC review
Verdict
The Tamron SP 15-30/2.8 Di VC USD is a big surprise, literally: If you thought no-one would top the bulk and weight of Nikon's 14-24/2.8G lens you were wrong. This is a big and heavy lens bordering on the non-ergonomic. So you better try before you buy, especially if you have small hands or like to pair it with a smallish DX/APS-C body.
But this lens is built for full-frame cameras and comes with the performance to match and even out-resolve a 36MP full-frame sensor. The large f2.8 aperture coupled with a very good image stabilization that yields another three stops of hand-holding power is invaluable if you're shooting architecture indoors or are working outside in fading light without a tripod.
Other downsides? It has to be handled with care regarding strong light sources shining into the lens and it does not have a standard filter mount. But neither does the Nikon 14-24/2.8G nor Canon's new EF 11-24/4.0 have one.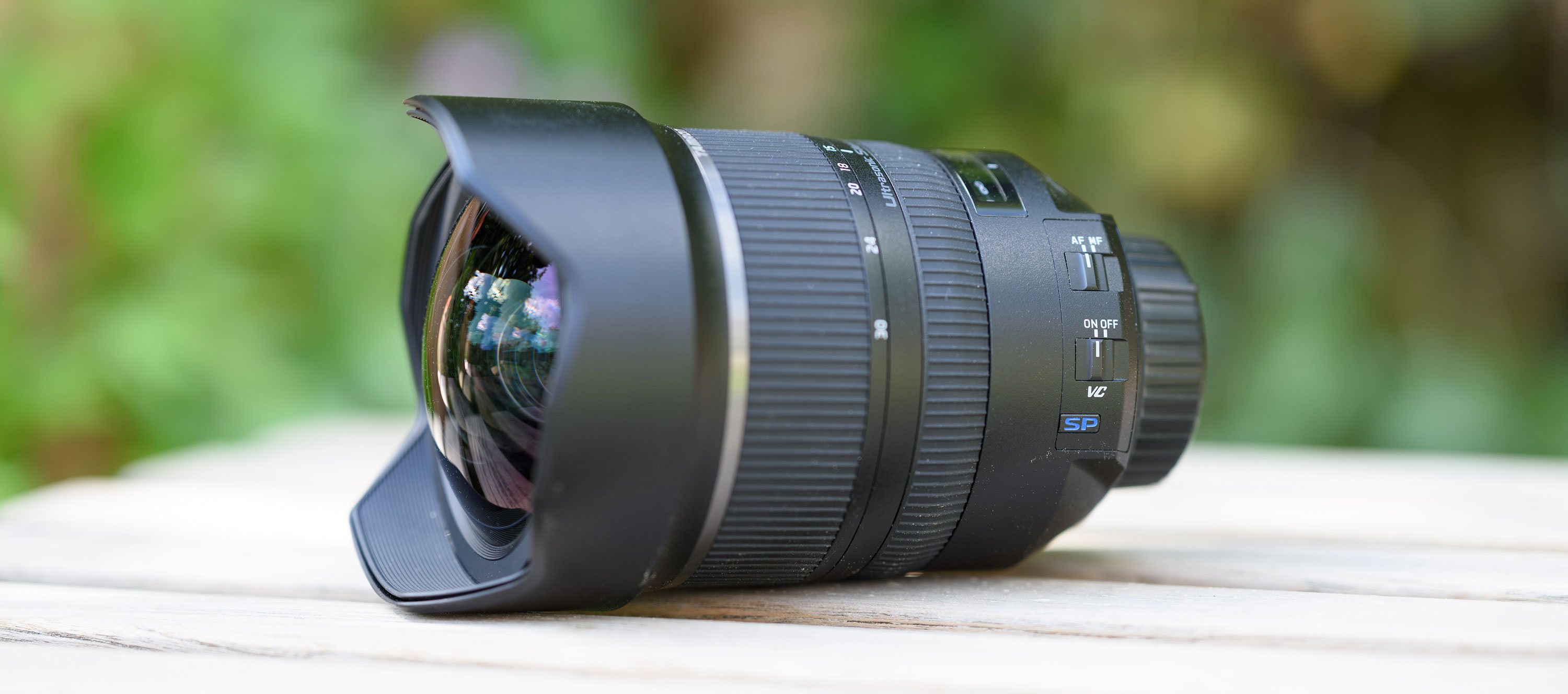 Compared to Nikon AF-S 16-35mm f4.0G VR
The Nikon AF-S 16-35/4.0G VR is a mixed bag: with a constant f4.0 aperture and image stabilization it offers nice features plus starts at 16mm which is very wide on a full-frame camera albeit 1mm longer than the Tamron. But performance is behind what I'd expected from a gold-ringed Nikkor zoom: Good to very good performance in the center and the DX image-circle is accompanied by abysmal performance in the FX-corners at the wide end which not even stopping down can cure (see my Nikon 16-35mm 4G VR review). It does offer 5mm more focal length at the long end and you can use standard 77mm filters. It's also not as bulky or heavy as the Tamron but still by no means a small lens. And it's street price has now dropped below 1000 EUR. But the Tamron offers a one stop larger f2.8 aperture that justifies the higher price of the Tamron alone. Plus a one stop better image stabilization and the better image quality on a full-frame sensor.
Compared to Nikon AF-S 14-24mm f2.8G ED
Announced in 2007, alongside the AF-S Nikkor 24-70/2.8G, it delivers a unique combination of ultra-wide coverage, fast and constant f2.8 focal ratio, pro build quality and very good results which has deservedly seen it become one of the most desirable and successful high-end lenses of any system (see my Nikon 14-24mm f2.8G review). The lens goes 1mm shorter than the Tamron but stops at 24mm at the long end where the Tamron reaches 25% farther. Like the Tamron it does not allow for filters, suffers from flares and ghosts pretty easily, and is large and heavy albeit not as bulky as the Tamron. This Nikkor earned a Highly Recommended rating in my review but even its very good image quality is surpassed by the Tamron in almost every comparison. And it is lacking image stabilization. But for a price slightly above 1500 EUR you get the better build quality with smooth zoom and focus operation. I'd assume that the Nikkor is more robust than the Tamron should you bang your equipment around while traveling.
Tamron SP 15-30mm f2.8 VC final verdict
Tamron's 15-30/2.8 Di VC USD has a lot going for it: The range is very practical for a wide-angle zoom, and starting at 15mm it almost never leaves you wanting. And a constant f2.8 aperture plus very good image stabilization makes it a very attractive proposition for those that don't carry around a tripod all day and need to take images indoors or under low light. Top this off with an image quality that surpasses the once king of the hill, the famed Nikon AF-S 14-24/2.8, in almost every aspect at a lower price and you have a lens that clearly earns a Highly Recommended. There are only two downsides in my view: the bulk/weight and that you cannot use filters. But still: For me this is the new reference in the ultra-wide-angle full-frame zoom class. Just make sure that you get a well-centered copy.
PS – don't forget you can support my work next time you order anything at Amazon, B&H or Adorama by first clicking through to them using the links above and in the sidebar. It works for anything you order at any time – thanks for your support!
Good points
Very good image quality at most focal lengths.
Weather sealing at the lens-mount.
Quiet and fast AF operation.
Good image stabilization plus constant f2.8 aperture.
Very wide 15mm focal length with little distortions and vignetting.
Bad points
No filter-thread.
Large and heavy package.