Tamron 70-180mm f2.8 Di III VXD review - Verdict
Verdict
The Tamron 70-180mm f2.8 Di III is a small and light telephoto zoom designed for Sony's E-mount mirrorless cameras with a constant f2.8 focal ratio. At 1499 EUR / 1349 GBP / 1199 USD it is not exactly cheap but its optical performance is very good in general: It is sharp across the sensor throughout the zoom range, has practically no colour aberrations, produces a soft Bokeh and focuses quietly and reliably. Its maximum magnification of 1:1.8 at 70mm focal length looks very enticing but be aware that the image quality is limited even when stopped down to f11. But at 180mm focal length the lens produces very usable close-up shots with a magnification of around 1:4. And the lens is weather-sealed including a fluorine coating against moisture and dust on the front element.
What's not to like? Tamron does not offer teleconverters for this lens and you cannot use Sony's. And overall contrast can suffer under contra-light situations. You might also complain about the missing tripod collar but the lens is light enough to mount the tripod to the camera without fear of bending the lens mount.
Let's have a closer look at how the new Tamron zoom lens compares to it's older sibling designed for DSLRs and the alternative from Sony.
Above: Tamron 70-180mm f2.8 Di III (left), Sony FE 70-200mm f2.8 GM OSS (right)

Compared to Sony FE 70-200mm f2.8 GM OSS
The FE 70-200mm f2.8 G Master is Sony's professional telephoto zoom lens for their Alpha mirrorless cameras. As such it is one of the most important lenses in their line-up and highly desirable to portrait and wedding photographers, as well as anyone shooting close-range sports or wildlife. Sony equipped its lens well: optical image stabilization, tripod collar, focus limiter, focus-hold buttons and compatibility with Sony's 1.4x and 2.0x teleconverters. All features which the Tamron misses. Plus there's fluorine coating on the front lens and thorough weather-sealing. The lens focuses closer than one meter and can achieve a very useful maximum magnification of 1:3.6.
Tamron's new 70-180mm f2.8 Di III is the first alternative which can be used on E-mount cameras without a mount-converter. Tamron wisely aimed at a price which is about half of the Sony's but stripped down on a lot of features – there's not even a lens pouch. But more relevant is probably the missing 20mm on the long end and the missing compatibility with teleconverters. Interestingly the omission of an optical image stabilizer did not lead to worse results than from the Sony: In my tests I achieved similar results from the solely sensor-base image stabilization of the Tamron as from the Sony FE 70-200mm f2.8 GM with its built-in optical stabilization OSS. Optically both lenses perform pretty closely with the Tamron even besting the Sony on the short end outside the center. And then there's size and weight: The Tamron is over 700g (25oz.) lighter and much smaller than the Sony which makes it not only easier to carry around all day but also less conspicuous than the Sony with its large white barrel. And did I mention that the Tamron is also much lighter on your wallet? All-in-all the new Tamron 70-180mm f2.8 Di III is a compelling alternative to Sony's own FE 70-200mm f2.8 GM OSS.
Check back soon for my full Sony FE 70-200mm f2.8 GM OSS review.

Compared to Tamron SP AF 70-200mm 2.8 Di VC USD G2
I tested Tamron's 70-200/2.8 zoom lens for DSLRs in 2017 against Nikon's flagship AF-S 70-200mm f/2.8E ED VR. The Tamron G2 turned out to be a very competent lens: Its image quality was almost up there with the professional Nikkor and its image stabilization was very effective. Compared to its newer sibling the Tamron G2 is much bigger and heavier even before taking the mount-converter into account. Optically the Tamron G2 still puts up a good fight and is not far behind the new Tamron III or the Sony. And the Tamron G2 has 20mm more longer focal length and can be used with Tamron's teleconverters to reach up to 400mm. If you already have the lens in your arsenal and have switched to Sony Alpha cameras consider buying the mount-converter and continue using the Tamron G2. I'm pretty sure you wont be disappointed. But if you want light and small plus better image quality and can do without teleconverters the Tamron 70-180mm f2.8 Di III is the better choice.
For more details see my Tamron SP AF 70-200mm 2.8 Di VC USD G2 review.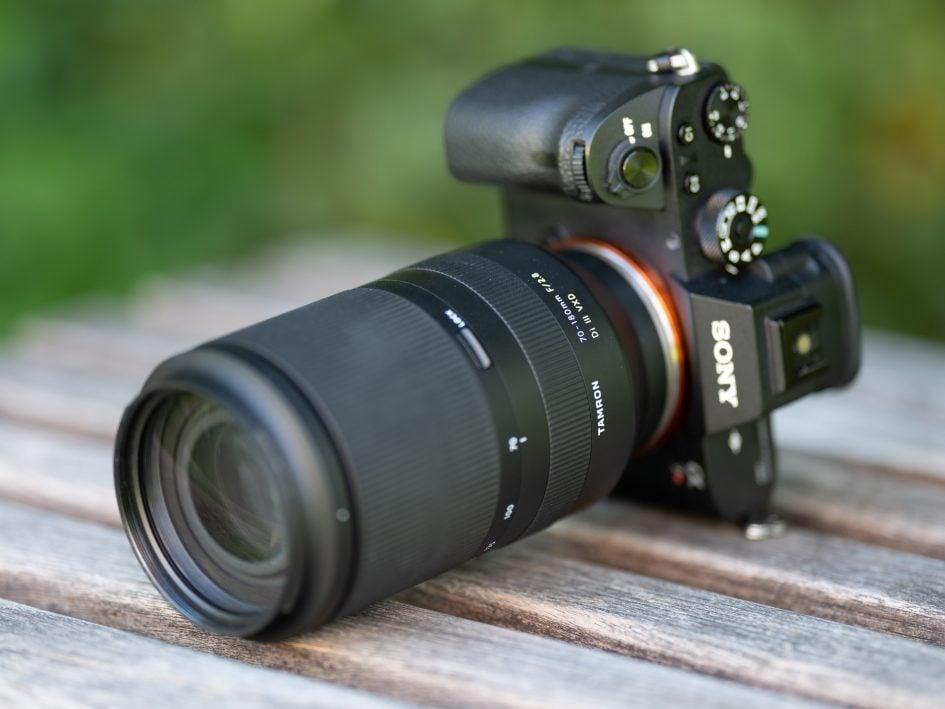 Tamron 70-180mm f2.8 Di III final verdict
The Tamron 70-180mm f2.8 Di III is a small and light telephoto zoom with a constant f2.8 aperture that's designed for Sony's E-mount mirrorless cameras. It produces very good image quality including a soft Bokeh and very usable close-up performance in a package that is much smaller, lighter, and cheaper than Sony's FE 70-200mm f2.8 GM. It may not have all the bells and whistles of Sony's professional zoom lens and its biggest disadvantage is the incompatibility with teleconverters. But it still is a compelling alternative to the Sony and clearly earns a recommendation!
Good points:
Small and light.
Constant f2.8 focal ratio
Very good resolution.
Almost no longitudinal colour aberrations.
Nice Bokeh.
Very usable close-up performance at 180mm focal length.
Low vignetting and minimal distortions (through lens profile).
Extensive weather sealing plus fluorine coating against moist and dust.
Three stops of image stabilization (through camera body).
Reliable AF operation.
Low price compared to Sony.
Bad points:
Incompatible with teleconverters.
No tripod collar.
Contrast in contra-light situations.
Reaches only 180mm focal length.
Focus could be faster.
Check prices on the Tamron 70-180mm f2.8 Di III VXD at B&H, Adorama or WEX. Alternatively get yourself a copy of my In Camera book or treat me to a coffee! Thanks!