Tamron 70-180mm f2.8 Di III VC G2 review
Verdict
The 70-180mm f2.8 Di III VC VXD G2 (model A065) is the second generation of Tamron's small and light telephoto zoom (model A056 from April 2020). It's designed for Sony's E-mount mirrorless cameras and Tamron added some important features: First and foremost there's now optical image stabilization "VC", but the focus set button and the custom switch are welcome additions too. The button, switch, and focus ring can be repurposed and reconfigured in a multitude of ways via Tamron's lens utility and a USB-C cable. At 1499 EUR / 1299 USD / 1329 GBP the new lens is not exactly cheap but it's similar to the price of the A056 model when it was introduced in 2020 – and only half of what Sony's FE 70-200mm f2.8 G Master OSS II costs.
Optical quality of the Tamron 70-180mm f2.8 VC G2 is very good in general: It is sharp to very sharp across the full-frame sensor throughout the zoom range and has practically no colour aberrations or coma. Compared to its predecessor sharpness improved only marginally but the G2 produces the softer Bokeh, and glare from strong contra-light is much better controlled. The lens focuses quietly and reliably and is weather-sealed including a fluorine coating against moisture and dust on the front element.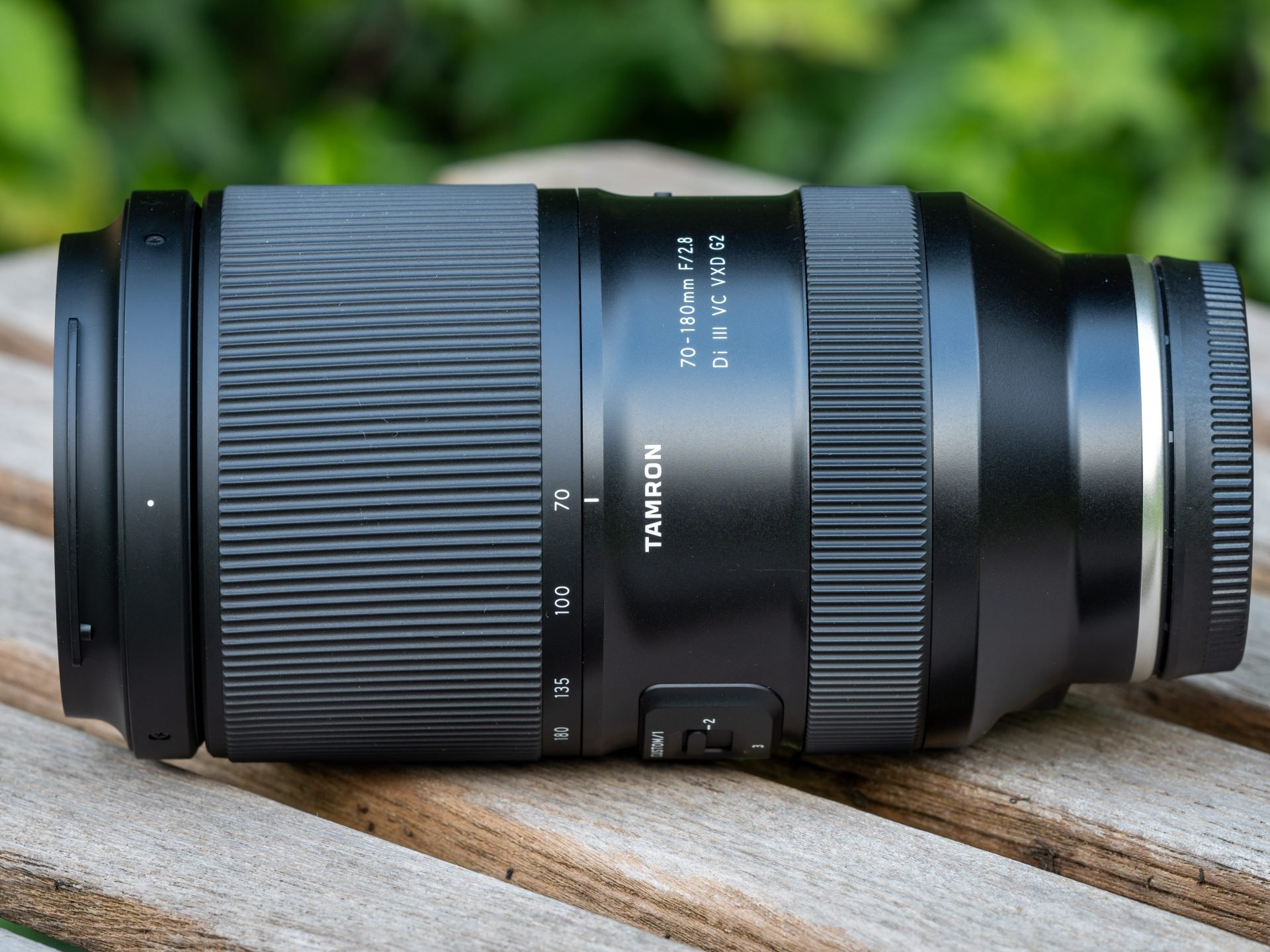 What's not to like? Sony's teleconverters cannot be used – which is a pity as the Tamron G2 is easily sharp enough at the long end to produce good quality images with a 1.4x converter. Then there's a very visible degradation in performance when shooting the lens close to minimum object distance. Tamron reduced the maximum magnification compared to the A056 model a bit to 1:2.5 at 70mm focal length and 1:4.4 at 180mm but image quality at MOD looks even worse than from its older sibling: For the same quality you need to stop down more than before. You might also complain about the missing tripod collar but the lens is light enough to mount the tripod to the camera without fear of bending the lens mount. And the missing 20mm at the long end? Crop 11% into an image shot at 180mm focal length to achieve the same angle of view as a 200mm lens – and you'll hardly notice the slight loss of resolution.
The biggest disappointment for me was that the optical image stabilization VC did not produce better results than the older lens (without VC) with only Steady Shot from the Sony A7R II. I simply had hoped for more effective stabilization.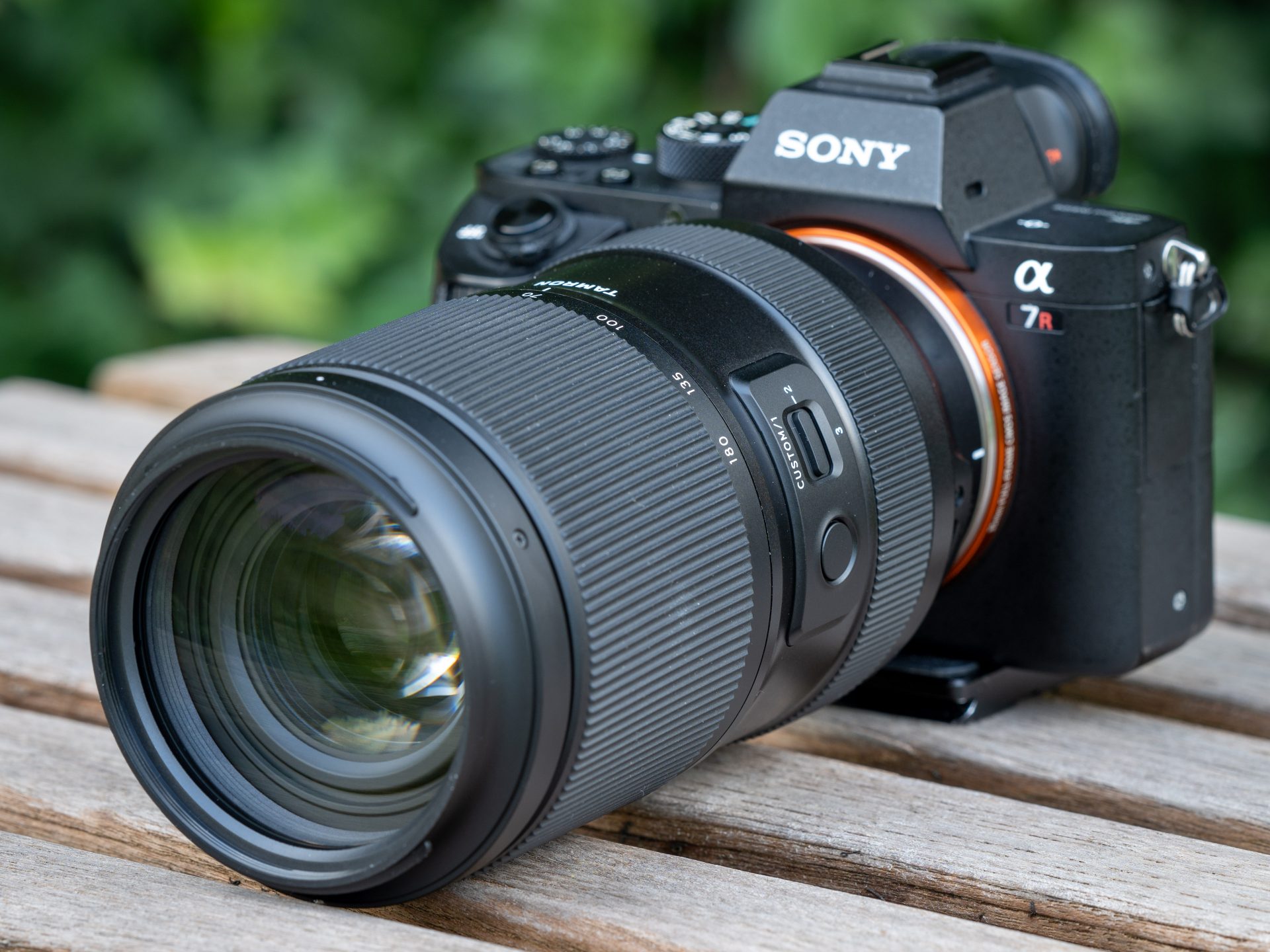 Use on a Nikon Z camera
This is now the second lens where Tamron released a new version shortly after Nikon adopted/licensed the optical design of Tamron's first generation (the other being the 28-75mm f2.8 Di III VXD G2). Some Nikon users might now be wondering whether using an E-to-Z adapter and the G2 version of Tamron's lens might not only be cheaper but also give better results than buying the Z-Nikkor based on the older optical formula (Z 70-180mm f2.8 or Z 28-75mm f2.8). During testing the Tamron 70-180mm f2.8 VC G2 I had the chance to try the lens on a Nikon Z8 using a Megadap ETZ21-Pro with the latest firmware. The adapter worked as advertised: The lens focused and exposed correctly, VC worked (kind of), EXIF data are correct. Adobe's CRAW converter even has the lens profile when I converted the Nikon RAW/NEF files – something that currently does not work for the original Sony ARW files shot with the Tamron G2.
But: Focus was less consistent and reliable (measured 96.7% in Reikan FoCal on the Z8, vs. 98.8% on the A7R II) and the VC of the lens and the in body images stabilization (IBIS) of the Z8 worked against each other. When I activated stabilization on the Z8 the viewfinder became jittery and image sharpness degraded beyond what I have ever seen in my tests. So I switched stabilization off which deactivated the VC of the lens but curiously let the IBIS activated – which resulted in roughly 3 stops of stabilization. Another strange effect: Activating auto distortion control in camera resulted in more distortions in JPGs straight out of camera.
Some of these problems may be solved with future firmware updates of the ETZ-adapter, other problems I may not have stumbled across, and new problems can arise when Nikon makes changes to its camera firmware. So all-in-all I would not recommend using the Tamron 70-180mm f2.8 VC G2 via ETZ-adapter on a Nikon Z body. Better get the Nikon Z 70-180mm f2.8 instead: It profits from 4-5 stops of IBIS stabilization, is compatible with Nikon's Z teleconverters, and is even cheaper than the Tamron G2 (without adapter).

Tamron 70-180mm f2.8 VC G2 final verdict
The 70-180mm f2.8 Di III VC VXD G2 is the second generation of Tamron's small and light telephoto zoom. It's designed for Sony's E-mount mirrorless cameras and Tamron added optical image stabilization plus a highly configurable focus set button, custom switch, and focus ring. It produces very good image quality with a better Bokeh and better flare and glare suppression than its predecessor. And it comes in a package that's even smaller and lighter than Sony's FE 70-200mm f2.8 GM II – at half the price. Its biggest disadvantage is the incompatibility with teleconverters. But Tamron's 70-180mm f2.8 VC G2 still is a compelling alternative to the Sony. Highly Recommended!
Good points:
Small and light.
Constant f2.8 focal ratio.
Sharp to very sharp across the zoom range at normal distances.
Minimal longitudinal colour aberrations and coma.
Very nice Bokeh.
Flare and glare well controlled in challenging contra-light situations.
Extensive weather sealing plus fluorine coating against moist and dust.
Reliable AF operation.
Low price compared to Sony.
Bad points:
Very soft outside center near minimum object distance.
Incompatible with teleconverters.
No tripod collar.
Reaches only 180mm focal length.
Check prices on the Tamron 70-180mm f2.8 Di III VC G2 at B&H, Adorama, WEX UK or Calumet.de. Alternatively get yourself a copy of my In Camera book, an official Cameralabs T-shirt or mug, or treat me to a coffee! Thanks!