Tamron 50-400mm f4.5-6.3 Di III VC review
Verdict
Tamron's 50-400mm f4.5-6.3 Di III VC VXD (model A067) is a pretty lightweight and compact zoom lens with a huge 8x zoom-range covering a "standard" 50mm angle-of-view up to a long telephoto reach of 400mm. It's pretty well featured with thorough weather-sealing, fluorine coating on the front lens, an (optional) tripod-collar with Arca-Swiss style tripod interface, and highly configurable focus ring, focus set button, and custom switch. Plus, it reaches a magnification of 1:2 at the wide end and 1:4 at the long end with a good working distance of over 1m.
In my tests the lens turned out to be a very good all-round performer: contrast and resolution across the full zoom-range and the full frame, focus speed and reliability are all on a good to very good level with colour aberrations, coma, field curvature, and focus-breathing absent or at least well controlled.
What's not to like? Well, the lens is not perfectly parfocal, so you better re-focus after changing focal length. At only 3 stops the optical image stabilization is not the most effective. And I'd love Tamron to have their tripod-collar included especially as the lens is not exactly cheap at 1449 EUR / 1299 USD / 1249 GBP.
Let's put this into perspective and have a closer look at how the Tamron 50-400mm f4.5-6.3 Di III VC compares to other telephoto zoom lenses from Sigma, Sony, Tamron and Nikon.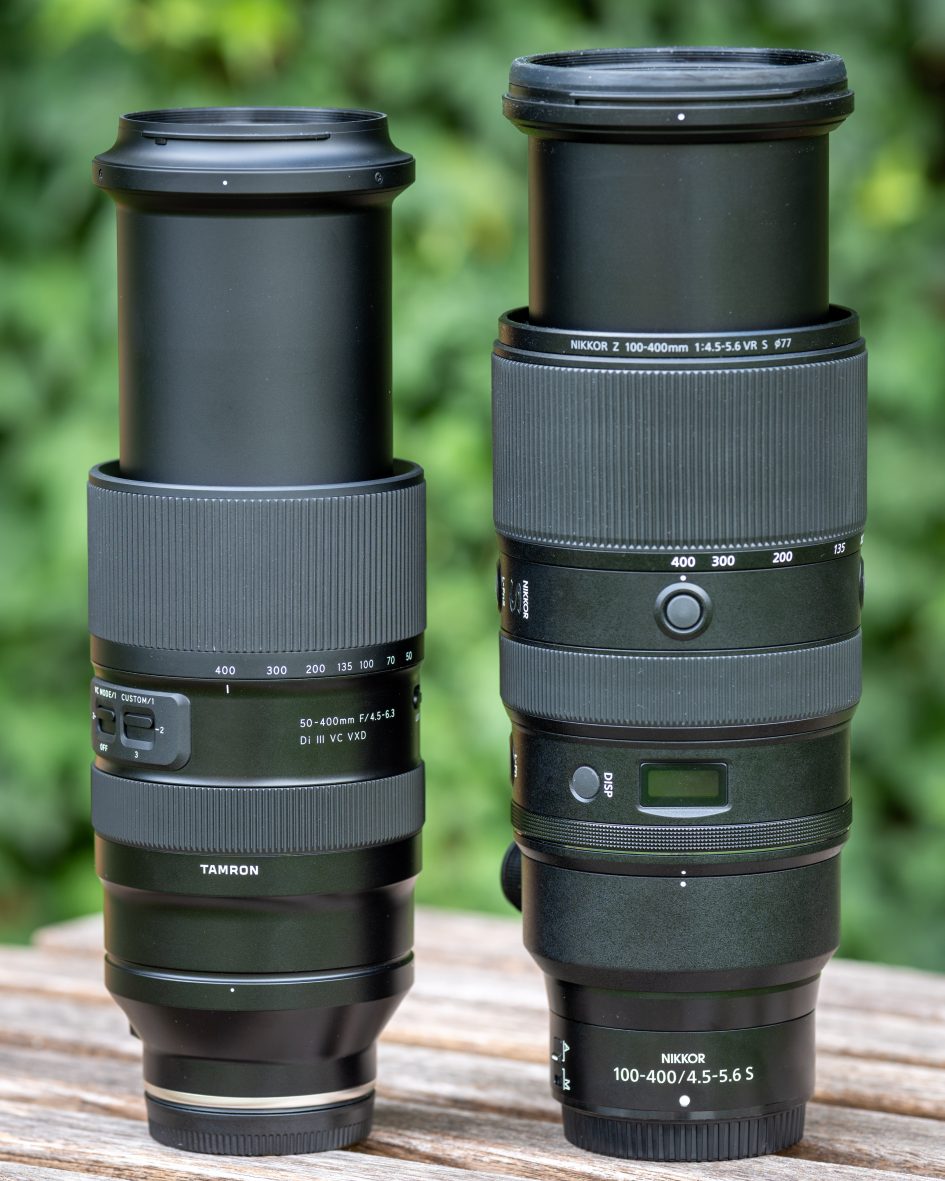 Compared to 100-400mm zoom lenses from Sigma and Sony
I didn't test Sigma's 100-400mm f5-6.3 DG DN nor Sony's FE 100-400mm f4.5-5.6 GM OSS myself but Gordon was pretty impressed with both lenses and their optical qualities. Seeing as how well the Tamron 50-400mm f4.5-6.3 Di III VC performed in my tests I assume there is not a huge difference in optical performance between all three lenses – which is also confirmed by the MTF-charts. But there certainly is with regard to zoom-range (favoring the Tamron), focal ratio plus use of teleconverters (favoring the Sony), and price: The Sigma clearly is the least expensive being almost 40% cheaper than the Tamron while the Sony is about 60% more expensive. So, which one you prefer certainly depends on the depths of your wallet – and what other lenses you have to cover the range of focal lengths at the wider end. Because even the huge 8x zoom-range of the Tamron probably wont cover all your photographic needs.
For more details see Gordon's Sigma 100-400mm f5-6.3 DG DN review where he compares both the Sigma and Sony.

Compared to other Tamron zoom lenses
Tamron already offers a slew of zoom lenses for Sony E-mount covering 28-600mm with very convincing optical qualities: The Tamron 28-75mm f2.8 Di III G2, Tamron 35-150mm f2-2.8 Di III, Tamron 70-180mm f2.8 Di III, and Tamron 150-500mm f5-6.7 Di III VC. There's also the Tamron 70-300mm f4.5-6.3 Di III which I haven't tested yet. Now Tamron puts in another zoom lens covering 50-400mm (plus a 20-40mm f2.8 Di III for the wider angles). The major advantage of the 50-400mm lens over the others is its huge 8x zoom-range which reduces the need to swap between different lenses and also cuts down on weight to carry and money to shell out. Surprisingly optical quality of the new lens is pretty close to the other Tamron zooms, at least in the APS-C image-circle. Only the FF-corner lags behind, especially at 50mm and 300mm focal length – but I wouldn't be bothered too much. The biggest disadvantage of the Tamron 50-400 in my opinion is its slower focal ratio compared to the shorter zoom lenses: at f2.8 they collect 1-2 stops more light and offer better background separation and smoother Bokeh. So, as was to be expected, two (or three) specialized lenses can have an advantage over an 8x super-zoom. But the most impressive achievement of Tamron's new 50-400mm f4.5-6.3 Di III VC is how well it performs over this huge zoom-range.

Compared to Nikon Z 100-400mm f4.5-5.6 VR S
The Nikon Z 100-400mm f4.5-5.6 VR S produces very sharp images with almost no field-curvature or colour aberrations and can confidently be used wide open with better results in the corners of a full-frame sensor than the Tamron 50-400. In contrast to the Tamron it also allows the use of teleconverters which can give the Z-Nikkor 1.4x or even 2x more reach. Its Bokeh is quite nice and the optical image stabilization of over 5 stops is much better suited to the challenges of hand-holding a 400mm lens than Tamron's plus it offers a 1/3-1/2 stop brighter focal ratio (at comparable focal lengths). But the Z-Nikkor lacks the ability of the Tamron to zoom back to 50mm so there's a risk you have to swap lenses should you need the wider viewing angles. And it is also a bit heavier and bigger, and twice as expensive as the Tamron. This makes the Tamron 50-400mm f4.5-6.3 Di III VC certainly a welcome and versatile alternative should its optical formula ever show up on a Z-mount – which is not unlikely given the latest licensing agreements between Nikon and Tamron.
For more details see my Nikon Z 100-400mm f4.5-5.6 VR S review where the lens came Highly Recommended.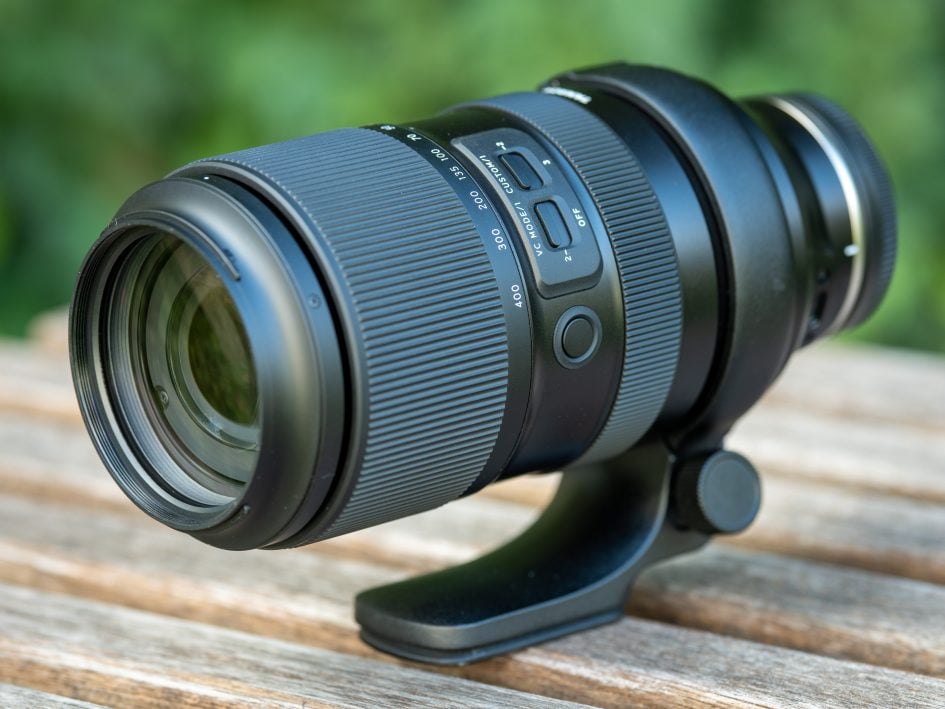 Tamron 50-400mm f4.5-6.3 Di III VC final verdict
Tamron's 50-400mm f4.5-6.3 Di III VC is a worthy addition to Tamron's extensive line of tele-photo zoom lenses. Despite its huge 8x zoom-range the lens is still relatively small and light and produces very sharp images even wide open up to 300mm focal length. The optical image stabilization of 3 stops could be more effective but is still helpful when shooting hand-held beyond 100mm focal length. The lens also offers good close-up capabilities. It may not have the brightest focal ratio but its versatility and image quality makes the 50-400mm f4.5-6.3 Di III VC certainly a very attractive option for those seeking to cover their tele-photo needs with a single zoom lens: Well worth the money and Highly Recommended.
Good points:
(Very) good resolution and contrast at all focal lengths.
Huge 8x zoom-range.
Relatively small and light.
Good close-up performance at the long end.
Almost no longitudinal colour aberrations or purple fringing.
Very little field-curvature or coma at the short end.
(Optional) tripod foot is Arca Swiss compatible.
Pretty fast and reliable AF operation and very low focus breathing.
Highly configurable focus ring, focus set button, and custom switch.
Extensive weather sealing plus fluorine coating against moist and dust.
Bad points:
Optical image stabilization could be more effective.
Not perfectly parfocal.
Tripod foot not included.
Not compatible with teleconverters.
Check prices on the Tamron 50-400mm f4.5-6.3 Di III VC VXD at B&H, Adorama, WEX UK or Calumet.de. Alternatively get yourself a copy of my In Camera book, an official Cameralabs T-shirt or mug, or treat me to a coffee! Thanks!