Tamron 28-200mm f2.8-5.6 Di III RXD review
Verdict
The Tamron 28-200mm f2.8-5.6 Di III is a small and light all-in-one zoom designed for mirrorless cameras with full-frame sensors. At the time of writing, it was only available in Sony E-mount (although we hope RF and Z versions will follow) and costs 869 EUR / 729 USD / 799 GBP which is not exactly cheap considering its rival from Sony, the FE 24-240mm f3.5-6.3 OSS, has a broader zoom range, optical stabilization and is cheaper in EUR and GBP. But the new Tamron offers a brighter focal ratio of f2.8 at the wide end which none of its rivals can match, achieves a magnification of 1:3 at a very close object distance of 0.19m, and is weather-sealed including a fluorine coating against moisture and dust on the front element. But most importantly its optical performance is very convincing, astonishingly so for a 7.1x zoom lens.
What's not to like? The wide end start only at 28mm which restricts the angle of view by 9 degrees compared to rivals starting at 24mm. And the lens has no optical image stabilization. And there were some strange autofocus-misses which might be a problem with my copy of the lens – but worried me nonetheless.
Let's have a closer look at how the new Tamron super-zoom compares to the alternative from Sony and Nikon – assuming that one day Tamron will have a version with Z-mount (and RF-mount) too.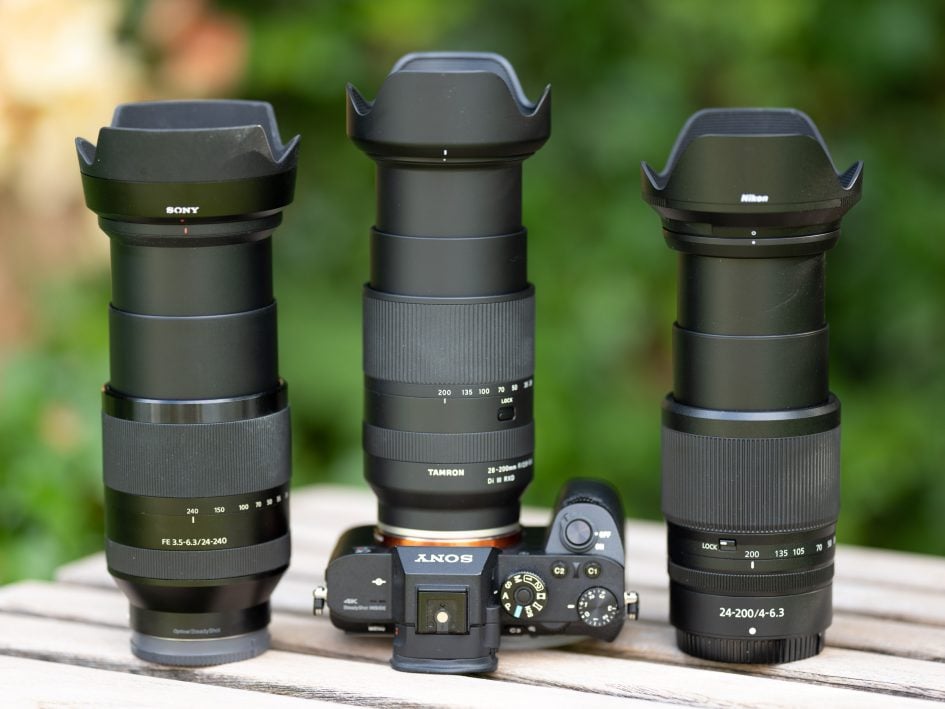 Compared to Sony FE 24-240mm f3.5-6.3 OSS
The Sony FE 24-240mm f4.0-6.3 OSS has a 10x zoom range going 9 degrees wider at the short end with 24mm focal length than the new Tamron and reaches 20% further with its 240mm at the long end. It also offers optical image stabilization. I wouldn't over-estimate the benefits of reaching 240mm focal length though: The Tamron is sharp enough that you can easily crop to get the angle of view that the 240mm of the Sony gives. But at the short end there's no denying that in some cases you really need the coverage of 24mm which 28mm simply cannot deliver.
Regarding the benefits of optical stabilization: In my tests on a Sony A7RII camera body I couldn't find a significant advantage in stabilization of the Sony over the Tamron. And regarding image quality the Tamron was always ahead of the Sony in my tests especially at focal lengths of 105mm and longer where the Sony gets progressively softer.
Taking into account that the Tamron is 200g lighter than the Sony, has a brighter focal ratio, plus offers fluorite coating at the front lens everything looks like a recommendation of the Tamron over the Sony. Well yes, were it not for the missing 4mm at the short end. You could combine the Tamron 28-200mm with Tamron's own 17-28mm f2.8 Di III lens to cover the wide end but make no mistake: You may find yourself changing lenses when others simply zoom back to 24mm and get the shot.
Check back soon for my full Sony FE 24-240mm f3.5-6.3 OSS review.

Compared to Nikon Z 24-200mm f4.0-6.3 VR
Let me be crystal clear: The Tamron 28-200mm was not available in Z-mount at the time of writing, nor has Tamron even announced the availability of this specific lens for Z-mount. But Tamron is on record saying that they are working on lenses for Z- and RF-mount. And certainly their new lenses designed for mirrorless cameras which are currently only available for Sony E-mount are prime candidates to get other mounts too. With this disclaimer out of the way let's turn to comparing Tamron's new super-zoom to the equally new Nikon.
Regarding size, weight and price both lenses are very close. Looking at the features the Nikon has the benefit of going down to 24mm at the wide end and offering optical image stabilization. But the Tamron has the benefit a brighter focal ratio which gives it a one stop better light gathering power over the Nikon up to 115mm focal length. The Nikon compensates that a bit by a superior image stabilization which is indeed good for 5 stops at the long end being 2 stops more effective than the stabilization that the Tamron receives from the Sony camera body alone. But that might be of no relevance when shooting fast moving subjects.
Optically the Tamron is very close to the Nikon in the APS-C image-circle and mostly visibly sharper in the extreme corners of a full-frame sensor. Kudos to that! So with the Nikon you get superior image stabilization plus a wide end starting at 24mm while the Tamron offers greater light gathering power plus sharper FF-corners. Depending on your priorities the Nikon or the Tamron may be the tool of choice for you.
For more details see my Nikon Z 24-200mm f4-6.3 VR review.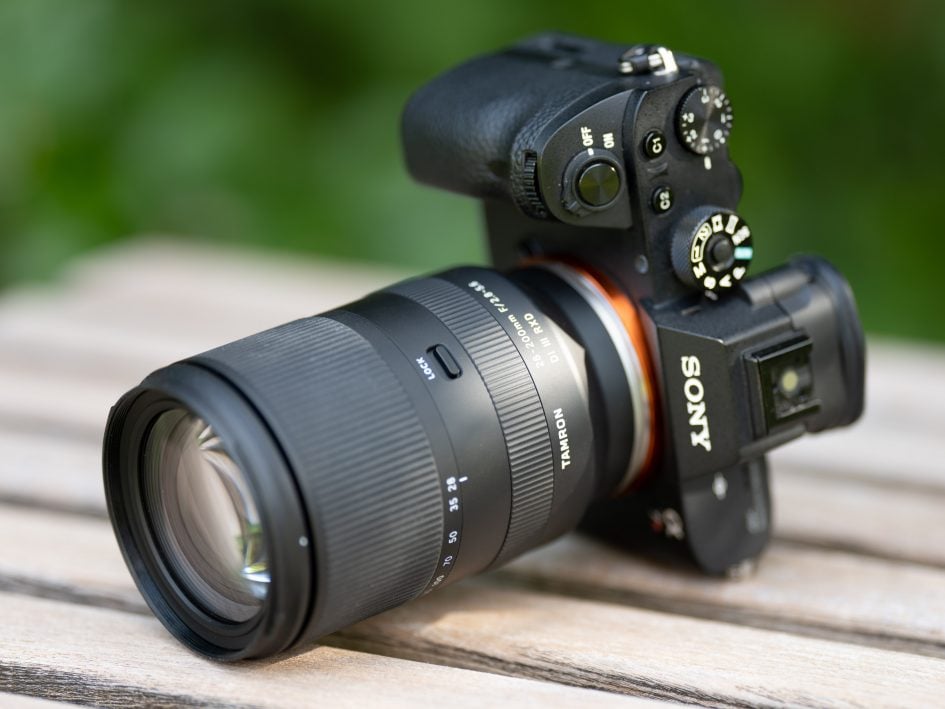 Tamron 28-200mm f2.8-5.6 Di III final verdict
Small, light and bright: These are the three buzzwords that best describe the new Tamron 28-200mm f2.8-5.6 Di III super-zoom. Plus it offers image quality that is hard to beat unless you go for the larger, heavier, and more expensive zoom lenses with a constant f2.8 focal ratio. That's a perfect combination of features and performance for a super-zoom – and the price is also OK. There is only this one thing: The lens starts at 28mm at the short end, not 24mm like the alternatives. This may be a decisive factor and you have to ask yourself carefully if you can live with this limitation. But other than that Tamron has designed a compelling super-zoom which clearly earns a Highly Recommended!
Good points:
Small and light.
Good resolution across the full frame and over the complete zoom-range.
Almost no longitudinal colour aberrations.
Good close-up performance at 24mm focal length albeit at a very short working distance.
Low vignetting and minimal distortions (through lens profile).
Extensive weather sealing plus fluorine coating against moist and dust.
Bad points:
Starts only at 28mm.
Relies solely on the image stabilization of the camera body.
Autofocus produced more misses than usual on my copy.
Check prices on the Tamron 28-200mm f2.8-5.6 Di III at Amazon, B&H, Adorama or WEX! Alternatively get yourself a copy of my In Camera book or treat me to a coffee! Thanks!