Tamron 24-70mm f2.8 VC G2 review - Verdict
Verdict
The Tamron 24-70mm f2.8 VC G2 (model A032) is already Tamron's second version of a stabilized large-aperture standard-zoom for full-frame sensors. The 24-70mm range with f2.8 aperture has become the go-to general purpose lens for professionals and demanding enthusiasts alike, and the new model brings Tamron's offer in this area up to date. They made the new lens compatible with their TAP-in console for a multitude of customizing AF and image stabilization as well as updating the firmware of the lens. The AF is now also faster than its predecessor, the lens hood locks in place to reduce the risk of inadvertently losing it, and the new weather-sealing has makes it harder for dust and water to enter the lens. The VC is good and really helps to reduce the risk of blur.
But Tamron didn't change the optical construction which now dates back to 2012. Could this be enough to satisfy the demands of modern high resolution full-frame sensors? After switching to the 46MP Nikon D850 as the new platform for my lens tests I was very curious to find out. It turns out that the optical design of the new Tamron still performs very well – within the APS-C/DX image circle anyway. It only becomes a bit softer towards 70mm focal length but otherwise shows great contrast, high resolution, very low longitudinal color aberrations, and moderate vignetting. Only the FF/FX-corners are soft wide-open throughout the zoom-range and need stopping down to f5.6 if you need well-balanced sharpness across the sensor.
Let's see how the new lens compares to its predecessor (model A007), the Sigma 24-70mm f2.8 OS Art, and the alternative from Nikon.
Compared to Tamron 24-70mm f2.8 VC A007 (1st generation)
This was the first 24-70mm f2.8 lens to sport image stabilization. Unfortunately the first copies that I tested in 2012 had some problems: The VC then took considerable time to "wake up" for a shot and the images became overexposed when you stopped down. The copy I had now for testing did not show any such problems. With the optical construction identical to the new G2 (A032) model both lenses showed almost identical optical performance in this test. And even the VC of the old and the new model produced very similar results. So what are the major differences between both models? The new G2 model is compatible with Tamron's TAP-in console which lets you modify the behavior of AF and VC, the AF is a bit faster, the lens hood locks onto the lens, and weather sealing is improved. I didn't test flare and glare resistance of the old lens but there could be a benefit of the more modern eBand coating of the G2 model too. But the old A007 model is still a good lens and as it can currently be had for under 800 EUR that may be just the incentive to get one while it is still available. Just keep in mind that serviceability of the A007 model surely will end earlier than of its G2 successor.
Compared to Sigma 24-70mm f2.8 OS Art
The Sigma 24-70mm f2.8 OS Art is a worthy upgrade over its decade-old predecessor: it has very good image stabilization and is shorter, cheaper, produces less loCA, has a better Bokeh, and shows less vignetting than the reference in its class, the Nikon 24-70mm f2.8E VR. But its image quality at the short-end and in the outer area of a high resolution full-frame sensor is disappointing considering that this lens is a member of Sigma's well-renowned "Art"-line. So not a slam-dunk, but still the Sigma 24-70mm f2.8 OS Art earns a recommendation. Compared to the new Tamron the Sigma is slightly less sharp but offers better Bokeh and somewhat better image stabilization. Plus it has the unique advantage that if you change bodies, you can pay to have the mount swapped for your new system. With both lenses costing about the same, that is a tough decision to make.
For more details see my Sigma 24-70mm f2.8 OS Art review.
Compared to Nikon 24-70mm f2.8E VR
Nikon endowed their professional f2.8 standard zoom with good to very good image quality across the full-frame sensor and very good stabilization. It has fast and reliable autofocus and only little CA (albeit a bit higher than from the new Tamron). Plus its resistance to flare, glare, and ghosting is pretty good. But it's longer than the new Tamron and has stronger vignetting. It's also 50% more expensive. But all-in-all its image quality earned the Nikon 24-70mm f2.8E VR a Highly Recommended. If you want "sharp" all over a full-frame sensor this is the lens to get.
For more details see my Nikon 24-70mm f2.8E VR review.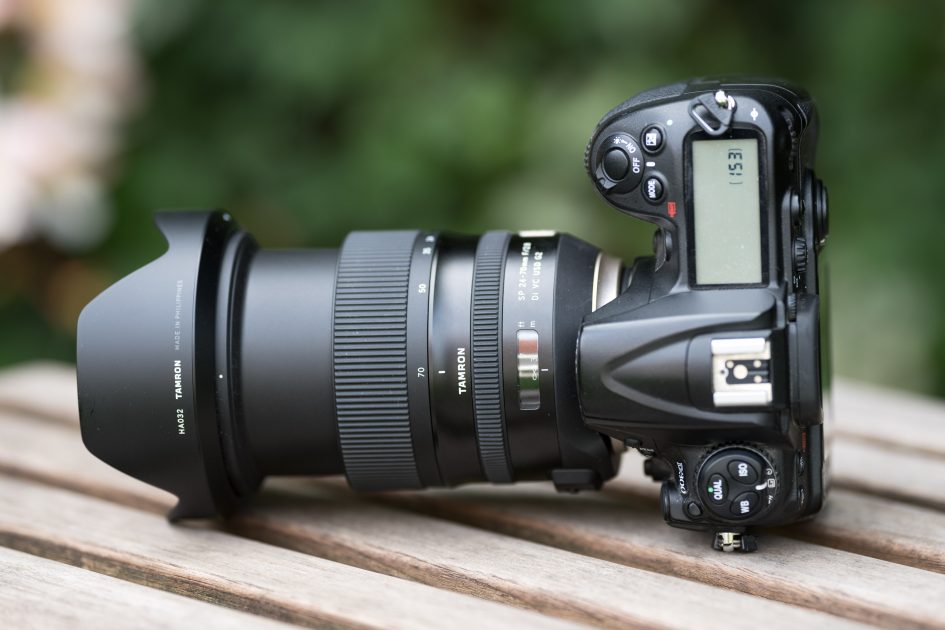 Tamron 24-70mm f2.8 VC G2 final verdict
The Tamron 24-70mm f2.8 VC G2 seems only like a minor upgrade over its predecessor from 2012, but that is not necessarily a bad thing: its optical performance is very good inside the APS-C/DX image circle, it has a good image stabilization and a fast AF, shows only little longitudinal color aberrations, and can be easily customized via Tamron's TAP-in console on a computer. Its only major downside is the soft performance in the outer reaches of a high resolution full frame sensor. So the Tamron 24-70mm f2.8 VC G2 misses out on our top award but rightly earns a solid recommendation.
Good points:
Very good contrast and resolution inside the APS-C/DX image circle
Good image stabilization.
Little longitudinal color aberrations.
Versatile customization of AF and VC via USB-dock.
Bad points:
Pretty soft outside the APS-C/DX image-circle
Use the tabs to visit the other pages which include more in depth information, full quality test results, and sample images! I also have additional sample images here.

Check prices on the Tamron 24-70mm f2.8 G2 at Amazon, B&H, Adorama, or Wex. Alternatively get yourself a copy of my In Camera book or treat me to a coffee! Thanks!