Tamron 20mm f2.8 Di III M1:2 review
Intro
The Tamron 20mm f2.8 Di III OSD M1:2 is an ultra-wide prime lens for Sony's E-mount mirrorless cameras and corrected for full-frame use. It's part of a three lens series from Tamron all of which have the distinguishing feature of a maximum magnification of 1:2. This let's you get closer to your subject and reproduce it at half life-size – albeit at a meager working distance of only 3cm (1in.). This makes it the only 20mm lens with autofocus capable of magnifications larger than 1:3. Compared to the Sony FE 20mm f1.8 G the Tamron also has the benefit of being the smaller, lighter and substantially cheaper alternative, albeit one that's more than a stop optically slower.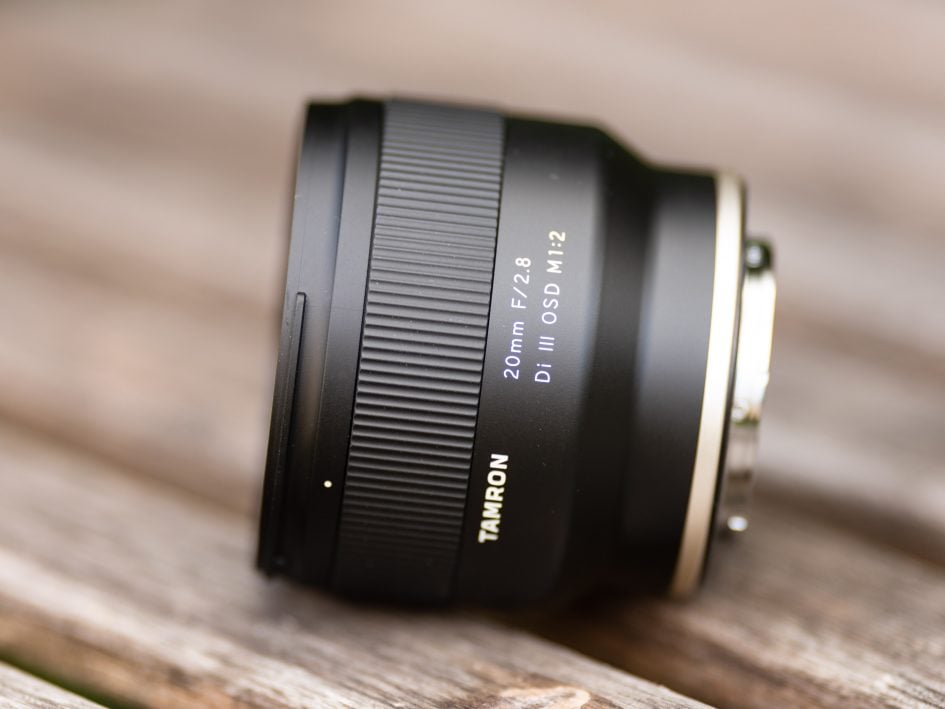 Facts from the catalog
As usual I'll have a look at the technical data of the new Tamron 20mm f2.8 M1:2 first. I've rated the features with a [+] (or [++]), when it's better than average or even state of the art, a [0] if it's standard or just average, and [-] if there's a disadvantage. For this comparison I use the Sony FE 20mm f1.8 G ("Sony" for short). Please keep in mind that the Sony has a 4/3 of a stop brighter focal ratio which influences size, weight, and price of that lens.
Size (diameter x length): 73 x 64mm (2.9 x 2.5in.). The lens hood adds 19mm and is 87mm in diameter. The Sony is much longer at 74 x 85mm + 22mm lens hood. [+]
Weight: 220g (8 oz.) plus 21g for the lens hood. The Sony is 373g (13 oz.) + 17g lens hood. [+]
Optics: 10 elements (including one aspherical and three special dispersion elements) in 9 groups. The Sony is a more elaborate design with 14 elements in 12 groups, Nano-Coating to reduce flare, glare and ghosting, plus fluorine coating on the front to repel water, dust, and dirt. [0]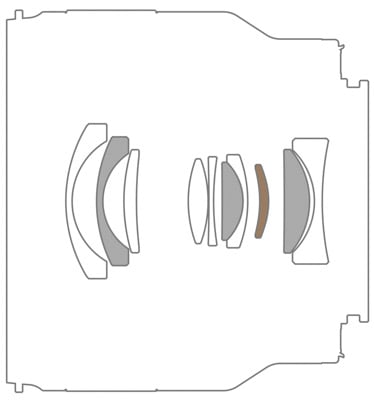 Closest focus distance is 0.11m (4in.) with a very good magnification of 1:2 but the working distance is a meager 3cm (1in.). A magnification of 1:10 is achieved at 0.25m giving a working distance of 15cm with lens hood attached. The Sony achieves a magnification of 1:3.8 in manual focus at 0.17m (7in.). Working distance at minimum object distance is 7cm (3in.). [+]
Filter-thread: 67mm, same as the Sony. [+]
Image stabilization: The lens offers no optical stabilization. The Sony A7 Mark II bodies onward provide built-in sensor-shift stabilization. Same with the other lenses in this comparison. [0]
Auto focus: Built-in AF drive. Manual-focus override is by simply turning the focus ring. The Tamron has a non-linear gearing which depends on the speed you turn the focus ring. This allows for precise manual focus but makes smooth focus pulling for videographers almost impossible. The focus ring on the Sony has a linear gearing with a long throw of 150 degrees plus a focus hold button which can be assigned other tasks in the camera menu. Both the Sony and the Tamron have no distance or dof markings. [+]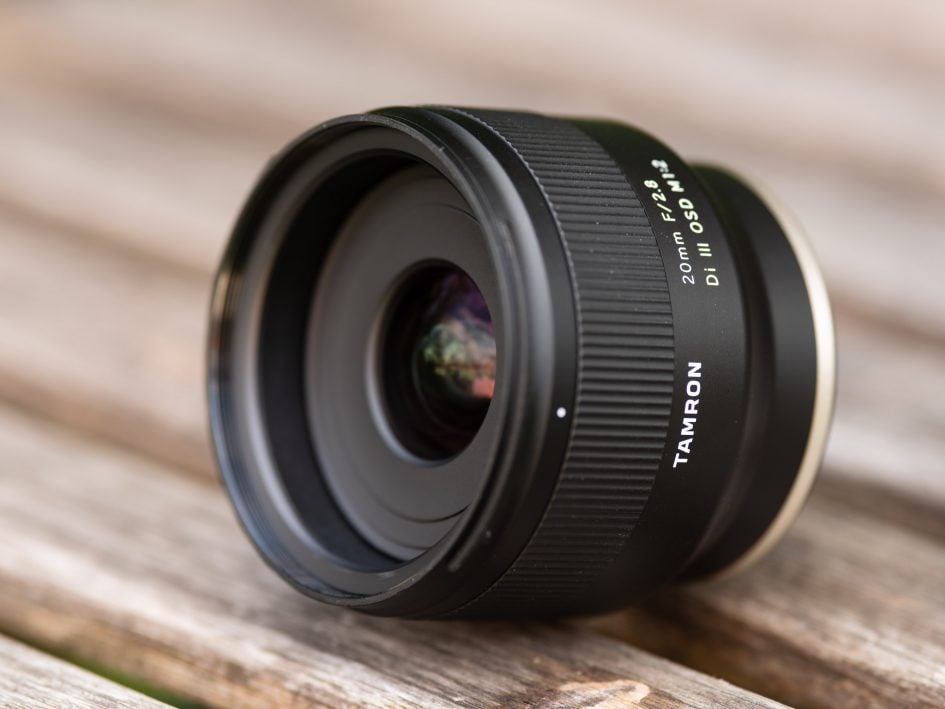 Covers full frame or smaller. Same with the alternatives. [+]
Price: 400 EUR (incl. 19% VAT) / 349 USD. This is a very affordable lens compared to the Sony with a list price of 1100 EUR / 899 USD. [+]
The Tamron has no pouch but the lens hood is included, reversible for transport. The Sony comes with a soft pouch and lens hood. [0]
Aperture ring: no, which is normal for most modern lenses. But the Sony has one with 1/3 stop clicks which can be turned off for continuous, smooth, and noise-free operation. [0]
Sealing: yes, a rubber grommet at the lens-mount plus further special weather-sealing throughout the construction. Same for the Sony. [+]
The score in the "features-department" of 0[-]/4[0]/8[+] shows that the lens has a good feature set: the advantages of the Tamron are its small size, low weight, low price, and a 1:2 maximum magnification. The major downside is its relatively slow focal ratio of f2.8.

Two ways to go 20mm on Sony Alpha mirrorless cameras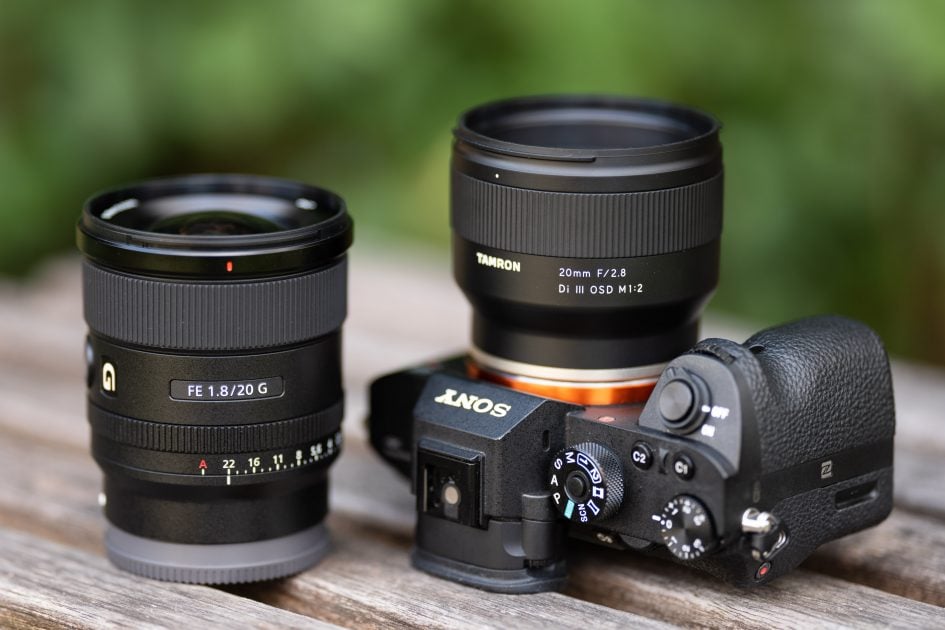 Above: Sony FE 20mm f1.8 G (left), Tamron 20mm f2.8 M1:2 (right)

Alternatives
The market for ultra-wide prime lenses of 18-21mm focal length offers many choices with autofocus lenses from Sony (FE 20mm f1.8 G), Tokina (FiRIN 20mm f2.0 FE AF), Samyang (AF 18mm f2.8 FE), and Sigma (20mm f1.4 Art), plus manual focus lenses from Zeiss (Loxia 21mm f2.8), Viltrox (20mm f1.8 Asph), Voigtländer (Color-Skopar 21mm f3.5 Asph and Nokton 21mm f1.4 Asph), and Samyang again (20mm f1.8 ED AS UMC). But none of these lenses comes close to the maximum magnification of 1:2 which the Tamron offers.
Let's have a closer look at some of those with autofocus:
Sony offers the FE 20mm 1.8 G from 2020 for 1100 EUR / 900 USD. It offers a more than one stop brighter focal ratio and is larger and heavier than the Tamron but not overly so. For the money you also get a de-clickable aperture ring and a focus-hold button which can be assigned other tasks in the camera menu. See my Sony FE 20mm 1.8 G review where it came Highly Recommended.
From Sigma there's the 20mm f1.4 Art, a typical DSLR design from 2015 which is now also available for Sony E-mount. It offers two stops more light gathering power but consequently is a massive lens weighing well above 1kg. Sigma offers the unique (payed) service to have the mount swapped if you change bodies but the lens does not have a standard filter-thread and there's no weather sealing at the lens-mount. For more details check out my Sigma 20mm f1.4 Art review and the direct comparisons in my Sony FE 20mm 1.8 G review.
Samyang/Rokinon has the AF 18mm f2.8 FE for 350 EUR /USD. This lens is even smaller (64 x 61mm) and lighter (145g) than the Tamron but its close-up capabilities are meager: it only reaches a maximum magnification of 1:11. At 18mm focal length it offers a 6 degrees wider angle of view.
Finally you might also consider a zoom lens like the Tamron 17-28mm f2.8 Di III RXD (Modell A046) as an alternative. It has the benefit of a 1.6x zoom range covering a wide array of very useful focal lengths on the wide end at a constant f2.8 focal ratio. It is naturally larger and heavier than the Tamron 20mm f2.8 M1:2, but at 73 x 99mm and 420g (14.8 oz.) still very compact for an f2.8 zoom lens. And it offers good to very good optical performance which got it a recommendation in my Tamron 17-28mm f2.8 Di III review. Its price of 850 EUR / 900 USD puts it well above the 20mm f2.8 M1:2 but this zooms rolls 4 popular focal lengths up into one.

Focus
Focus accuracy and repeatability is critical to consistently produce sharp shots. Repeatability (the accuracy of focus on the same subject after repeated focus-acquisition) of this lens was unsatisfactory with my first test copy. But on a second copy of the lens it was very good (measured 99,0% in Reikan FoCal) with no outliers over a series of 40 shots. And the second copy also showed no focus variation whether the lens focuses from a closer distance or from infinity.
The lens took around 1 sec to move from infinity to 0.25m (1:10 magnification) until the camera sounded the "in focus" beep. But it hunted visibly a bit afterwards around the point of sharpest focus and only then did the shutter release. The total time from pressing the shutter to taking the shot was around 1.6 sec which is very slow and especially annoying when shooting (fast) moving subjects. This together with the sample variations makes me suspect that Tamron's OSD (Optimized Silent Drive) is more optimized for cost than for performance. The Sony on the other hand focuses quickly and without hunting in around 0.7 sec.
The focus ring of the Tamron is 17mm wide with a rubberized surface. It moves super smooth and can easily be operated even with your pinky. The frontend of the lens extends 7mm when focused to minimum object distance but this does not change the overall length of the lens (see below).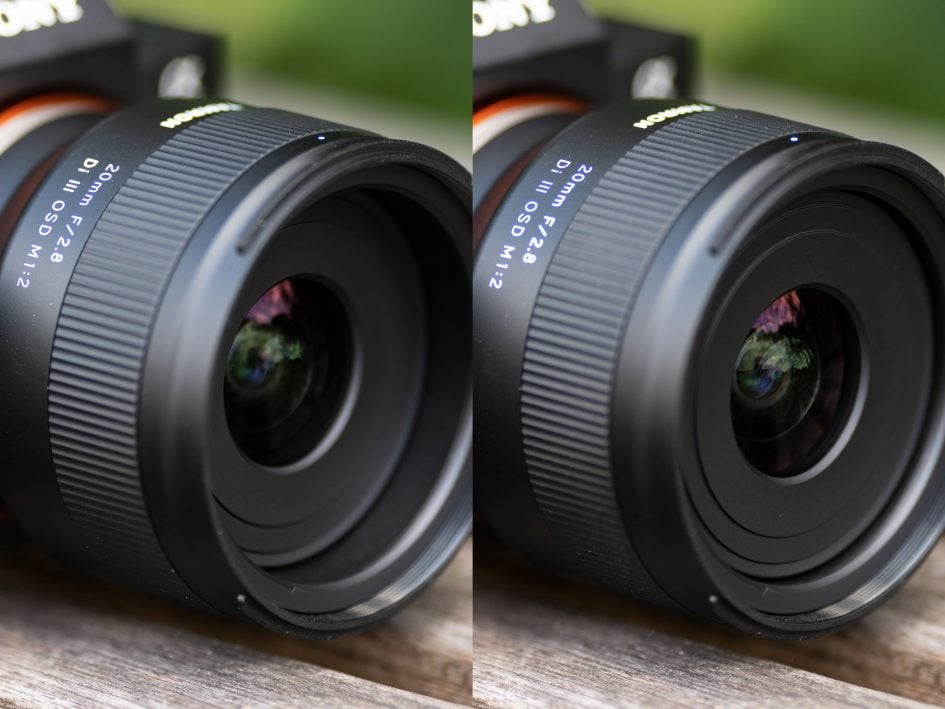 AF-operation of the lens is barely audible from the outside. But if you record video with the built-in microphone the AF-drive makes a light click at the start of movement.

The lens shows some focus breathing: when I adjusted the focus from infinity to 0.25m on the new Tamron I measured a 4.2% increase in magnification, similar to the Sony. This is pretty visible and may not please videographers.

Next check out my quality results!

Check prices on the Tamron 20mm f2.8 Di III M1:2 at Amazon, B&H, Adorama or Wex. Alternatively get yourself a copy of my In Camera book or treat me to a coffee! Thanks!