Tamron 17-28mm f2.8 Di III review
Verdict
The 17-28mm f2.8 Di III RXD is Tamron's second native lens designed specifically for Sony's full-frame mirrorless E-mount bodies. From my tests Tamron's new lens seems to follow in the footsteps of their 28-75mm f2.8 Di III RXD standard zoom: it offers a constant f2.8 focal ratio, is sharp to very sharp, shows very good resistance against flare and glare in challenging contra-light situations, and offers useful performance in close-up shooting. The lens is also pretty small and light. So light in fact that both the 17-28mm plus the 28-75mm f2.8 Tamron zooms together weigh only 1kg although they offer a constant f2.8 aperture throughout the zoom-range. And you can get both zoom lenses together at a price below that of Sony's 16-35mm f2.8 GM.
What's not to like? Well, the 1.6x zoom range seems pretty limited at times, the working distance at close-up shooting is a very short 6cm making it pretty hard not to throw a shadow on your subject and scare little critters away, and the full-frame corners are a bit soft when shooting at around 1-2m distance.
To put this into perspective let's have a closer look at how the Tamron 17-28mm f2.8 Di III compares to the Sony FE 16-35mm f2.8 GM.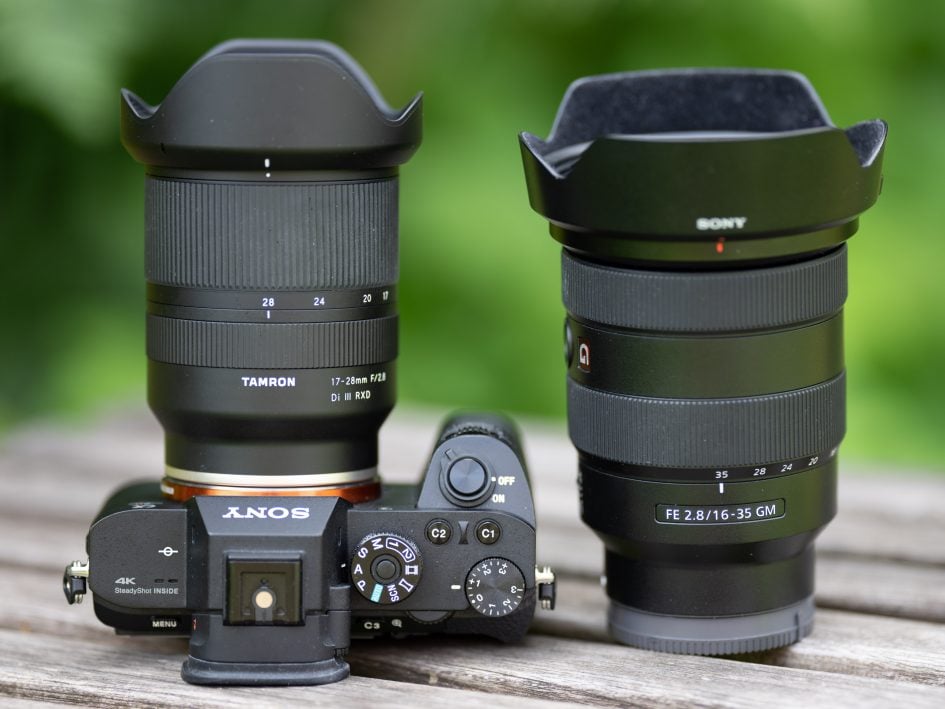 Compared to Sony FE 16-35mm f2.8 GM
The Sony FE 16-35mm f2.8 GM is clearly bigger and heavier and much more expensive than the Tamron. But it also has a better 2.2x zoom-range giving you a slightly but noticeable wider view at the short end and a 20% longer reach at the long end – which at 35mm almost reaches "normal" focal length. I think this is the main differentiating factor between both lenses. Regarding optical quality the Sony GM is better at closer distances where it stays pretty sharp up into the full-frame corners. But at typical distances for landscape and architecture shooting the Tamron pulls ahead at 24mm and 28mm focal length. In other aspects like loCA, coma, Bokeh, resistance against flare and glare both lenses are very similar, sometimes the Tamron taking the lead at other times the Sony GM. If you have to decide between both lenses I think budget and zoom-range are the decisive factors: If money is of less concern I'd go for the longer zoom-range of the Sony GM, otherwise I'd be very happy with the Tamron.
See Gordon's Sony FE 16-35mm f2.8 GM review-so-far which I'll be updating to a full review shortly.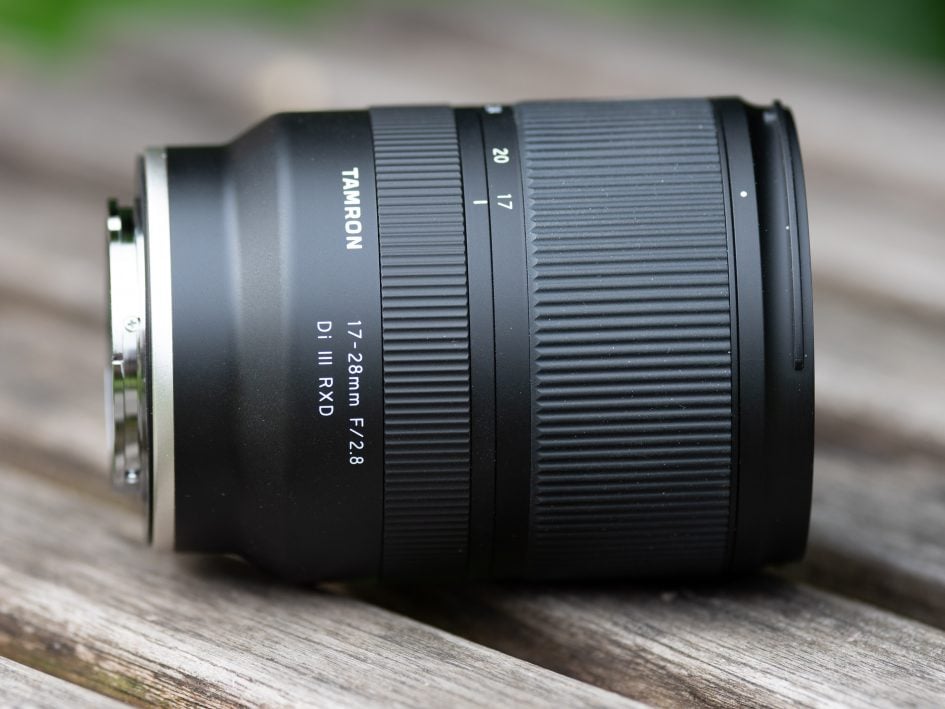 Tamron 17-28mm f2.8 Di III final verdict
Two for the price (and weight) of one? If you're looking for covering your wide to standard zoom-range with two f2.8 zooms the new Tamron 17-28mm f2.8 Di III plus its 28-75mm f2.8 Di III sibling together cost less than the Sony 16-35mm f2.8 GM alone. And although the combined weight of both Tamron zooms is 300g more than the Sony alone they still only add up to 1kg. Optically the Tamron 17-28mm f2.8 Di III is sharp and contrasty even under adverse contra-light situations and delivers very usable close-up performance too. It has a very short working distance for close-ups and may not be the sharpest lens in the full-frame corner at medium distances but I'd honestly prefer a wide-angle zoom that delivers very sharp landscape and architecture shots (equal to or even sharper than from the Sony GM) over a little more performance in the FF-corner for closer subjects. So if you can live with the somewhat limited 1.6x zoom range, Tamron's second native E-mount lens earns a clear recommendation and becomes even more compelling when paired with the 28-75mm.
Good points:
Constant f2.8 focal ratio.
Small and light.
Extensive weather sealing.
Mostly very good image quality at longer distances.
Very good black levels in contra-light situations.
Very usable close-up performance.
Less than half the price of Sony's 16-35mm f2.8 GM.
Reliable AF operation.
Bad points:
Not so sharp at closer distances outside the APS-C image circle.
Very short working distance for close-up shooting.
1.6x zoom range is pretty limited and reaches only 28mm focal length, not 35mm.
Nervous background Bokeh.
Check prices on the Tamron 17-28mm f2.8 Di at B&H, Adorama or WEX. Alternatively get yourself a copy of my In Camera book or treat me to a coffee! Thanks!