Sony Cyber-shot DSC-R1 review
Intro
Sony's Cybershot DSC-R1 is the company's first high-end all-in-one camera since the DSC-F828 back in August 2003. The F828, despite coming from a strong line of predecessors and sporting excellent design and features, infamously suffered from pronounced purple fringing.
Not only must the new R1 banish this spectre while improving the specification, but do so in a marketplace where a raft of budget digital SLRs have pretty much wiped-out the demand for high-end all-in-ones. Sony itself even recently announced a partnership with Konica Minolta to develop its own digital SLR in 2006. In this light, what chance does a new all-in-one have which actually costs slightly more than most budget digital SLRs?
You'd be forgiven for thinking it wouldn't stand a chance, but the R1 is unlike any all-in-one so far released. It's the first to employ a large APS-sized CMOS sensor which is roughly the same size as those found in budget digital SLRs. This means the R1 should enjoy low noise levels and high sensitivities even with its high resolution of 10.8 Megapixels.
It's also first CMOS sensor to deliver live video to the display, unlike conventional digital SLRs which normally only use their screens for menus and playback. The live view has also allowed Sony to do away with the mirror and prism of a traditional SLR optical path and position the lens close to the sensor where optical aberrations are easier to correct.
The result is a camera with 10.8 Megapixel resolution, wide sensitivity rating of 160 to 3200 ISO, flip-out LCD screen with live view, an optically fast f2.8~4.8 lens with a 35mm-equivalent range of 24 to 120mm and the potential to capture highly detailed, low noise images. Sure the lens doesn't come off, but the 5X range is sufficient for most and there's no worries of dust on the sensor. Are you sure a traditional budget or even mid-range SLR is a better bet?
Like its earlier high-end all-in-ones, the R1 follows Sony's tradition of striking a canny balance between unique product design and intuitive operation. It's fair to say you won't have seen anything quite like it, yet enough remains familiar for you to be up and running in moments. It's pictured below alongside Canon's EOS-350D / Digital Rebel XT.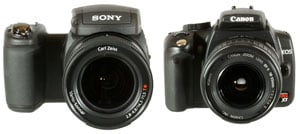 Interestingly, Sony's abandoned the swivelling body of the previous F-series, but there's still the temptation to try and twist your right hand away from you when you first pick up the R1.
While the R1's grip remains fixed in position though, it's both large and comfortable to hold; a dip in the body to the immediate left of the grip also allows your thumb to curl round and offer greater support. The lens barrel also sits very comfortably in your left hand. Ergonomically it's well thought out.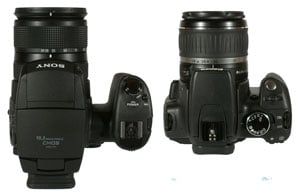 At first glance the body looks quite large, but at 139mm wide by 97mm tall, it's not much different from Canon's compact EOS-350D. The lens and protruding viewfinder contribute to the 168mm length of the overall package, which when viewed from above with the deep grip gives the impression of a camera that's bigger than it actually is.
The camera weighs 995g with battery, which makes it heavier than most budget DSLRs with their bundled lenses, but to be fair the R1's lens is longer and optically faster. It certainly doesn't feel heavy to use or carry round though and the build quality is excellent.
The camera's powered by a rechargeable 8.5Wh Info-Lithium battery and like other Sony cameras, you can see exactly how many minutes of charge remain on-screen. When fully charged, the camera reported 297 minutes in record mode, which Sony reckons should be good for around 500 shots.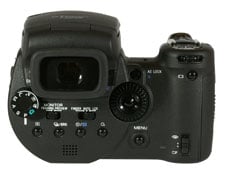 There's no shortage of controls on the back of the R1. Joining the traditional thumbwheel and four-way joystick is an additional wheel which works in a similar way to those on Canon's higher-end DSLRs – albeit not as tactile.
In Priority or Automatic modes, this wheel adjusts exposure compensation, while in manual mode it controls the aperture. A large button between the wheel and viewfinder puts the camera into play mode, during which the wheel controls magnification.
Focus, white balance and flash modes are operated using controls on the left side, while the button for ISO is located right next to the shutter release / power switch. The ISO button requires quite a firm push in conjunction of the turn of the thumbwheel though, so there's no chance of accidental operation.
The main mode dial feels relatively small and hidden on the rear surface to the lower left of the viewfinder, when you'd normally expect it to be prominently located on the top surface of the camera. It offers the usual Auto, Program, Manual, Aperture and Shutter Priority modes along with four scene presets. Shutter speeds range from 1/2000 to 30 seconds, along with a programmable Bulb option up to three minutes. Exposure compensation is offered from +/-2EV in third stop increments.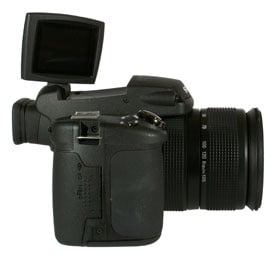 There's a small pop-up flash above the lens and a hotshoe located to the right side at the back of the grip for an external Sony flashgun. Slow-synchro and rear-curtain modes are offered, and flash compensation is available between +/-2EV.

Sony R1 composition and screen
Like other long-zoomed all-in-one cameras, the R1 offers the choice of composition using either a colour LCD screen or electronic viewfinder. Of course the special thing about the R1 is it's the first camera to use a large format CMOS sensor which can also deliver a live view to its displays.
Sony's made the most of this capability by offering the option of a live histogram, and even zebra patterns borrowed from the camcorder world to indicate saturated areas. Optional grid lines can also be over-laid on the live image to aid composition.
The effect of exposure compensation can additionally be seen immediately as you rotate the rear wheel – it's a great way to work. Zebra patterns aside, these may all be things we'd expect from any high-end all-in-one, but it's neat knowing it's the first time you've been able to enjoy them with a large format CMOS sensor.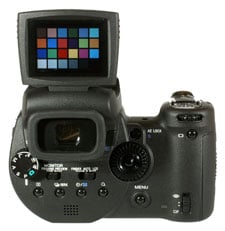 Sony may have abandoned the swivelling body of the earlier F-series, but in its place is a more flexible tilt and swivel 2in screen.
Rather than fit this on the back of the camera though, Sony's mounted it on the top surface. This lifts open with its back towards you, then can be swivelled round 180 degrees to face you. While the camera can be used like this, you'll find the screen slightly obstructs your actual view of the subject.
But rather than peer around the screen in this upright position, it's far better to fold it back down again into the body, where it can then be used at waist-level. This is a very natural way to work, with the added flexibility of being able to tilt the screen upwards a little until it's at the perfect angle for shooting.
This approach encourages interesting angles which you'd often dismiss as inconvenient with a conventional SLR. The whole mechanism also feels very strong and well engineered, although it's far better suited to landscape orientation than portrait.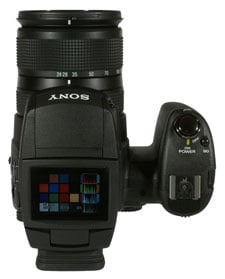 Sony's provided an automatic option which switches from the screen to the viewfinder as you bring the camera up to your face. Unfortunately this equally detects your torso during waist-level shooting, annoyingly switching the main screen off. Luckily you can over-ride this automatic option and manually select either the viewfinder or screen using a switch on the back.
The screen itself is bright and easily viewable in daylight, and with 134,000 pixels offers a reasonable level of detail for its size. The electronic viewfinder is also good quality, although like many others, appears coarser than the main display. During playback, you can zoom-in up to five times or choose a view showing four histograms for red, green, blue and white light.
Autofocus is quick and generally accurate, but the downside to only having pixel-based displays for composition is the inability to be absolutely 100% certain the image is sharp without replaying it afterwards and magnifying up close. The manual focus mode may temporarily magnify the image, but it's not in the same league as focusing through the optical viewfinder of a genuine SLR camera.
Of course SLR cameras don't have flip-out screens with a live preview, zebra patterns and a live histogram, nor the possibility of silent shooting, so it's a case of weighing up your priorities. Interestingly, another feature of sensors which can deliver live previews is the ability to capture video clips. While Sony engineers explained to us that the R1's sensor could in theory support video capture, this facility was not implemented on this model. Video capture may seem trivial on a high-end camera, but in our view it would have given the R1 an additional selling point over traditional SLRs.

Sony Cyber-shot DSC-R1 lens

The R1 employs a Carl Zeiss Vario Sonnar T* zoom lens with a 35mm-equivalent range of 24-120mm and an optically fast ratio of f2.8~4.8; the actual focal length is 14.3-71.5mm. Like the F828 before it, the zoom is operated by a tactile mechanically-linked ring, but the focusing remains electrically assisted. A decent lens hood is supplied and the front lens element doesn't rotate during focusing, allowing the easy use of polarising filters.To illustrate the R1's coverage compared to a typical digital SLR, we took the same photo from the same position on a tripod using the R1 and the Canon EOS-350D / Digital Rebel XT with its bundled 18-55mm EF-S lens. The photos below were taken minutes apart.
Zoomed-out to wide-angle, the R1 clearly captures a visibly wider field than the 28.8mm equivalent focal length of the 18-55mm on the Canon. Indeed it's comfortably wider than any all-in-one or bundled digital SLR lens we've tested, and one of the R1's greatest selling points.
Below are examples of both lenses zoomed all the way in, again taken from exactly the same position and minutes apart. The Canon 18-55mm EF-S offers an equivalent telephoto focal length of 88mm on the 350D / Digital Rebel XT, but it clearly doesn't get as close as the 120mm end of the Sony R1.
While the R1's telephoto capabilities are far below that of, say, the Fujifilm S9500 / S9000 or the Panasonic DMC-FZ30, it's sufficiently good for general purpose shots and decent portrait use. These images also illustrate how much more useful the R1's range is than the 3x optical zooms typically bundled with budget digital SLRs.
| | | |
| --- | --- | --- |
| Sony Cyber-shot DSC-R1 | | Canon EOS-350D with 18-55mm EF-S |
| | | |
| 14.3-71.5mm at 71.5mm, f8 (120mm equivalent) | | 18-55mm EF-S at 55mm, f8 (88mm equivalent) |
By eliminating the mirror and prism section of a traditional SLR, Sony has also been able to implement a very short back focus where the last optical element is positioned immediately in front of the sensor. Sony claims this has allowed a reduction in chromatic aberrations, and after the performance of the earlier F828, this is an area everyone will be checking very closely – check our results pages to see whether the R1's optics can banish the spectre of its predecessor. Its also means like other all-in-ones, the R1 operates in near silence, which in certain environments can be a definite advantage over the audible mechanism of an SLR.
Unlike traditional SLRs though, the R1's lens is of course permanently attached to the body. While lacking the flexibility of a removeable lens system, the R1's optics offer a wider and more useful range than the bundled lenses many budget digital SLR owners never upgrade from, and at f2.8~4.2 is optically faster too. The inability to remove the lens can additionally be spun as a benefit, eliminating the risk of dust getting onto the sensor.
If the R1's range isn't sufficient though, you can attach optional 1.7x tele, 0.8x wide or macro conversion lenses. These are however unusually large, especially the tele adapter which doubles the length of the camera and adds almost an extra kilo in weight.
Sensor
The most unique aspect of the R1 is of course its large CMOS sensor – the first time an all-in-one camera has employed a digital SLR-sized sensor. The R1's sensor measures 21.5 x 14.4mm, so is only fractionally smaller than those found in most budget digital SLRs. Crucially though it's considerably larger than the 8.8 x 6.6mm size of the 2/3in sensor in its predecessor and other high-end all-in-ones.
The R1's sensor boasts 10.8 Megapixel resolution, delivering 3:2 aspect ratio images with an impressive 3888 x 2592 pixels. This is a considerable step up from the six or even eight megapixel resolution of the budget digital SLRs currently in the market, and is unlikely to be matched at this price by budget SLRs until well into 2006. The large sensor size has also allowed Sony to implement a wide sensitivity range of 160 to 3200 ISO, which while unremarkable for digital SLRs, is a significant improvement on the range of existing all-in-ones. Check our results to see how the R1 compares on noise and resolution.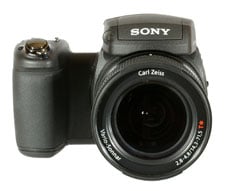 Files and memory
Images can be recorded at five different resolutions, each with the choice of two JPEG compression levels. They can alternatively be recorded in Sony's SR2 RAW format, which additionally captures a JPEG at the same time whether you want it or not. Best-quality JPEGs measured between 4 and 5MB each, while RAW files weighed-in at considerable 20.5MB each, which seems a little excessive given those for, say, Canon's 12.8 Megapixel EOS-5D measure around 14MB each; RAW conversion software is supplied.
Standard and vivid colour modes are offered based on sRGB, along with (for the first time on a Sony camera) Adobe RGB. Saturation, contrast and sharpness can also be adjusted by a notch in either direction. If you're used to consumer cameras, the standard settings produce vibrant images out of the camera, although those used to digital SLRs may prefer to take the sharpening down a notch.
Like the F828 before it, the R1 can take either Compact Flash cards or Sony's own Memory Stick format – both standard and Pro sticks are supported. A switch on the back of the camera by the memory door selects between the formats. A USB-2 port is provided for transferring images, alongside a video output, accessory port and DC input.
Image processing and handling
The R1 powers-up quickly and is ready to shoot in 0.68 seconds – this is a fraction slower than the fastest digital SLRs, but certainly nothing to be concerned about. During playback, a preview of the image appears almost instantly, then sharpens up to the full screen resolution about a second later; note intelligent buffering can allow images to load to full screen resolution instantly depending on how you browse. The thumbnail option also loads all nine images almost instantly.
The camera also wakes up quickly after sleeping, but unlike the manual focusing of an SLR lens, the R1 will need to be refocused. This only takes a split second if using AF, but can be annoying if you're shooting the same subject from a tripod and find you need to refocus every time the camera wakes up.
Burst mode capture up to three frames at 3fps, but then pauses for around three seconds to record them to the card; you'll need to let go of the shutter and repress it after recording these images if you'd like to capture any more. While 10.8 Megapixels is a lot of data to process and record, a three frame buffer is quite modest compared to most digital SLRs.
Overall, for single shot use the R1 is sufficiently quick not to miss any action. But if you need to capture more than three frames in a sequence or are shooting the same fixed subject from a tripod, you'll probably find the R1 more restrictive than a conventional digital SLR.
Sony Cyber-shot DSC-R1
Canon EOS-350D with 18-55mm EF-S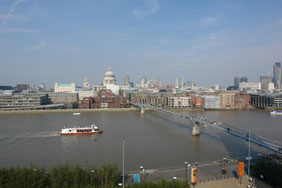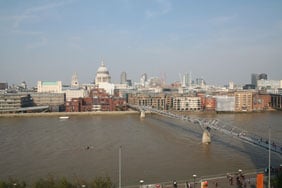 14.3-71.5mm at 14.3mm, f8 (24mm equivalent)
18-55mm EF-S at 18mm, f8 (28.8mm equivalent)