Sony Cybershot N2 resolution comparison
Support this site by shopping via these links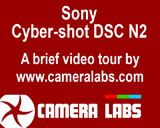 Support Camera Labs by shopping via these links
To measure and compare the Sony Cyber-shot N2's resolving power we photographed the Enhanced Digital Camera Resolution Chart with it and a number of rival models, each using their best quality JPEG and default image tone and sharpening settings. Each camera was tested at every aperture setting and the best result selected for this page.

The crops are taken from the original images, saved as High Quality JPEGs in Photoshop CS2 and presented here at 100%. Each number represents 100 lines per picture height (lpph), so a figure of 20 means a resolution of 2000 lpph.
In this test the Sony N2 delivered 2000 and 2200 lpph of horizontal and vertical resolution respectively. It is however clear from the samples below that our Sony N2 suffered from optical issues just off-center when focused on a chart at close range, and yes, both N2 crops came from exactly the same image. If you compare the results from our compact group test of December 2005, the earlier Sony N1 lens (which we understand is identical to that in the N2) didn't exhibit the same issues, so we presume we got a poor copy of the N2.

That said, the potential resolving power of the N2 at its lowest ISOs is certainly impressive, and like the A640, is roughly equivalent to 10 Megapixel DSLRs. Like the A640 though, it's crucial to note the image quality of a compact will deteriorate far quicker at higher ISOs than a DSLR. So while a 10 Megapixel compact is no substitute for a 10 Megapixel DSLR, the results here at least show they're capable of resolving similar levels of detail under the best conditions.
| | | |
| --- | --- | --- |
| Sony Cybershot DSC N2 | | Canon PowerShot A640 |
| | | |
| 2000 lpph, 7.9-23.7mm at 12mm, f5, 100 ISO | | 2050 lpph, 7.3-29.2mm at 13mm, f4.5, 80 ISO |
| | | |
| Fujifilm FinePix F30 | | Panasonic Lumix DMC TZ1 |
| | | |
| 1850 lpph, 8-24mm at 16mm, f5.6, 100 ISO | | 1600 lpph, 5.2-52mm at 12.2mm, f3.8, 80 ISO |
| | | |
| --- | --- | --- |
| Sony Cybershot DSC N2 | | Canon PowerShot A640 |
| | | |
| 2200 lpph, 7.9-23.7mm at 12mm, f5, 100 ISO | | 2100 lpph, 7.3-29.2mm at 13mm, f4.5, 80 ISO |
| | | |
| Fujifilm FinePix F30 | | Panasonic Lumix DMC TZ1 |
| | | |
| 1850 lpph, 8-24mm at 16mm, f5.6, 100 ISO | | 1550 lpph, 5.2-52mm at 12.2mm, f3.8, 80 ISO |