Sony Cybershot N2 wide-angle geometry comparison
Support this site by shopping via these links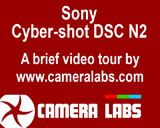 To measure and compare the Sony Cyber-shot N2's geometric distortion we photographed a test chart consisting of a grid pattern, using it and a number of rival models.

Here are the results for each camera with their built-in lenses at their widest focal length; where possible, the aperture was closed.

The images were analysed with Imatest using 5th Order line calculation and the full areas presented here at a reduced resolution.

The image left was taken with the Sony Cyber-shot N2 zoomed-out to 7.9mm.

7.9-23.7mm at 7.9mm
Distortion: 2.72% barrel
Barrel distortion was measured at 2.72% which is the worst of the four cameras tested here, although to be fair, close to the Canon A640 result.
Canon PowerShot A640

Fujifilm FinePix F30

Panasonic Lumix DMC TZ1

7.3-29.2mm at 7.3mm
Distortion: 2.48% barrel

8-24mm at 8mm
Distortion: 1.34% barrel

5.2-52mm at 5.2mm
Distortion: 0.98% barrel
---

Sony Cybershot N2 telephoto geometry comparison

To measure and compare the Sony Cyber-shot N2's geometric distortion we photographed a test chart consisting of a grid pattern, using it and a number of rival models.

Here are the results for each camera with their built-in lenses at their longest focal length; where possible, the aperture was closed.

The images were analysed with Imatest using 5th Order line calculation and the full areas presented here at a reduced resolution.

The image left was taken with the Sony Cyber-shot N2 zoomed-in to 23.7mm.

7.9-23.7mm at 23.7mm
Distortion: 0.38% pincushion
Pincushion distortion was measured at 0.38%, which is again the worst of the group, although again close to the result from the Canon A640.
Canon PowerShot A640

Fujifilm FinePix F30

Panasonic Lumix DMC TZ1

7.3-29.2mm at 29.2mm
Distortion: 0.35% pincushion

8-24mm at 24mm
Distortion: 0.17% pincushion

5.2-52mm at 52mm
Distortion: 0.12% pincushion