Sony Cybershot N2 corner sharpness comparison
Support this site by shopping via these links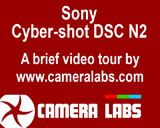 Support Camera Labs by shopping via these links
To measure and compare the Sony Cyber-shot N2's corner sharpness we photographed the Enhanced Digital Camera Resolution Chart with it and a number of rival models, each using their best quality JPEG and default image tone and sharpening settings.

We used the built-in lenses at their widest and longest focal lengths and with various apertures starting from fully open. Note the Panasonic TZ1 and Sony N2 only offer two and three apertures respectively at each focal length, so all are shown in this test.

The crops are taken from the extreme lower left corner of the chart and presented here at 100%.
Zoomed-out to wide angle, the Sony N2 crops from the extreme corners reveal a little coloured fringing at all apertures and some softness when the aperture's wide open. The results aren't bad, but the other cameras below delivered better-looking corner performance.

Zoom-into telephoto and the N2's corners again suffer from coloured fringing, especially compared to the Canon A640 and Fujifilm F30 results. As before, there's also slight softening with the aperture wide open. To be fair we've seen much worse, but the N2 is shown-up here against some particularly good results alongside.

Note: crop details which appear smaller here are due to them being captured with lower resolution cameras and / or a lens which couldn't focus as close to the chart. In each case though, the crop still represents the extreme left corner of each camera's frame.
| | | | | | | |
| --- | --- | --- | --- | --- | --- | --- |
| Sony Cybershot DSC-N2 | | Canon PowerShot A640 | | Fujifilm FinePix F30 | | Panasonic DMC-TZ1 |
| | | | | | | |
| 7.9-23.7mm at 7.9mm f2.8 | | 7.3-29.2mm at 7.3mm f2.8 | | 8-24mm at 8mm f2.8 | | 5.2-52mm at 5.2mm f2.8 |
| | | | | | | |
| | | | | | | |
| 7.9-23.7mm at 7.9mm f4 | | 7.3-29.2mm at 7.3mm f5.6 | | 8-24mm at 8mm f5.6 | | 5.2-52mm at 5.2mm f5 |
| | | | | | | |
| | | | | | | |
| 7.9-23.7mm at 7.9mm f8 | | 7.3-29.2mm at 7.3mm f8 | | 8-24mm at 8mm f8 | | Only two aperture settings available |
| | | | | | | |
| Sony Cybershot DSC-N2 | | Canon PowerShot A640 | | Fujifilm FinePix F30 | | Panasonic DMC-TZ1 |
| | | | | | | |
| 7.9-23.7mm at 23.7mm f5.4 | | 7.3-29.2mm at 29.2mm f4.1 | | 8-24mm at 24mm f5.0 | | 5.2-52mm at 52mm f4.2 |
| | | | | | | |
| | | | | | | |
| 7.9-23.7mm at 23.7mm f8 | | 7.3-29.2mm at 29.2mm f5.6 | | 8-24mm at 24mm f5.6 | | 5.2-52mm at 52mm f7.1 |
| | | | | | | |
| | | | | | | |
| 7.9-23.7mm at 23.7mm f16 | | 7.3-29.2mm at 29.2mm f8 | | 8-24mm at 24mm f8 | | Only two aperture settings available |