Sony FE 70-200mm f4G OSS review
Verdict
The Sony FE 70-200mm f4G OSS is a high quality telephoto zoom for owners of Alpha mirrorless bodies, whether cropped or full-frame. It delivers a well-known popular range that's ideal for portraits, close range sports or landscape details, and adopts the f4 focal ratio to keep the size, weight and price down.
Some may yearn for an f2.8 focal ratio, but it would result in a larger, heavier and more expensive lens. If you're happy to go down that route, look no further than Sony's more recent and rather fabulous FE 70-200mm f2.8 G Master. It is however important to note that even if you desire f2.8, the f4 version is physically much better-balanced on Sony's smaller mirrorless bodies, especially the cropped-frame APS-C models or the first A7 series. Indeed I've shot with the FE 70-200mm f4G OSS across three Tour de France races using the A6000 and A6300 bodies, and found the combinations perfect for handheld sports photography. When using the G Master f2.8, I'm happiest coupling it with the deeper grip of the A9.
While fairly lightweight, the build quality on the FE 70-200mm f4G OSS is also very good. Sure, it's not bullet-proof, but the lens feels solid and confident in your hands and I've used it in light rain without complaint. The focusing is also swift and essentially silent, and in my tests it could be driven continuously sufficiently well to track fast action. Mount it on a full-frame or cropped APSC body and it'll deliver detailed results wide-open, and enjoys a boost in contrast and sharpness when closed to f5.6 or f8. Unsurprisingly the best results are at 70mm, where the image is crisp across the frame. At 200mm there's a little more softness and vignetting in the corners, but it's still very respectable.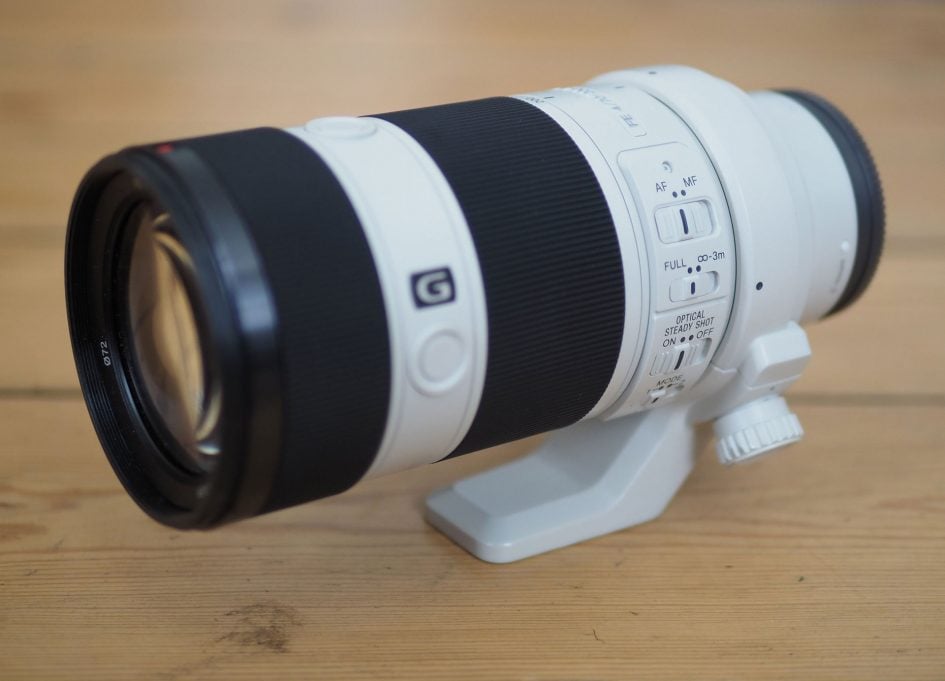 Should you buy it? If you have a cropped APSC body you could go for the E 55-210mm at a quarter of the price and a third the weight, but optically it's much slower at f4.5-6.3, you'll lose the constant aperture and the weather sealing, the rendering isn't as smooth, and it's not corrected for full-frame should you choose that direction in the future. It's a budget lens and not really comparable to this one.
If you have a full-frame mirrorless Alpha, there's two alternatives as of 2017: the FE 70-200m f2.8 GM and FE 100-400mm GM. They're both G Master lenses, representing Sony's best combination of sharpness and rendering, and in my tests their images certainly have more bite while delivering more attractive blurred areas. The f2.8 model obviously has the benefit of an extra stop of aperture, allowing you to shoot in lower light without compromising the shutter or ISO, while also delivering shallower depth-of-field effects. Meanwhile for those who shoot more distant subjects, the FE 100-400mm boasts twice the reach at the long-end. But both models are considerably larger, heavier and more expensive. They're undoubtedly great to use, but your budget – and strength – may not be compatible.
Ultimately if you're satisfied by the 70-200mm range, the only real downside to the FE 70-200mm f4G OSS is the modest aperture and subsequent depth-of-field. My shots at f4, even at 200mm, just didn't have backgrounds that were particularly blurred, and the rendering wasn't anything to write home about either. To be fair though, this is a criticism that can be leveled at other 70-200mm f4 zooms, and it's a double-edged sword too as the slower aperture allows good sharpness across the frame, not to mention a more affordable and lighter lens that's better suited to the compact bodies it's intended to be mounted on. But if you're a portrait or sports shooter who wants greater subject isolation, then you'll simply need a brighter, heavier and more expensive lens.
Sony FE 70-200mm f4G OSS final verdict
Sony's FE 70-200mm f4G OSS was the first telephoto zoom for its full-frame mirrorless cameras and remains one of the best options for fairly close range action. The f4 aperture may not deliver as much (or as attractive) blurring as the FE 70-200mm f2.8 GM, nor will its focal length reach as far as the FE 100-400mm GM, but it's noticeably lighter and more affordable than either, not to mention physically better-suited for Sony's smaller bodies, especially the cropped APSC models where the coverage is reduced to 105-300mm. The optical quality may lack the ultimate bite and smooth rendering of the pricier and heavier G Master telephoto zooms, but it remains respectable across the frame with a high level of detail, while the focusing is quick enough to track fast action when coupled with the right body. A great choice if you want a decent telephoto zoom but don't need an f2.8 focal ratio or a super reach. It's a lens I reach for whenever shooting action all day long.
Good points
Useful telephoto range with high quality images.
Compatible with full-frame and APSC mirrorless bodies.
Quick and very quiet focusing.
Dust and moisture sealed.
Comes supplied with tripod collar, hood and pouch.
Bad points
Some may prefer an f2.8 version for speed and DOF.
Bokeh rendering can look a little busy.
Slightly softer at 200mm end of the range.

Check prices on the Sony FE 70-200mm f4 at Amazon, B&H, Adorama, or