Sony Cyber-shot WX350 review
Verdict
The Sony WX350 is one of the most compelling pocket superzooms around. The most impressive thing about it is its size; this is a travel zoom you really can take anywhere.
Packed into its diminutive frame is a 20x stabilized optical zoom with an equivalent range of 25-500mm. Its 18 Megapixel sensor produces great quality photos cabable of printing at A2 size. Sony has also squeezed in Wifi with NFC and a 3 inch fixed screen, along with a battery that delivers enough power for an impressive 470 shots. There's no shortage of features either. It lacks ASM exposure modes, but includes two Auto exposure modes, one of which uses the power of the new Bionz X processor to deliver mutli-shot composite photos with improved tonal range.
Photo creativity mode allows you to make easy adjustments using sliders, there's a good range of Picture effects, Auto object framing to help with composition, Motion shot video mode, Multi Frame Noise Reduction, panoramas, the list goes on. To cap it off there's 10fps burst shooting and a 1080p50/60 best quality video mode. It's a lot of camera packed into a small and very stylish package.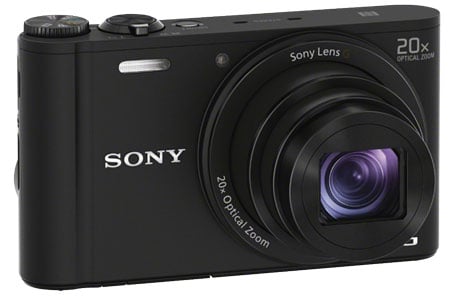 Sony WX350 vs Canon SX600 HS

The Canon PowerShot SX600HS is a compact super-zoom with a 18x stabilized optical range, 16 Megapixel CMOS sensor and a 3 inch LCD screen. It's a point-and-shoot model and will be a major competitor for the Sony WX350.The biggest external difference is size, but the SX600 HS isn't a monster, it too is a very compact camera and it would be fair to describe it as pocketable – it's just not as small and light as the WX350. Normally, when you take a step up in size and weight, you get a longer zoom, but not in this case. Both models start at the same 25mm wide angle, but the Sony WX350 extends a little further – to 500mm compared with 450mm on the SX600 HS. The Sony lens is also a little brighter, but only by a fraction.
Both models have a 3 inch screen with similar resolution, but I found the PowerShot SX600's screen was much easier to see when photographing outside in bright and sunny conditions. Both are equipped with a built in flash, the WX350's is a little bit more powerful though. The WX350 provides faster burst shooting, at 10fps compared with just under 4fps for the PowerShot SX600 HS. On video you could say they're fairly evenly matched with the SX600 HS offering a 1080p30 HD mode compared with a more capable 1080p50/60 on the WX350. The Sony saves its HD video clips in AVCHD format where the Canon's are QuickTime MP4 files which are a little easier to handle.
Beyond 'normal' video modes the SX600 HS offers Hybrid mode, which shoots a short clip prior to every picture you take and stitches them all into a movie digest of the days shooting. The WX350 counters with Motion shot video which creates a sequence of fast-action, superimposed images to demonstrate motion of a subject through the frame.
As point and shoot cameras, these models are also all about creative features. These may or may not matter to you, but while both offer a range of effects, Canon takes things one step further on the SX600 HS with creative shot mode, which takes a lot of the decision making out of applying effects. On the other hand, The WX350 has a really excellent panorama mode, something you won't find on any Canon Compact.
Both cameras have built in Wifi, and both offer NFC for easy connection to suitably equipped smartphones. Both provide basic remote shooting using a smartphone and both allow you to transfer photos wirelessly to your phone. But the SX600 HS offers more options including transfer to a computer and photo sharing sites as well as wireless printing. It also allows you to use your phone's GPS to geo-tag photos on the camera card.
It's a lot to think about and as usual it's simply a case of weighing up the pros and cons and deciding what's most important to you.
See my Canon SX600 HS review for more details.
Sony Cyber-shot WX350 final verdict
The WX350 is a hard camera not to like because it's a very attractive and therefore desirable object. It doesn't happen much these days, but if you found yourself in a store with the opportunity to hold it in your hand you'd be sold on it – a good reason to try and get your hands on one before making a buying decision.
It's also hard to find fault with for the target market, though don't get me wrong, there are some things that could be improved. The quality of the lens is a bit disappointing though probably not something many people will notice. The screen is hard to see on a sunny day and that can be a bit frustrating. Lastly the Wifi functions are basic and could do with extending. Finally, if you do like a bit of control it doesn't make life easy. I can't for the life of me understand why Sony couldn't add exposure compensation to the control wheel in Program Auto mode instead of making you hunt through the menu for it.
In every other respect though it's such a lovely little compact that I can forgive most of that stuff. Most, but not all, and in particular the exposure compensation issue, which is why I'm giving it a Recommended, rather than Highly Recommended award. If you can live your life without exposure compensation you may disagree.
Good points
Very compact, lightweight body.
20x stablilized optical zoom.
1080p50/60 HD videoBuilt-in Wifi with NFC.
470 shot battery life.
Bad points
Lens quality at the edges.
Poor screen visibility outdoors.
No exposure compensation on control wheel.
Basic Wifi functions.